Fantastic Focaccia Genovese with Rosemary
I went through a bread baking phase shortly after graduate school. I had student loans to pay and I was living in an apartment that had a fairly decent kitchen with a gas-fired oven that held the temperature well. Because I had worked full-time while going to school, I suddenly had more time on my hands than I knew what to do with. But I didn't necessarily have a lot of funds to play with. I took advantage of anything with free admission and started cooking and baking fiendishly, even joining a dinner club of home cooks.
I sort of became obsessed with making all kinds of bread. I started with loaves of quick bread, then yeasted bread, and moved on to sourdough with a potato starter someone had given me. I found kneading, proofing, and baking bread was extremely calming and rewarding. It was also an affordable hobby.
The first time I made focaccia bread, I was seriously hooked. Focaccia is a yeasted flatbread that is thin, airy and soft on the interior, and a little crispy on the outside. Like pizza dough, it is the perfect vehicle for a variety of herbs and other toppings. It also makes for great sandwich bread. The best part is that focaccia has simple pantry ingredients and is easy to make.
Focaccia is a staple in northern Italy, notably Genoa. You can find sheet pans of it right out of the oven at local bakeries in much of Italy. There will be plain focaccia with salt and olive oil and the same with layers of mozzarella and prosciutto or roasted cherry tomatoes. Right below will often be square pans of hot pizza, and below that will be loaves of crusty bread.
Focaccia Genovese is generally just flour, yeast, and water that is baked and then topped with fresh herbs, coarse salt, and really good extra virgin olive oil. The recipe here is as simple as it gets. You likely have all the ingredients in your pantry already. This bread is a little addictive, so don't plan on having any leftovers for sandwiches unless you make two.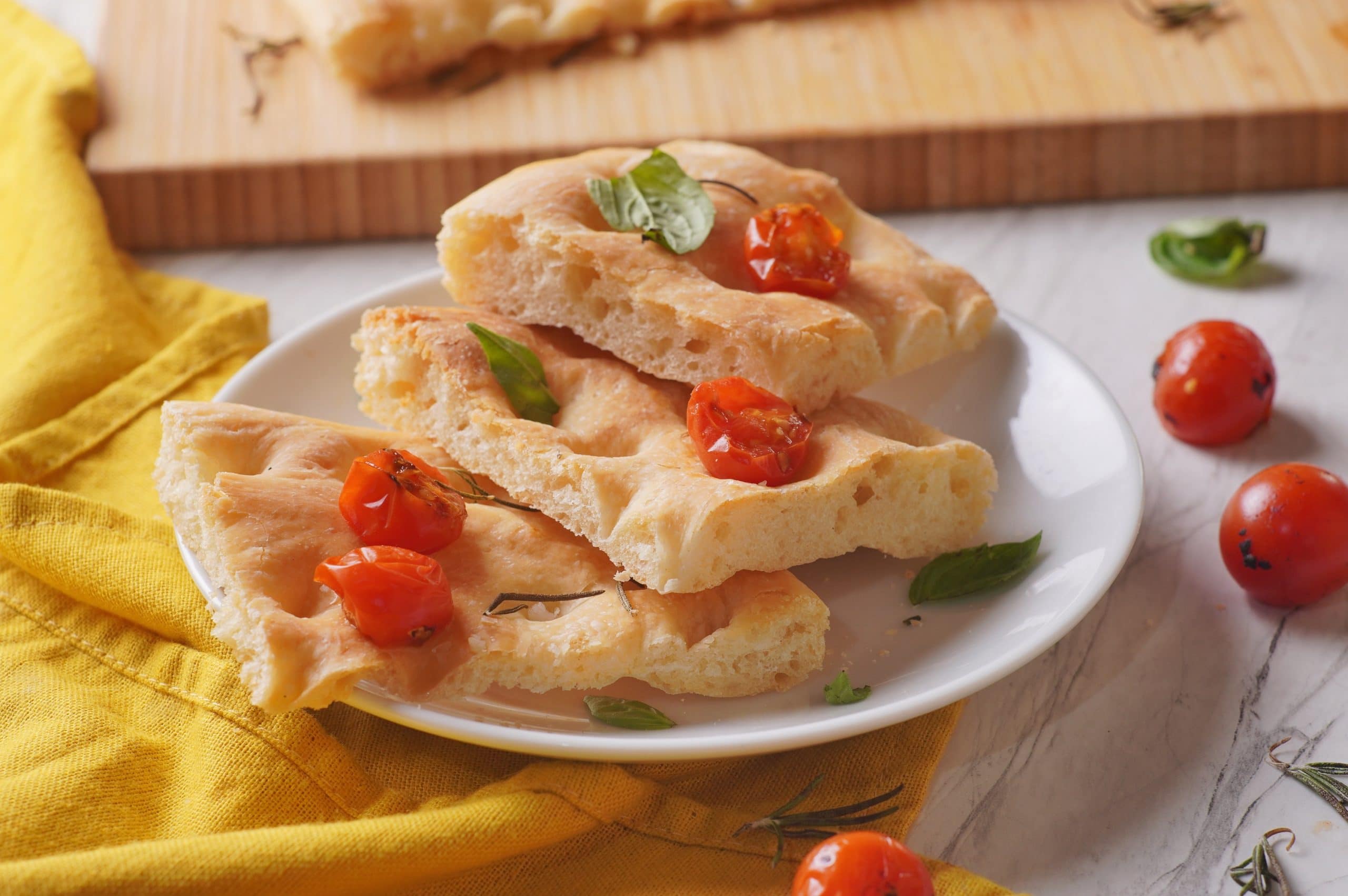 Ingredients
1

cup

lukewarm water

1

tsp

active dry yeast

2-1/2

cups

all-purpose flour + more for kneading

1

tsp

turbinado or raw sugar

1-1/2

tsp

sea salt

1-1/2

Tbsp

extra virgin olive oil + more for coating the bowl

pan, and bread

1-1/2

tsp

kosher or coarse salt

2

Tbsp

fresh rosemary leaves
Instructions
Do you have all your ingredients ready? Great! Let's begin.

In a large mixing bowl, gently whisk together the warm water and the yeast. Sprinkle the sugar all over the top of the mixture. Set this aside for approximately 5 minutes or until the yeast starts to bubble as it consumes the sugar.

Stir the salt and oil into the water and yeast. Add the flour and stir until well combined and you can form the dough into a slightly sticky ball.

Lightly dust a flat surface with flour. Place the dough on the surface and knead it, using the heels of your hands, for about 5 minutes until it is elastic. You can dust your hands with flour as needed if the dough is too sticky.

Lightly coat the bowl that the dough was mixed in with some olive oil. Return the kneaded dough to the bowl and flip it over so that the entire ball is coated in oil. Cover the bowl with either a clean dish towel or plastic wrap. Place the bowl in either a turned-off oven or a microwave and leave it alone for an hour or until it has doubled in size.

Lightly oil a rimmed sheet pan. Punch the risen dough down once and place it on the sheet pan. Using your fingers, press the dough out to fit into the pan in an even layer. It will spring back at times, so be patient. Set the pan aside for about 30 minutes so the bread can rise again.

Preheat your oven to 350°F. While the oven is heating, make dimples or little pockets in the dough surface with your fingers. Then, sprinkle the coarse salt all over the dough. Drizzle a little olive oil over the dough. Add 1/2 of the rosemary leaves to the top of the dough.

Place the bread in the oven and bake until golden brown, approximately 18 minutes.

Remove the bread from the oven and sprinkle the rest of the rosemary leaves on the bread. Allow the bread to cool for just a few minutes on a wire rack.

Transfer to a cutting board and slice into squares with a pizza cutter or large sharp knife. Enjoy while still warm.
Video
Nutrition
Calories:
96
kcal
|
Carbohydrates:
18
g
|
Protein:
3
g
|
Fat:
2
g
|
Saturated Fat:
1
g
|
Polyunsaturated Fat:
1
g
|
Monounsaturated Fat:
1
g
|
Sodium:
391
mg
|
Potassium:
46
mg
|
Fiber:
1
g
|
Sugar:
1
g
|
Vitamin A:
19
IU
|
Vitamin C:
1
mg
|
Calcium:
7
mg
|
Iron:
1
mg
Notes and Tips
The first thing you need to do is check the date on the packet of yeast. Yeast does expire and it is a huge disappointment when your dough doesn't rise because the packet was too old. On that same note, don't use boiling hot water for this recipe. That could kill the yeast. Lukewarm water is what you want.
Rising times may vary. If it is a rainy day, the humidity will cause the dough to be heavy from moisture in the air and it may take up to 2 hours for the dough to proof until double in size. That is why I like to place the ball of dough inside my cool oven or my microwave where the air can't get to it. If your kitchen is at a higher altitude, rising time will also take longer. Beware of slamming doors and other loud noises. This can cause the dough to collapse. If that happens, just allow it to rest again until it doubles. Proofing the dough a couple of times won't ruin it.
One more tip is to be sure to oil the dough and the sheet pan. Bread dough is pretty delicate and sticky. It will want to adhere to the bowl or stick to the pan.
Toppings
My absolute favorite way to enjoy focaccia is while it is still warm a few minutes after it comes out of the oven. The smell of fresh-baked bread just grabs my attention. I am a little unconventional in that I will spread a tiny bit of cultured butter on my warm focaccia and just eat it right out of the pan.
Focaccia is the perfect vehicle for all sorts of fresh toppings. Some common additions to layer onto to focaccia include:
Halved roasted cherry tomatoes with basil leaves
Parmesan cheese
Thin slices of prosciutto ham
Pitted oil-cured black olives
Squash blossoms (while the bread is still hot)
Roasted garlic cloves
Caramelized onions (a personal favorite)
Sautéed mushrooms
Marinated or roasted artichoke hearts
Cooked and crumbled Italian sausage
Lightly dressed bitter greens (baby arugula, dandelion, or baby kale)
If you are lucky enough to have some leftover focaccia, you can make a delicious breakfast sandwich with salami and eggs, either scrambled or over easy. For lunch, try slices of mortadella, provolone cheese, and some giardiniera (pickled vegetables).
---
Recent Recipes