Homemade Low FODMAP Taco Seasoning
Just because you're on the low FODMAP diet, it doesn't mean you can't enjoy your favorite foods anymore. It simply means you have to get creative and make some adjustments. That's where this recipe comes in.
Thanks to this low FODMAP diet, you can once again indulge in tacos without affecting your diet. And as you will soon learn, low FODMAP taco seasoning is a cinch to make and will forever change your meals going forward.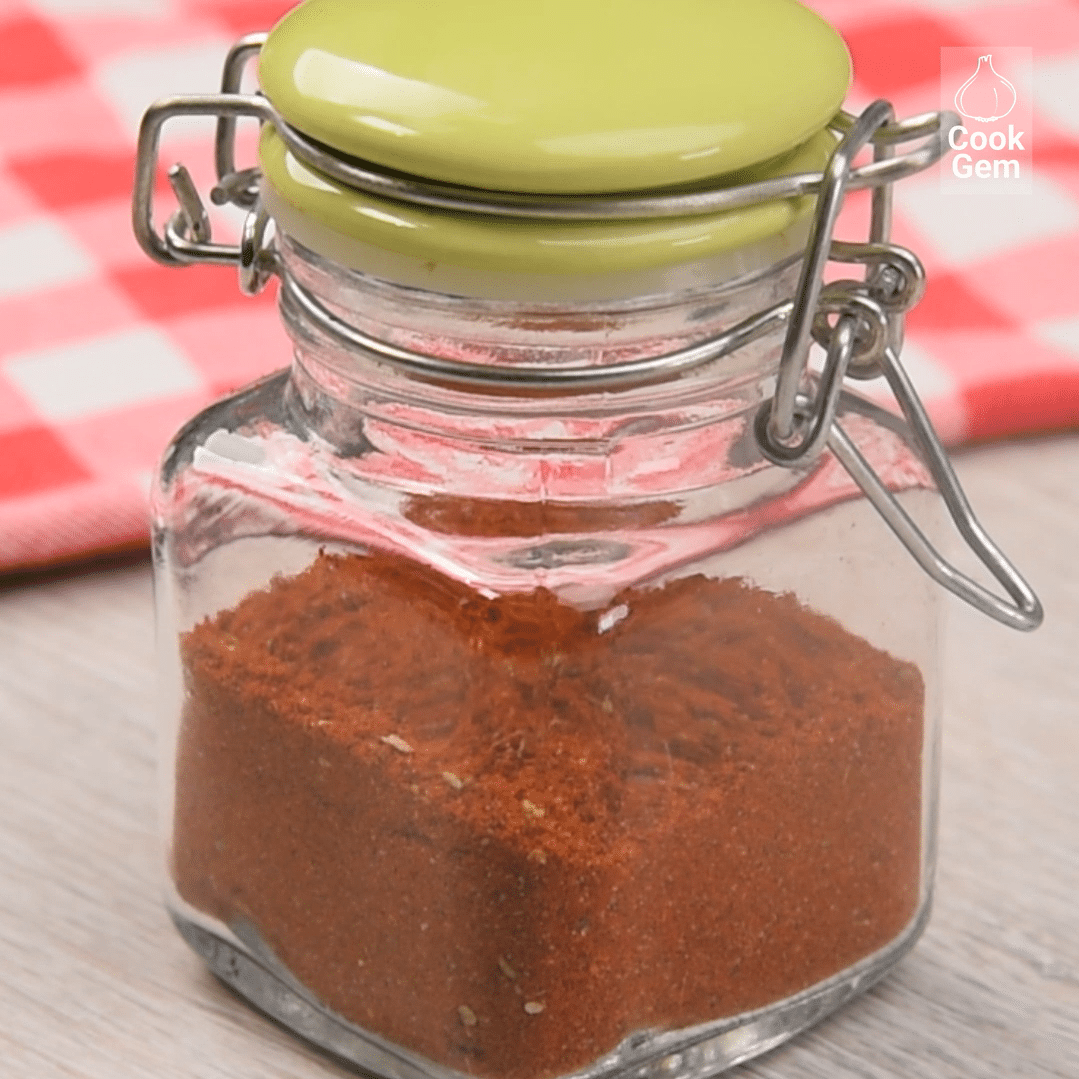 Ingredients
2

tablespoons

of ancho chili pepper

ground

½

teaspoon

of ground cayenne pepper

2

teaspoons

of ground paprika

1

teaspoon

of ground oregano

2

teaspoons

of ground cumin

1

teaspoon

of salt
Instructions
In a bowl, combine the cumin, paprika, ground chili pepper, salt, cayenne pepper, and oregano.

Stir well until completely mixed.

Pour contents from bowl to an airtight container.

Store at room temperature until ready to serve.

Enjoy!
Video
Nutrition
Calories:
131
kcal
|
Carbohydrates:
27
g
|
Protein:
5
g
|
Fat:
3
g
|
Saturated Fat:
1
g
|
Polyunsaturated Fat:
1
g
|
Monounsaturated Fat:
1
g
|
Sodium:
2363
mg
|
Potassium:
762
mg
|
Fiber:
11
g
|
Sugar:
13
g
|
Vitamin A:
10305
IU
|
Vitamin C:
10
mg
|
Calcium:
95
mg
|
Iron:
6
mg
Notes & Tips
This recipe can make 24 servings, with each one measuring ½ teaspoon. Please note that each ½ teaspoon contains approximately ¼ teaspoon ancho powder. The additional fructose content in this serving of ancho powder is not yet known.
If you're worried about it, you may want to go with a taco seasoning that is certified low FODMAP. It's also a good idea to test for tolerance whenever your symptoms subside, and you feel like you're back to normal.
It should be noted that university studies conducted in 2020 tested ancho peppers. They found that a single pepper (17 grams) was high in FODMAP and therefore contained too much fructose. So far, they've provided FODMAP information pertaining only to this fairly large serving (equivalent to more than 3 tablespoons of crushed ancho peppers).
Products containing a small amount of ancho powder have passed low FODMAP testing and certification. Due to this fact, it is now known that minimal amounts of ancho powder can be reduced FODMAP.
Chili peppers, ground peppers, and pepper products naturally contain a compound known as capsaicin, which contributes to the spiciness of these types of foods. Moreover, capsaicin is a known intestinal irritant. Thus, it may act as a trigger in some patients with IBS. If you believe that spicy food affects your symptoms, it's best to avoid eating it.
Substitutions
If you don't have access to ancho, you're not totally out of options. Many people live in areas where they can't immediately get their hands on ancho powder. Of course, you can always order it online from a trusted vendor.
But if you want to make low FODMAP taco seasoning in the here and now and you don't want to wait for your order to arrive, consider using Kashmiri chili instead. Since it is considered mild anyway, you can safely use it in this recipe.
But a word of advice. It's common for people to cut back on the amount of chili they use out of fear of overpowering the taco seasoning and making it too hot. But because Kashmiri chili is so mild, you will likely find that you need to use more to achieve a satisfying taste.
Moreover, you might want to consider adding in some asafoetida powder. We found that 1/8 teaspoon works well, as anything more made the seasoning a bit too bitter for our liking. It wasn't overpowering or anything, but it wasn't the kind of flavor we wanted in our taco seasoning.
If you don't mind taking the extra steps, you can sautee asafoetida in oil before adding it to the list of ingredients. This action will help remove the bitterness if you're inclined to use more than 1/8 teaspoon.
Common Questions
What are the nutritional values of low FODMAP taco seasoning?
Since there's isn't a lot going on with this recipe in terms of hearty ingredients, the nutritional content is limited. Total fats equal no more than 0.1 grams, which is 0% of your recommended daily value. Moreover, the protein content in this recipe comes out to 0.2 grams, which again is 0% of your recommended daily value.

Total carbs see a bit of a spike, equaling 1.1 grams. But this is still 0% of your recommended daily value. Dietary fiber is better, coming in at 0.5 grams and equaling 2% of your recommended daily value. As you can see, you definitely need to add some hearty and healthy main courses to this seasoning to ensure that your body is getting the nutrients it needs.
A Taco seasoning low in FODMAPS? How is this possible?
The most likely reason is that this recipe is lacking in garlic and red onions, two notable sources of FODMAPs that cause many people to have to avoid certain foods and seasonings. With that being said, you still need to be aware of the ancho peppers and the FODMAPs they contain.

That's why this recipe tries to limit the anchos to only what's absolutely necessary. Any more, and it would likely alter the entire recipe to where there are too many FODMAPs.
Sides & Pairings
Taco seasoning is ideal for tacos, burritos, and a whole host of other Mexican dishes. We encourage you to try this recipe any time you're planning for a Mexican dinner night, as it works wonders in adding flavor and appeal to your dishes.
We hope you enjoyed this solution to taco seasoning and high FODMAPs. Follow this recipe, and you can finally enjoy tacos and other dishes without the fear of consuming too many FODMAPs.
And if you're interested in learning about more exciting recipes, we invite you to head on over to our recipes page. There, we share a wide variety of recipes of all tastes and preferences. We're confident you will find something you enjoy.
They are perfect for injecting some fun and freshness into the same boring meals. So if you think your diet is getting just a bit stale, try out our many recipes and reignite your meals.
---
Recent Recipes