Homemade Haitian Mac and Cheese
Haitian mac and cheese is a fancy, baked pasta casserole. It incorporates onions and pepper, as well as fancier cheese. I mean no disrespect to cheddar cheese, but sometimes we all want a little more pizzaz! Gouda and parmesan are used in this recipe instead and it really makes all the difference. Other than picking up some nice cheeses in your next shop, this recipe does not require anything too out of the ordinary, so get to cooking!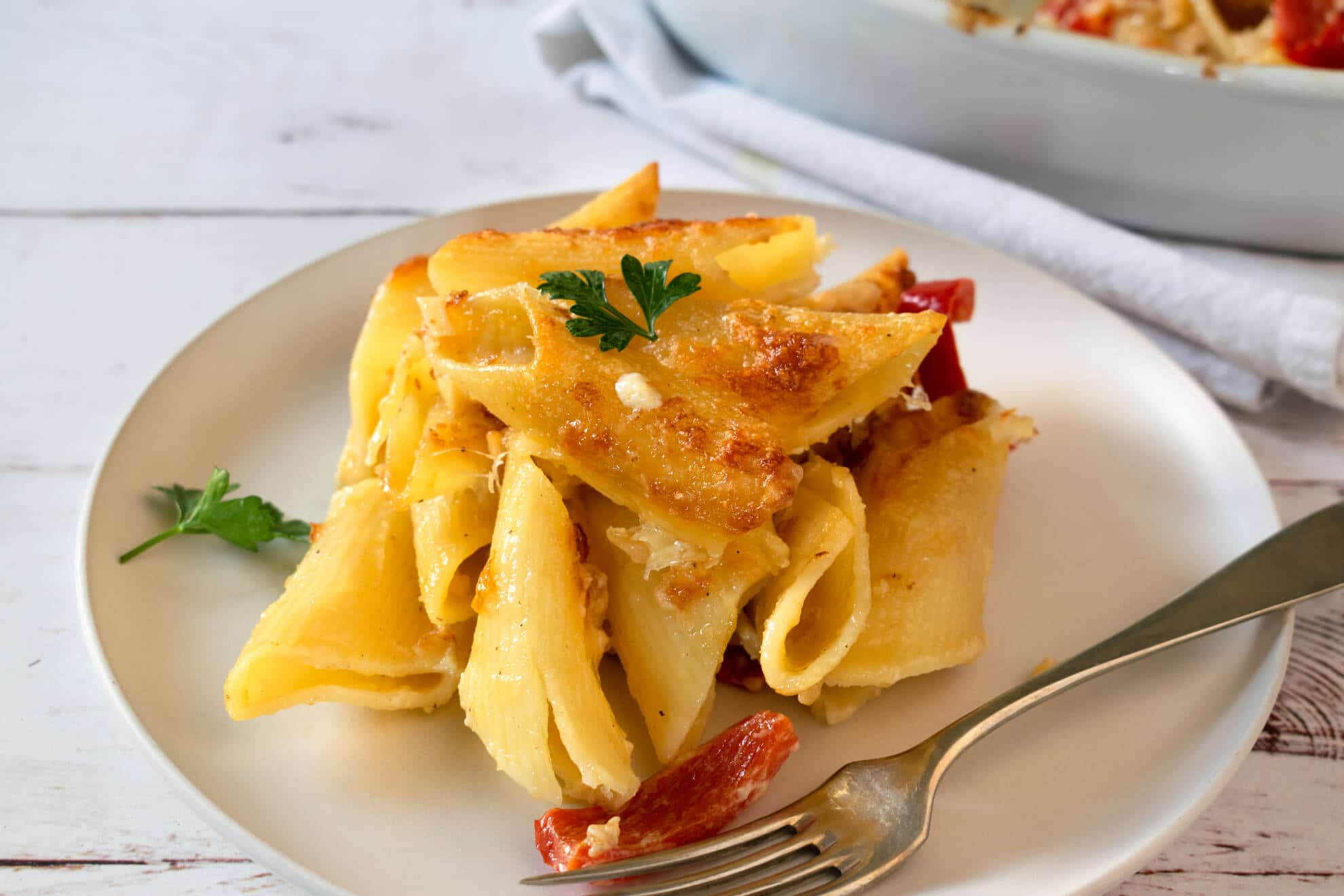 Ingredients
2

tbsp

onion

1

bell pepper

4

cloves

of garlic

8

oz

rigatoni pasta

½

tbsp

butter

6

oz

evaporated milk

¼

cup

mayonnaise

¾

shredded gouda cheese

¼

cup

grated parmesan

Salt

Pepper
Instructions
Preheat the oven to 350F and prepare a baking dish by greasing the bottom and sides. You can use butter or a non-stick oil spray.

Finely chop the onion. Cut the bell pepper in half and remove the core and seeds before finely slicing. Finely mince the garlic.

Over medium high heat, melt the butter in a medium sized skillet. Once the butter has melted, add the chopped onion and cook for 2 minutes or until transparent. Toss in the pepper and garlic and saute for 5 minutes or until the peppers have softened.

Remove the veggies from heat and set aside.

Prepare the pasta according to the package. Cook the pasta as long as the package instructs or, if you prefer it slightly harder, cook for a little less than the recommended time.

Drain the pasta, then return it back to the pot over medium-low heat. Add the cooked veggies, evaporated milk, mayo, and both cheeses. Sprinkle in a pinch of salt and pepper and stir on the stove until the cheese begins melting.

Move the pasta to the previously prepared baking dish and generously top with more gouda and parmesan.

Put the baking dish in the oven and cook for about 25 minutes or until the top has begun to crisp and brown. If you like it particularly crispy, turn your oven to its broil setting for another couple of minutes.
Video
Nutrition
Calories:
407
kcal
|
Carbohydrates:
50
g
|
Protein:
13
g
|
Fat:
17
g
|
Saturated Fat:
5
g
|
Polyunsaturated Fat:
7
g
|
Monounsaturated Fat:
4
g
|
Trans Fat:
1
g
|
Cholesterol:
24
mg
|
Sodium:
238
mg
|
Potassium:
351
mg
|
Fiber:
3
g
|
Sugar:
8
g
|
Vitamin A:
1101
IU
|
Vitamin C:
40
mg
|
Calcium:
205
mg
|
Iron:
1
mg
Entrée or Side?
Everybody likes mac & cheese. This version of the classic dish is elevated enough that adults will relish it, but cheesy and gooey enough that kids will also enjoy it (gotta sneak in those veggies somehow). This recipe makes a fairly small amount, considering it is a whole casserole bake. If you use this as your main entrée, it will probably serve 2 adults or 4-5 children. However, it makes a wonderful side! If you use this as an accompaniment, everyone will get a chance to try it.
I recommend serving this as a compliment to grilled or fried chicken. I know chicken can be soft and tender, but I find myself overcooking it somehow and ending up with dry chicken, which I hate. But I also hate wasting food, so I have to eat it one way or another. I have discovered that cheese is a really good way not only to season chicken, but to ensure it remains moist enough to actually enjoy when you eat it.
The amount of cheese in this baked macaroni and cheese is really good for spreading over chicken that you may have let dry out a little too much. Maybe I just really like chicken and cheese, but the combo has never done me dirty.
Get Wild with Toppings!
Sometimes when I get started with something…I find myself getting carried away. That's why I have smacked a lot of add-ons to my cheesy pastas over the years. This Haitian macaroni and cheese is no exception.
I know I just said this dish paired well with chicken, but it also works with chicken baked into it. You will need to cook the chicken before cooking it with the pasta, but it makes for a slightly heartier dish, especially if you are using it as a main. This is also a good way to revive chicken that may be a day or two old from a previous meal.
I don't know how much gussied-up mac & cheese you have tried before, but a tried-and-true combination is mac & cheese with bacon. Yes, everyone's favorite: bacon. Of course, you could just whip up some regular, boring, plain bacon to add in, or you could make smoked, candied bacon! That's not even a question, right? Please tell me you're going with the candied bacon. It literally has the word "candy" in the name. I mean, how much more do I need to say?
If bacon really isn't your thing though, you can still add a few more ingredients. Cheese and broccoli is also a great combination. When I was younger, my mom would use one of the oldest tricks in the book on me and my siblings: broccoli in mac & cheese. Even at such a young age it was so good that I decided I actually liked broccoli in my mac & cheese.
If you want to add broccoli to this recipe, you'll need to cook it on the stove before putting it in the oven. Cut the stem off the broccoli and break the florets into small pieces. Add it to the pan when you add the onions. Even with the florets broken into small pieces, the stem bits will still take several minutes to soften, which is the key to successfully incorporating broccoli into mac & cheese.
Notes & Tips
If you have leftovers, you can leave it in the baking dish and cover it with plastic wrap or foil before putting it into the fridge. If you don't want to leave it in the dish, you can simply transfer it to a regular, air-tight storage container. It can be stored in this way for 5 days.
When you reheat it in the microwave, you might want to add a dash of milk or cream so it doesn't dry out.
---
Recent Recipes