Delicious Haitian Legume Stew
Haitian cuisine offers up a lot of stews and this one is just as delightful and just as loaded with proteins, vegetables and spices that it is soon going to be a family favorite. Legim as it is traditionally known is made with beef, eggplants, chayote and spinach and lots of condiments and seasoning. It can be made with fish or any other meat and can also be made with only vegetables for a vegetarian version.
This Delicious Haitian Legume Stew does involve a lot of prepping and cooking and uses a lot of ingredients. Thankfully the stew can be made with lots of variations so you can tweak to your tastes.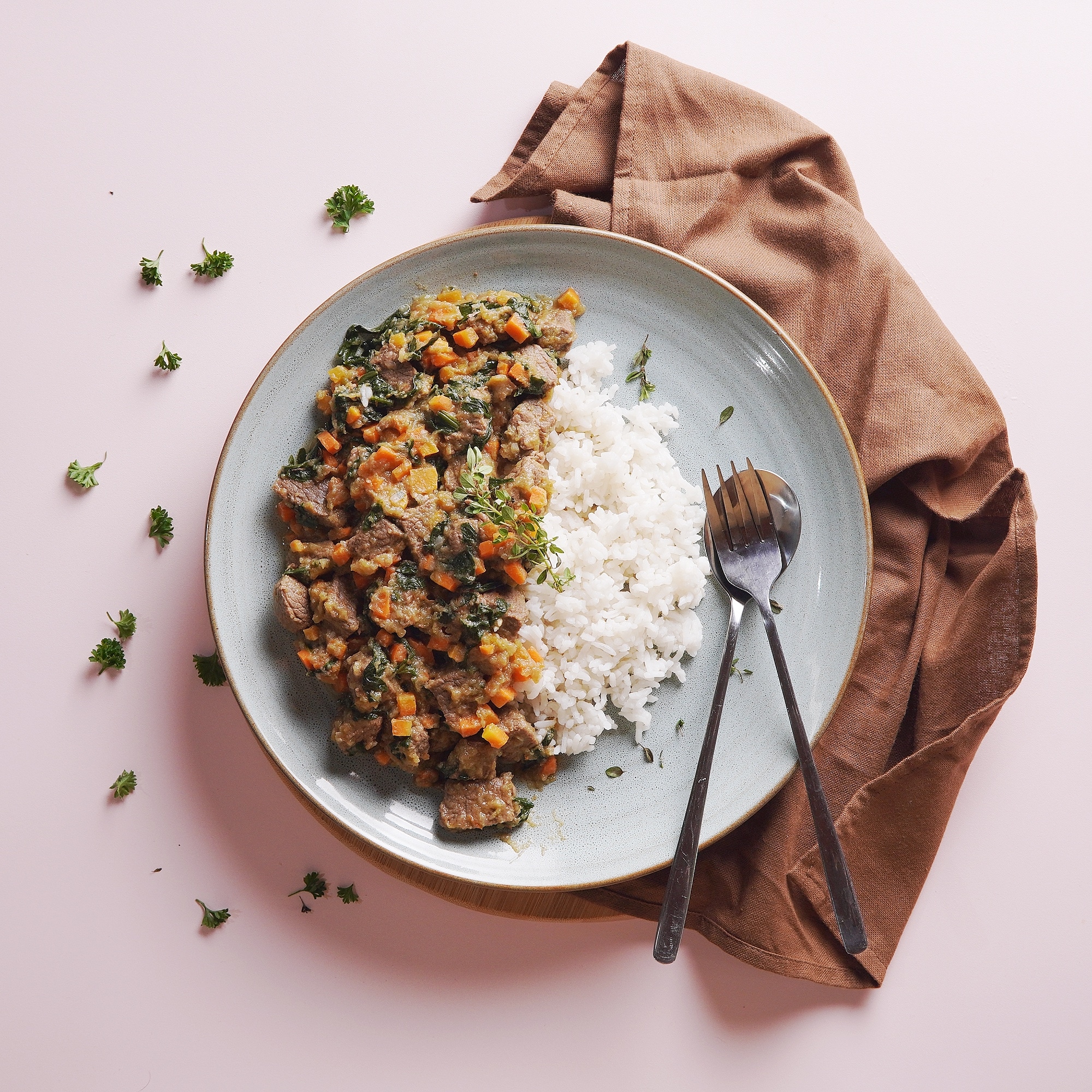 Ingredients
3

pounds

of beef

½

head of cabbage

1

eggplant

peeled and chopped

2

chayote

peeled and chopped

2

carrots

peeled and chopped

2

tablespoons

tomato paste

2

tablespoons

of epis

Parsley and thyme

1

jalapeno with about 5-6 cloves stuck in it

2

Bouillon cubes

Salt
Instructions
All ingredients ready? Let's begin!

Clean the beef with lemon juice and wash well.

In a large pot add 5 cups of water and boil the cabbage, eggplant and chayote for about 30 minutes.

While the vegetables are cooking take a large cooking pan, add the beef. Add the 2 tablespoons of epis to it and let it cook for 45 minutes in medium heat.

Once the vegetables are cooked, add them to a blender and blend well. Do not add any water, the cooked vegetables will be soft and retain enough water. The eggplant, chayote, cabbage paste should not be watery. Set it aside.

Once the meat has been cooking long enough, add the tomato paste, carrots and spinach to it and let it all cook together in medium high for about 10 mins.

Add 1 cup of water to it so that the vegetables get cooked. You can use the water the vegetables have been cooked in.

Now add the vegetable paste to the cooking meat and stir.

Now add the 2 bouillon cubes, the parsley and thyme, the jalapeno with the cloves and let it all cook together for 15 minutes.

After 15 minutes, remove the parsley, thyme and jalapeno. Add salt and combine well.
Video
Nutrition
Calories:
449
kcal
|
Carbohydrates:
51
g
|
Protein:
42
g
|
Fat:
9
g
|
Saturated Fat:
5
g
|
Polyunsaturated Fat:
1
g
|
Monounsaturated Fat:
4
g
|
Cholesterol:
9
mg
|
Sodium:
57151
mg
|
Potassium:
1415
mg
|
Fiber:
6
g
|
Sugar:
41
g
|
Vitamin A:
4210
IU
|
Vitamin C:
38
mg
|
Calcium:
193
mg
|
Iron:
6
mg
Tips & Tricks
You have to clean the beef with lemon juice and water before cooking it. Do it twice.
If the Delicious Haitian Legume Stew is getting too watery, add some all-purpose flour or rice flour to thicken it a bit.
If the stew is getting too thick, add some water or the stock the vegetables were cooked in.
If you want more spice, add a hot pepper like habanero or scotch bonnet. You can also add green peppers to it.
Shrimp and lamb are other good meat options that go well in this Delicious Haitian Legume Stew
You can add some butter to it for a little creaminess
You can also add about 2 tablespoons of lemon juice to it at the end before serving.
Storage
This Delicious Haitian Legume Stew is almost always made in a huge batch, because it does take a fair bit of time to prepare. So, chances are you're going to have some leftover, but fret not this stew gets better with age. Store in an airtight container and refrigerate for about 4 days. You can also freeze it. It lasts for around 2 months.
Let it sit out for about 30 minutes or overnight in the fridge to thaw. You can heat in the microwave or on the stove. Add a little bit of water or stock to thin it out.
FAQs
What is chayote?
Chayote is a type of squash that belongs to the gourd family. It was initially grown in Mexico but is now available all over the world. It has a pear shape and has a thin green skin that needs to be peeled. The skin is also sometimes used to make dips. Chayote has a very mild flavor and goes well in stews, soups and broths. It also has great health benefits as it is packed with nutrients and antioxidants. It has vitamins, minerals and fibers and besides being nutritionally dense, it also has low calories and is great for people looking to get healthy.
What other vegetables and meat can I add to this legume stew?
This legume stew is not only delicious, but it can be customized to suit your tastes. It needs greens, proteins, vegetables and tons of flavoring. You can use chicken, lamb, pork or shrimp for this stew. You can also use peas, green beans, mushrooms, peppers, watercress and zucchini. If you want a lot of spice, use a hot pepper like scotch bonnet peppers. This goes well with rice and beans.
Substitutions
There is a lot happening in this Delicious Haitian Legume Stew, but the good thing about that is that it gives us a lot of options for alternatives and substitutions.
Beef: You can use chicken, lamb or pork. Shrimp can be added along with another meat.
Spinach: Use frozen or fresh. You can use watercress or kale instead.
Eggplant: No substitution for this. You can use a handful of the smaller eggplants like the Italian, Japanese or even the fairy tale eggplants instead of the big ones. Another root vegetable or squash would be a substitute usually, but then it would be another dish altogether.
Chayote: If nothing else is available you can use zucchini, but chayote is essential to this dish.
Cabbage: Use the green cabbage. In a pinch you can use precut, slaw cabbage.
Carrots: Baby carrots are a good option
Jalapeno: Habanero or scotch bonnet peppers are a good idea.
Tomato paste: You can use regular, diced tomatoes
Cloves, parsley and thyme are essential for this dish. You can stick the cloves into the jalapenos when adding it to the stew so that is easy to remove as well.
Accompaniments
This Delicious Haitian Legume Stew is perfect for a cold afternoon lunch. Pair it with warm white rice or jasmine rice and some beans.
For more hearty stews you have to try this Delicious Beef Stew or this Homemade Mexican Goat Stew.
---
Recent Recipes