Decadent Dinosaur BBQ Mac & Cheese
Mac and Cheese has basically become an essential food group in my house. I make it all the time. It is what I make for quick meals, for comfort meals, for last minute meals, for picnics and potlucks. I have also tried new variations of it. New twists, added spices and condiments, changed the cheese, the sauce, the pasta shell even. I have made it with veggies, with meat, gluten-free, vegan, name it and I have tried it.
And honestly more often than not it turns out just as I had hoped. But this Mac and Cheese made famous by Dinosaur BBQ in New York State is delicious, decadent and hits all the right notes. I love it. But here is the problem and the good part, it has a lot of cheese. Like a lot, a lot. Four different kinds of cheese, plus more to top it off. It is super creamy, super heavy, super rich and extra yummy.
The cheese is what gives it the edge. I love that this Mac and Cheese is unapologetically loaded and carb heavy. But the texture comes from the quick broil at the end, it gives it that golden, crisp coating on top. And the original Dinosaur BBQ Mac and Cheese adds a sprinkling of their own dry rub on top. But you can make it just as tasty and satisfying with this Decadent Dinosaur BBQ Mac and Cheese.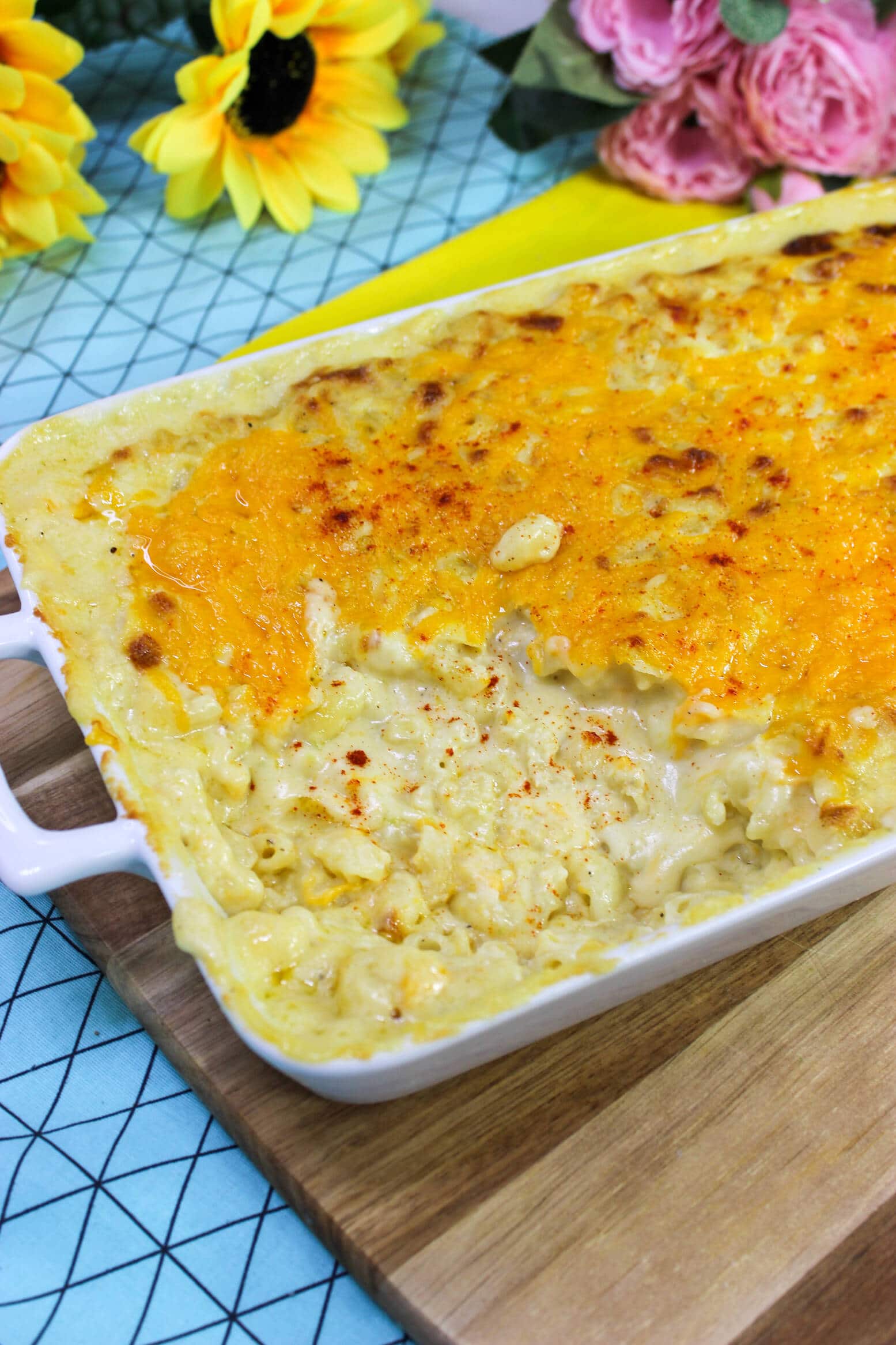 Ingredients
16

oz

elbow macaroni

1

cup

onions

diced

½

cup

green peppers

diced

2

cloves

of garlic

minced

5

tablespoons

of all-purpose flour

1 ½

cups

of half-and-half

1 ½

cups

of water

4

cups

of sharp cheddar cheese

shredded

2

cups

of American Cheese

shredded

1

cup

of Colby Jack cheese

shredded

1

cup

of Pecorino Romano

shredded

1

teaspoon

lemon pepper

1

teaspoon

sugar

1

teaspoon

yellow mustard

1

teaspoon

white vinegar

¾

teaspoon

Tabasco sauce

Dinosaur BBQ Cajun Foreplay Spice Rub

or any Cajun rub or just paprika

3

tablespoons

of vegetable oil

Salt
Topping:
1

cup

sharp cheddar

shredded

1

tablespoon

of Pecorino Romano

shredded
Instructions
Instructions:

Cook pasta according to package instructions until it is al dente and set aside.

Preheat broiler pan or oven (if the broiler is in the same compartment as the oven) to 450 degrees

Grease a large baking tray or oven-safe dish

In a large pot, heat the oil. Add the onions and garlic and sauté till fragrant.

Now add the green peppers and sauté till it softens.

Now add the flour, half-and-half and water and stir over low heat, making sure there are no lumps. Bring to a boil and then simmer for 10 minutes.

Now put in a blender (or use immersion blender) and blend everything in the pan: the onions, peppers, garlic, flour, half-and-half and water.

Once it becomes a smooth paste, return to the pot and add all the cheese. The cheese should melt with the heat of the paste, but if it doesn't, turn the heat back on low and let all the cheese melt together, stirring constantly.

Take off the heat and then add the salt, lemon pepper, sugar, mustard, Tabasco sauce and the vinegar. Stir till everything is mixed.

Now add the cooked pasta to this sauce mixture and combine well.

Pour the pasta and sauce mixture into the baking tray or dish. Sprinkle the 1 cup of cheddar and 1 tablespoon of Pecorino Romano on top and place in the broiler.

Broil for 5-8 minutes or till the top of the pasta is brown and bubbling.

Sprinkle a little bit of the Cajun rub on top and serve hot.
Video
Nutrition
Calories:
1156
kcal
|
Carbohydrates:
70
g
|
Protein:
56
g
|
Fat:
72
g
|
Saturated Fat:
41
g
|
Polyunsaturated Fat:
4
g
|
Monounsaturated Fat:
23
g
|
Trans Fat:
1
g
|
Cholesterol:
203
mg
|
Sodium:
1125
mg
|
Potassium:
494
mg
|
Fiber:
3
g
|
Sugar:
5
g
|
Vitamin A:
1988
IU
|
Vitamin C:
13
mg
|
Calcium:
1332
mg
|
Iron:
3
mg
Tips and Tricks
Don't skimp on the cheese. For authentic Decadent Dinosaur BBQ Mac and Cheese, you need to make it cheesy and creamy
Blend the onion, garlic and green pepper mixture into a smooth, fine paste because you don't want an otherwise creamy sauce to be chunky or crunchy.
The spices give it some subtle heat and breaks the heaviness of the sauce, so don't eliminate or reduce the amount.
Make sure you cook your pasta al dente, because if overcooked, it ends up tasting mushy and soggy in the sauce
Storage
The Decadent Dinosaur BBQ Mac and Cheese can be stored in the fridge for up to 2-3 days in an airtight container. You can eat it cold, or you can heat in the oven, microwave or stovetop. Preheat oven to 350 degrees and place the mac and cheese in an oven-safe, greased bowl and heat till it is bubbling on top, about 10-15 minutes. You can add a tablespoon of milk per cup of mac and cheese to keep it from drying. You can also add a dollop of butter at the end that will melt into the mac and cheese and retain the gooeyness.
To reheat in the microwave, place in microwave-safe dish, add 1 tablespoon milk and heat, stirring every now and then so it doesn't dry out and get clumpy.
To heat on the stovetop, cook on low heat stirring with wooden spoon. Add milk to soften it up.
Questions
Do I have to add so many varieties of cheese? And I only have American cheese slices, will that work?
It is no problem, if you don't have as many varieties of cheese, double up on what you do have. Cheddar, American, Colby are all great options for a good melt. You can also use Parmesan as topping if you have. But the authentic Dinosaur BBQ Mac and Cheese use all the cheeses listed above, so if you are looking for that flavor, you'll have to use all the different kinds of cheese.

It is perfectly fine to use slices of cheese if that is what you have, as all the cheese gets melted anyway.
Substitutions
Elbow macaroni: You can use small shell pasta as well.
Cheese: Some of the best cheese to use for the Decadent Dinosaur BBQ Mac and Cheese are cheddar, gouda, Gruyere, Monterey Jack, Parmesan, Muenster and Havarti. You can also mix in some cream cheese.
Peppers: This is an absolute necessity for the Dinosaur BBQ Mac and Cheese. It gives a hint of the green pepper taste, without overwhelming the dish. You can use red, yellow or orange pepper, but they are too sweet to warrant a similar flavor.
Spices: The lemon pepper, vinegar and sugar give a nice burst of flavor in the rich sauce. I like to increase the amount of the spice so that the dish has a bit more bite. I also like to sprinkle some lemon pepper on top of the dish as a garnish.
Tabasco sauce: You can use any hot sauce. You can also drizzle some on top
Mustard: I go light on the mustard but that is my personal taste, you can use any mustard of your choice
Oil: Obviously, butter is most often used in Mac and Cheese, which you can do, it gives it some extra love and creaminess.
Dinosaur BBQ Cajun Foreplay Spice Rub: You can use any Cajun spice blend you have. You can also just use paprika, as it is just a sprinkling on top or not add any spice garnish at all.
Accompaniments
This is a creamy dish with loads of carbs and cheese so keep the sides fresh and light. A simple green salad, like an arugula salad, is ideal. Grilled asparagus with a hint of lemon and garlic is another perfect mac and cheese pairing. A fresh carrot slaw or a side of roasted, spicy, broccolini go well with the Decadent Dinosaur BBQ Mac and Cheese.
For more fantastic Mac and Cheese dishes, try the Haitian Mac and Cheese or the New Orleans Mac and Cheese.
---
Recent Recipes