Haitian cake, also referred to as Gateau Au Beurre in the local French dialect, is a labor of love. This decadently rich dessert has plenty of delicious ingredients. It is often reserved for special occasions because it does take some time to prepare and bake.
This is also a wonderful Sunday afternoon baking project so that you have some slices ready for breakfast or tea time throughout the week.
Set aside a little time and enjoy the process. Put on your apron, send the kids outside to play, put on some island music, and relax while you follow this recipe step by step.
What Makes This Recipe Interesting?
While I was born and raised on the mainland of the USA, I have spent much time on the islands. I have explored the local cuisines and have indulged in the different rums that make each island's distillation unique.
This traditional cake recipe calls for rum. If you can find it, use the authentic Haitian Rhum Barbancourt. Dark rum is a little sweeter than light and adds some depth to this cake.
The addition of evaporated milk makes the batter very moist and rich.
Whether to ice the cake or not is a personal decision. Included in this recipe is a simple glaze made from guava jelly. Guavas are native to Latin America and add a unique flavor to the cake.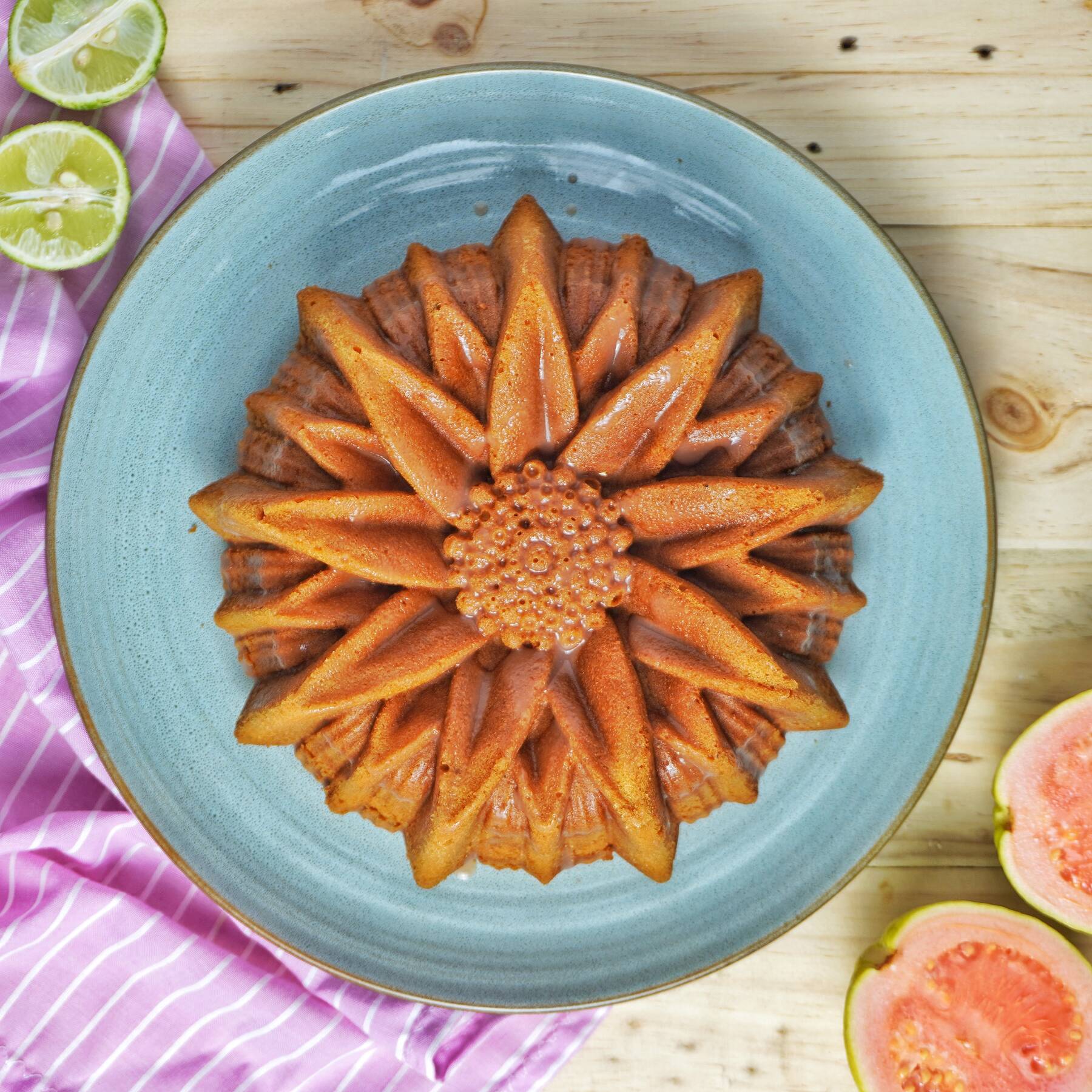 Equipment
A stand mixer or electric hand mixer is highly suggested.
Ingredients
1-1/2

cups

cane sugar

3

large eggs

2

sticks butter at room temperature

1

tsp

fresh lime zest

2

cups

of all-purpose flour

1

can evaporated milk

12 ounces

2

TBS

dark rum

3

tsps

baking powder

2

tsps

sea salt

1

tsp

pure vanilla extract

1

tsp

almond extract

1

tsp

ground nutmeg

1-1/2

tsps

softened butter

1/2

cup

guava jelly

2

TBS

water
Instructions
Preheat your oven to 350° F.

In a large mixing bowl, add the sugar, eggs, butter, and lime zest. Mix at low speed for 5 minutes until smooth.

Add the flour, milk, and rum. Mix at medium speed for another 5 minutes.

Add the baking powder, sea salt, vanilla extract, almond extract, and nutmeg. Mix at medium speed until creamy, approximately 15 to 20 minutes.

Grease a 12 cup bundt pan with the remaining 1-1/2 teaspoons of butter. Fill the pan 1/2 to 3/4 with the batter.

Place the cake in the preheated oven and bake for 35 to 45 minutes or until a toothpick or paring knife inserted in the center comes out clean.

Remove the cake from the oven and set it aside to cool in the pan for 15 minutes. While the cake is cooling, make the glaze by melting the guava jelly in a saucepan. Whisk in the water a little at a time until the jelly is thinned out to a glaze consistency that can be brushed or painted on the cake.

Remove the cake to a serving plate or cutting board. Brush the glaze over the top of the cake. Slice into individual pieces and serve.
Video
Notes
This cake is really good when served with a hot cup of tea for an afternoon snack. Or, have it with a mug of strong coffee for breakfast. You could dress up the cake with vanilla frosting and serve it with candles at a birthday party. Enjoy it any time of day and for any celebration.
Nutrition
Calories:
421
kcal
|
Carbohydrates:
45
g
|
Protein:
7
g
|
Fat:
23
g
|
Saturated Fat:
14
g
|
Polyunsaturated Fat:
1
g
|
Monounsaturated Fat:
6
g
|
Trans Fat:
1
g
|
Cholesterol:
115
mg
|
Sodium:
821
mg
|
Potassium:
176
mg
|
Fiber:
1
g
|
Sugar:
22
g
|
Vitamin A:
737
IU
|
Vitamin C:
2
mg
|
Calcium:
185
mg
|
Iron:
2
mg
Tips for Success
Gather the ingredients as called for in the recipe. Don't substitute whole grain flour for all-purpose flour as it might result in a dense cake. Evaporated milk is rich and creamy. Regular milk might make the batter too thin. Margarine is really just oil in a stick or tub. You won't get the buttery flavor that makes this cake so good if you substitute that for the butter.
Start with your ingredients at room temperature. This goes for everything: milk, eggs, butter, rum, flour, etc. A successful cake batter relies on everything being at the same temperature when they go into the mixing bowl. Otherwise, you could end up with lumps of butter and bits of raw flour. I learned this the hard way by trying to use cold flour that I store in my freezer to make a cake.
Baking really is a science, so measure carefully.
Haitian cake is a little different from other buttery cakes in that you do mix it for a long time. Many cake recipes will say not to overmix your batter. In this case, it is okay to mix it as directed to ensure that the butter, eggs, flour are well incorporated and smooth in texture.
Cool the cooked cake in the bundt pan for 15 minutes. If you try to remove it while it is still too warm, some of the cake might separate and stick to the pan. My solution for that mishap is to try to place what was left behind on top of the broken cake and mend it by covering it with a thick cream cheese frosting. Or, just eat it because it will still taste good.
Substitutions and Shortcuts
This cake batter needs to be well mixed until creamy. The best way to achieve this is by using a stand mixer. If you don't have a stand mixer, an electric hand mixer will do.
You might not be able to find Barbancourt dark rum. Feel free to substitute Mount Gay, Blackwell, Goslings, or even Meyers. If you don't want to use alcohol, you can use alcohol-free rum extract. Just use less than the actual rum, approximately 3/4 teaspoon.
Lime zest is added to the batter for a hint of acid, which actually helps to enhance the sweetness. You can certainly use other citrus zest, such as lemon or orange.
There is another version of this cake that replaces the evaporated milk with fresh orange juice. The orange-flavored version of Haitian cake is called Gateau Ayisyen Zoranj.
The Caribbean is famous for fresh tropical fruit. Some home cooks like to elevate Gateau Au Beurre by filling the center with diced fresh fruit. Typically, that would be pineapple or guava. You could also fill the center of the cake with fruit from a jar or can. Just be sure it isn't too sweet unless that is what you like.
The batter is traditionally baked in a bundt cake pan. You can use a spring-form cake pan or even muffin tins. If baking in muffin tins, reduce the cooking time.
Guava jelly is pretty common in Latin American cuisine and can be found in Caribbean markets. If you can't find guava jelly for the glaze, you can substitute strawberry or apricot jelly.
The glaze here is super easy. For a glaze with a little more complexity try this: In a medium bowl, combine 1/4 cup lemon juice, 2 cups of powdered sugar, 2 tablespoons melted butter, and 1 tablespoon of pure vanilla extract. Mix until smooth. Pour the glaze over the cake and top with shredded coconut.
---
Recent Recipes