How To Cook Frozen or Fresh Salmon In Air Fryer
My air fryer has been a lifesaver when I have weekend visitors and I am unable to spend a lot of time in the kitchen while tending to my guests. Most foods cook quickly in an air fryer and this method is much healthier than deep frying in oil. I have prepared hot appetizers, roasted proteins, cooked vegetables, and baked goods in my air fryer.
The hot air inside the fryer circulates around the food to cook it evenly and fairly fast. One of the best parts about cooking with an air fryer is the ability to prepare things right out of the freezer. Fish works perfectly for this.
I make fish once or twice a week. Sometimes it is fresh and other times it is frozen. I love salmon, mainly for its health benefits. Fresh salmon is seasonal, so at certain times of year, I do purchase a package of frozen wild-caught salmon to keep on hand. I have made both fresh and frozen in my air fryer. And I will explain how to do it both ways. Knowing how to do this will take away any stress you might feel when you have forgotten to defrost something for dinner.
When shopping for salmon, my best advice is to look for wild-caught. If your only option is commercially farmed salmon, check the label to see how the fish was raised. You want salmon that was raised in the ocean and fed an organic diet without additives, such as orange dye. For this recipe, I recommend king or Coho salmon for their buttery soft flesh. Otherwise, go for pink or sockeye salmon that have a lower fat content and firmer flesh. If buying fresh salmon from the whole fish, make sure the eyes are bright and the flesh does not smell fishy.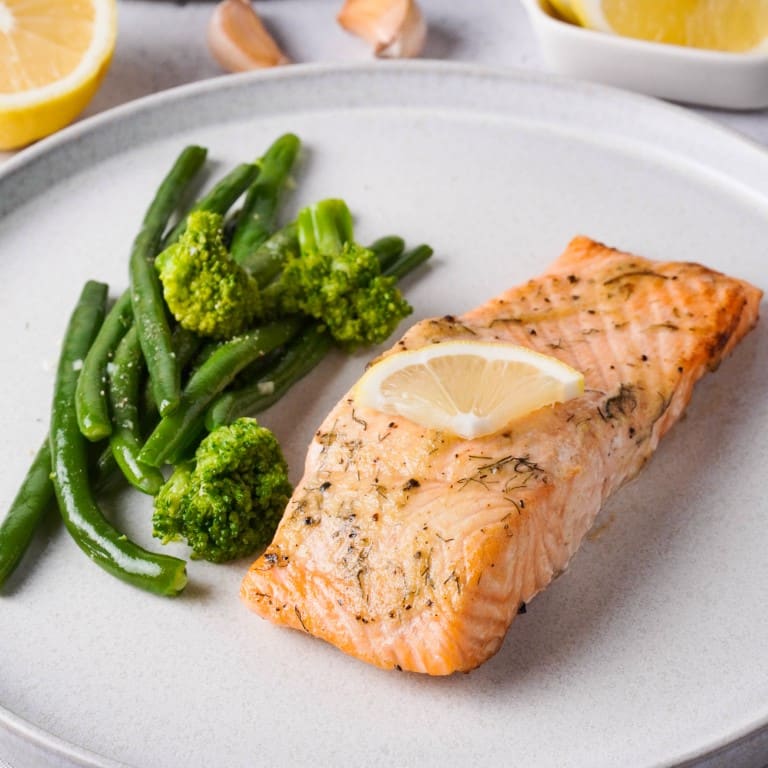 Ingredients
Two 5-ounce skinless salmon fillets

fresh or frozen

1

Tbsp

extra virgin olive oil

1 ½

tsp

freshly squeezed lemon juice

½

tsp

Dijon mustard

optional

¼

tsp

garlic powder

¼

tsp

dried dill leaves

¼

tsp

sea salt

¼

tsp

freshly ground black pepper

1

tsp

extra virgin olive oil

for frozen fillets

2

lemon wedges for serving
Instructions
All ingredients ready? Let's begin!

Preheat the air fryer to 390°F for 5 minutes.

In a small mixing bowl, whisk together the olive oil, lemon juice, mustard, garlic powder, dill, salt, and pepper.
Fresh Salmon
Brush half the olive oil and seasoning mixture on the bottom sides of the salmon fillets.

Place them in the air fryer basket or on the crisper plate.

Brush the remaining oil and seasonings on the top sides of the fillets.

Close the air fryer and cook for 7 minutes, or until the internal temperature reaches 145°F.

Serve while warm with lemon wedges.
Frozen Salmon
Brush the extra teaspoon of olive oil on the bottoms of the salmon fillets.

Place them in the air fryer basket or on the crisper plate. Close the air fryer and cook for 7 minutes. This step basically defrosts the fish.

Brush the tops of the fillets with half of the olive oil and seasoning mixture. Flip the fillets over and brush the rest of the oil mixture on the tops of the fillets.

Cook until the internal temperature reaches 145°F, approximately 7 more minutes.

Serve while warm with lemon wedges.
Nutrition
Calories:
290
kcal
|
Carbohydrates:
2
g
|
Protein:
28
g
|
Fat:
18
g
|
Saturated Fat:
3
g
|
Polyunsaturated Fat:
5
g
|
Monounsaturated Fat:
10
g
|
Cholesterol:
78
mg
|
Sodium:
368
mg
|
Potassium:
733
mg
|
Fiber:
1
g
|
Sugar:
1
g
|
Vitamin A:
64
IU
|
Vitamin C:
11
mg
|
Calcium:
24
mg
|
Iron:
1
mg
Notes & Tips
When making frozen fish in the air fryer, there is no need to thaw it out in the fridge overnight. But you can do that and follow the steps for cooking fresh salmon.
It is necessary to preheat the air fryer for about 5 minutes prior to adding anything to it, just as you would your oven.
You need to cook in a single layer with a little space around each fillet of fish. Don't be tempted to crowd the air fryer or stack the fish.
The air fryer can emit some smoke or steam, depending on what you are cooking. The way I deal with this is to place the air fryer on my stovetop with the range hood exhaust fan turned on in winter. In the summer, I place the air fryer on my porch or patio because I have electrical outlets out there.
Cook the fish to an internal temperature of 145°F when checked with a digital meat thermometer.
Substitutions & Omissions
Salmon: It is no surprise that you can cook pretty much any fresh or frozen fish fillets in your air fryer. I think some of the best substitutions for salmon include swordfish steaks, ahi tuna, Chilean sea bass, arctic char, and halibut.
Olive Oil: I have made this dish with melted butter mixed with the mustard and seasonings rather than olive oil. It is pretty delicious, especially if you are using a leaner, firmer fleshed salmon.
Dijon Mustard: I like Dijon mustard on salmon, but it can be too strong for some people. You can skip the mustard if it isn't what you like.
Seasonings: You can go simple with just salt and pepper. If you want a more pronounced garlic flavor, use a minced clove of fresh garlic instead of garlic powder. If you don't have dill on hand reach for chives, basil, oregano, or parsley.
Accompaniments for Air Fryer Salmon
When I serve salmon, I always include lightly cooked green veggies or a salad. One of my favorite vegetables to serve with salmon is easy toaster oven asparagus. I think simply roasted or steamed broccoli florets are great as well. For a salad, try refreshing and crisp din tai fung cucumbers.
I also enjoy adding a starch component to the meal. One of my favorites is Greek lemon potatoes. Polenta is another good choice that you can top with the salmon fillets. Or go simple with any pasta coated in a tasty butter sauce. I don't know any kid who passes up pasta with butter, even if the salmon has them turning up their noses with skepticism.
---
Recent Recipes