Perfect Patatas Bravas (Spicy Potatoes)
There was a Spinach tapas restaurant in Washington, DC that had everything you could ever want from a tapas menu. Sangria, paella, marinated olives, shrimp, etc. you name it. The menu was deep and delicious. You can easily escape reality when you cozy up into a Spanish tapas restaurant.
One of the most memorable items from that menu was the patatas bravas. How could something as simple as a fried potato stand out among such a large menu?
Maybe it's because I don't have to do the cooking, or their crispy perfection, or maybe it's the tasty sauces that you can pair with the potatoes. It's also inexpensive and highlights one of the world's most popular, nutritious foods — the potato.
Regardless, patatas bravas is a dish you're going to want to either try at a restaurant or better yet, make it right at home. And this is how you're going to do it.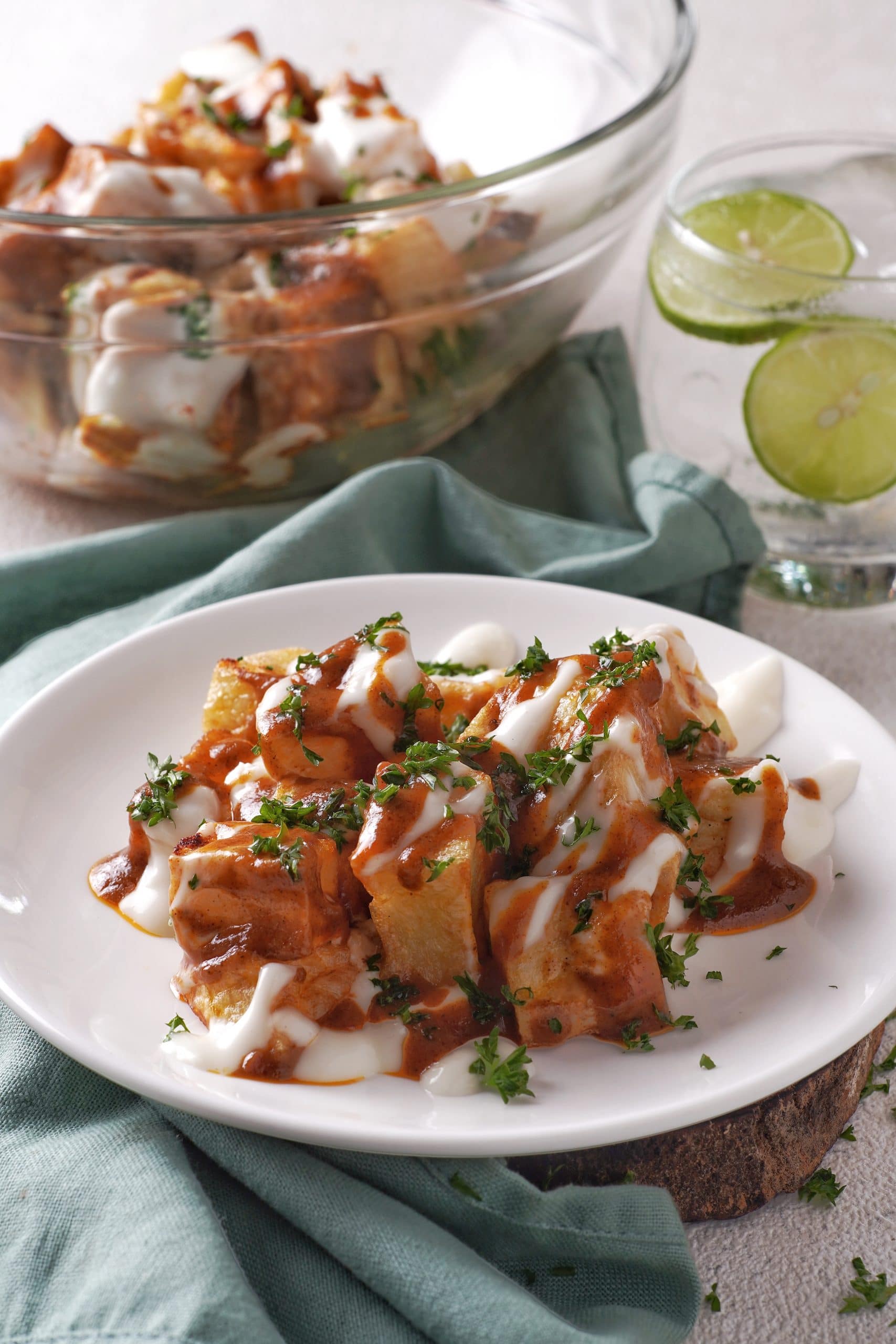 Ingredients
Garlic Aioli
3

garlic cloves

peeled

Pinch

of kosher salt

½

cup

mayonnaise

2

tablespoons

olive oil

1

lemon

juiced
Bravas Sauce
⅓

cup

extra virgin olive oil

2

tablespoons

smoked paprika

½

teaspoon

cayenne pepper

1

tablespoon

all purpose flour

1

cup

vegetable stock

½

teaspoon

kosher salt

1

tablespoon

unsalted butter
Potatoes
4

Russet potatoes

peeled and cut into 1" pieces

1

quart

vegetable oil

or canola

1

tablespoon

smoked paprika

¼

teaspoon

kosher salt

Fresh cracked black pepper
Instructions
To make the garlic aioli, use a microplane or garlic press to grate the garlic into a small bowl. Then add the mayonnaise, salt, and juice from one lemon. Mix together and set aside.

To make the bravas sauce, add the olive oil to a small saucepan. Add the paprika and cayenne pepper to the saucepan and stir to combine.

Whisk in the flour (for a thicker sauce, use up to 2 tablespoons of flour). Stir the flour mixture around in the pan until it becomes fragrant but not too brown.

Gradually whisk in the stock until the sauce begins to thicken. If the sauce is too thin, you can add more flour or if it's too thick, simply add more stock.

When the sauce is your desired consistency, let it simmer for about one minute.

Finally, turn off heat and stir in the tablespoon of butter and salt. Leave the sauce on the stove so that it stays warm for easy drizzling.

Now we will par-cook the potatoes. Once the potatoes are cut, place them in a medium saucepan and pour cold water over them to cover by 1 inch.

Place the pot on a burner and turn the heat to high. Bring to a boil. Cook the potatoes until they are just slightly tender about (5-7) minutes.

Drain the potatoes and then lay on a dry dish towel or paper towel. Pat the potatoes so that they become dry.

While the potatoes are drying, heat one quart of vegetable oil in a large dutch oven (or a deep fryer if you have one). Bring the temperature of the oil to 350F.

Working in small amounts, fry the potatoes until they are golden brown (about 6-7 minutes).

Remove the potatoes from the fryer and drain off any extra oil. Sprinkle the potatoes with a pinch of salt.

For family-style tapas, pour the potatoes into a large serving bowl. Drizzle each sauce over the potatoes and serve immediately.

Enjoy your Perfect Patatas Bravas!
Video
Nutrition
Calories:
641
kcal
|
Carbohydrates:
47
g
|
Protein:
6
g
|
Fat:
50
g
|
Saturated Fat:
9
g
|
Polyunsaturated Fat:
16
g
|
Monounsaturated Fat:
24
g
|
Trans Fat:
1
g
|
Cholesterol:
19
mg
|
Sodium:
865
mg
|
Potassium:
1068
mg
|
Fiber:
6
g
|
Sugar:
4
g
|
Vitamin A:
2929
IU
|
Vitamin C:
27
mg
|
Calcium:
55
mg
|
Iron:
3
mg
Notes & Tips
In this recipe, we use a method coined by the French called "monte au beurre". This is when cold butter is added to a sauce at the end of the cooking process. It smooths out the flavor of the sauce and cuts the potency of the dried paprika while adding richness and a subtle sheen.
Russet potatoes are great frying potatoes. However, you can use other potatoes like yellow or red potatoes, if needed.
If the sauce is too spicy for you, or you are short on time, you can also just create one sauce. Simply let the bravas sauce cool to room temperature and then whisk in mayonnaise and lemon juice to make it creamier and to dull the spice. If you add the mayonnaise to the hot sauce, it will break and become greasy.
Paprika is ideal for this recipe, but it's ok to experiment with substitutions if you need to.
You can use an air fryer for this recipe to make it healthier. I would still recommend par-cooking the potatoes ahead of time before using the air fryer.
Can You Make Patatas Bravas Ahead of Time?
You can certainly prepare most parts of this recipe ahead of time. However, it's not recommended to fry the potatoes in advance, as they won't stay very crispy.
You can make the sauces ahead of time and both will stay fresh in the refrigerator for 2-3 days. It's recommended to heat the bravas sauce before serving it over the potatoes. If the aioli or bravas sauce stiffens up, you can add a little water to thin it back out.
Additionally, you can par-cook the potatoes ahead of time and store them in the fridge for up to one day prior to frying them.
What Goes With Patatas Bravas?
As mentioned before, patatas bravas is a classic Spanish tapa dish. It's so delicious and cheap to make! It's easy to put together a few more dishes to create your own globally inspired small plate feast.
Some other suggestions that pair well with patatas bravas are:
Mediterranean chicken wings
Easy fried feta cheese balls
Vamprio tacos
Ajvar spread or Lutenitsa spread as an additional dip or topping for the potatoes
Are Patatas Bravas Vegan?
This recipe is not vegan if you're using basic commercial mayonnaise. You can easily make it vegan by using a vegan mayonnaise or making your own. Also, make sure that you are using vegetable stock and not chicken stock (though you can easily use one or the other for this recipe).
---
Recent Recipes