Is SayWeee.com Any Good? A Thorough Review
Anyone who's been shopping for Asian or Latin American cuisine or ingredients will have undoubtedly encountered SayWeee.com. With competitive pricing, products that'll wow you in every category, and a generous customer loyalty program, Weee! may just be the best specialty e-grocer in its vertical. We'll be taking you through a comprehensive review of Weee! Inc., its jaw-dropping range, and the general service to expected.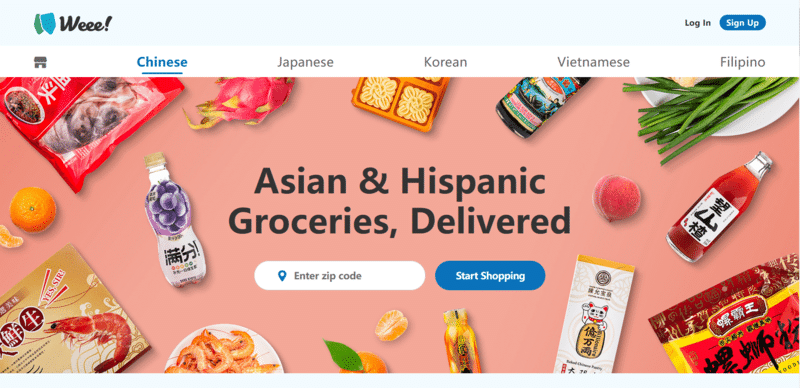 Weee! is the largest Asian and Hispanic grocery store in North America. An all-encompassing selection of locally-sourced food specialty products, hard-to-find food items, and everyday staples awaits online shoppers. The California-based grocery is the ultimate place to shop for everything from snacks to household goods and even certain health and beauty products.
Is Weee A Chinese Company? (SayWeee.com Origin)
SayWeee.com is the domain and homepage of Weee! Inc. CEO Larry Liu founded Weee! in 2015 in Fremont, California. Prior to founding Weee! Inc, the Chinese-American Liu from San Jose founded the eCommerce arbitrage product company Happital Inc. Before that, he served as a senior financial analyst for several firms while heading up R&D financials at the Atmel Corporation.
Weee! has expanded its coverage and product selection steadily since inception to span over 4000 products while delivering to the whole of the USA. The social e-commerce private company Weee! started with $1.4 million in seed capital as of the 1st July 2015 and has received a grand total of $425 million in funding by its Series E round in February of 2022.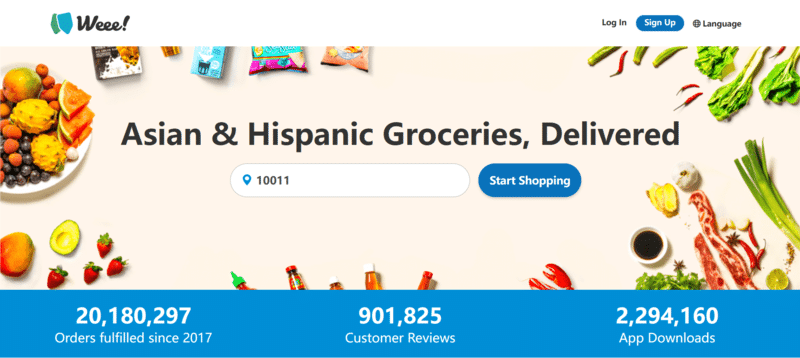 Weee! allows ordering from across the USA. Nationwide delivery is offered at very affordable rates as compared to the industry standard.
SayWeee.com Physical Locations
Despite delivering nationwide, Weee! does not have any brick-and-mortar stores. There are, however, distribution centers spread across every US state.
How Does Weee! Work?
Prospective shoppers simply create a free Weee! profile then enter their zip code. The user then proceeds to select the store type they're shopping according to, picking from Chinese, Mexican, Japanese, Korean, Vietnamese, Filipino, Indonesian, and American storefronts. A clean, intuitive interface then presents the products available for delivery along with their cost.
There are twelve base categories to choose from within each store: fruits, vegetables, meat, seafood, snacks, pantry items, bread & tortillas, dairy & eggs, beverages, frozen foods, self-care items, and household products. Shoppers can filter according to allergens, dietary needs, and the product's country.
Once done filling their cart, the shopper pays, and delivery is made within two days unless a fast-food product is ordered and delivered rapidly to those in qualifying areas by connected restaurants.
What Makes Weee! Different?
What makes Weee! different is that the groceries and produce offered are guaranteed to be of the highest quality thanks to the way that the company uses its own supply channels instead of connecting customers to third-party vendors. From fresh produce to prepackaged snacks, there are seldom complaints as the company holds the premier standards. Delivery times are fast, and all the most popular brands are available.
Shoppers are capable of finding regional food products that they simply cannot find anywhere else. Few local markets and brick-and-mortar grocers can compare. There's everything anyone hunting down Hispanic or Asian ingredients and groceries could ever hope for. Those looking for something new to try should keep an eye on Facebook, Twitter, Instagram, and TikTok for inspiration. New, exciting products are posted daily as the company sustains a very active social media presence. Interactions with customers are numerous and positive, which is always a good thing for prospective shoppers.
Another fantastic feature is the design of the shopping interface itself. Pricing is crystal clear and broken down into the price per ounce or pound, as is applicable. Filling a cart is quick and easy thanks to the quick add function represented by a plus symbol beneath each item. Yet, for more details and one of the handiest features we've found, open the product page for each product. You'll be rewarded with customer reviews and related testimonials beneath the basic display points paid to VIP members and pricing information. While concise, these reviews are filled with tips and guidance, and are a great help to first-time shoppers of many regional food types.
What Does Weee! Charge?
There is no fee to use Weee! and no surcharge on the listed prices nor a mandatory tip but delivery is charged at $5 for qualifying local delivery areas and a $20 flat-rate for nationwide delivery. Weee! waives the fee for orders over $35 and customers have their goods delivered for free. On-demand restaurant delivering is charged at $12 in qualifying areas.
How Much Do You Tip At Weee!?
A facility built into the online ordering system of the website and apps allows you to tip the delivery agent when paying for your order. However, tips are entirely optional. If choosing to tip, the denomination is at your discretion.
Weee! Loyalty & Referral Systems
SayWeee.com incentivizes referring new users. The referrer gets $20 worth of Weeee! Points that can be used on any order when the referred customer spends over $10. The referred customer also receives a $10 discount off their first two orders. Referring a friend to Weee! is quick and easy, thanks to the personalized referral link provided on Weee! 's referral page.
Weee! Points Loyalty Program
In addition to allowing payment via major credit cards and PayPal, Weee! provides users with Weee! Points as rewards for referrals and ordering when part of the VIP membership program. Each Weee! Point is worth $0.10 and is redeemable as credit against any order. The best way to build up Weee! Points is to refer friends and family or to refer new users by sharing product reviews on social media. Each referral pays out 1000 Weee! Points which are worth $10 and become available exactly five days after the date of the first delivery made over $20.
All new users are eligible to claim a one-month paid VIP pass for free during the first two weeks of their sign-up as an introduction to the benefits of a subscription. VIP membership entitles subscribers to 5% of their purchases back as Weee! Points and there is free bi-weekly delivery available. Unlike some offers, the free VIP pass does not auto-renew. It offers considerable value for those who shop primarily for Asian or Hispanic groceries. There's often no better option than Weee!'s VIP pass when in small towns or remote vicinities.
The first thing you'll notice about SayWee.com is its massive selection of products. Fresh produce is available to shoppers in eighteen states at the time of writing, whereas all other groceries, food products, and other items are delivered nationwide. Certain cities even offer fast food from local Asian and Hispanic restaurants on-demand. Shopping is divided according to the type of store preferred. Sorting through the vast selection of products is straightforward, thanks to the intelligent classification of the categories.
Here is a rundown of each store and the type of products you can expect to find, as reflected by the breakdown of each classification's best-sellers on SayWeee.com.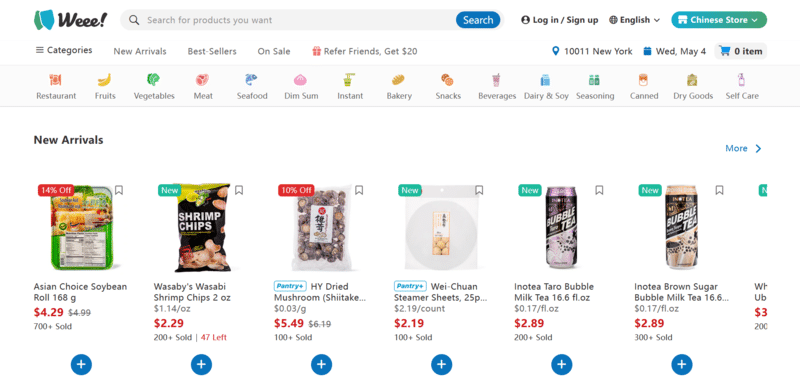 Chinese Meats (Sakura Ground Pork, Taiwanese Cured Pork, Lap Xuong Sausages, Tendon Meatballs), Chinese Seafood (Fish Balls, Fish Tofu, Eel, Abalone, Cuttlefish, Jellyfish), Chinese Fruits & Vegetables (Fuji Apples, Chinese Pears, Mandarin, White Radish, Chinese Eggplant, Tong Ho, Gai Choy), Ramen, Rice Noodles, Tofu, Rice Wine, Soy Sauce, Dumplings
Weee! Mexican Store
Mexican Seafood (Snapper, Red Salmon, Grouper, Octopus, Smelt Fish ), Mexican Meat (Pork Carnitas, Chili Verde, Corn Taquitos), Mexican Fruits & Vegetables (Maradol Papaya, Chayote, Grey Squash, Jicama, Mexican Basil), Hominy, Menudo, Tostadas, Masa Harina, Horchata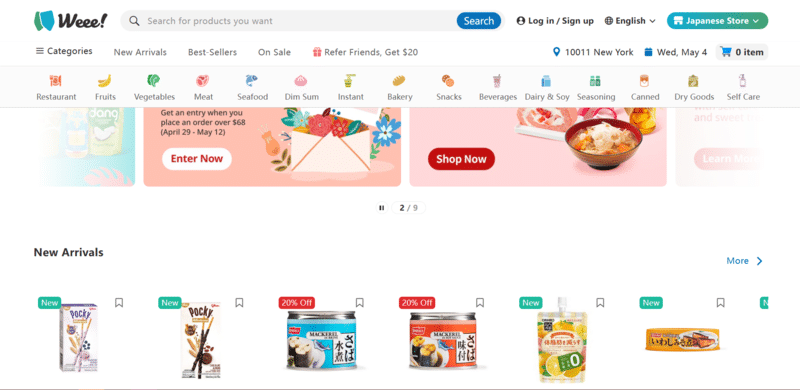 Japanese Meats (Karrage Chicken, Hokkaido Herb Beef, Pork Jowl, Chashu, Waygu, Omasum Tripe), Japanese Seafood (Salted Trout, Amaebi Sweet Shrimp, Shirakiku Oden Fish Cakes, Nobashi Ebi, Hamachi Kama, Atka Hokke), Japanese Fruit & Vegetables (Shiso, Song Hay, Neitian, Wasabi, Nagaimo), Tonkatsu Sauce, Japanese Mayonnaise, Sake, Mirin, Miso, Dashi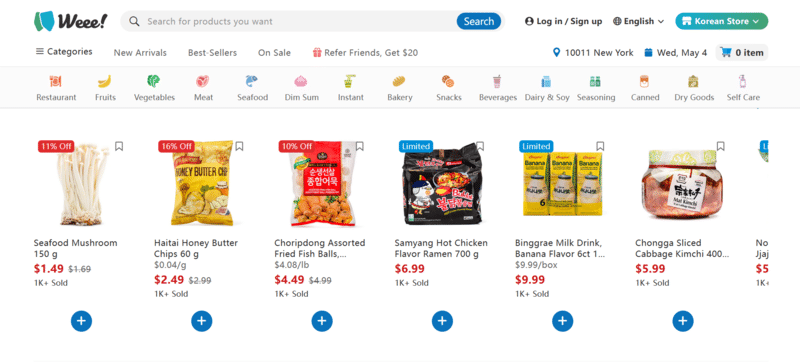 Oyster Mushrooms, Ramen, Kimchi, Chapagetti, Roasted Chestnuts, Korean Seafood (Spicy Webfoot Octopus, Yellow Croaker, Salted Cutlassfish, Pollack Roe), Korean Fruits & Vegetables (Leek Gyoza, Korean Melon, Radish, Chestnuts, Singo Pears), Korean BBQ Meats & Sauces, Abalone Rice Porridge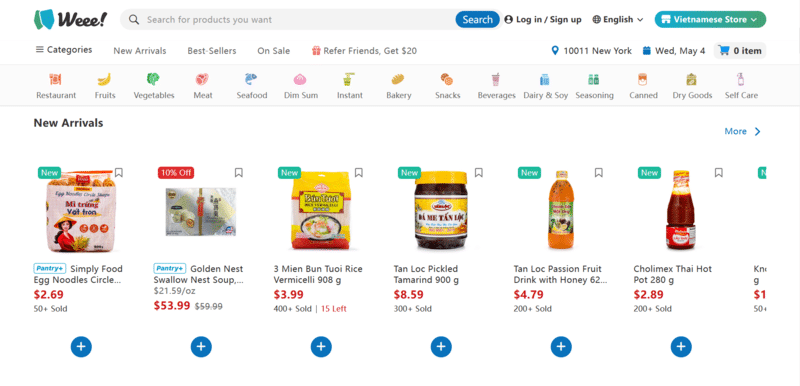 Vietnamese Meats (Frog Legs, Duck, Masum Tripe, Egg Yolk Sausage, Bulgogi), Vietnamese Seafood (Whelks, Silverfish, Yari-ika, Hard Clams, Cuttlefish, Pompano), Vietnamese Fruit & Vegetables (Bac Ha Doc Mung, Mieu, Gai Choy), Jasmine Rice, Rice Noodles, Lemongrass Beef Jerky, Pickled Tamarind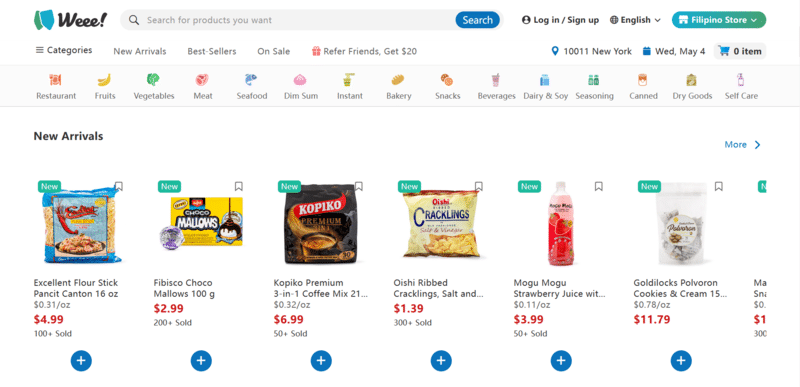 Filipino Meats (Lechon Belly, Pork Tocino, Kare Kare, Bulalo, Luiempo, Tinolang Manok, Adidas). Filipino Seafood (Bangus, Galunggong, Salay-Salay, Kikiam, Pompano), Filipino Fruit & Vegetables (Talong, Kangkong, Sayote, Caimito Star Apple, Lanzones, Lakatan, Jackfruit, D'Anjou Pear), Sea Grapes, Mochi,
Weee! Indonesian Store
An in-depth search filtering through several different zip codes revealed that the Weee! Indonesian store appears to have drastically fewer products than the other classifications. While this is subject to change and only rings true in the regions that we tested, there are only a limited number of Indonesian groceries on offer.
Available products include but are not limited to Indonesian Lays, including flavors like 'Salted Egg,' 'Sweet Basil,' and 'Beer.' There are also various other scattered Indonesian products like deep roasted sesame dressing, paratha roti, various soft drinks, a range of fresh fruit and vegetables and, of course, several varieties of chili.
Weee! American Store
Weee! 's American store has primarily a general assortment of Asian-American groceries mainly found in other categories instead of offering American-only brands. There are far fewer unique items featured in this category, but it does open up many otherwise unclassified and popular options from other storefronts.
Where Does Weee Get Their Food From?
Weee Inc. has built and is constantly expanding its own private network of suppliers. When Weee! launched, it aimed to streamline the WeChat group buying experience commonly relied upon in Asia. However, instead of having to reach out and manually contact a third-party local supplier of fresh produce, localized groceries, or specialty products and then assessing the quality, SayWeee.com has already vetted its network of farmers importers, distributors and manufacturers manually.
By reaching out to local companies and assimilating those with exemplary quality and service, Weee! has grown its database of suppliers and products relative to the zip code they're situated in and established a supplier base similar to that of a conventional grocer but including other exciting products like fast food from restaurants, and imported vitamins, and health and beauty items as well.
Weee! Contactless Delivery
Delivery from Weee! is contactless by default. All purchases are delivered packaged in a chilled box at your doorstep. The status of each delivery is trackable in real-time using the Weee! App.
How Much Does Weee! Cost?
There are no shopping fees and no subscription required to order, but there is a generous customer loyalty program, optional VIP subscription supplying rewards, and a selection of referral bonuses on offer. On a standard order, all that is due is the payment for your goods and the delivery charge unless the threshold for free shipping is met.
SayWeee.com Discount Programs & Coupons
SayWeee.com offers coupons through its VIP membership program and via frequent open-to-all giveaways on social media. By default, all new accounts receive two coupons, namely $10 off a $35 or higher order for new users and $10 off a $49 or higher order for new users. These two introductory coupons are valid within the first month of sign-up. There is also an incentive offered for sharing products called Weeebates. 
There is also a referral program where you can get $20 across two orders of $35 or more. You can use our link here if interested in this coupon.
Weeebates
Weeebates is a share and earn system that lets customers share products that they like from their orders on social media. Each product share offers friends, family, and other users discount coupons on the relevant products cited. Discounts of up to 15% are offered, and as soon as coupons are redeemed, Weeebates pays the sharer one to one-hundred Weee! Points. As a reminder, one-hundred points equates to $1 of Weee! credit.
How Does SayWeee.com Make Money?
Weee! makes money by earning profits on the products sold from its diverse product selection. Third-party vendors who list via Weee! sell their products for free while helping to grow the platform's diversity, catalog, and user base. Additionally, the company earns revenue from optional VIP membership subscription but it isn't a primary income stream.
What Is The Sign Up Process?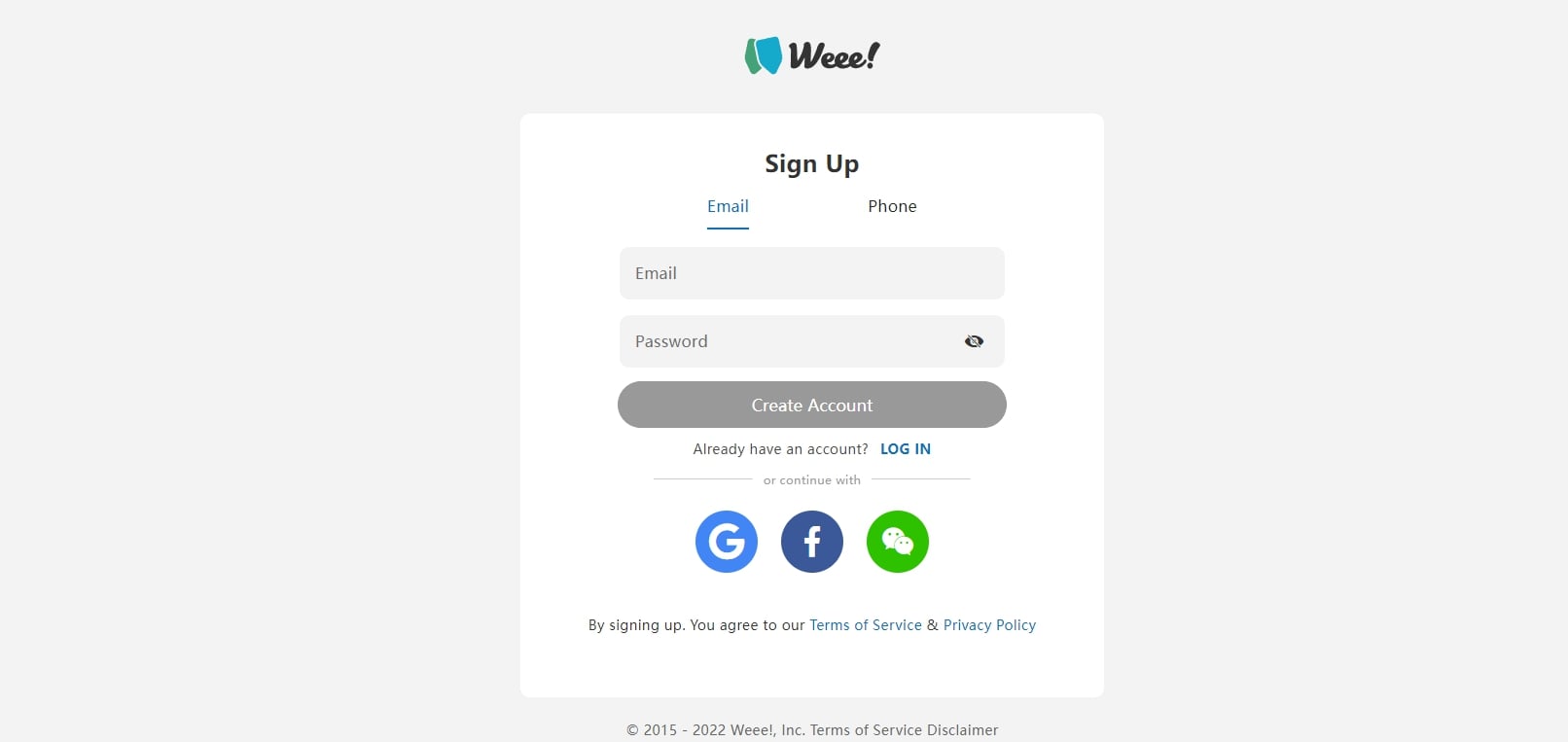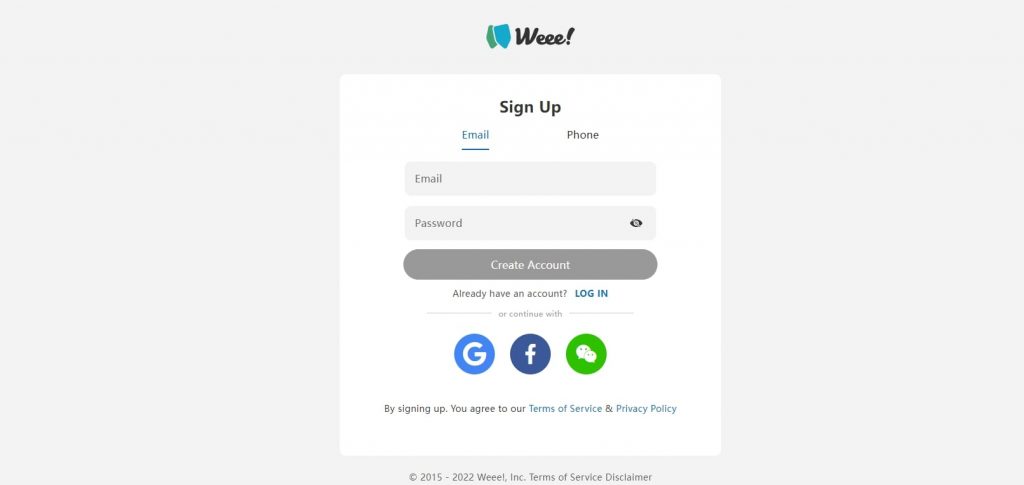 There are 3 options to create an account. One option to join, you must sign up with your email and a uniquely strong password. You then need to verify your phone number if you want additional perks like an extra $10 off your order.
Alternatively, you can sign up using your phone number and confirm your phone number to create an account as well. The last option is that you can also use Google, Facebook or WeChat to create an account.
Once your account is confirmed and created you can shop with ease.
Weee! Customer Service
In the vast majority of cases, user testimonials reflect outstanding customer service. In the case that something goes wrong or your food/groceries turn out to be not up to scratch, refund requests are quick and easy. All refunds are processed quickly while taking just a few minutes to lodge the initial complaint itself.
Drivers deliver orders diligently and timeously, but shoppers are generally expected to leave a tip. This is mainly due to the sheer distance that certain drivers will have to travel to deliver specialty food that's not available anywhere in the nearby vicinity. From billing, ordering and refunds to actual delivery itself, service is exemplary.
Find Support Via The App Or Email
The fastest service available is guaranteed by using the features found under "My Account" in the Weee! app. Alternatively, customers are asked to email support@sayweee.com.
Live Chat With Weee! Support Via Phone Or Facebook
For those who prefer a more personal approach to complaint resolution or fact-finding, live support is available via chat on Facebook, and the company has a telephone number available. Feel free to either reach out to SayWeee! on Facebook or call (510) 358-8960 or (888) 826-0880 anytime between 9 AM and 8 PM. Support is available seven days a week.
Weee! Delivery Driver Program
Delivery drivers are in demand by Weee!. Exact requirements can be found on the drivers' page of the company's homepage, but all one basically needs is to be an over 21-year-old with a valid driver's license and six months' previous delivery experience. Drivers can expect to earn up to $27 per hour on average, which includes the median tip received. That places the delivery driver wage well above the United States food delivery driver average of $22.11, as determined by Indeed.com.
SayWeee.com Final Thoughts
It's hard to fault SayWeee.com. While isolated specialty markets often come close to the product selection offered by other ethnic stores on the platform, Weee! has more Chinese and Taiwanese-specific grocery items than you'll find almost anywhere else. Testimonials declare that fresh meat and vegetables are of an equally high caliber to the outstanding products in the frozen section. You'll be equally impressed by the packaging. Just take care to avoid burning yourself on the oh-so-practical dry ice keeping everything cool and fresh. Sure, you're waiting up to two days instead of the six hours offered by Amazon, but mainstream marketplaces don't carry half the awesome products found here. Overall, we'd say that Weee! is a must-try for anyone who has a need or craving for Asian or Hispanic food in America.
---
Recent Recipes