11 Places Where You Can Buy Filipino Food Online
Cuisine from the Philippines draws from various culinary and cultural influences and results in a massive variety of flavors and dishes. Filipino food is rising to become the next trend in cooking, partly because it's so multi-faceted. Whether you're looking for simple dishes or complex meals, Filipino cuisine has it all, with an ultimate East-meets-West style.
Perhaps you've decided it's time for you to try your hand at our simple Shrimp Sinigang with its sweet and sour flavors, or want to make a delicious Ube Smoothie made from purple yams. One thing holding you back may be that you're unsure where to source ingredients.
We've put together a list of top online Filipino food and cooking suppliers, so you can browse from home and get exactly what you need. Now there's no need to worry about finding a small local store, especially if you live outside a major city center. And when it comes to the question of safety, many of us prefer to shop online and void crowds and possible unsafe traveling conditions.
All the stores offer reliable delivery, and many offer free delivery for orders over a certain amount; others ship worldwide. Their stock is authentic and quality sourced to ensure you can get precisely what you need.
Here are all the places you can buy Filipino food online: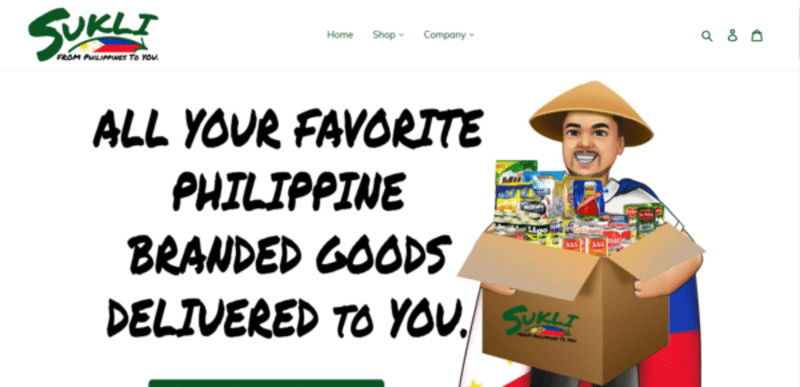 It's always good to know you're supporting smaller businesses who compete to offer the best service, which is where Sukli comes in. It's a family-run business with a mission to introduce new people to Philippine culture and expand their food and art through the USA.
Whether you're new to Filipino food or are part of the growing Philippine community in the USA, nostalgic for some home tastes, Sukli has you covered.
They offer over 700 different products and are determined to keep expanding their catalog to provide you with the best, authentic Filipino ingredients and foods. With a real push to make sure the customer always comes first, they offer everything from Filipino snacks to bottled and canned ingredients and Filipino brand groceries.
Sukli offers free US shipping on all orders over $69 (excluding Alaska and Hawaii) and shipping directly from their California warehouse via FedEx or USPS. They take orders at any time of the day, and orders are processed within 24-48 hours on weekdays. Sukli will ship worldwide.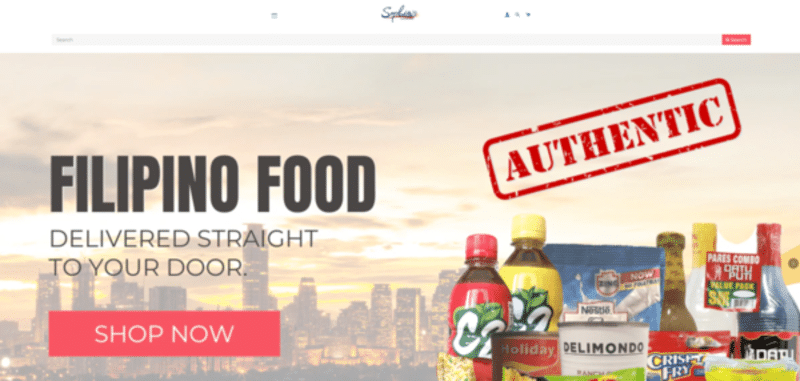 Sophia's Home Favorites is an online Filipino Food Store that delivers goods straight to your door. They're a family-owned store that prioritizes convenience and accessibility for all your Filipino food needs—Sophia's pride itself on offering the best authentic Filipino food at the best price and quality.
They deliver anywhere in the USA – including PO Box addresses — and their goal is to ship your order to your door within 2 business days. Sophia's Home Favorites are based in California and offer free shipping on all orders over $65.
Their online store provides authentic Filipino canned and jarred food, condiments and flavorings, snacks, and beverages. They offer dried seafood but currently don't offer frozen or fresh foods. If you're looking for favorite childhood snacks or bakery goods, they have many available.
Suppose you're based in Alaska or Hawaii. In that case, Sophia's Home Favorites will still deliver, which does put them ahead of some of the other merchants who are currently unable to deliver to these areas or charge extra shipping.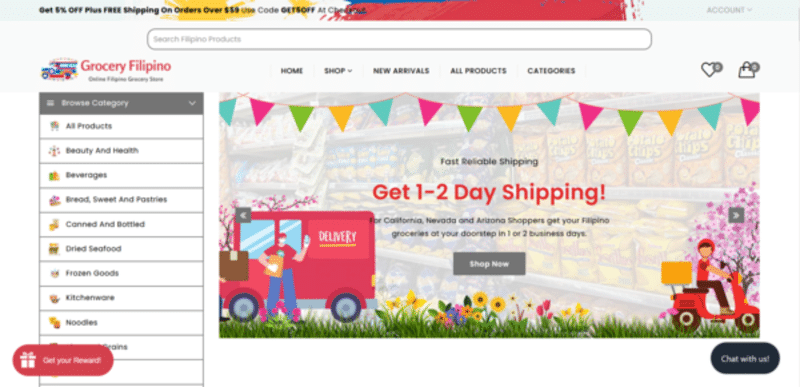 Grocery Filipino offers a wide range of cooking ingredients, food products, and seasonings and also stocks dried and frozen goods. Their frozen food is shipped and packed in an FDA-approved cold pack so that the quality and integrity of your order is assured. Grocery Filipino do not have as wide a range of frozen goods as VMArt Filpino Store, but they can ship more significant quantities.
Grocery Filipino delivers to your door and offers free shipping on orders over $49. You can save time and money by shopping with their online store, and the shop often gives rewards and discount incentives to shoppers.
Suppose you're looking to build up a solid base of grocery staples for your pantry. In that case, this Filipino online store is an excellent choice, as they keep many different types of authentic Filipino seasonings, vinegar, sambals, and sauces. The store's goal is to provide a safe and easy shopping experience geared towards Filipino families and their needs.
They are located in California, and it's easy to contact them via email or chat online with their help crew. Check their Hot Deals and Flash Sales under the Product drop-down menu to secure great money-saving deals.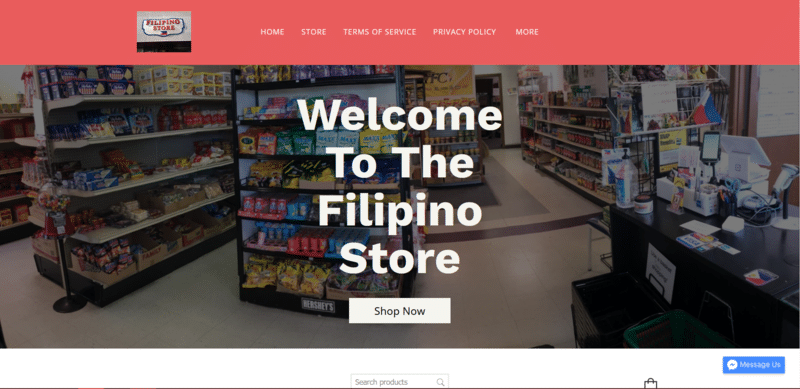 The Filipino Store doesn't offer the same family touch that many of the smaller online shops do, but they stock a variety of products. The online storefront is not well organized, requiring a lot of scrolling to find all the products, but it does feature a search button up top if you know exactly what you're looking for.
They offer a range of frozen goods, from sausages, and fish, to pastries, fruit, and ice cream, and stock over 700 items.
You can track your orders via their shop system and set up an account if you plan to be a regular shopper. The delivery amount is calculated according to the delivery address, weight, and goods volume.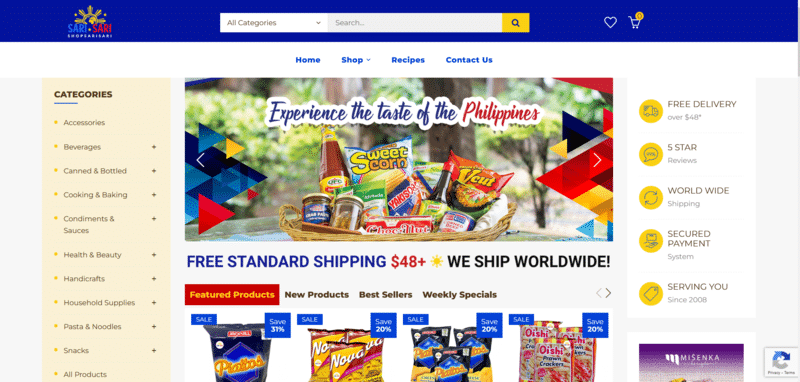 Shop Sari Sari is another Filipino online store that offers a range of Filipino ingredients and foods. They are the online branch of Pinoy Home Store. Several of the other stores we've mentioned also provide a limited amount of beauty products and cooking utensils. Still, Shop Sari Sari expands on this and has household supplies and handicrafts like bags.
However, they only stock dry foods and beverages, so no ingredients like dried or frozen fish, meats, and fruits. If you're looking for condiments, snacks, rice, noodles, and pastes, then it's worth having a look through their collection.
They offer free delivery on orders over $48 in the USA and deliver worldwide.
Shop Sari Sari has a range of payment options such as credit card, PayPal, Venmo, and Zelle, making shopping with them much easier if you don't have a credit card.
A nice touch on their website is a recipe area, which can help if you're looking for inspiration for your next Filipino meal. They have a Facebook page to keep updated with specials, new stock, and deals. https://www.facebook.com/shopsarisaricom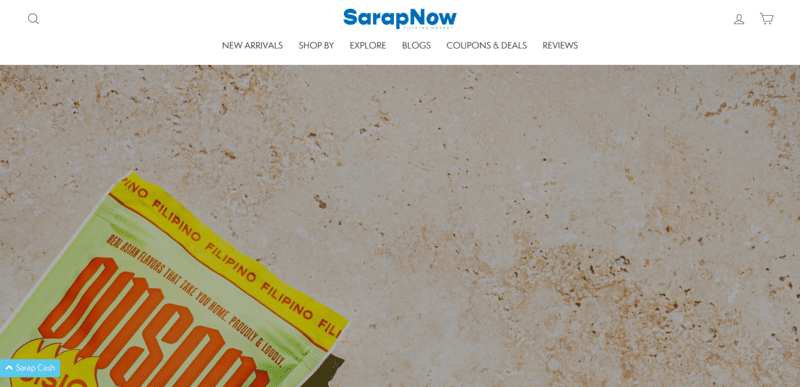 Sarap means 'food,' which Sarap Now wants to share with their customers. Sarap Now offers a vast range of products, and their drive is to make authentic Filipino food and ingredients – whether modern or traditional – readily available across the USA. They're a small team of people, willing to help you with any questions or requests you may have.
With over 1,000 products listed on their site, Sarap Now stocks condiments, seasonings, snack foods, dried and canned goods, and a small selection of frozen foods. All frozen food is shipped in insulated containers from their Los Angeles warehouse.
They also stock a limited range of Filipino houseware and kitchen utensils.
One thing their online site does is helpfully categorize their foods also by diet requirements. This makes it very useful to sort out foods that suit your particular needs, such as Vegan, Keto, or Gluten-Free.
Sarap Now offers free shipping on orders over $59 within the US. It's also worth checking their deals page for coupons and discounts.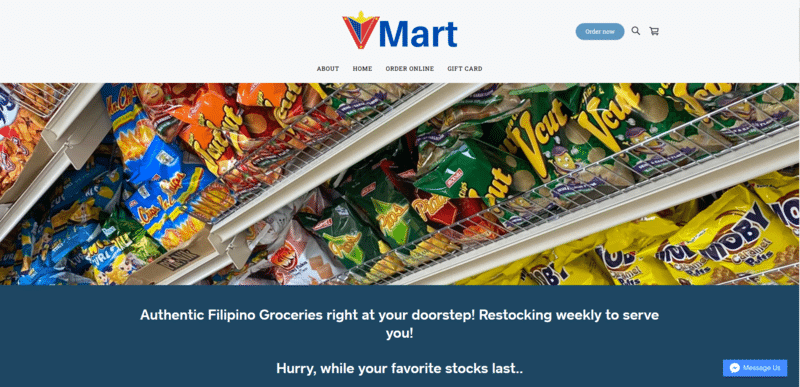 VMart Filipino store is an online specialty shop that services mainly the Greater Baltimore community. They initially set up in 2014 to offer Filipino products to the large Filipino community in Maryland, but their reach has expanded nationwide.
They have a wide range of food, with everything from dried food like Banana Blossom to canned groceries, snacks, frozen fish, fruits, and meats. For authentic sourcing ingredients and cooking supplies, they're an excellent choice.
While VMart only ships orders on Tuesdays and Thursdays, they have both shipping and collection options and offer a VMart gift card which could be an excellent gift for friends who love cooking.
They offer a flat rate of $9.99 on all orders of $45 and over, but be aware they only ship to the USA (excluding Alaska and Hawaii). Despite their higher costs, this is one of the few online stores that stock a decent range of frozen and dried foods. In terms of the content of harder-to-find ingredients like salted duck eggs, pork blood, jute leaves, and bilimbi fruit, they are one of the best options for authentic Filipino cooking ingredients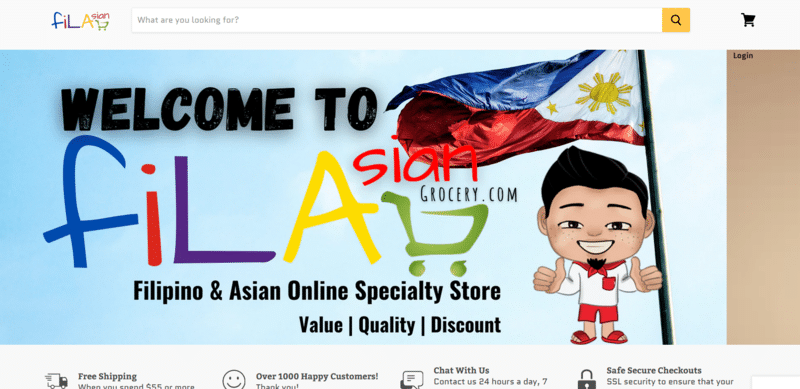 FilAsian Grocery stocks many Asian and Filipino cuisine ingredients. Whether you're looking for banana hot sauce, calamansi extract, Guyabano fruit tea, or salted rabbitfish, they have all the dried goods and seasonings you'll need, as well as a range of sweets and snacks.
This family-run online store is based in California; FilAsian also has a few fantastic deals like special bundles and promo packs which is a great way to get a brunch combo meal pack. You can also buy FilAsian gift cards.
Free shipping is available on orders of $55 and over in the Unisted States, but be aware that the limit is raised for Hawaii and Alaska, who need a minimum order of $89 to qualify for free shipping. FilAsian does not offer worldwide shipping, however.
You can chat with someone online if you need extra help and can place your order at any time. Subscribing to their newsletter lets you in on special deals and discounts, so worth doing if you regularly make Filipino food. It's also easy to pay, as they accept Amex, Apple pay, Google Pay, PayPal, credit card, and others.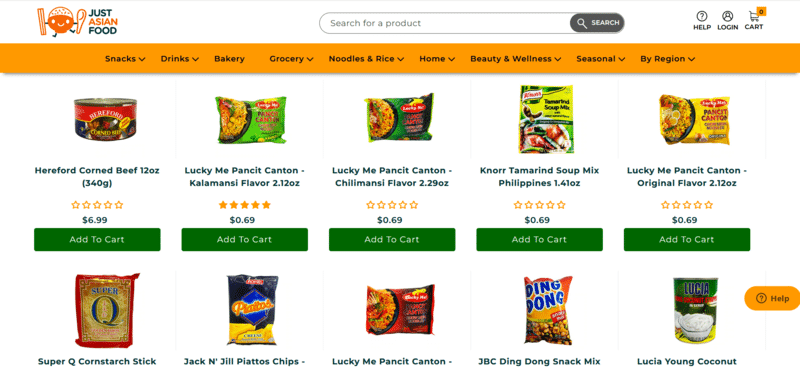 Just Asian Food is an online store that stocks ingredients and foods from China, Japan, Korea, South East Asia, and the Philippines. They're a fantastic option if you're not looking only to buy Filipino foods but still want the focus of Asian foods sourced with an eye towards authenticity and range.
Each food and drink category offers a drop-down menu that allows you to choose which country you're looking for. You can narrow down your search to ensure you're buying exactly what you need for your recipe.
Just Asian Food also has Asian home and kitchen goods, such as any utensils you may need to prepare certain Filipino foods. They shine when it comes to their baked goods, from Christine's Bakeshop and Goldilocks.
Because they offer such a vast selection of Asian goods and deliver worldwide, they are an excellent choice for stocking up Asian pantry staples.
Free shipping is available in the USA for orders over $59, and they have a help desk for queries and allow payment in many forms from credit cards to online payment systems like Venmo, Google Pay, PayPal, and others.
Amazon is well-known as an online vendor, and of course, because they stock so many things, it may well be more convenient for you to add your Filipino ingredients and foods to your main order. It can be more challenging to know you're getting authentic goods, as you have to rely on what sellers say or have a good knowledge of what you need.
I recommend Amazon only if you know exactly what you want and which brands are authentic. You can narrow your search by going direct to the grocery department and searching for 'Filipino Food.' Generally, canned and packaged foods such as noodles, snacks, and canned meats or fish will be easy to get, but frozen or fresh fruits, meats, and fish will be much harder to source via Amazon.
However, suppose you're looking to stock your pantry with basic Filipino staples like rice, ube spread, or Filipino Adobo sauce. If that is the case, Amazon is an excellent option as you are not restricted to shopping only for Filipino foods.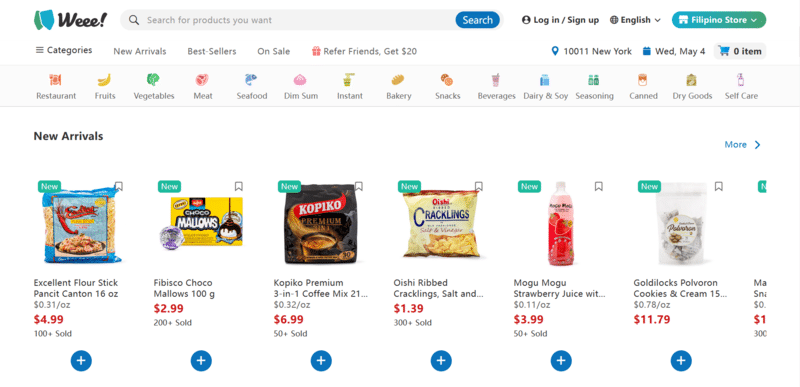 SayWeee.com, which goes by Weee! focuses on Asian and Hispanic food and is a quickly growing online store. And thankfully it does have a Filipino section of their store. They have products like Filipino Meats, seafood, vegetables, sea grapes, mochi and more. In general this is a solid store to consider as well. We have a full review of Weee! here.
Final Note
Most Filipino online stores will be good for providing the basic pantry staples like dried noodles, rice, canned goods, condiments, and spices. Some of the smaller online stores offer more range and are more like online versions of a local Asian grocery when it comes to frozen or specialty gourmet dried goods. However, these shops will usually have higher shipping fees or prices because they can only stock these goods in limited amounts.
---
Recent Recipes