Delicious Low Glycemic Index Berry Blast Smoothie
Does just the thought of a sweet, creamy, and refreshing smoothie send your blood sugar levels soaring? You'll be pleased to know that, with the right quantity and combination of ingredients, smoothies can still be part of a healthy, balanced, and low glycemic diet.
Luscious, tasty, and wholesome, you can enjoy every sip of the Low Glycemic Index Berry Blast Smoothie, knowing that it will nourish and energize your body, satisfy that sweet tooth, and respect your blood sugar levels. This is a sweet escape without the sugar crash!
Sweet and zingy berries are perfectly balanced with the creaminess of the avocado and almond milk. Sneak in some spinach and hemp seeds to boost fiber and protein, and add a little cinnamon and, our secret ingredient- lemon- for an incredible burst of flavor.
This smoothie tastes good – and does good!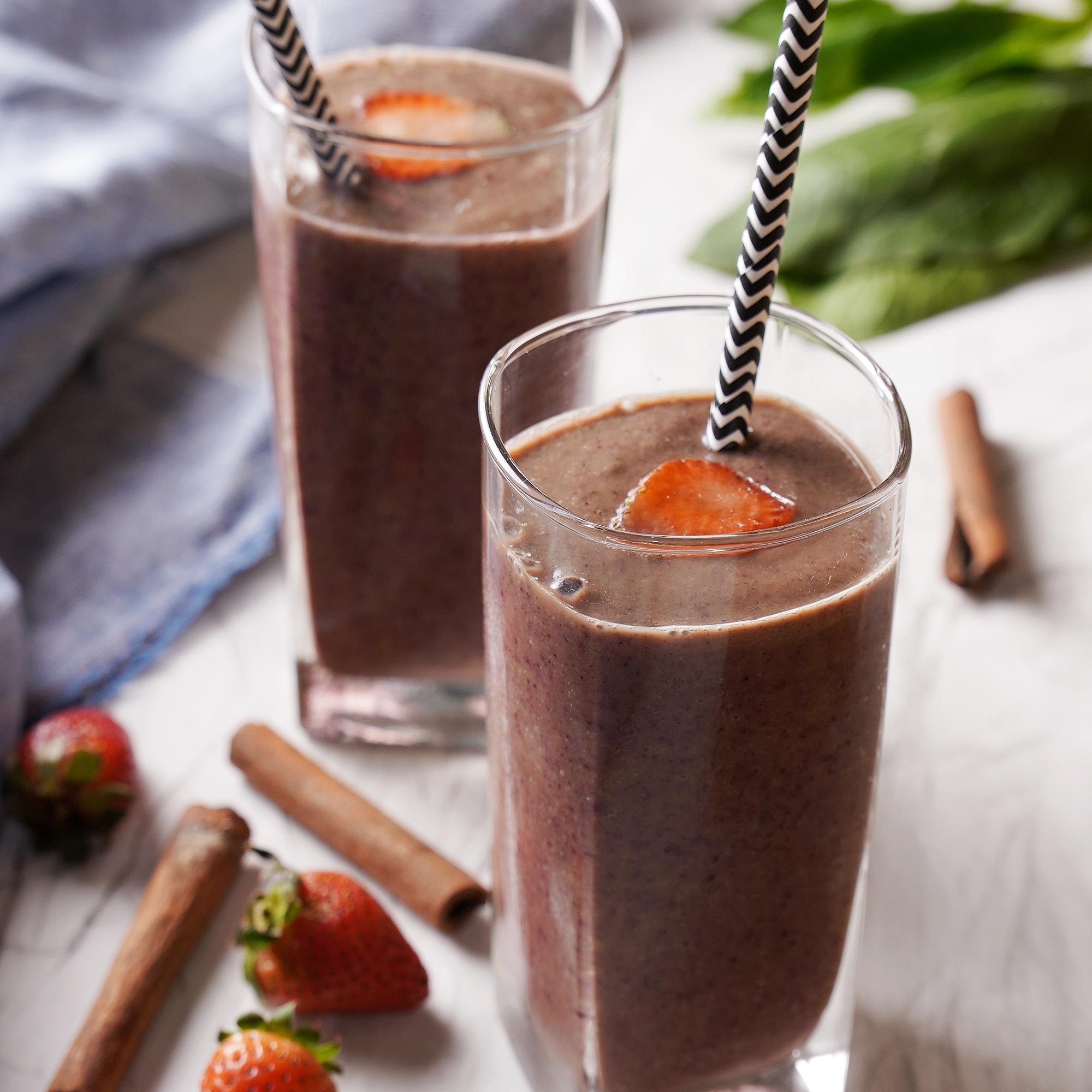 Equipment
High-speed blender or processor

1-2 tall glasses
Ingredients
1

cup

almond milk

unsweetened

1

tsp

fresh lemon juice

1

cup

fresh baby spinach

½

medium avocado

sliced

1

cup

frozen blueberries

½

cup

frozen strawberries

1

Tbsp

hemp seeds

¼

tsp

cinnamon powder
Instructions
Gather prepare all the smoothie ingredients and glasses, and get your blender ready.

Place all the smoothie ingredients into the blender in the following order, so that you don't have to stop and stir all the time, or end up with a chunky smoothie – not fun!

Put the almond milk, lemon juice (this is a berry smoothie game changer – don't' skip out on this one,) and baby spinach.

After that, place the avocado, frozen berries, hemp seeds (let's take a break from the usual chia seeds and amp up the protein) and cinnamon powder

Blend ingredients on a high speed until smooth and creamy. This will take about 50-60 seconds. Taste and adjust the consistency or flavoring if needed.

Pour the smoothie into the glasses. Serve and enjoy immediately!
Nutrition
Calories:
120
kcal
|
Carbohydrates:
15
g
|
Protein:
5
g
|
Fat:
5
g
|
Saturated Fat:
1
g
|
Polyunsaturated Fat:
4
g
|
Monounsaturated Fat:
1
g
|
Sodium:
176
mg
|
Potassium:
201
mg
|
Fiber:
4
g
|
Sugar:
9
g
|
Vitamin A:
1491
IU
|
Vitamin C:
34
mg
|
Calcium:
188
mg
|
Iron:
2
mg
Notes And Tips
With only a few ingredients, this smoothie is ready to enjoy in under 10 minutes.
Try to source local and organic products for optimal flavor and nutrition.
A high-speed blender is essential to create a smooth, lump-free consistency. If you don't have a high-speed blender, then rather add the ingredients in stages. Begin by blending the almond milk, lemon juice, baby spinach and avocado until smooth, then add the remaining ingredients.
For a thicker smoothie, add a few ice cubes or extra frozen blueberries.
For a thinner consistency, add more liquid, such as water or almond milk. Add a bit at a time to make sure it is not too diluted.
You can add a scoop of your favorite protein powder to make the smoothie more filling and nutrient-dense.
Ingredient Substitutions
The following ingredients can be substituted at a 1:1 ratio:
Almond milk: Coconut, soy, or hemp milk. Purified water will also do.
Lemon juice: lime juice or grapefruit juice.
Baby spinach: kale, bok choy, Swiss chard, or romaine lettuce.
Blueberries: blackberries or raspberries.
Strawberries: raspberries or extra blueberries.
Hemp seeds: chia seeds, flax seeds, or pumpkin seeds.
Cinnamon: ginger, cardamom, or pumpkin spice.
Avocado: The following options can be used as an alternative:
1 Tbsp peanut or almond butter
¼ cup plain Greek yogurt
2 Tbsp crushed walnuts or almonds
Serving Suggestions
This smoothie can be a filling and nutritious meal for breakfast or lunch.
The Low GI Berry Blast Smoothie has a good balance of protein, fats, and carbs to fuel your workout and provide sustained energy.
For a nourishing post-workout shake: Replace the almond milk with coconut water, which will replenish hydration and electrolytes. The berries are packed with antioxidants, which will reduce inflammation and support muscle recovery.
You can halve the recipe and serve the smoothie as a light snack or 'dessert drink.'
This smoothie should be quite satiating, but if you are still feeling peckish, you can enjoy a light, low GI snack on the side, such as:
Carrot sticks with 1 Tbsp hummus
2 Tbsp raw nuts
¼ cup roasted chickpeas
Turn your smoothie into an exquisite, filling, and delightful smoothie bowl:
You will need to thicken your smoothie by slightly reducing the amount of liquid (almond milk). If it's still to runny, blend in a few extra frozen berries.
Pour the smoothie into a bowl.
Top the smoothie with a few mint leaves, shredded coconut, chopped walnuts, and a drizzle of almond butter. Now you can eat your smoothie!
When Is The Best Time To Drink The Low GI Berry Blast Smoothie?
The best time to drink this smoothie is in the morning, as it will enhance energy and focus, keep your blood glucose in range, and reduce food cravings. The berries, spinach, and avocado have a detoxifying effect on the body, which is enhanced during the morning.
Another great time to enjoy this smoothie is an hour before a workout. It is such a breeze to make and can be easily transported for a nutritious meal on the go. Smoothies are easy to digest and provide a sustainable source of energy to fuel your workout.
Tip: Take your time — sit, relax and drink your smoothie slowly. Gulping it down in a hurry puts strain on the digestive system, leading to gas, bloating and discomfort. The sudden rush of food can also cause a spike in blood sugar levels.
What Are The Health Benefits Of The Low GI Berry Blast Smoothie Healthy?
With its exceptional ingredients, flavor, and nutrition profile, this smoothie ticks all the right boxes:
Low GI, low carb, and diabetic-friendly: Fruit is often off-limits on a low GI diet, but the addition of healthy fats, fiber, and protein will slow down absorption and reduce the risk of a glucose spike, which will leave you feeling energized and satisfied.
Berries are an excellent fruit option for any smoothie:
Low GI
Low in calories
High in fiber
Packed with disease-fighting and age-defying antioxidants
Studies show that regular consumption of blueberry smoothies may improve insulin sensitivity and lower the risk of type 2 diabetes.
Cinnamon also has an anti-diabetic effect as it may lower blood sugar levels.
What Are The Best Ways To Store The Low GI Berry Blast Smoothie?
For optimum flavor and nutritional benefits, it is strongly advised to drink the smoothie immediately. Unfortunately, if you leave it to sit, oxidation will occur, which will make your smoothie turn an unpleasant color.
If you need to store your smoothie for later, add an extra squeeze of lemon juice to help prevent oxidation. Pour it into a glass container and seal with an airtight lid. The smoothie will remain fresh when stored in the refrigerator for 1-2 days or in the freezer for up to 3 months. Defrost the smoothie overnight in the refrigerator when ready to consume.
---
Recent Recipes