Homemade Jamaican Cornmeal Pudding
Puddings are one of those terms you must be careful with when traveling. Ask for a pudding in most of the US, and you'll get a custard-like dessert served in a bowl. Don't order a black pudding in the UK if you are squirmish because the waitress will bring you a sausage made with blood. But in Jamaica and throughout the Caribbean, a pudding is a sweet, dense, creamy pudding served as pie.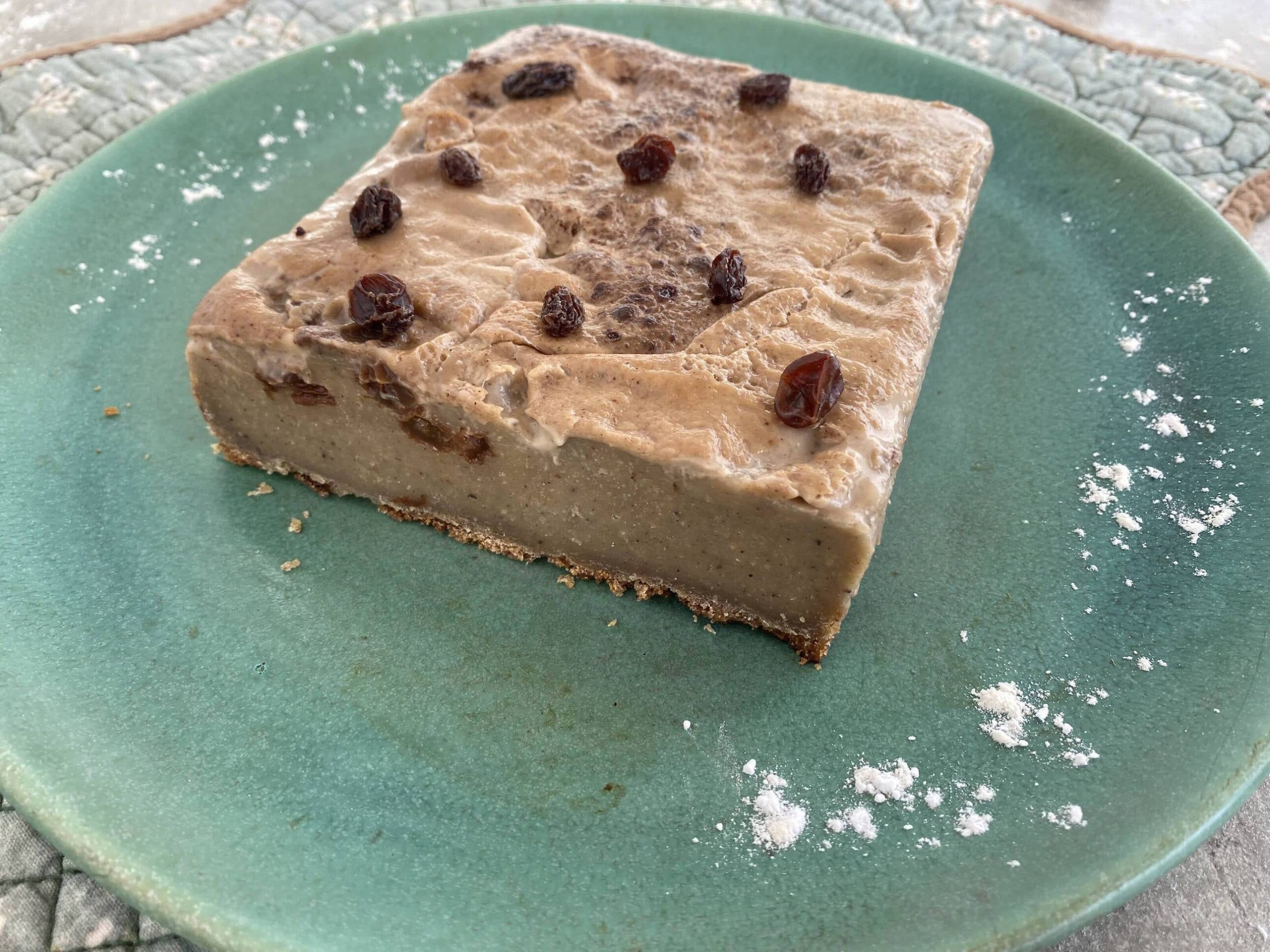 Ingredients
For the pudding, you will need:
1/2

cup

unsalted butter

plus more for greasing (1/2 cup is one stick)

6

cups

coconut milk

fresh is best, but canned is acceptable

2

cups

brown sugar

1

tablespoon

vanilla extract

2

tablespoons

rum

optional (can use the leftover rum used to soak the raisins)

1/2

cup

AP flour

1 1/2

teaspoon

sea salt

1

teaspoon

ground nutmeg

freshly ground preferred

1 1/2

teaspoons

ground cinnamon

freshly ground preferred

3

cups

yellow cornmeal

finely ground

1

cup

raisins

optional (can use rum-soaked raisins if you prefer)
For the sweet topping, you will need:
1

cup

coconut milk

again, fresh is better

1/4

cup

brown sugar

1/2

teaspoon

ground cinnamon

freshly ground preferred
Instructions
Preheat the oven to 350 degrees and make sure you have all the ingredients together.

Combine the coconut milk, butter, brown sugar, and vanilla extract in a saucepan and warm over medium heat.

Dissolve the sugar. Adjust the heat to prevent the coconut milk mixture from coming to a boil and constantly stir to avoid scorching. Add the rum and set the saucepan aside to cool.

Sift the flour, salt, nutmeg, cinnamon, and cornmeal together into a large mixing bowl. Stir to combine.

Pour the cooled coconut milk mixture very slowly into the dry ingredients.

Continuously stir with a whisk to prevent lumps. Don't over whip; you don't want to incorporate too much air.

Use a rubber spatula to scrape all of the cornmeal pudding into the buttered springform pan. Make sure to spread out the cornmeal mixture evenly. If you don't have a springform pan, you can use a well-greased pie pan or silicone pan instead.

If you are using raisins, sprinkle them evenly on top.

Put the pudding in the oven and bake for 20 minutes.

In a bowl, whisk together the coconut milk, brown sugar, and cinnamon for the sweet topping.

After 20 minutes, remove the pudding from the oven, and stir gently. Pour the sweet topping on top of the pudding.

Put the pudding back in the oven and cook for an additional 1 hour and 20 minutes.

Remove the baked pudding and let it cool in the pan for about an hour. Release the rim of the springform. It can keep wrapped in the fridge for 4 or 5 days.
Video
Nutrition
Calories:
609
kcal
|
Carbohydrates:
76
g
|
Protein:
7
g
|
Fat:
33
g
|
Saturated Fat:
26
g
|
Polyunsaturated Fat:
1
g
|
Monounsaturated Fat:
4
g
|
Trans Fat:
1
g
|
Cholesterol:
19
mg
|
Sodium:
338
mg
|
Potassium:
516
mg
|
Fiber:
4
g
|
Sugar:
35
g
|
Vitamin A:
204
IU
|
Vitamin C:
2
mg
|
Calcium:
69
mg
|
Iron:
6
mg
Why is Jamaican Cornmeal Pudding So Special?
Unless you spent some time in the islands or Caribbean communities abroad, there's a good chance you never even heard about Jamaican-style puddings before. That is a real shame because you are missing out. But don't worry, this Jamaican Cornmeal Pudding recipe is an ideal introduction.
Caribbean puddings may share similarities with several UK puddings like hasty and figgy, but they are special enough to deserve their own pudding category. These unique puddings are an extremely popular part of the cuisine, and people enjoy them for breakfast, as a sweet snack, or for dessert.
Raisins Make Everything a Little Sweeter
Some folks enjoy raisins in their Jamaican Cornmeal Pudding, and some don't, but no one likes it when all of them end up on the bottom of the pudding. You can help prevent that from happening by giving the raisins a good coating of flour before adding them to the cornmeal mixture. Just make sure to remove any excess flour, or you can wind up with pockets of dry flour in your pudding and gummy raisins.
To get the perfect coating, break up a quarter cup of raisins to eliminate any clumps and then put the raisins in a bowl with a tablespoon of AP flour. Stir the raisins to cover with flour, and then transfer them into a sieve. Gently shake the sieve over the bowl to get rid of any excess flour.
You can use any type of raisins in this recipe, from black to golden, even currants or sultanas work well, but if you want to pump up the flavor, you should try soaking them in rum! Rum-swollen raisins add moisture and a delicious burst of sweetened rum that takes the Jamaican Cornmeal Pudding to the next level.
To soak the raisins, start by heating a cup of white or dark rum in a small saucepan to just below a boil. Toss in the unfloured raisins, stir and cover. After about 15 minutes, the raisins will plump up. Remove the raisins to a cookie sheet to let them cool before flouring. Save any of the leftover rum to add to the recipe if you want.
How to Prevent the Springform Pan From Leaking
Although using a springform pan is not the traditional way of making this recipe, it can really help when it's time to unmold the pudding. But springform pans have one problem, though; they leak! Stop pudding from ending up on the bottom of your oven with these two tips:
Wrap the outside of the pan in a double-layer of aluminum foil. While you may get some leakage, it won't end up making a mess.
Line the pan with greased parchment paper is another option. Trace the base of the pan and cut out the circle. Cut a strip of parchment that's a little wider than the height of the pan's rim. Lightly butter the cutout circle and put it on top of the pan's base. Attach the rim of the pan, making sure that it secures the parchment. Now butter the strip of parchment and stick it on the inside of the rim. The parchment strip on the inside needs to overlap the parchment on the base to prevent leaks.
---
Recent Recipes