Best Low FODMAP Turkey Stuffing
Our low FODMAP turkey stuffing is so tasty that a lot of it might not even make it to stuff a turkey but to have it by itself. The characteristic flavor of classic stuffing is there with the spongy, crunchy texture that we all know and love. Making and baking stuffing before stuffing your turkey guarantees that your turkey dressing is perfectly cooked, packed with texture, and infused with a full flavor profile from each ingredient.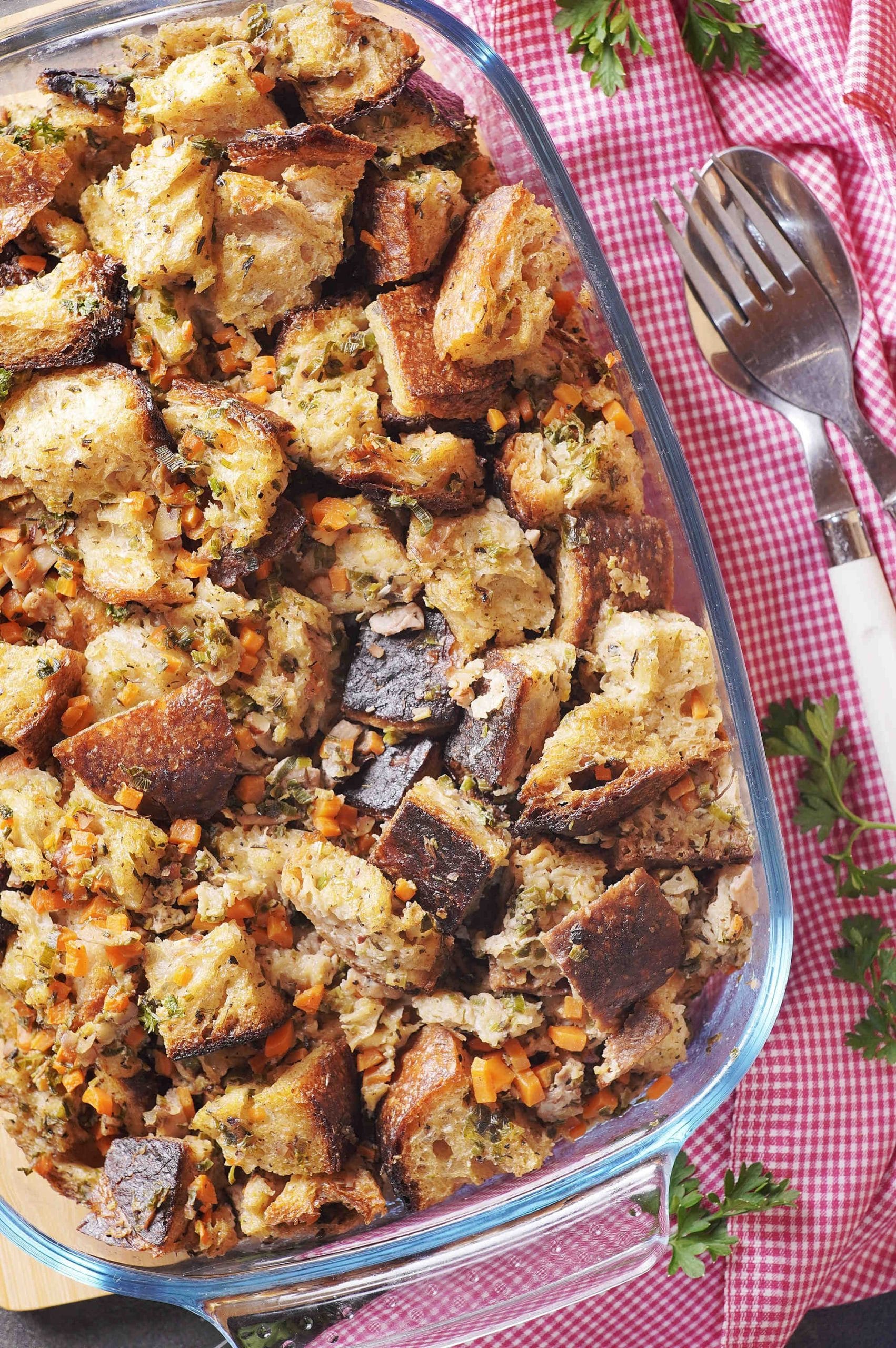 Ingredients
12

Cups

/ 18 Slices Low FODMAP Sourdough Bread

Cubed Into 1″ Chunks

2

Tablespoons

Olive Oil

2

Tablespoons

Infused Garlic Oil

4

Celery Stalks

Finely Chopped

1

Cup

Leek Tops

Finely Chopped (Dark Green Only)

1

Cup

Scallion Greens

1

Large Carrot

Finely Chopped

6

Tablespoons

Unsalted Butter

Cubed

1

Cup

Oyster Mushrooms

Chopped (Optional)

4

Pecans

Chopped

1

Teaspoon

Salt

1

Tablespoon

Freshly Ground Black Pepper

1 ½

Teaspoons

Dried Ground Sage

1

Teaspoon

Dried Ground Rosemary

1

Teaspoon

Dried Ground Thyme

2 ½

Cups

Low FODMAP Chicken/Vegetable Broth

2

Large Eggs

Beaten

½

Cup

Fresh Parsly
Instructions
Assemble all your ingredients.

Preheat your oven to 350°F.

Line a baking tray with parchment paper and spread out the bread cubes evenly, leaving space in between each.

Drizzle the bread cubes with olive oil and an optional sprinkle of the dried herbs used later in this recipe.

Bake at 350°F for 10 to 15 minutes while mixing the cubes around infrequently to ensure complete browning. The bread cubes should be lightly toasted. Set aside and allow to cool.

Preheat your oven to 350°F and lightly oil a 9 x 3 baking dish using butter, oil, or coat with nonstick spray.

Heat a large skillet or saucepan containing the infused oil over medium heat and saute the celery, leeks, scallion greens, and carrots for 2 minutes before adding the butter.

Continue to saute while infrequently stirring for 5 minutes or until the celery, leeks, and carrots are soft.

Add the mushrooms, pecans, salt, black pepper, and dried herbs.

Saute for 1 to 2 minutes or until the herbs are aromatic, and then mix in the bread cubes thoroughly.

Stir the chicken broth and beaten egg but take care to only mix until combined and no longer.

Mix in the fresh parsley and transfer the mixture to your baking dish evenly.

Cover with foil and bake for 45 to 50 minutes at 350°F before removing the foil and baking uncovered for a further 5 to 10 minutes or until the top reaches the crispiness desired.
Video
Nutrition
Calories:
305
kcal
|
Carbohydrates:
30
g
|
Protein:
8
g
|
Fat:
18
g
|
Saturated Fat:
7
g
|
Polyunsaturated Fat:
2
g
|
Monounsaturated Fat:
8
g
|
Trans Fat:
1
g
|
Cholesterol:
63
mg
|
Sodium:
833
mg
|
Potassium:
240
mg
|
Fiber:
3
g
|
Sugar:
3
g
|
Vitamin A:
2633
IU
|
Vitamin C:
9
mg
|
Calcium:
59
mg
|
Iron:
3
mg
Low FODMAP Turkey Stuffing Tips
The best bread for any stuffing is stale bread. You're looking for something dry that's got substance. Sourdough has a great taste and texture while also drying out considerably. Any low FODMAP bread will do the job once toasted, but sourdough imparts the extra flavor of its own. Don't make the mistake of using fresh bread or bread that hasn't been dried out, or you'll end up with a soupy mess instead of crunchy, delicious turkey stuffing.
Low FODMAP Turkey Stuffing Variations
Both fresh and dried herbs work in turkey stuffing. The combination listed is a classic and the taste that most of us remember but feel free to change things up and include any of your favorite herbs. Marjoram, basil, and oregano all are popular favorites that suit stuffing. Just don't include too many different aromatics or it'll become a blur of flavor negatively impacting the taste.
For a gourmet twist, omit the mushrooms in favor of either ground pork or uncased Italian sausage. Sausage goes great in the stuffing. Breakfast bangers are another fine choice that leaves the base flavor of herbs in the stuffing relatively untouched while enhancing the overall taste. Even a mix of meat works well. Consider frying off pancetta and then either mincing it finely or giving it a pulse in a blender. It's a boost to the base recipe that everyone will remember. Again, as with aromatics, don't include too many different ingredients, or you'll spoil the texture and taste.
Can You Eat Turkey Stuffing By Itself?
Cooked turkey stuffing tastes amazing and can be enjoyed alone. Many enjoy it with a generous helping of gravy. However, we suggest that you use it as the primary filling for a pie or casserole. Create a delicious pie filling by combining low FODMAP turkey stuffing with chicken or vegetable broth and a few of your favorite vegetables, such as peas and carrots. If pork hasn't already been added, chop up some bacon. Extra oyster mushrooms are another great addition, as is cheese.
If pies aren't your thing, mix the stuffing into meatballs as a binder, and you may end up making stuffing specifically for this purpose. Turkey stuffing doesn't only need to be used to stuff poultry. Try stuffing bell peppers or jalapeno chilis. Looking for croutons for soup or salad? Bake leftover stuffing for a few minutes longer to dry it out even further, and you'll have delicious crunchy croutons that beat plain seasoned bits of bread hands-down.
Can You Prepare Stuffing In Advance?
Stuffing can be prepared in advance, but refrigeration and soaking overnight will affect the texture. Your stuffing will come out far softer and spongier with very little crunch other than on top. Stuffing is best prepared on the same day that you plan to serve it.
What Is The Best Bread For Stuffing?
Tasty stuffing calls for bread with a neutral flavor, a good degree of density to its crumbs, and a subtle sweetness. Regular white bread, challah, and brioche are typically recommended. However, unless it's gluten-free brioche or challah (which are typically homemade), these are disqualified due to having a high concentration of fructans and gluten. Artisanal gluten-free sourdough bread stands as the next best alternative thanks to its subtle flavor, fantastic solid but crumbly texture, and low levels of fructans. Any gluten-free bread-like our low FODMAP sandwich bread will work, but for the quintessential turkey stuffing mouthfeel, you've got to use cubes of stale, toasted sourdough bread.
Can I Eat Turkey On Low FODMAP Diet?
Turkey is both low FODMAP and lower in fat than red meat, which is known to overstimulate the gut. For health reasons, stick to lean cuts of roasted turkey, but overall, turkey does not disturb IBS or other gastrointestinal conditions.
Is Butter Low FODMAP?
At one gram of lactose per 100 grams of butter, butter is virtually lactose-free. This makes butter low in disaccharides, or milk sugars, which makes it low FODMAP. After all, Monash University stipulates that dairy is low enough in FODMAPs to be safe if it has a lactose concentration of 1 gram per serving which is far less than you'll consume in this recipe or just about any other.
---
Recent Recipes