Homemade Microwave Cornbread
Have you ever wondered if you can use your microwave to bake something? It is possible and only takes minutes. What is great about baking something, like a muffin in the microwave is that you can make single portions in a ramekin or coffee mug. You can have a hot breakfast in less than 5 minutes. This is super convenient on a cold morning when you need something in a hurry.
Cornbread is such an amazing comfort food. Kids especially enjoy cornbread that has been sweetened with a little sugar or honey. Sweet cornbread is perfect for breakfast or served alongside barbecue. Savory cornbread is where I like to sneak some veggies into the batter for the little ones. I have been known to add chopped spinach, broccoli florets, fresh corn kernels, or cheddar cheese to my cornbread batter. And yes, you can bake cornbread in your microwave.
This recipe for microwave cornbread is actually fun to make. I have lots of cool kitchen appliances and gadgets. But I have overlooked the usefulness and versatility of my microwave. I basically boil water for tea in there, warm up my heating pad, and reheat a cup of leftover soup. When I watched an episode of Chopped and saw a contestant make little cakes in the microwave, I was impressed. How was that possible? It is, and here is a simple recipe you should try.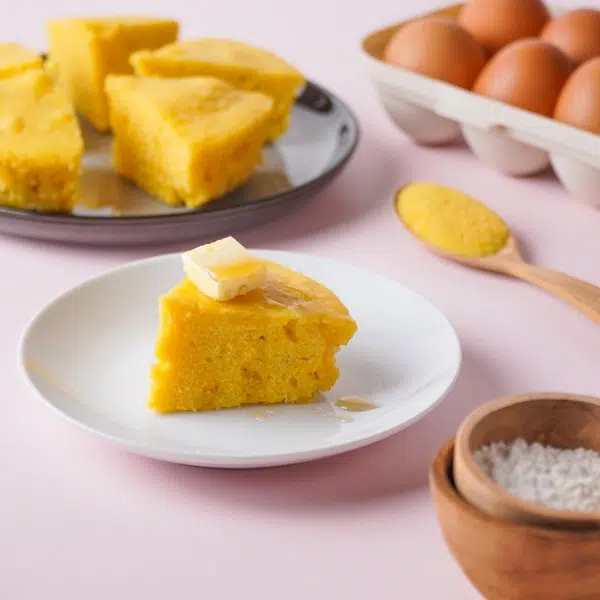 Ingredients
1

whole egg

1/2

cup

whole milk

2

Tbsp

melted butter

1/2

cup

yellow cornmeal

1/2

cup

all-purpose flour

2

Tbsp

granulated sugar

2

tsp

baking powder

1/4

tsp

sea salt

Vegetable oil
Instructions
All ingredients ready? Let's begin!

In a small mixing bowl, whisk together the egg, milk, and butter until well combined. Set this aside.

In a larger mixing bowl, whisk together the cornmeal, flour, sugar, baking powder, and salt. Pour the liquid ingredients into the dry ingredients and mix well with a spoon until you have a smooth batter, trying not to over mix the batter.

Grease a glass, microwave-safe baking dish with oil. Pour the batter into the oiled dish.

Place the baking dish in the microwave and cook for approximately 3 minutes on high or until a toothpick inserted in the center comes out clean. If your microwave doesn't have a rotating tray, rotate the dish at 1-1/2 minutes.

Remove the bread from the microwave and allow it to cool for a few minutes before slicing. Cut into individual pieces and serve either warm or at room temperature.
Nutrition
Calories:
161
kcal
|
Carbohydrates:
23
g
|
Protein:
4
g
|
Fat:
6
g
|
Saturated Fat:
3
g
|
Polyunsaturated Fat:
1
g
|
Monounsaturated Fat:
2
g
|
Trans Fat:
0.2
g
|
Cholesterol:
40
mg
|
Sodium:
287
mg
|
Potassium:
96
mg
|
Fiber:
2
g
|
Sugar:
5
g
|
Vitamin A:
189
IU
|
Calcium:
111
mg
|
Iron:
1
mg
Notes & Tips
I am going to confess that the first time I used a microwave I placed an apple pie in it to heat up. The problem was that the pie was in an aluminum pan. OMG, the sparks were flying. I didn't know you couldn't put metal in a microwave. I know, rookie mistake. I can't stress enough that you want to use a microwave-safe baking dish for this recipe. It can be glass or approved ceramic. Also, make sure the dish will fit in the microwave. This recipe is light on ingredient amounts so you can use a smaller dish that will fit.
I have learned that it is best not to over-mix the batter. For this reason, I don't use an electric hand mixer or a stand mixer. I like to mix the batter with a wooden spoon. When I do over mix the batter, the bread tends to be a bit too chewy and dense. You want a somewhat airy and spongy bread that resembles a crumbly cake. 
Substitutions, Additions & Shortcuts
Cornbread is commonly prepared with all-purpose flour and an egg. You can make this recipe both gluten-free and vegan. Gluten-free cornbread is easy by substituting the wheat flour with an all-purpose gluten-free flour blend. The egg can be replaced with a flax egg that is a combination of flax meal and water. The milk can be coconut milk or nut milk. Vegetable oil can be used in place of the butter. Try this gluten-free vegan cornbread recipe.
If you aren't a fan of granulated sugar, swap that out for honey or pure maple syrup. For a little more sweetness, try adding a few drops of pure vanilla extract.
You can make individual corn muffins with this recipe. Simply place the batter in ramekins or silicon muffin cups and bake for approximately 1 to 2 minutes.
I love adding tasty goodies to my cornbread. Here are some of my top choices:
Grated cheddar cheese
Crispy bacon crumbles
Fresh or frozen corn kernels
Minced jalapeno peppers
Chopped spinach
Butterscotch chips
The best shortcut for making cornbread in your microwave is to use a boxed cornbread mix. You only need to add the egg and milk to the mix.
What To Serve With Cornbread?
I like cornbread all by itself with a pat of butter and a drizzle of really good local honey on top. This is perfect for a quick breakfast before I start my workday.
Cornbread is a great accompaniment to a breakfast frittata. You can add to that candied bacon or sausage with apples. One of my favorite things to pair with cornbread is braised greens, especially collards, with ham or bacon. I like to sop up the braising liquid with the bread. Of course, cornbread is a must with any barbeque, especially melt in your mouth ribs, crunchy slaw, and a pot of sweet and tangy beans.
---
Recent Recipes