This dish fascinates me because this transcends borders and countries and satisfies a global palette. Brazilian Esfirra or Lebanese Esfiha is a baked dough that is filled with meat and cheese and was brought to the South American continent by the Middle Eastern immigrants who were fleeing the Ottoman Empire in the 19th century.
It is called Esfirra in Brazil, Esfiha in the Middle East and absolutely delicious by all who consume it. What is interesting is the subtle changes and additions the Esfirra goes through depending on where it's made. The Esfiira is found in the Levant regions and is very popular in many parts of Central and South America. In Brazil it is often made with ground beef, in the Middle East it is made with minced lamb, and it uses pomegranate molasses for a rich flavor and a whole host of seasoning and spices.
The shape of the Easy Lamb Esfirra also changes, it can be an open meat-pie, or it can be a closed pie in a triangular shape, it can also be shaped into square pockets with the filling in the center.
I have made an Easy Juicy Lamb Esfirra, with some minced lamb and some herbs and spices to ramp up the flavors. It is basically like mini pizza with some seriously delicious topping.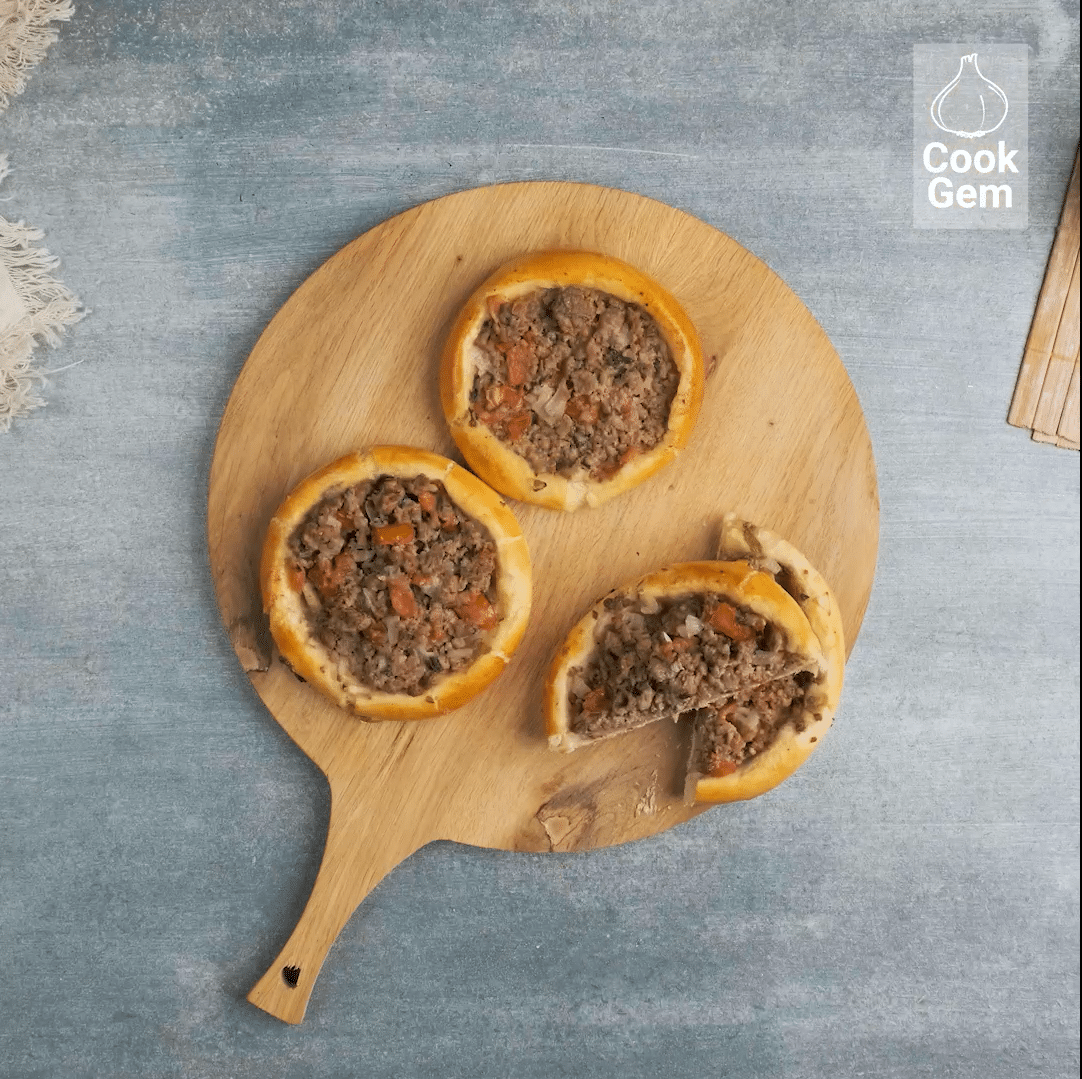 Ingredients
For the dough
3

cups

all-purpose flour

1

cup

warm milk

1

egg

2

teaspoons

of active dry yeast

2

teaspoons

of sugar

Salt

Olive oil
For the filling
1

pound

of minced lamb

1

teaspoon

allspice powder

1

teaspoon

paprika

1

onion

diced

1

cup

tomato

diced

A handful of chopped mint leaves

A handful of chopped cilantro

1

tablespoon

of yogurt

1

tablespoon

of tahini

Oil

Salt
Egg Wash
1

egg

1

tablespoon

of water
Instructions
For the dough
In a small bowl add the yeast and warm milk together. Whisk it together the activate the yeast. Let it sit for about 10 minutes.

In a large mixing bowl, add the flour, egg, sugar, salt and oil and mix together. Now add the milk and yeast mixture to this and mix well.

Knead the dough until it is soft and elastic, until it has a little bit of spring to it.

Cover and let it rest for about an hour.
For the filling
In a large bowl, mix all the ingredients listed under filling, except the oil. The minced lamb should be well combined with all the spices and seasonings.

Heat the oil in a wide pan.

Add the minced lamb mix and sauté for a few minutes. The meat will start to brown a bit. Take it off heat and set aside.
Assembling the Esfirra
Preheat the oven to 400 degrees F and line two baking sheets. Spray with oil and set aside.

After an hour of resting take out the dough and make it into small balls. Sprinkle some flour if it is too sticky.

Flatten the balls into small discs and make a hollow in the center.

Take the minced meat mixture and fill the hollow with it. Repeat with rest of the dough.

Place the filled mini discs on the baking tray.

Mix the egg with a tablespoon of water and brush the filled Esfirra with the egg wash.
Video
Nutrition
Calories:
321
kcal
|
Carbohydrates:
34
g
|
Protein:
15
g
|
Fat:
14
g
|
Saturated Fat:
6
g
|
Polyunsaturated Fat:
2
g
|
Monounsaturated Fat:
5
g
|
Trans Fat:
1
g
|
Cholesterol:
69
mg
|
Sodium:
53
mg
|
Potassium:
281
mg
|
Fiber:
2
g
|
Sugar:
3
g
|
Vitamin A:
231
IU
|
Vitamin C:
4
mg
|
Calcium:
60
mg
|
Iron:
3
mg
Shop Ingredients
Tips & Tricks
While making the dough you can combine all the ingredients together including the dry yeast at the same time.
If the dough is too dry, add more milk.
Use warm milk only as this helps activate the yeast.
The dough has to rest for at least an hour.
While making the filling, you can add the spices to the minced lamb while cooking instead of before.
The yogurt and tahini are optional, it makes it more flavorful.
Storage
The Easy Juicy Lamb Esfirra can be stored in the fridge for about 3–4 days. Keep it in an airtight container. You can freeze it for about 2 months. To heat, preheat the oven to 350 degrees F and let them bake till warm, about 10-12 minutes.
You can also make this dish ahead. Make the dough and it can be kept in the fridge for up to two days. You can also make the meat filling ahead and keep in the fridge for not more than a day or two. Make the egg wash the day of.
FAQs
How do I make a closed Esfirra and what toppings can I use?
For a closed Esfirra, follow the instructions for the dough and filling. Then flatten the dough into a small circle and add the filling to it. Pull up three sides of the disc and pinch together over the filling. Ensure the filling is completely enclosed.

You can make Esfirra with lamb, ground beef, chicken or even with just cheese. If you want a vegetarian version, used cooked vegetables like potatoes, carrots and peas.
Substitutions
The most you can substitute is the filling and there are plenty of options for that.
Minced lamb: Use chicken or beef instead. You can also make it vegetarian with an assortment of cooked vegetables like potatoes, carrots, broccoli, cauliflower, peas and mushrooms.
You can also add chickpeas and corn.
Cheese is another fantastic filling option. Use something like mozzarella or ricotta along with parsley for a rich and vibrant flavor.
Accompaniments
This Easy Juicy Lamb Esfirra is a very filling snack and needs no accompaniments necessarily. You can always add some kind of dip or sauce to go with it as well as a nice bright, cucumber salad on the side.
---
Get Foodie Deals
We collect great foodie-focused deals from across the web daily. Get yourself or your favorite foodie a great deal at big name stores.
Recent Recipes