What the heck is a sushi burrito, you might be wondering. Think of it as a sushi roll on steroids. This is a fat seaweed-wrapped roll that is also referred to as a sushirrito. Of course, this is another great and whacky California invention. California chefs are known for defying convention by creating fun casual food options that are a twist on convention. I love that. There is actually a restaurant chain named Sushirrito in the San Francisco Bay Area which has now expanded to the east coast.
You can make a sushi burrito at home with a little practice using a bamboo sushi rolling mat. I have two mats that I use all the time to make sushi rolls. I like to make a roll at night that I will pack for lunch when I head out the next morning for a day of meetings. They are easier to eat than a sandwich and generally healthier. It took me a few tries to master the rolling technique, but I am good at it after practicing.
I found that the key to the roll holding together is using the appropriately sticky rice. My attempts with regular brown rice and quinoa have not fared as well as using white sushi rice. This rice is often referred to as Japonica or glutinous rice. It is a short, round grain. Despite the name, glutinous rice does not contain gluten. It is simply gluey or sticky. The rice needs to be seasoned with acid and sweet components that actually help make the grains stickier. You can make sushi rice at home and I will walk you through that. Otherwise, just buy an affordable container of cooked sushi rice from your local Japanese takeout restaurant.
One of my bamboo mats is longer than the other. That is the one that I use for making a sushi burrito because you need to use 2 sheets of toasted nori for this recipe. You can use parchment paper if you don't have a sushi mat. It isn't perfect, but it does work. Otherwise, try a silicone baking mat or a clean kitchen towel lined with plastic wrap.
As for the burrito filling ingredients, the sky is the limit. This recipe has sushi rice, wasabi, pickled ginger, cucumbers, avocado, and salmon. See the Substitutions section for a variety of other popular fillings. Soy sauce and tamari are typical dipping sauces but you can use a spicy mayonnaise-based sauce. Either way, sushi is a healthy food option and a sushi burrito is an excellent choice for a low-fat meal you can eat with your hands.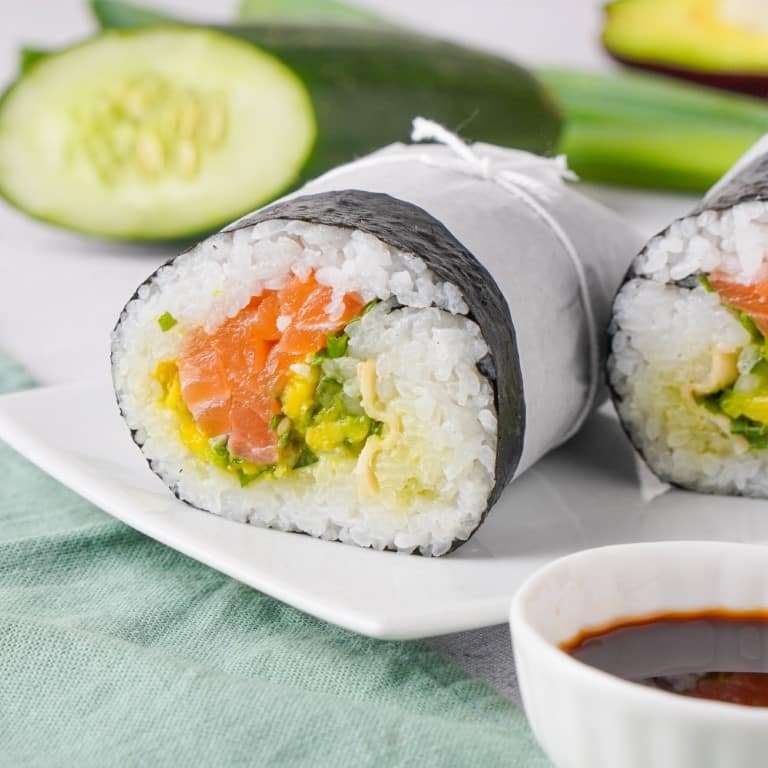 Ingredients
Sushi Rice
1

cup

Japonica

glutinous, or short-grain white rice, rinsed 5 times

1

cup

pure or filtered water

1

Tbsp

rice vinegar

1

Tbsp

mirin

1

tsp

sugar

½

tsp

sea salt
Sushi Burrito
2 to

asted nori sheets

1

cup

cooked sushi rice

1

–2 tsp wasabi paste

6

slices

of pickled ginger

¾

cup

2-inch long cucumber matchstick slices

½

an avocado

pitted, peeled, and sliced

3

ounces

sushi grade fresh salmon

sliced

2

scallions

sliced thinly

1

tsp

toasted sesame seeds

optional
Instructions
All ingredients ready? Let's begin!
Sushi Rice
In a medium saucepot over high heat, add the rice and water and bring to a boil. Reduce the heat to a low simmer and cover the pot. Simmer for 15 minutes without opening the lid.

Turn the heat off and allow the rice to rest for 10 minutes, again without opening the lid.

While the rice is resting, whisk together the vinegar, mirin, sugar, and salt in a small mixing bowl. Set aside.

Transfer the rested rice to a shallow bowl or sheet pan. Fluff gently with a fork. Pour the wet ingredients over the rice and gently fold them into the rice with a wooden spoon or spatula to coat evenly. You can cover and refrigerate the rice until it completely cools down to room temperature, though not ice cold.
Sushi Burrito
Line your bamboo sushi mat or kitchen towel with plastic wrap. Place one sheet of nori, shiny side facing down, at the top edge of the mat. Using, your finger, coat the bottom 1-inch of the nori sheet with water. Place the second sheet, shiny side down, overlapping the bottom inch of the first sheet, and press to seal.

Spread the rice on the top 2/3 of the nori, using wet fingers to press it down.

Spread the wasabi paste over the center of the rice. Place the ginger on top of the wasabi. Layer the cucumber in the center of the rice. Next to that, layer the avocado. Add the salmon next to the avocado. Sprinkle the scallion and sesame seeds over the top.

Starting at the full end, carefully roll the nori over the filling with the aid of the mat. Continue to roll tightly until all the filling is rolled up. Dampen the lower 2 inches of the nori with water, mirin, or soy sauce. Continue to roll and press the damp end over the rest of the roll.

Set the burrito aside, seam side down. Allow it to rest for a couple of minutes, then slice in half through the center with a very sharp knife or a serrated knife.

Wrap the burrito halves in parchment paper or foil and serve with soy sauce or tamari. Or, wrap again in plastic wrap and refrigerator for up to one day.
Nutrition
Calories:
614
kcal
|
Carbohydrates:
108
g
|
Protein:
19
g
|
Fat:
11
g
|
Saturated Fat:
2
g
|
Polyunsaturated Fat:
2
g
|
Monounsaturated Fat:
6
g
|
Cholesterol:
23
mg
|
Sodium:
691
mg
|
Potassium:
696
mg
|
Fiber:
8
g
|
Sugar:
5
g
|
Vitamin A:
408
IU
|
Vitamin C:
13
mg
|
Calcium:
64
mg
|
Iron:
3
mg
Notes & Tips
When shopping for nori seaweed, look for toasted nori. I bought the non-toasted once and pretty much destroyed it in my oven trying to lightly toast it.
Ask your fishmonger for sushi-grade fish. That is generally wild-caught, very fresh fish. There is frozen sushi-grade salmon and tuna available. That is fresh fish that was cleaned and frozen right on the boat. From experience, I don't recommend farmed fish or fish labeled "previously frozen" that is sitting in the display case defrosted.
When placing the sushi rice on the nori, have a bowl of water nearby so you can wet your fingers. Sushi rice is annoyingly sticky, as I found out the hard way. Sticky is what you want for the rolls to hold together, but you want to be able to press the rice down without it sticking to your hands.
Substitutions & Variations
Rice: I personally prefer short grain brown rice for the fiber and nutrient content. If using brown rice, cook it for 30 minutes and then dress it the same way you would white rice for the recipe. 
Wasabi: You can skip the wasabi if you aren't a fan of spiciness. If you don't want to buy a tube of wasabi paste or a tin of wasabi powder, you can substitute with sriracha, prepared horseradish, or thin slices of jalapeno peppers.
Pickled Ginger: I like to switch the pickled ginger component up with beet kvass (lacto-fermented shredded beets), pickled carrots, or kimchi. All of these have beneficial probiotic properties. 
Vegetables: I think I might eat fresh cucumbers 4 days a week. I love the freshness and crunch. You can use colorful carrots, daikon radish, red bell pepper, or shredded cabbage. You can mix and match your veggies.
Protein: I love the creamy texture of really fresh salmon. If it isn't available, I will use cured salmon (gravlax) instead. Tuna also works great. For lunch, I actually make this with canned tuna so it keeps in my small lunch pack while I am driving. You can definitely use grilled chicken breast, shrimp, tofu, or tempeh. I have even seen sushi burritos made with seared Spam. If you are vegan, just use a variety of vegetables and avocado.
Nori: I have made this similar to a summer roll where I use dampened rice paper sheets instead of seaweed as the roll.
More Sushi Recipes
We like our sushi here. If you aren't necessarily in the mood for a giant sushi roll, please try our other recipes and ideas for sushi:
---
Recent Recipes