Haitian Lambi is a traditional conch stew that is prepared with a lot of spices and seasoning to make a delicious broth, tender conch and a wholesome meal. Lambi or queen conch is a large sea snail that is commonly found in the Caribbean. The Haitian Lambi stew is an ode to the island that infuses flavors and spices native to the Caribbean Island and brings the delights of the sea to your plate.
This Lambi stew I have made it spicy with scotch bonnet peppers and a blend of pepper, thyme, parsley, garlic and shallots among others. The conch needs to be cleaned well, like all mollusks, and then tenderized before getting cooked. These are critical steps to ensure both cleanliness and tastiness. You don't want to end up with grainy, chewy Lambi.
Lambi can be found in most local supermarkets or online. You can use fresh, canned or frozen Lambi.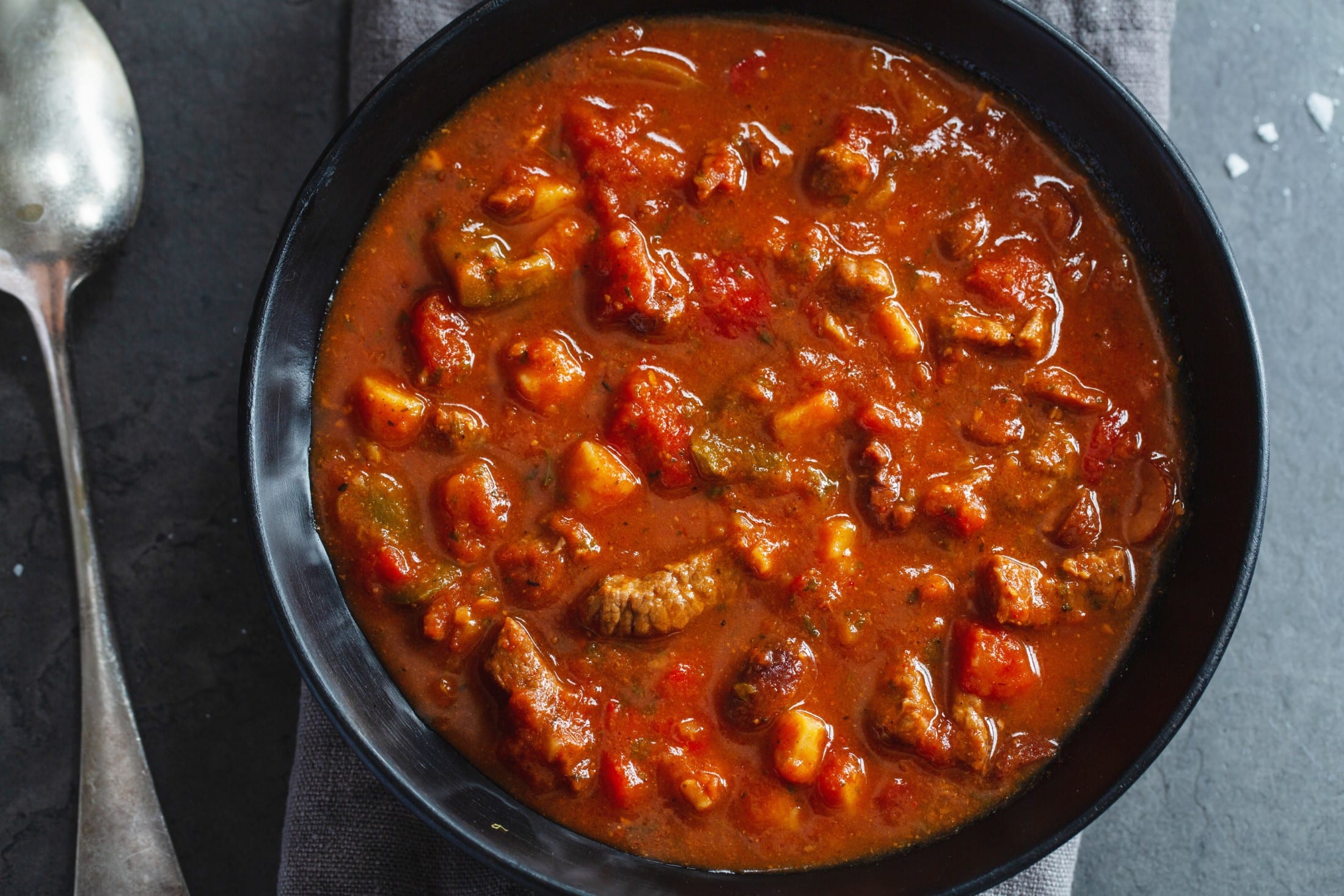 Ingredients
1

lb

conch

cleaned and cut

½

cup

shallots

diced

3

cloves

garlic

minced

2-3

sprigs of thyme

2-3

sprigs of parsley

1

teaspoon

crushed black pepper

1

onion

finely chopped

1

cup

tomato paste

1

bouillon cube

1

scotch bonnet pepper

Olive oil

Salt and Pepper

3

cups

of water

1 lemon for cleaning the conch
Instructions
Clean the conch well and cut into small pieces

With a mallet, pound the cut conch to tenderize it

In a large bowl, add two tablespoons of olive oil, the shallots, garlic, thyme, parsley, salt and pepper and mix well

Add the cleaned conch to this and combine until the conch is covered in the spice blend. Let it marinate for a minimum of 30 minutes. You can marinate it overnight but make sure it is sealed tightly in an airtight container and refrigerated.

In the Instant Pot, switch on sauté mode and heat 3 tablespoons of oil

Add the onions and sauté

Add the tomato paste, scotch bonnet peppers and the bouillon cube and sauté till the bouillon cube melts and the paste is simmering.

Now add the marinating conch and sauté for a few minutes.

Add the water

Cancel sauté mode in the Instant Pot. Close the lid, seal the vent and turn on Pressure Cook mode. Choose 1 hour 30 mins and let it cook.

Release pressure naturally
Nutrition
Calories:
62
kcal
|
Carbohydrates:
14
g
|
Protein:
3
g
|
Fat:
0.3
g
|
Saturated Fat:
0.1
g
|
Polyunsaturated Fat:
0.1
g
|
Monounsaturated Fat:
0.05
g
|
Cholesterol:
0.03
mg
|
Sodium:
515
mg
|
Potassium:
553
mg
|
Fiber:
3
g
|
Sugar:
8
g
|
Vitamin A:
727
IU
|
Vitamin C:
16
mg
|
Calcium:
36
mg
|
Iron:
2
mg
Tips and Tricks
Any seafood you are cooking, the cleaning process is critical as it can lead to serious side effects and illnesses.
To clean the Lambi, douse the cut conch in lemon juice and ensure it is completely covered. Then rinse it in cold water. Then repeat the process. Pour lemon juice over the conch and rinse. Pat dry and set aside.
You have to tenderize the conch with a mallet, else it becomes chewy
The reason the conch takes so long to cook, despite tenderizing it is that it takes that long to cook and soften. If it is not completely cooked, the Lambi is tough and chewy.
You can also grind all the ingredients used to marinate the conch in a blender or food processor and then mix it well along with the conch till it is well coated.
Storage
As this is a mollusk, you cannot store it for too long. Refrigerate the Easy, Spicy Instant Pot Haitian Lambi in an airtight container for no more than a day. If by then it starts to smell, throw it away. It is dangerous to consume spoilt seafood.
FAQs
What is Lambi?
Lambi is basically queen conch or a large sea snail that is most commonly found in the Caribbean. It is a mollusk and most closely resembles squid. It has a mild sweet and salty flavor. It doesn't have a very overpowering or pungent flavor. It is often found in Haitian and French Creole cuisine.
Is there any other way to make the Easy, Spicy Instant Pot Haitian Lambi?
Whatever way you decide to cook the Lambi it is going to take at least an hour to cook. You can also first cook the conch in the Instant Pot or pressure cooker and then cook it along with the stew. Follow recipe instructions from steps 1 to 4. Then put the spiced conch in the Instant Pot or Pressure Cooker. Add water and cook for an hour. Let the pressure release naturally. Take out the cooked conch and set aside. In the meantime, heat oil and follow the rest of the instructions till step 7. Add the cooked conch and let it all simmer together for a few minutes.
Substitutions
There is not much that can be substituted in this recipe. You can change the spices and seasonings to suit your palate.
Shallots: You can replace with chives, chopped onions or onion powder
Tomato paste: You can use a cup of fresh, diced tomatoes or canned tomatoes
Parsley and thyme: These add essential and very distinctive flavoring to the Lambi stew, and I do not recommend replacing them. In a pinch you can use cilantro, rosemary or oregano.
Scotch bonnet peppers: This is what makes the stew spicy. If you want to reduce the heat, use habanero instead or use paprika or cayenne powder. You can also eliminate heat completely and just go with regular green or red peppers for a bit of crunch and light heat.
Accompaniments
The Easy, Spicy Instant Pot Haitian Lambi is best served with fried plantains or black or white rice. It also goes nicely with Haitian red beans and rice. This is a filling stew; you can also pair it with bread.
For more delicious seafood and shellfish recipes check out the Delightful Dynamite Mussels and the Simple Harissa Shrimp.
---
Recent Recipes