Perfect Potato Stuffed Peppers
Everyone knows how awesome and easy stuffed peppers are. They are tasty, healthy, can be vegan or meat-filled and when baked they bring us less mess and more health. My favorite has always been a stuffed pepper oozing with cheese that has bubbled up. That is until I stumbled upon these Perfect Potato Stuffed Peppers.
Imagine glorious, multicolored peppers filled with onions and potatoes and baked to perfection. It is a simple dish but downright delicious. It can be a completely satisfying main course or an indulgent side or appetizer. It also lends itself to various alterations. You can add some ground beef to it and really load it up, you can add rice and make it full of carbs and deliciousness, you can also add your favorite vegetable or topping and be as creative as you want.
For this Perfect Potato Stuffed Peppers recipe, I have used regular peppers, onions and potatoes with a whole host of seasoning and garnish.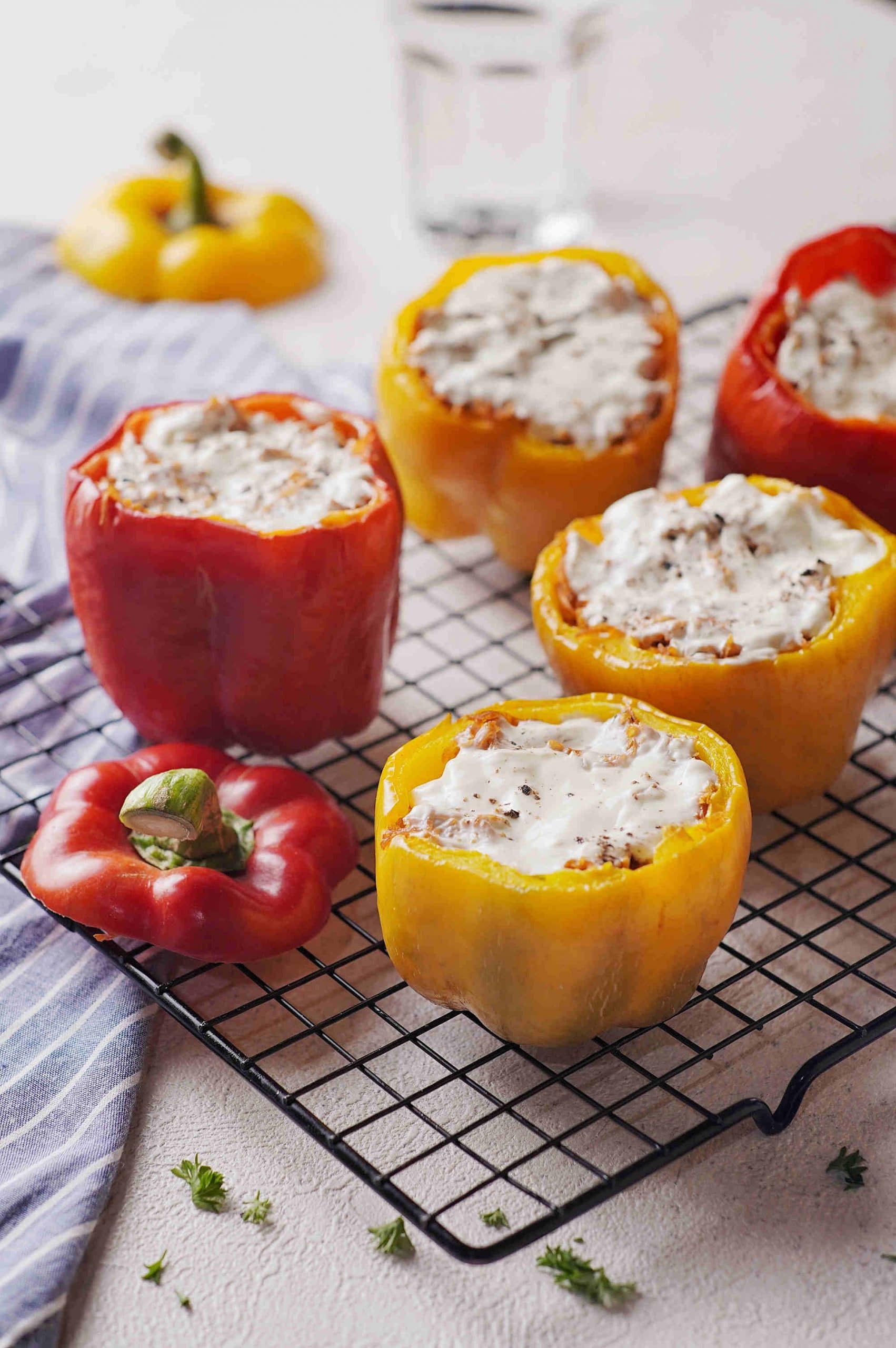 Ingredients
5

large peppers of any color

3

potatoes

peeled and grated

1

large onion

finely diced

1

teaspoon

garlic powder

1

teaspoon

paprika

2

sprigs of fresh parsley

Salt and pepper

Olive oil or vegetable oil

½

cup

of sour cream
Instructions
Start by getting all your ingredients together.

Cut the tops of the peppers and discard. Remove the seeds and membrane from inside and discard those too.

Preheat the oven to 375 degrees F. Spray a lined baking tray and set aside.

In a pan heat the oil. Add the onions and sauté till they turn translucent.

Add the shredded potatoes, garlic powder, paprika, parsley, salt and pepper and sauté well together.

The shredded potatoes need to start browning but ensure they don't stick to the bottom of the pan. Take them off heat.

Stuff the peppers with the potato filling and place them on the baking tray.

Put it in the oven and bake for 40 minutes.

Take it out of the oven and garnish it with a dollop of sour cream on top of each pepper. You can also add more parsley and black pepper on top.
Video
Nutrition
Calories:
191
kcal
|
Carbohydrates:
33
g
|
Protein:
5
g
|
Fat:
5
g
|
Saturated Fat:
3
g
|
Polyunsaturated Fat:
1
g
|
Monounsaturated Fat:
1
g
|
Cholesterol:
12
mg
|
Sodium:
32
mg
|
Potassium:
865
mg
|
Fiber:
6
g
|
Sugar:
8
g
|
Vitamin A:
3937
IU
|
Vitamin C:
181
mg
|
Calcium:
55
mg
|
Iron:
2
mg
Tips & Tricks
You can either cut the top of the peppers to stuff them or cut each pepper in half, remove the insides and load with the potato filling. You will have 10 pieces of stuffed peppers.
You can bake the cleaned and deseeded peppers for about 10 minutes while you are sautéing the potatoes, this gets the peppers prepped and crunchy
While baking cover the peppers with aluminum foil for the first 10 mins and then remove the foil and continue baking.
You can also grill the peppers, but they do burn quickly in the high heat.
Storage
I would recommend refrigerating these Perfect Potato Stuffed Peppers for about 3-4 days in an airtight container. I would not recommend freezing them, as the texture of the stuffed peppers will no longer be fresh and crunchy but will become chewier.
You can try and make the stuffing ahead. Follow steps 3-5 and then refrigerate in an airtight container for up to 2 days. You can take them out the day you are making it, let it sit out for about 30 mins while you prep the peppers and then stuff and bake.
FAQs
What Other Stuffing Can I Use To Make It An Entrée?
So, the Perfect Potato Stuffed Peppers make a great entrée with the right stuffing. My favorite is the rice stuffing. Use long-grain rice like Basmati. Use about 1/3 cup of rice and boil till it's almost cooked. Mix the rice with the potato mixture and then stuff the peppers and bake as per instructions. You can add some cherry tomatoes to it and top it with some cheese. Bacon bits are another great topping. You can also use ground beef, sauté it along with the onions and then add the potatoes and cook them all together.
What Does Potato Stuffed Peppers Taste Like After Baking?
The peppers should still have a bit of a bite but should not be tough or chewy. The onion-potato stuffing should be soft but a little bit crisp. They will be bursting with flavor. Add one spoon of sour cream on top of each pepper before serving, it will make it creamy and rich and add some extra flavoring to the dish.
Substitutions
Peppers You can use any colored peppers you have. You can also use wax peppers.
Potatoes Golden potatoes or any waxy potato is best, so that it doesn't get too mushy. If you want a mushier stuffing, you can of course load them with mashed potatoes. Sweet potatoes are another good option, but they will obviously be sweeter and cook faster.
Onions If you don't have regular white, yellow or purple onions, you can always use shallots and scallions.
Spices and seasoning This is completely up to what you like. You can use cilantro or even basil instead of parsley. You can use cayenne pepper, red chili powder, oregano, sage, dill or any other seasoning of your choice.
Other stuffing Rice is a great addition to the potato mixture. Bacon of course is a classic combination with potatoes, you can cook it along or add as a garnish on top. Ground meat like beef or even shredded chicken are hearty fillers for these stuffed peppers.
Garnish This is also an optional garnish. I like the creaminess and depth it gives this dish. You can top it off with avocado, guacamole or even Greek yogurt. A generous sprinkling of Parmesan cheese with some extra black pepper is another great garnish.
Accompaniments
This can be an appetizer, snack or an entrée. You can have it with some of your favorite meats, a hearty side salad or with some rice, bread and dip.
For more easy and delicious stuffed vegetable recipes, check out the Stuffed Zucchini with Feta and the Bulgarian Stuffed Peppers.
---
Recent Recipes