Simple Irish Bean & Cabbage Stew
This delicious Irish bean and cabbage stew gives you a taste of the Emerald Isle at home. Stews are such a comforting and hearty meal for the cooler days of fall when the sky is getting darker earlier. This one uses the cabbage, potatoes, and carrots that are the stars of simple Irish home (and pub) cooking, and beans for a healthy and filling protein. It's a great vegan dinner even if you're not a vegan!
You can use any kind of beans you have on hand, but in this recipe, we'll be using white beans. This recipe can be made in a crock pot or on the stove. We offer both options here.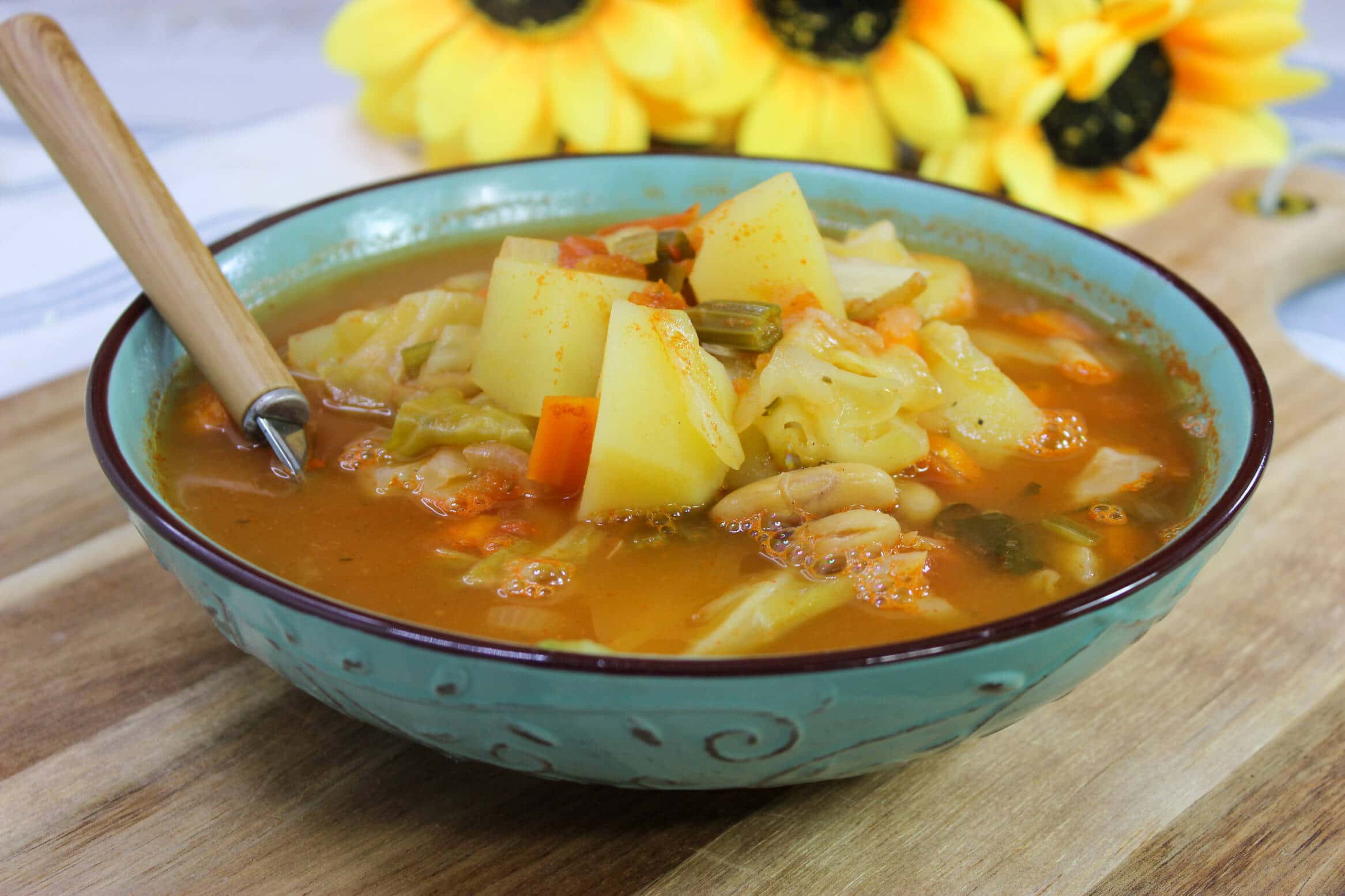 Ingredients
1

large onion

chopped

3

ribs of celery

chopped

2-3

cloves

garlic

minced

1/2

head cabbage

chopped

4

carrots

sliced

1 to 1-1/2

pounds

potatoes

chopped into large pieces

1/3

cup

pearled barley

can be substituted with gluten-free grain

1

bay leaf

1

teaspoon

thyme

1/2

teaspoon

caraway seeds

1/2

teaspoon

rosemary

crushed

1/2

teaspoon

black pepper

6-8

cups

low-sodium vegetable broth

3

cups

two cans, drained white beans

1 14½

ounce

can diced tomatoes

1

tablespoon

chopped parsley

salt to taste
Instructions
Crock pot Irish bean and cabbage stew:
Chop and prepare the vegetables.

Place the vegetables, barley (or gluten-free grain), and seasonings into a large slow cooker. Add enough vegetable broth to just cover the vegetables. This should be about six cups of vegetable broth, but you can add more if necessary.

Cover and cook on low heat for seven hours.

Add the beans, tomatoes, parsley, and salt to taste.

Check the seasonings and add more herbs if desired.

Cover and cook for one more hour.

Serve immediately.
Stovetop Irish bean and cabbage stew:
Chop and prepare the vegetables.

Place the vegetables, seasonings, barley (or gluten-free grain), and broth into a large stockpot.

Cover and simmer until the vegetables are tender, about 45 minutes.

Add the remaining ingredients and season to taste.

Simmer, uncovered, for an additional 15 minutes before serving.

Serve immediately.
Video
Notes & Tips
Don't be intimidated by the long ingredients list. Chopping the vegetables is the only time-consuming part of this recipe. The beauty of a stew is that it's combining all of those flavors.
To make this recipe non-vegan, try adding sausage. Irish sausage, which has a distinct herbal flavor and crispy texture, is one option. So is kielbasa, which adds a spicy touch to this comforting and traditional pub fare.
How to shop for stew ingredients
This recipe calls for fresh herbs. There are a few tricks to buying and storing herbs to maintain their peak quality and taste.
This starts at the grocery store. For the parsley, avoid any leaves that look brown or yellow. For the rosemary and thyme, avoid any bunches that are black and moldy. You want sprigs that have firmly attached leaves. To store these herbs, wrap them in a damp paper towel and place in a resealable plastic bag, and use them as soon as possible.
Optional sides or compliments
Hearty stews like this pair great with a chunky multigrain or whole-grain bread for dipping in the vegetable broth. If you are gluten-free, pair the stew with your favorite gluten-free bread.
It wouldn't be an Irish meal without a pint of Guinness as a beverage. And, yes, Guinness does come in an alcohol-free version if you are a non-drinker.
Tomato and herb salad: this is a perfect light accompaniment to the robust flavor of the stew. Take some coarsely chopped tomatoes, fresh mint and parsley, and place in a bowl. For the dressing, combine 2 cloves of garlic with a dash of lemon juice, olive oil, and white vinegar. Drizzle the dressing over the salad and toss to combine.
Fresh fruit salad is another light option to compliment the stew. Mix and match any of your favorite fruits.
Storage
For best quality, refrigerate the stew within two hours after cooking. Store in covered, airtight containers. The stew will last for about three to four days in the fridge. It can also be frozen. Freeze in covered airtight containers or heavy-duty freezer bags. Properly stored in this manner, the stew will maintain its quality for four to six months, but it will still be fine beyond that time.
Common questions
How do I decide if I should use a crock pot or cook this stew on the stovetop?
Crock pot cooking is perfect if you are looking for a meal that will finish while you're at work. Slow cooking will allow the flavors to gradually melt together. Stovetop cooking is ideal if you have less time to pull everything together or just want to eat sooner! Whichever option you choose will taste delicious.
How do I avoid that "cooked cabbage" smell?
Choosing the right variety of cabbage can yield a better result. Green cabbage responds the best to every cooking method. Red cabbage, on the other hand, is best used raw because it can turn blue when you cook it. Adding lemon juice or vinegar will reduce that effect.

Another hack is to salt the cabbage before using it, then letting it drain in a colander for an hour. Squeeze out as much of the liquid as you can to remove the excess moisture. This will reduce the sogginess that can contribute to a pungent smell while cooking the cabbage.

It's also important to remember that the cabbage will take on the flavor and texture of the other vegetables. It may be the most dominant smell initially, but as the stew begins to cook, the cabbage will settle into being a background note.
What does Irish bean and cabbage stew taste like?
Cooked cabbage will take on the flavor of the other ingredients in the stew. When combined with the other vegetables, the cabbage will develop a sweet and mellow flavor.
---
Recent Recipes