Homemade Pancakes Huancaina
Despite a growing interest in Peruvian food in some parts of the US, the South American country's cuisine is still a long way from being a popular dining choice. That is a real shame because Peruvian dishes are delicious. If you want to experience Peruvian cooking for yourself, a great introduction is by making Pancake Huancaina. One taste of these savory pancakes, and you'll definitely want to try more Peruvian dishes.
You Have Never Had Pancakes Quite Like Pancakes Huancaina Before
Most pancakes are sweet, some are salty, but only Peruvian-style pancakes use the legendary Salsa Huancaina as an ingredient. Salsa Huancaina is a spicy cheese sauce, and Peruvians serve it with everything from potatoes to fried chicken. 
Legend has it that a local woman from the Huancayo area in Peru first served the spicy cheese sauce now known as Salsa Huanciana over boiled potatoes as a simple dish to sell to migrant railroad workers to earn a bit of extra money. The railroad workers fell so much in love with the unique sauce that they recreated the recipe when they returned to their hometowns all across Peru. It wasn't too long before Salsa Huanciana became one of Peru's favorite national dishes.
You can buy premade Salsa Huancaina in Peruvian grocery stores and online, but nothing beats making it yourself. Check out our recipe to make this classic cheese sauce at home.
Other than Salsa Huancaina, the only other unusual ingredient in this recipe you may not know much about is masa harina. Masa harina is nothing more than cornflour with a tiny difference. Unlike ordinary corn flour, Masa harina is made from corn treated with limewater, chemically known as calcium hydroxide. This is the nixtamalization process, and it helps break down the corn kernel, allowing the flour to form a dough and giving it a slightly tangy taste.
Don't attempt to substitute ordinary cornmeal or use all AP flour instead of masa harina; the recipe won't work. But don't worry because, unlike Salsa Huanciana, you can find white, yellow, and blue varieties of masa harina in most large grocery stores in the ethnic food section.
Serve Any Time of the Day or Night
Although you probably think of pancakes as something to eat for breakfast, you can enjoy these Pancakes Huancaina whenever you want. The key is knowing how to pair the pancake's toppings and sides to match the time of day.
While a typical Peruvian breakfast may include anything from Sangrecita (spiced chicken blood curd with vegetables) to Salchicha Huachana (scrambled eggs with sausage), most Americans prefer something a little sweeter to go with their pancakes. Fried bananas or plantains are a great side. Add a little extra Salsa Huancaina and diced tomatoes with garlic or sliced avocado, and you have a very memorable start to the day.
By the time the afternoon rolls around, you can use the pancakes as a base for just about anything. Try serving them instead of french fries alongside the famous Peruvian beef and vegetable stirfry, Lomo Saltado. In fact, Peruvian-style pancakes are the ideal way to soak up any saucy dish like pulled pork or even chili.
There is no better way to cap off a late-night out than whipping up Pancakes Huanciana and topping them with leftover beans. Your stomach and head will thank you the next morning!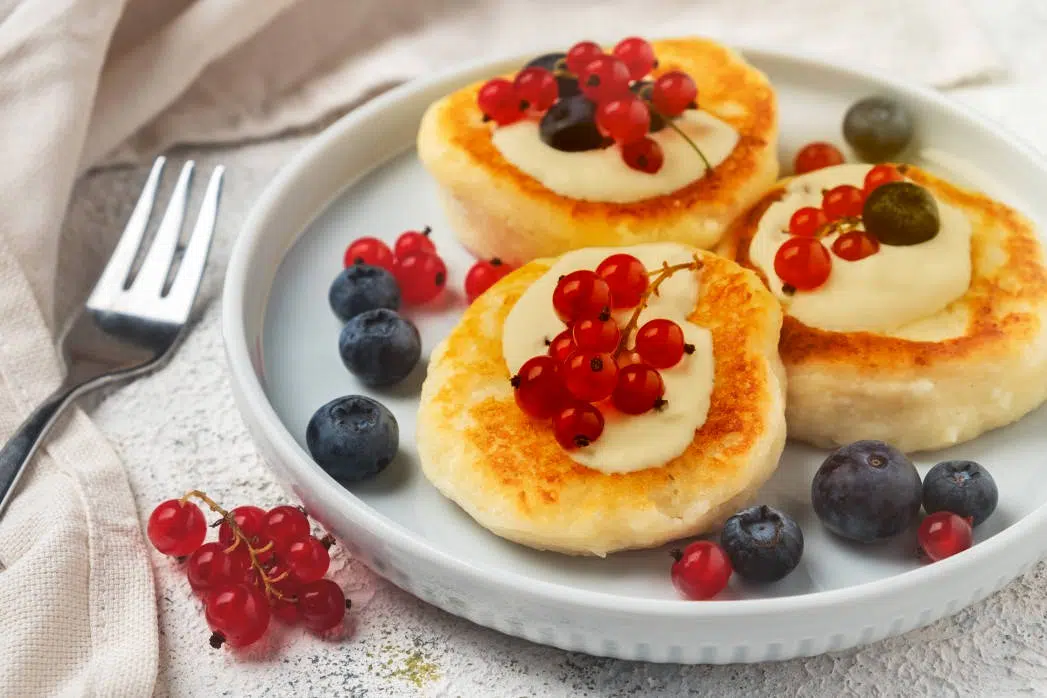 Ingredients
1

cup

Salsa Huancaina

chilled (if you make fresh Salsa Huancaina, you need to put it in the fridge for a few hours before using or the dough won't come together)

1

egg

slightly whipped

1

cup

masa harina

for the best appearance, go for the yellow variety

1

cup

AP flour

1

tablespoon

baking powder

a large pinch of Kosher salt

2 3/4

cups

milk

divided
Instructions
Combine a cup of chilled Salsa Huancaina, one egg, and a cup of milk in a large mixing bowl. Stir to blend, but don't whip too vigorously. You don't want to incorporate too much air into the mixture.

In a separate bowl, mix the masa harina, AP flour, baking powder, and salt.

While gently stirring the cheese, egg, and cheese mixture, slowly add all of the dry ingredients to the bowl. Adding the dry ingredients to the wet ones will help to eliminate any lumps from forming.

Thin out the batter by adding more milk while continuously stirring until you reach the consistency of a thick pancake batter.

Let the batter rest in the fridge for about 15 minutes to ensure all the dry ingredients are thoroughly hydrated. The batter usually tightens up a little while resting, so you will need to add a little more milk.

Heat a griddle or a pan with a heavy bottom over medium heat for about 5 – 10 minutes. Ideally, you want a surface temperature of around 350 degrees. You can test to see if the surface is how enough by dropping water on the surface. If it sits there and steams, it's too cold, but if it immediately disappears, it's too hot. You will know the surface is at the perfect temperature for cooking when the water "dances" around before disappearing.

Spray the cooking surface with cooking spray.

Pour a 1/4 cup of pancake batter onto the cooking surface. You can cook multiple pancakes at once, but make sure there is at least a quarter-inch of space between each pancake.

Don't touch the pancake for two to three minutes. You should see tiny bubbles popping on the pancakes, and the edges will begin to dry out.

Flip the pancakes and cook for an additional two to three minutes.

Keep warm, covered with tin foil in an oven set on low, or serve immediately.
Nutrition
Calories:
493
kcal
|
Carbohydrates:
62
g
|
Protein:
20
g
|
Fat:
19
g
|
Saturated Fat:
9
g
|
Polyunsaturated Fat:
2
g
|
Monounsaturated Fat:
6
g
|
Trans Fat:
1
g
|
Cholesterol:
79
mg
|
Sodium:
1042
mg
|
Potassium:
442
mg
|
Fiber:
3
g
|
Sugar:
12
g
|
Vitamin A:
638
IU
|
Calcium:
646
mg
|
Iron:
5
mg
---
Recent Recipes