Spicy Homemade Chicken Curry Lucknowi Style
Lucknow, the capital of the North Indian state of Uttar Pradesh is most commonly associated with Awadhi cuisine. Awadhi cuisine specifically refers to cooking done using Mughal cooking techniques with Indian spices. Lucknowi or Awadhi cooking techniques most often include slow cooking, smoking food, and cooking in a clay pot called handi, in which food is sealed with dough and cooked over slow fire.
Lucknowi Chicken Curry uses fresh, fragrant spices and lots of pastes and whole spices. While it can be slow cooked and traditionally a clay pot is used, this recipe is authentic in its use of spices but can be cooked conveniently in a pan over the stove.
The important thing of note is the spices and the marinade. While some Lucknowi Chicken Curry recipes use just yogurt and salt to marinate the chicken and add the other spices during the cooking process, I like to marinate the chicken in all the spices and then allow it to cook altogether.
While the dish has many ingredients, the actual process is simple and straightforward. This Easy Lucknowi Chicken Curry pairs well with rice and Indian breads like naan and rotis.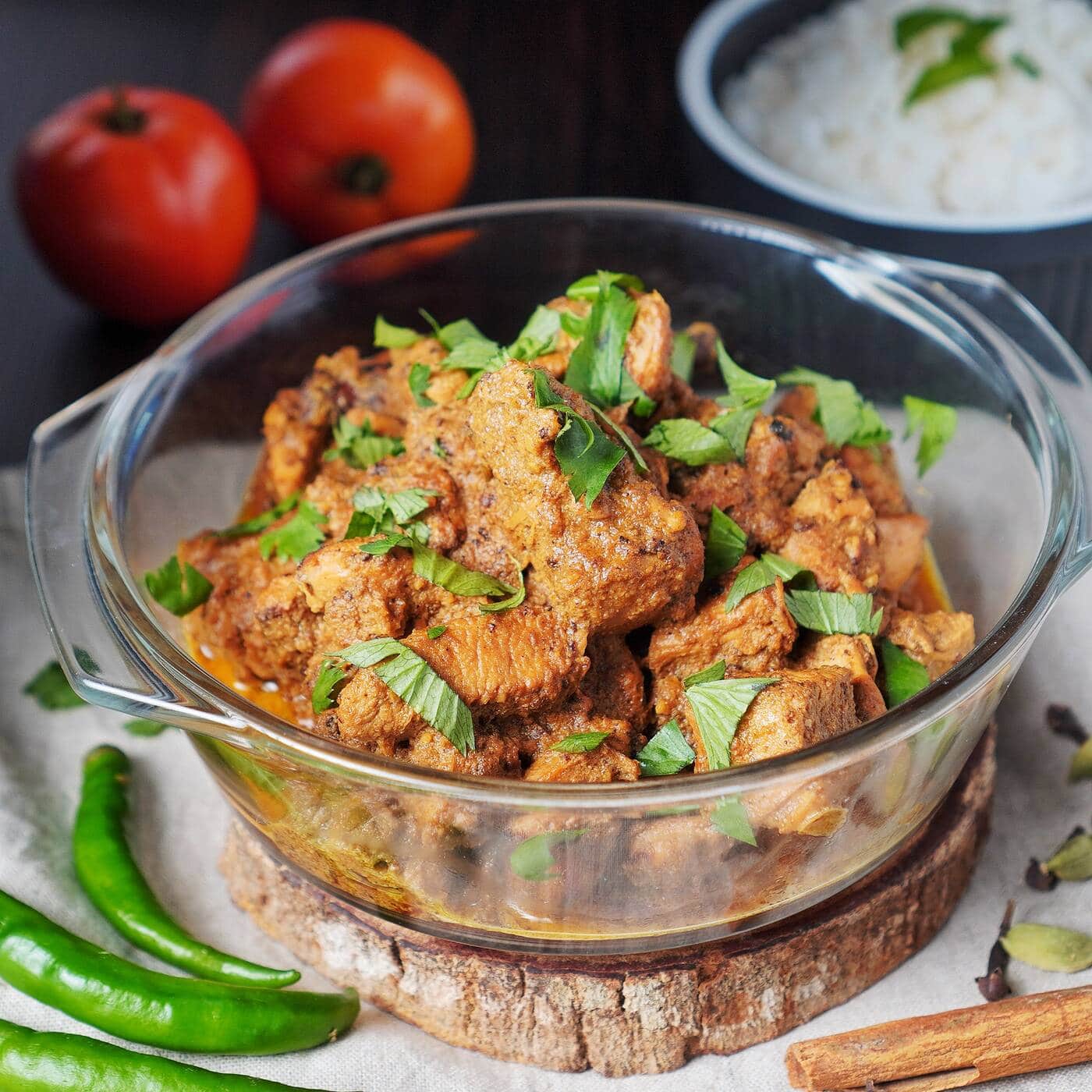 Ingredients
2

pounds

of chicken

cut into cubes

1

big onion

fried till browned and then blended into a smooth paste

1/3

cup

of cashew nut paste

soak cashews in warm water and blend

¼

cup

tomato paste or puree

3

tablespoons

of ghee

½

cup

heavy cream

3

green chilis slit

3

cloves

3

cardamom pods

2

bay leaves

1

cinnamon stick

Cilantro

chopped for garnish
For the marinade:
¾

cup

of yogurt

2

tablespoons

of ginger-garlic paste

1

tablespoon

coriander powder

1

tablespoon

garam masala

1 ½

teaspoon

red chili powder

1

teaspoon

turmeric powder

1

teaspoon

cumin powder

Salt and pepper
Instructions
Assemble your ingredients.

In a bowl or Ziplock bag, add all the ingredients under marinade

Add the chicken to the bowl or bag and mix well, till the chicken is covered in the spices. Set aside from 1 hour to 24 hours.

In a big saucepan, heat the ghee

Add the green chilis, cloves, cardamon, bay leaves and cinnamon. Fry till fragrant.

Now add the chicken pieces and let it cook on low heat, turning them over till they start to brown

Add the onion paste, the cashew nut paste and the tomato paste. You can add a little bit of water to thin it out. Give it a good stir till everything is well combined.

Close the lid and let it cook for about 20 mins.

Uncover, stir and add in the heavy cream and salt. Let it all simmer together for about 5 minutes.

Take it off heat and garnish with cilantro.
Video
Nutrition
Calories:
360
kcal
|
Carbohydrates:
21
g
|
Protein:
8
g
|
Fat:
28
g
|
Saturated Fat:
13
g
|
Polyunsaturated Fat:
3
g
|
Monounsaturated Fat:
10
g
|
Cholesterol:
62
mg
|
Sodium:
1181
mg
|
Potassium:
371
mg
|
Fiber:
3
g
|
Sugar:
5
g
|
Vitamin A:
920
IU
|
Vitamin C:
5
mg
|
Calcium:
104
mg
|
Iron:
3
mg
Tips & Tricks
For the onion paste, you have to fry the onions first, else the curry tastes raw
You can fry the tomatoes along with the onions and make a paste together.
You can add a little bit of rose water to the curry, it gives it a very distinctive flavor. The traditional recipe calls for kewra water or water from the pandanus flower, which is very similar in taste to rose water.
Storage
These marinated dishes taste better the day after when the spices have settled in nicely making the chicken juicy and flavorful. The Easy Lucknowi Chicken Curry can be stored in the fridge for up to 3 days. Heat in the microwave or over the stove. Add a little bit of water, stock or milk to thin it out.
Freeze the chicken curry by storing in an airtight container. The chicken curry can be stored for up to two months. While they last for 3-4 months, they won't spoil, they will start losing flavor.
Questions
What can I use instead of ghee?
You can use butter, salted or unsalted or you can use any vegetable oil. Olive oil and avocado oil are not suitable for this dish.
How can I make this dish less spicy?
You can reduce the amount of green chili you are using. Green chili carries a sharper heat, so you can use just one green chili if this is too spicy. You can also reduce the red chili powder we are using toe marinate the chicken. Red chili powder has a deeper heat and spice level that carries through the rest of the curry. So cut it down to whatever suits you.

You can also increase the amount of heavy cream you are using if the Easy Lucknowi Chicken Curry turns out to be too spicy. You can also add a teaspoon of sugar or jaggery to the curry to cut down the spice levels.
Substitutions
Chicken: This chicken curry recipe works just as well with lamb. You can also make the dish with vegetables. Marinate potatoes, cauliflower, peas and carrots. You can also use paneer or tofu in the recipe. They don't have to marinate for as long, an hour will do. You can also add egg to this recipe, for an extra protein hit.
Spices: You need all the spices for an authentic Lucknowi Chicken Curry, you can play with the measurements, as per your spice tolerance and preference
Heavy Cream: Coconut milk works best for this recipe. If you don't want a heavy curry, coconut milk is the best bet. You can also use plain milk, whole or skim as well as unsweetened almond milk.
Garnish: Cilantro is an essential garnish, as it gives the dish a pop of brightness and freshness. You can also give a squeeze of lemon juice on top, once it is off the heat. You can also add some fried cashew nuts on top or some crispy onions as garnish.
Accompaniments
This Easy Lucknowi Chicken Curry can be served with plain basmati rice, biryani or pulao. It also works well with naan and a yogurt dip. The Easy Lucknowi Chicken Curry is an entrée that can be paired with other dishes to create a full meal.
If you are looking for similar flavors, try this Chicken Salan or this super simple Chicken Tikka.
---
Recent Recipes