Delicious Vijayawada Chicken Biryani
Vijayawada Chicken Biryani is a fulfilling dish that is sure to inject excitement into your dinner night. This Indian cuisine is packed with robust flavor and is perfect on its own or with a variety of different sides. You will need to marinate the chicken before starting this recipe, which can take up to 24 hours, depending on your preferences.
As such, you should take care of that in advance so you can reduce the preparation and total cooking time. But regardless of how long it takes you to complete this dish, any extra time you put in is well worth it in the end.
We're confident that you're going to love Vijayawada Chicken Biryani. It's hearty cuisine that offers a unique experience that you don't always get on a daily basis. So join us as we share with you how to make this flavorful meal.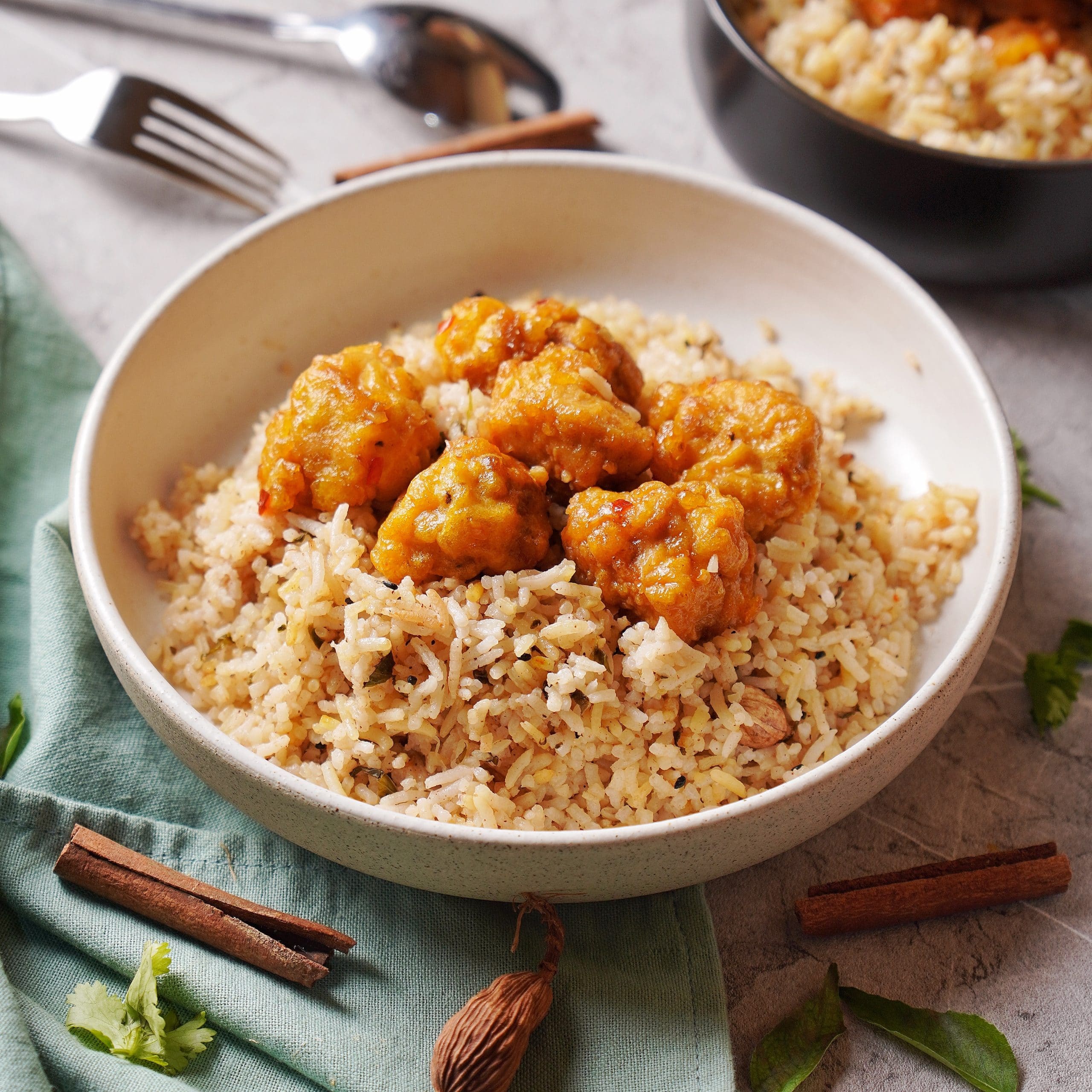 Ingredients
Rice
1

tablespoon

of saffron

soaked in water or milk

1

handful of chopped coriander and mint

2

tablespoons

of lemon juice

1

teaspoon

of black cumin

2

tablespoons

of ghee

3

cups

of basmati rice

1

cup

of sliced onions

2

tsp

of biryani masala

1

tablespoon

of oil

1

black cardamom

3

cardamom pods

1

teaspoon

of salt

1

cinnamon stick

4

slit Thai chilies

6

cups

of water

3 to 4

cloves

1

bay leaf
Chicken
3

cups

of chicken

cut into 1-inch pieces

½

teaspoon

of ginger powder

optional

¼

teaspoon

of black pepper powder

½

tablespoon

of garlic powder

2

tablespoons

of chili powder

2

teaspoons

of garlic paste

4

tablespoons

of cornflour

1

teaspoon

of lemon juice

½

teaspoon

of salt

Food coloring

Cooking oil

Curry leaf

1

egg
Sauce
1

tablespoon

of garlic chili sauce

1

teaspoon

of stir-fry sauce

1

tablespoon

of soy sauce

½

teaspoon

of sugar
Instructions
All ingredients ready? Let's begin!
Rice
Excluding cornflour, egg, and oil, marinate chicken with the spices for at least 1 hour but up to 24 hours.

Wash the rice and soak for about 10 to 15 minutes.

Add ghee and oil and heat in a deep saucepan over medium heat. Add cardamom, cinnamon, cloves, and bay leaves, and sauté briefly.

Add peppers and onions and fry until light brown.

After cooking, pour half of the mixture into a bowl. Let the mixture stand, add masala, and briefly toast.

You're now ready to add the water to the saucepan.

Increase heat and bring the saucepan to a boil.

Add salt and rice and continue to let boil to reduce the water to where it's level with the rice.

Turn down heat to low and stir rice.

Sprinkle half of the fried onion mixture, along with the lemon juice, saffron water, mint, and cilantro evenly over the rice.

Place a lid over the saucepan and cook on low heat for 8 to 10 minutes. Afterward, check to make sure the rice is cooked and there isn't any excess water, then fluff with fork.

While the rice is cooking, get a head start on the chicken.
Chicken
Preheat cooking oil to 320°F.

Combine food coloring, cornflour, and eggs.

Combine the chicken with the mixture.

With the oil sufficiently heated, fry chicken in small batches while turning frequently until fully cooked.

When you finish frying the chicken, set it aside and grab a new saucepan.

In it, sauté 1 tablespoon of oil with 2 teaspoons of minced garlic, 1 teaspoon of minced chili pepper, and curry leaf for 30 seconds.

Following the above ingredients for the sauce, mix for about 15 seconds and combine with chicken in the new saucepan.

Sauté the chicken, sauce, and other ingredients until well combined.

Enjoy your Delicious Vijayawada Chicken Biryani!
Video
Nutrition
Calories:
903
kcal
|
Carbohydrates:
149
g
|
Protein:
19
g
|
Fat:
25
g
|
Saturated Fat:
9
g
|
Polyunsaturated Fat:
4
g
|
Monounsaturated Fat:
9
g
|
Trans Fat:
1
g
|
Cholesterol:
75
mg
|
Sodium:
2859
mg
|
Potassium:
649
mg
|
Fiber:
7
g
|
Sugar:
7
g
|
Vitamin A:
2069
IU
|
Vitamin C:
74
mg
|
Calcium:
144
mg
|
Iron:
6
mg
Notes & Tips
Upon completion of the chicken, add rice on top to complete the dish. If you feel you need to adjust the taste, you may add 2 tablespoons of chili powder and ½ teaspoon of ginger powder while preparing the dish.
It's certainly acceptable to use boneless chicken if that's easier to work with. Please note that you may need to use larger pieces if you go with chicken that has bones in it.
Substitutions
Don't have any ghee on hand? Feel free to use butter, margarine, or a spread like Country Crock. It might be best to steer clear of most butter substitutes, as they could present a flavor that doesn't agree with the rest of this recipe.
If you don't have any cardamom, you might think that it's one ingredient that you can't replace. But we find that combining nutmeg and cinnamon delivers a taste similar to cardamom. There are additional spices, powders, and combinations that you might want to look into to replicate cardamom.
Furthermore, you may substitute cornflour with other types of flour if you prefer. Feel free to use corn starch, wheat flour, rice flour, or any other acceptable alternative.
Common Questions
Do I have to use ghee in this recipe?
Ghee offers a balanced taste to Vijayawada Chicken Biryani, but you can use your favorite butter, margarine, or spread in its place. Check the Substitutions section above for a link on Country Crock spreads.

We recently covered a variety of them, including some vegan-friendly spreads that you may want to use when making Vijayawada Chicken Biryani.
Sides & Pairings
Vijayawada Chicken Biryani is a meal all on its own. The combination of rice and chicken provides a filling dining experience. However, you can certainly pair it with sides like corn and fresh or cooked greens, including Vegan Pesto Butter Beans.
If you are interested in learning about even more wonderful recipe ideas for additional snacks or main courses, be sure to head on over to our Recipes section and explore the many unique meals and treats that we've compiled for your consideration. If you're strictly looking for vegan recipes, you can find a whole assortment of them here.
---
Recent Recipes