Simple & Creamy Haitian Russian Salad
Almost every part of the world has a potato salad. From America to Bulgaria to parts of Asia and Russia, they all have their own version of the ubiquitous potato salad. Some have just potatoes and seasoning, some have meat, some have other vegetables, but they all have dollops of delicious mayo. Haiti has the uniquely delicious Haitian Russian Salad, that's right, this is Haiti's version of the Russian Salad. Traditional Russian Salad, also called the Olivier Salad or the Oliviye Salad is made with potatoes, peas, carrots, onions and meat, which can be chicken, ham or bologna and worked together with mayo, salt and pepper and garnished with preferred condiments and seasoning. What is very interesting about the Haitian Russian Salad is that it has delicious, radiant beets?
Haitian Russian Salad has peeled, cooked and chopped beets that are added to the potatoes and whatever else you might include and it is whipped together with mayo, garlic powder, salt, pepper and a dash of olive oil. I have added carrots to this delightful dish and the vibrant color, the creamy dressing all result in a spoonful of absolute flavor.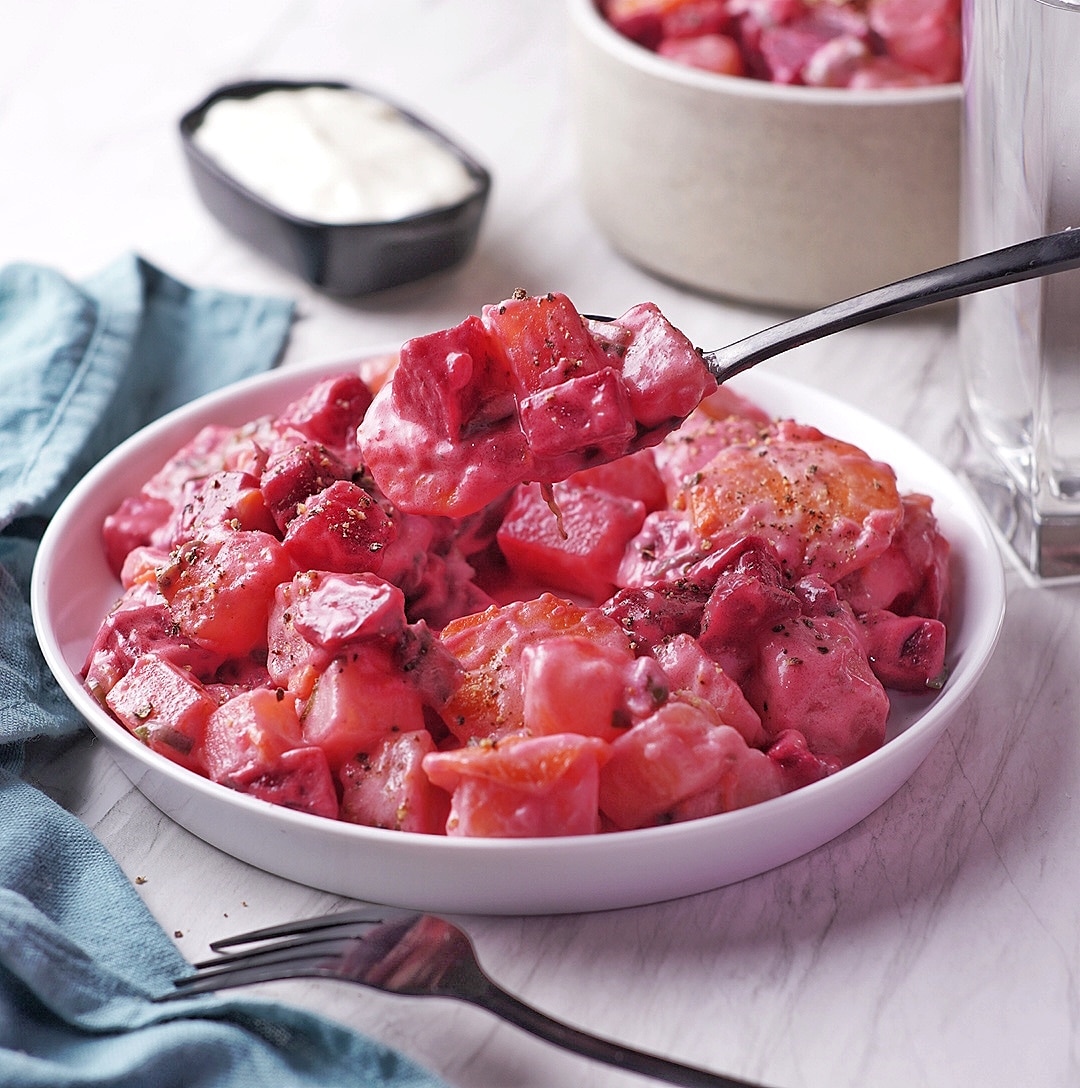 Ingredients
2

beetroots

3

big potatoes

2

carrots

½

cup

of chopped scallions

½

cup

of chopped green peppers

1 ½

cups

of mayonnaise

½

teaspoon

of garlic powder

Olive oil

Salt and pepper
Instructions
All ingredients ready? Let's begin!

Peel the potatoes and boil them in water till they're well cooked. Then chop them into cubes.

Similarly, boil the beetroot till it is cooked. Then peel the beets and chop it into cubes.

Peel the carrots and cut them into roundels and boil in water till well cooked.

Drain the cooked vegetables and let them cool.

To a large bowl, add the potatoes, beets and carrots.

Now add some chopped scallions, green peppers, garlic powder, salt and pepper and mix well but gently.

Now add the mayonnaise and combine well.

Garnish with fresh, ground black pepper.
Video
Nutrition
Calories:
867
kcal
|
Carbohydrates:
67
g
|
Protein:
9
g
|
Fat:
64
g
|
Saturated Fat:
10
g
|
Polyunsaturated Fat:
38
g
|
Monounsaturated Fat:
14
g
|
Trans Fat:
1
g
|
Cholesterol:
35
mg
|
Sodium:
684
mg
|
Potassium:
1811
mg
|
Fiber:
12
g
|
Sugar:
15
g
|
Vitamin A:
6313
IU
|
Vitamin C:
81
mg
|
Calcium:
85
mg
|
Iron:
4
mg
Tips & Tricks
You have to cook the vegetables separately, as they all cook at different times and you don't want undercooked, overcooked or unevenly cooked vegetables.
Cut the ends of the beetroot before you cook them. You can first cook the beets as it makes the skin easier to remove.
Combine the vegetables gently, you don't want them to break apart or get mashed.
The olive oil is entirely optional, but I think it adds extra flavor to each mouthful, and some depth to the salad.
Storage
You can store this Simple and Creamy Haitian Russian Salad in the fridge for about 3 to 4 days. It tastes even better cold and well marinated in the dressing. Make sure to store it in an airtight container. Storing it longer than that is going to make the vegetables clumpy and soggy. If the salad has dried out, add more mayonnaise to get it going again. You can also add more garnish.
This really is the dish that keeps on giving. You can also make any leftover salad into sandwich filling or something to top your toast with. You don't have to mash it; the vegetables are soft enough. Just add them to your favorite bread, sprinkle some black pepper on top, another drizzle of olive oil and you're good to go.
If you do want to freeze the Simple and Creamy Haitian Russian Salad, you can store them in an airtight container and freeze them for about 2 months. Let them thaw in the fridge overnight before you consume it. I do not recommend freezing this salad as cooked vegetables that have been soaking in mayo will not have an appetizing texture when thawed after freezing.
FAQs
Can I add protein to this Russian Salad?
The best part about this Simple and Creamy Haitian Russian Salad is that it so versatile and lends itself to all kinds of variations. One popular protein to add to this salad is boiled eggs. It tastes fantastic, just boil, shell, chop and add. Cooked chicken and ham also make great additions to this salad. The root vegetables are as it is very filling, some added protein can help make it even heartier and make it a nice light, meal all on its own.
Substitutions
This is a pretty simple and straight forward dish, there are a couple of standard ingredients that cannot be changed like the beets, potatoes and mayo but there are always alternatives.
Beets: This is clearly the star of the dish, so you don't want to play around with this too much. You can use baby beets if you want, as they are precooked. Some people also like raw beets instead of cooked, if that is the case, I would recommend grating the beetroot as it makes it easier to eat.
Potatoes: Use a nice waxy potato as you don't want to get the potatoes too mushy when cooked. Red potatoes are a good choice.
Mayonnaise: You can use one of the many, many variations of mayonnaise that are out there, flavored, low-fat, full fat etc.
Carrots: You can use baby carrots as they are already peeled and more tender.
Scallions: You can use chives, shallots or even red onions, finely chopped
Green Peppers: This is entirely optional. You can use any colored pepper or eliminate completely
Garlic Powder: You can use garlic cloves, finely minced
Ground Black Pepper: This really makes the dish stand out, it pairs so well with the sweet beets and creamy mayo.
Peas are another great addition the Simple and Creamy Haitian Russian Salad. You can also add boiled eggs, chicken, ham or sausage to it.
Some other seasoning you can use include parsley, dill, sage, lemon pepper and chili flakes.
Accompaniments
The Simple and Creamy Haitian Russian Salad is a perfect side to anything from burgers to fried chicken, but it pairs best with rice. You can use Haitian black rice, jasmine rice, any long grain rice or traditional rice and beans.
For more interesting and delightful salads, try the Low FODMAP Chicken Salad and this bright and flavorful Lemon Asparagus Couscous Salad.
---
Recent Recipes