I have spent ages looking online for a good mutton soup recipe, but I just couldn't find one, so I made this one. It's a conglomeration of my experimentation and mixing of other recipes. Hopefully, this can be your one-stop-shop for a good, hearty mutton soup.
Before you head to the kitchen to make this soup, be aware that it does take a few hours. You need to let the mutton simmer for over 2 hours so it becomes super soft and melt-in-your mouth. Because of that, you'll need to prepare this well in advance of dinner time.
If you can't spare the time to watch over a pot on the stove for 2 hours, this recipe can easily be modified to work in a crockpot. For a crockpot version, prepare the ingredients the same, but put everything in a crockpot instead of a pot.
There is a stage of this recipe where a lot of meat fat rises to the top of the pot for you to skim off, so you can do that step in a pot on a stovetop if you want, or just be aware that you may need to go back and check on your crockpot to remove those icky bits.
If you choose to use a crockpot, you can throw everything in together at once (after the previously mentioned step) and leave it for the rest of the day. If you're leaving the crockpot all day, you can throw in your mutton without cutting it into pieces. Once it's been in the crockpot for several hours, it should become soft enough that you can just tear it apart with a fork.
I know a crockpot is not the traditional method of making this dish and your results might vary a little, but the taste should be the same. Not all of us have 2+ hours to spend watching something over the stove and that's okay! Food should fit around you and your schedule, not the other way around. If you want a spicy meal but aren't keen on a soup, try Lucknowi style chicken curry!
However you choose to prepare this dish, I'm sure you'll be pleased with the end product and have a healthy, hearty meal that warms your bones.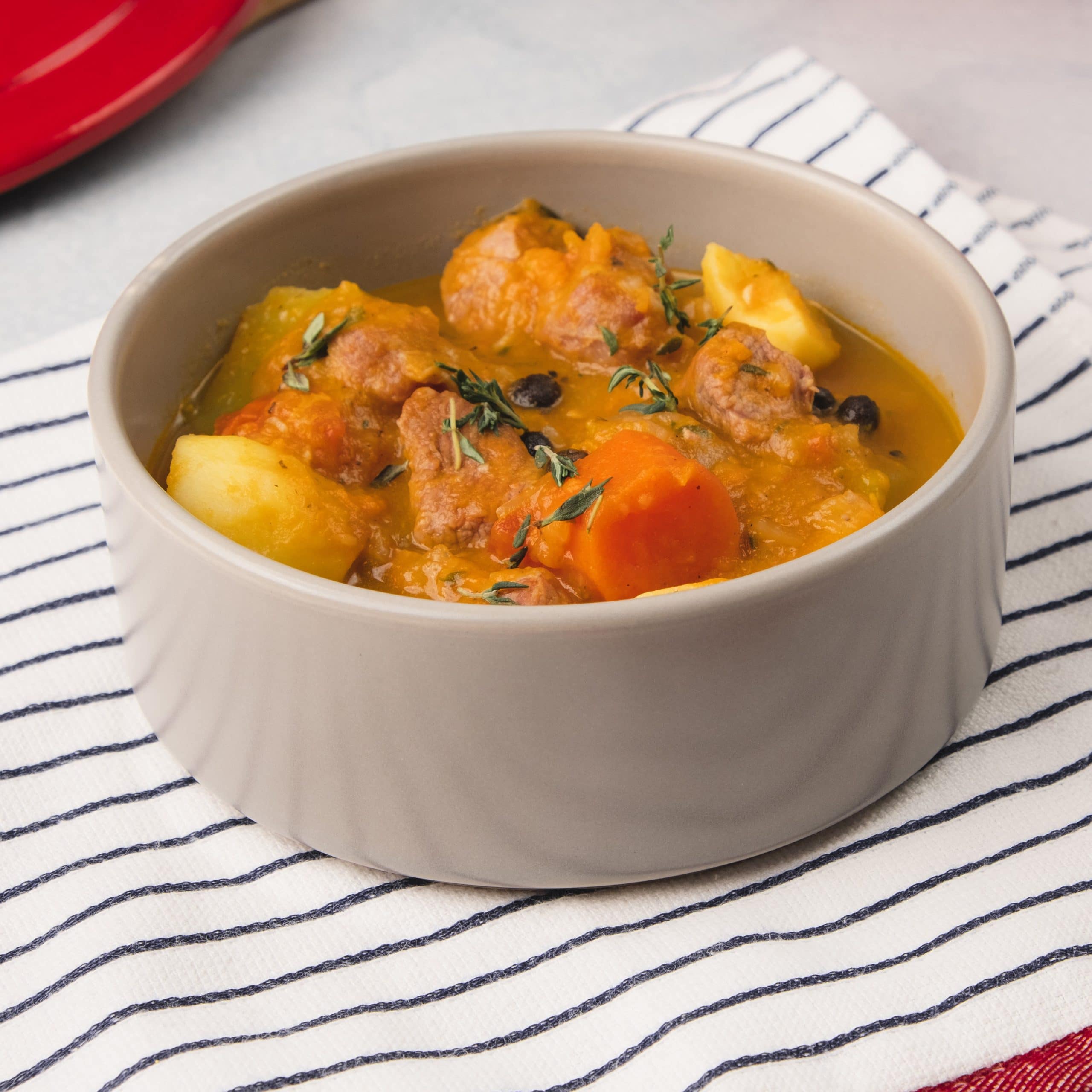 Ingredients
3

lbs

mutton

1

scotch bonnet pepper

2

tbsp

pimento seeds

1 ½

tsp

salt

1

tsp

pepper

Several sprigs of fresh thyme

1

cup

pumpkin puree

1

yam

1

potato

1

onion

1

cho cho

2

carrots

2 to

matoes

2

bay leaves

4

cloves

of garlic

1

tsp

tomato puree
Instructions
Use kitchen scissors to trim any excess fat off the mutton, then cut into pieces about an inch large.

Put the mutton into a medium or large pot and add enough water to cover the mutton plus a couple inches on top.

Bring the liquid to a boil. Icky fat bits should float to the top after the boil, so use a spoon to scoop it all out and discard.

Destem and deseed the scotch bonnet pepper then chop into pieces and add to the pot.

Also add to the pot the pimento seeds, salt, pepper, thyme, and the pumpkin. Stir.

Reduce the heat to medium-low and simmer for about 1 ½ hours.

Peel the yam and potato and chop into pieces about an inch large. Chop the cho cho the same (no need to peel it though).

Finely chop the onion and garlic. Chop the tomatoes and carrots into chunks.

Add all the remaining ingredients after 1 ½ hours of the meat on the stove. Continue simmering for another 30-60 minutes or until the potato is soft enough to cut through with a spoon.

Depending on how you like your soup consistency, you can add more water for a more brothy soup, or you can turn the heat up and allow some of the liquid to evaporate, leaving you with a thicker stock.

Spoon into bowls, garnish with a sprig of thyme, and serve.
Video
Nutrition
Calories:
829
kcal
|
Carbohydrates:
54
g
|
Protein:
82
g
|
Fat:
30
g
|
Saturated Fat:
11
g
|
Polyunsaturated Fat:
2
g
|
Monounsaturated Fat:
7
g
|
Cholesterol:
252
mg
|
Sodium:
1733
mg
|
Potassium:
2520
mg
|
Fiber:
10
g
|
Sugar:
8
g
|
Vitamin A:
16616
IU
|
Vitamin C:
56
mg
|
Calcium:
105
mg
|
Iron:
9
mg
Notes & Tips
This soup can be stored in an air-tight container in the fridge for about 5 days. When you want to eat it again, you can pop it in the microwave or reheat it in a pot on the stovetop if you're reheating a bigger batch. When the soup cools in the fridge, it will probably form a fatty layer on top that looks off-putting, but it will mix right back into everything after it's heated again.
Substitutions
As the name of this recipe indicates, mutton is the most traditional meat to use for this soup. However, it works really well with pretty much any meat. You can also use any cut of meat too. If you use meat with bone, you'll just need to make sure to pull all the meat off the bones and discard the bones before serving. Or save them to make a broth later!
Where To Get Ingredients?
Some of the ingredients for this soup may be harder to find than others. Pimento seeds are more likely to be found under the name of allspice. Ground allspice is more popular, but for this recipe you want whole allspice, allspice seeds, or allspice berries. There are a few names for pimento seeds, but if you've looked for all of them and still can't find it, ground allspice will be second best. 
Cho cho is also called christophene, chayote, mirliton squash, or vegetable pear. It does look like a vegetable pear and it part of the gourd family. It's essentially a squash.
Scotch bonnet peppers are also called bonney peppers and Caribbean red peppers. It's called scotch bonnet because somebody thought it looked like a hat. It is similar in flavor and heat to a habanero pepper so, if you can't find scotch bonnet peppers, replace it with a habanero pepper.
Depending on what supermarkets are near you, all of the above might be at your local grocery store. If not, you could try looking at your nearest Afro-Caribbean food store. If you don't have a specialized food store near you and you can't find what you need, that's okay. You can substitute those ingredients with close seconds.
If you can't find pimento seeds or whole allspice, use ground allspice. If you can't find cho cho, try using a squash. If you can't find scotch bonnet peppers, just use habanero. Don't let a lack of special ingredients put you off from trying this recipe!
---
Recent Recipes