Lemon lasagna sounds like a nice, citrusy, healthy pasta recipe, doesn't it? Well, it's not (though if you are looking for something like that, I recommend this sumptuous Mediterranean lasagna). This lasagna is a beautiful, multi-tiered dessert that would be perfect for a summer birthday party or good-weather get-together. It would also be an excellent follow up to simple fried salmon sandwiches, if you're looking to make a whole meal. Lemon and salmon go together quite nicely, so the sandwich and lemon lasagna combo make sense.
Instead of using pasta, tomato sauce, and beef, this sweet dessert uses cookies as a crust and is topped with layers of lemony whipped cream cheese, regular whipped cream, and pudding. This recipe uses two different pudding packages, so you don't need to make your own pudding from scratch. This is also a no-bake dessert, which means you can make it without heating up your oven. Those two factors alone make this incredibly simple to make there's another shortcut below the recipe to make it even easier!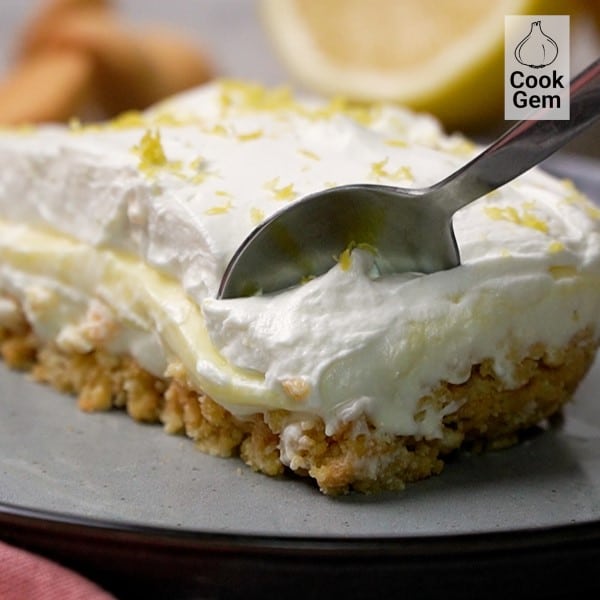 Ingredients
8

oz

cream cheese

1

box vanilla wafers

¾

cup

butter

6

cups

heavy whipping cream

1 ¼

cups

powdered sugar

2

lemons

3

cups

milk

1

package instant vanilla pudding

1

package instant lemon pudding
Instructions
All ingredients ready? Let's begin!

Set the cream cheese out so it can soften to room temperature before using.

Put the wafers into a ziplock bag and seal it, pushing out as much air as possible. Wrap the bag in a kitchen towel and use a meat mallet or rolling pin to smash the wafers into small crumbs. Alternatively, you could blend them in a food processor, but smashing is more fun.

Pour the cookie crumbs into a bowl. Melt the butter and add to the bowl. Mix together with a spatula or your hands until the mixture sticks together.

Grease a 9×13 inch baking dish then dump the cookie mix into it. Use your hands to press along the bottom of the dish until the cookie crumbs become a tight, even layer.

Put the baking dish in the fridge while you prepare the rest of the ingredients.

In a large bowl, pour the heavy whipping cream and the powdered sugar. Use an electric mixer or handheld whisk to whisk until the cream forms stiff peaks. With an electric mixer this could take 5 minutes, but it will be longer by hand.

Separate half of the whipped cream and place in another bowl.

Zest both the lemons. Set half of the zest aside. Juice just one of the lemons. Add ½ of the lemon zest and all the juice to one of the bowls of whipped cream.

Add the cream cheese to the lemon and whipped cream. If the cream cheese isn't soft, you can put it in a bowl in the microwave for a few seconds.

Continue whipping the lemon whipped cream mixture until incorporated and it forms stiff peaks again.

Remove the dish from the fridge and use a spatula to spread the lemon whipped cream in an even layer on top of the cookie crust. Return to the fridge.

In a new, large bowl, pour the milk. Add the lemon and vanilla pudding packages to the milk and whisk together until it thickens to a pudding consistency.

Take the dish out of the fridge and spread the pudding mixture across in an even layer.

Return to the fridge and chill for 40 minutes or until the pudding sets.

Remove the dish from the fridge again and spread the second half of the whipped cream on top.

Garnish by sprinkling the top with the remaining lemon zest.

Cut, serve, and enjoy!
Video
Nutrition
Calories:
625
kcal
|
Carbohydrates:
35
g
|
Protein:
7
g
|
Fat:
52
g
|
Saturated Fat:
33
g
|
Polyunsaturated Fat:
2
g
|
Monounsaturated Fat:
13
g
|
Cholesterol:
163
mg
|
Sodium:
222
mg
|
Potassium:
254
mg
|
Fiber:
1
g
|
Sugar:
26
g
|
Vitamin A:
2127
IU
|
Vitamin C:
1
mg
|
Calcium:
190
mg
|
Iron:
1
mg
Notes & Tips
This yummy lemon lasagna dessert can be kept covered in the fridge for up to a week. 
If you want to get super fancy, use a smaller dish and split the layers up so you can have more, thinner layers and a taller cake. 
This is one of those dishes that work well when made the day before. The longer the cake has to sit, the stronger it will get so it doesn't fall apart when you serve it. If you have the time, try leaving the cake in the fridge for half an hour between layers. That gives each layer the chance to set before more weight is added.
Substitutions
Even though this recipe is already super easy, there are a couple of shortcuts and substitutions you can make.
Instead of using vanilla wafers, you can use golden Oreos or graham crackers. Instead of making your own whipped cream, you can buy it. Exchange the heavy whipping cream and half the powdered sugar for 6 cups of store-bought whipping cream.
You cannot substitute the milk with non-dairy milk because it will not react to the pudding in the same way. Non-dairy milk would leave you with a soppy mess.
Other Flavors
Because this recipe is so simple, you can modify it to make any kind of dessert lasagna you want. Maybe you want something more chocolatey or fruity? No problem!
To make a chocolate version of this recipe, use chocolate cookies or regular oreos for the crust. Instead of adding lemon to the whipped cream, add some cocoa powder (about 1 tbsp). Instead of using a lemon pudding mix, use a chocolate one. Prepare everything exactly the same and garnish with a light dusting of cocoa powder and chocolate shavings.
To make a strawberry version, exchange the lemon for fresh, pureed strawberry or strawberry jam and use strawberry pudding instead of lemon pudding. Garnish with slices of fresh strawberry.
You can make this dessert lasagna with any flavor or flavor combo as long as you can find a pudding pack for it. Lemon and strawberry would taste great together and so would strawberry and chocolate. If you enjoy this recipe, feel free to mess around with your own ideas!
---
Recent Recipes