You can do a lot with lasagna, ranging from regular pasta to cupcakes and more. Lasagna is a great recipe, but it's only good for lunch or dinner… right? Wrong!
In fact, it's totally possible to make a tasty breakfast lasagna, especially if you're willing to bend the rules of lasagna making a little bit. Below, we'll break down a breakfast lasagna recipe that swaps out regular lasagna noodles or pasta for French toast. Instead of typical cheese, tomato sauce, and meat, we'll substitute smoked ham, eggs, and a different type of cheese for a complete breakfast experience.
Keep in mind that this breakfast lasagna does take quite a little bit of preparation, as you need to cook the eggs and the French toast beforehand. So if you plan to try this recipe for yourself, you'll need to have plenty of time in the morning to get all your cooking ducks in a row. With that said, let's dive into the recipe!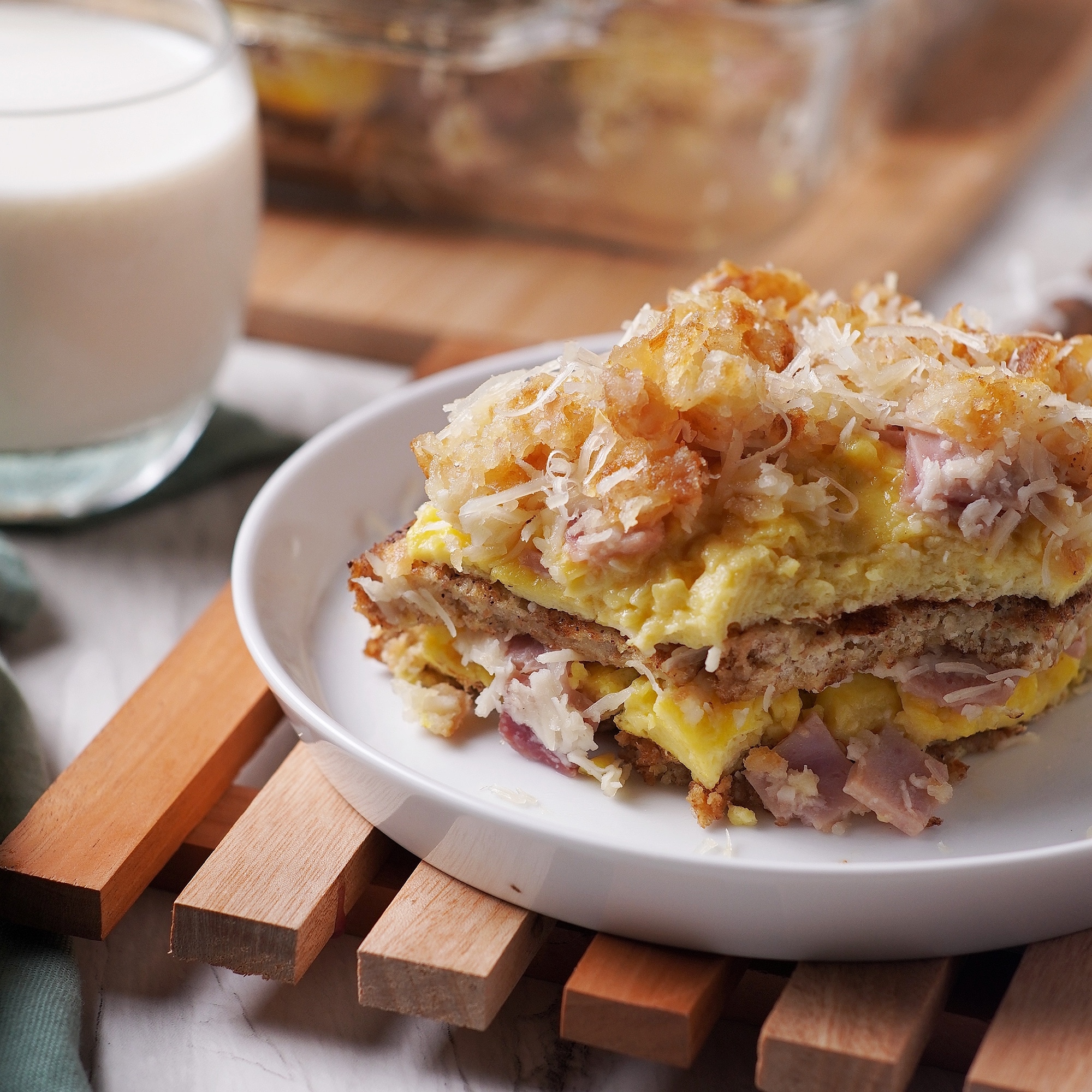 Ingredients
French Toast Ingredients
6

large eggs

¼

cup

whole milk

2

tablespoons

whole milk

separate

1 ½

teaspoons

vanilla extract

1 ½

teaspoon

sugar

½

teaspoon

ground cinnamon

¼

cup

unsalted butter

18

slices

of bread
Scrambled Eggs Ingredients
12

large eggs

2/3

cup

whole milk

Salt and pepper to taste

2

tablespoons

unsalted butter
Lasagna Ingredients
¼

cup

pancake syrup of your choice

4

cups

chopped ham of your choice

2

tablespoons

olive oil

3

cups

shredded hash browns

3

cups

shredded cheddar cheese

Salt and pepper to taste
Instructions
All the ingredients ready? Let's begin!

It's best to start off by prepping the French toast for this recipe. Preheat your oven to 350°F. To begin, mix in the milk, eggs, vanilla, cinnamon, and sugar until all the ingredients are very well blended together. Then heat 2 teaspoons of butter in a skillet over medium heat.

Dip the slices of bread (we prefer cinnamon raisin bread, but you can technically use any type of bread you like) into the egg mixture. Flip them over and place them into the skillet.

Cook the slices of bread individually until they are lightly browned. Flip and cook the other side until they are puffed up and lightly browned on that site as well. Remove each slice of bread to a plate until your French toast is complete.

Now, it's time to cook the scrambled eggs that will form the heart of this breakfast lasagna recipe. Whisk together your eggs, milk, salt, and pepper in a large mixing bowl until everything is well blended. For the best results, whisk the eggs using a dedicated whisking tool instead of a spoon. Then cook the eggs in two batches.

To cook the eggs in separate batches, melt 1 tablespoon of unsalted butter in a separate skillet over medium heat. Add half of the eggs to the pan and stir them around with a silicone spatula until the eggs start to develop curds that are only slightly wet. Remove the curdy eggs to a paper towel-lined plate and repeat the process with another tablespoon of butter and the rest of your eggs.

We're finally at the lasagna! Grease a 9 x 13" baking dish and lay out a full layer of your French toast on the bottom, just like you would with regular lasagna pasta. If needed, cut the pieces in half to cover the entire surface. Don't allow any overlap.

Next, drizzle some pancake syrup over the French toast. Spread half of your eggs and sliced ham over the French toast. Sprinkle half of your cheese over the ham and eggs. Then just repeat the process with your remaining French toast, eggs, ham, and cheese. You should end up with two layers of breakfast lasagna. Do not cover the topmost layer of eggs and cheese with bread just yet.

Press your hashbrowns evenly over your ham and eggs. Sprinkle them with salt and pepper, then stick the lasagna into the oven and bake for 30 minutes uncovered.

Take the lasagna out of the oven and sprinkle the rest of your cheese over the top. Return it to the oven for another 10 minutes or until done.
Video
Nutrition
Calories:
585
kcal
|
Carbohydrates:
37
g
|
Protein:
32
g
|
Fat:
34
g
|
Saturated Fat:
16
g
|
Polyunsaturated Fat:
4
g
|
Monounsaturated Fat:
12
g
|
Trans Fat:
1
g
|
Cholesterol:
322
mg
|
Sodium:
1069
mg
|
Potassium:
509
mg
|
Fiber:
3
g
|
Sugar:
5
g
|
Vitamin A:
855
IU
|
Vitamin C:
4
mg
|
Calcium:
334
mg
|
Iron:
4
mg
Notes & Tips
If you like, you can drizzle some extra pancake syrup on top of your breakfast lasagna for some added sweetness. However, be sure to remember how much syrup you added to the lasagna in the middle before you do this – you might make your breakfast too sweet by accident!
To caramelize your cheese, you can alternatively turn your broiler on high and bake your lasagna for 2 to 3 minutes during the last cooking step (Step 8). Some people prefer the flavors they get from cooking breakfast lasagna this way.
Common Questions
Why do you not cook the eggs all the way?
If you cook the eggs to completion before you add them to the lasagna mixture, you'll overcook them and make them dry and rubbery. Partly cooking the eggs is the only way to ensure they are properly moist and fluffy when the lasagna comes out of the oven.
Can you use bacon instead of ham?
Absolutely. However, keep in mind that you'll need to cook the bacon all the way before adding it to the lasagna in the oven. You don't want to risk eating uncooked bacon in the middle of your breakfast lasagna by leaving it partially uncooked!
How many layers do you need to put in a lasagna?
There's no set rule for this. However, most lasagna dishes have between three and four layers from top to bottom. If you follow the above recipe to the letter, you should end up with three layers of lasagna
Shortcut
Skilled chefs will be able to repair and cook the scrambled eggs in a separate skillet while they do the French toast. We recommend this if you want to cut down on the already somewhat lengthy time of this recipe.
---
Recent Recipes