Homemade Cajun Seafood Lasagna
Are you tired of the same ol' lasagna? You know, the one that tastes like a noodle sandwich with marinara and cheese? Well, it's time to kick your taste buds into high gear with this sizzling, Cajun-inspired seafood lasagna! Get ready for a culinary adventure that'll have your friends and family thinking they're dining in the heart of the French Quarter. Laissez les bon temps rouler, y'all!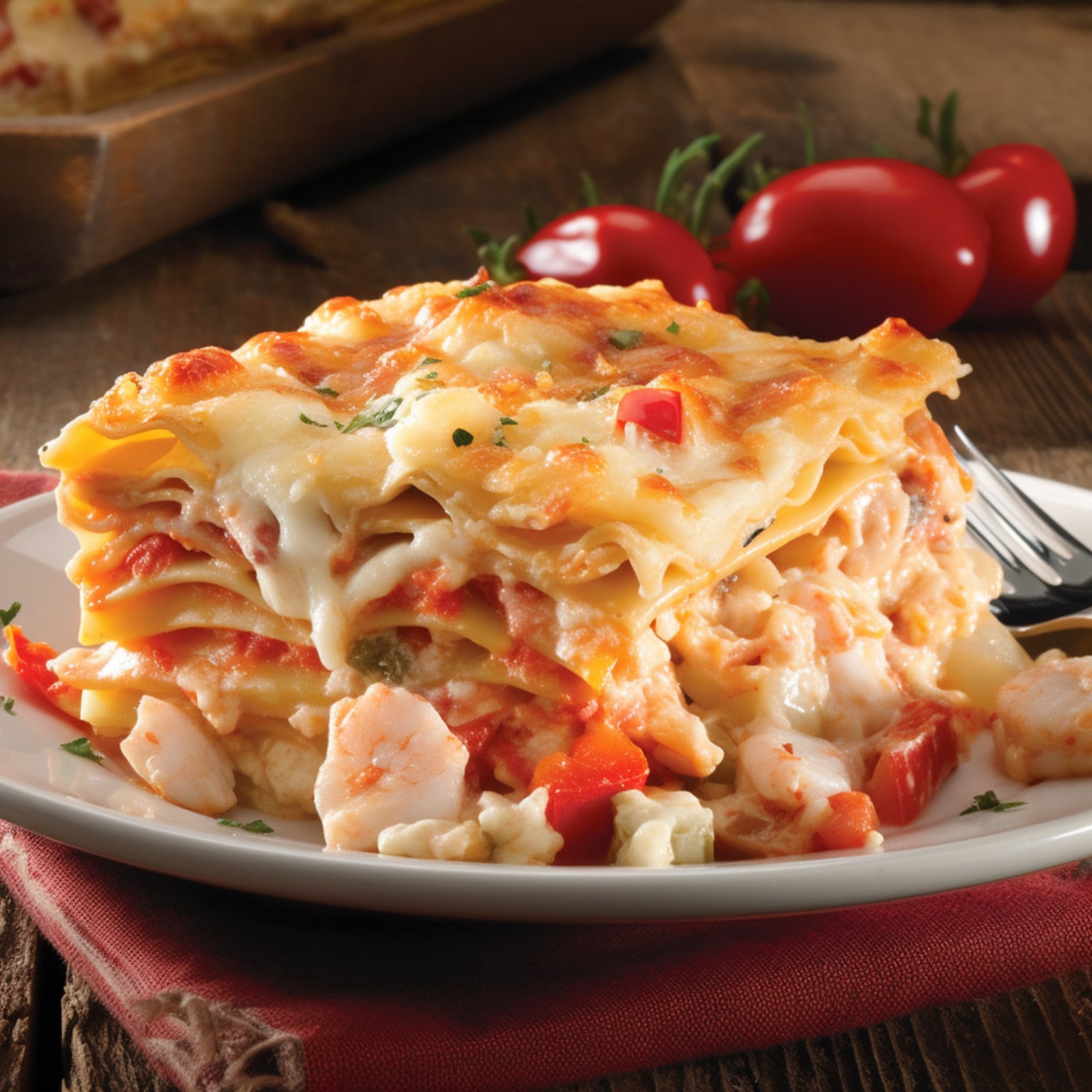 Ingredients
12-15

lasagna noodles

cooked al dente

1

lb

shrimp

peeled, deveined and chopped

1

lb

crabmeat

picked over for shells

1/2

lb

scallops

chopped

2

cups

shredded mozzarella cheese

2

cups

shredded pepper jack cheese

1

cup

grated Parmesan cheese

1

onion

chopped

1

green bell pepper

chopped

1

red bell pepper

chopped

3

cloves

garlic

minced

1/4

cup

butter

1/4

cup

all-purpose flour

2

cups

half-and-half

1/2

cup

chicken broth

1

14.5 oz can diced tomatoes, drained

1

tbsp

Cajun seasoning

1/2

tsp

dried thyme

1/2

tsp

dried basil

Salt and pepper to taste

1/4

cup

chopped fresh parsley

for garnish
Instructions
Preheat your oven to 350°F (175°C) and grease a 9×13-inch baking dish. Channel your inner Cajun as you do so, just for fun.

Heat a large skillet over medium heat, and melt the butter. Add the onions, bell peppers, and garlic. Sauté until tender, about 5 minutes, or until your kitchen smells like heaven.

Stir in the flour until it looks like a delicious roux-y mess. Gradually add half-and-half and chicken broth, whisking continuously to avoid lumps.

Add tomatoes, Cajun seasoning, thyme, and basil. Allow the mixture to thicken and bubble gently for 5 minutes. Taste and add salt and pepper as needed.

In a separate bowl, combine shrimp, crabmeat, and scallops. Add half of the sauce to the seafood mixture, reserving the other half.

Spread a thin layer of the reserved sauce in the prepared baking dish. Place a layer of lasagna noodles, followed by a layer of the seafood mixture, and sprinkle with mozzarella and pepper jack cheese. Repeat until you've used all the ingredients, ending with a layer of noodles.

Top the lasagna with the remaining sauce, and generously sprinkle with Parmesan cheese. Cover with aluminum foil, making sure the foil doesn't touch the cheese (we wouldn't want any cheese-napping, now would we?).

Bake for 45 minutes, or until bubbly and golden. Let it rest for 15 minutes to avoid a molten cheese disaster. Sprinkle with chopped parsley and serve.
Nutrition
Calories:
523
kcal
|
Carbohydrates:
39
g
|
Protein:
41
g
|
Fat:
23
g
|
Saturated Fat:
13
g
|
Polyunsaturated Fat:
1
g
|
Monounsaturated Fat:
6
g
|
Trans Fat:
0.003
g
|
Cholesterol:
164
mg
|
Sodium:
1126
mg
|
Potassium:
669
mg
|
Fiber:
3
g
|
Sugar:
7
g
|
Vitamin A:
1633
IU
|
Vitamin C:
35
mg
|
Calcium:
506
mg
|
Iron:
2
mg
This Cajun seafood lasagna is a true feast for the eyes. Visually, it showcases a beautiful blend of colors and textures. The golden, bubbly Parmesan cheese on top creates an appetizing, slightly crisp crust. When sliced, the layers reveal a symphony of vibrant hues from the red and green bell peppers, the pinkish shrimp, the white crabmeat and scallops, and the creamy, melted mozzarella and pepper jack cheeses. The rich, tomato-based sauce with flecks of Cajun seasoning and herbs adds depth and a touch of rustic charm. The chopped parsley garnish provides a fresh, green contrast to the warm, inviting colors of the dish. Overall, the Cajun seafood lasagna is a visual delight that promises a scrumptious and memorable dining experience.
Notes & Tips
Avoid overcooking the noodles; they should be al dente, as they'll continue to cook in the oven.
If you prefer a spicier dish, add a bit more Cajun seasoning or some cayenne pepper to taste.
Substitution Ideas
No seafood? No problem! Substitute with cooked chicken or turkey and add some smoked sausage for that Cajun flair.
Don't have half-and-half? Use whole milk or a mix of milk and heavy cream instead.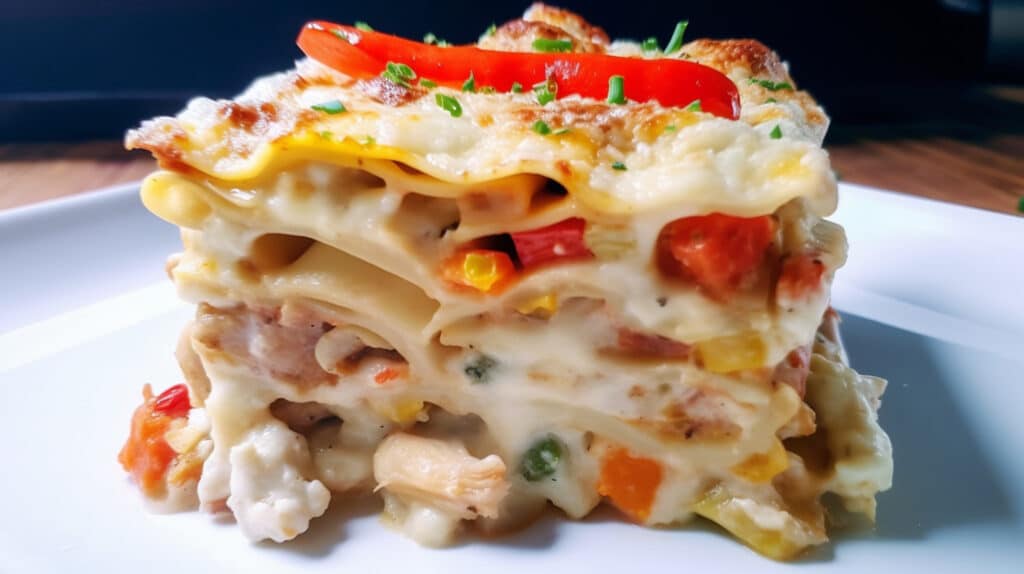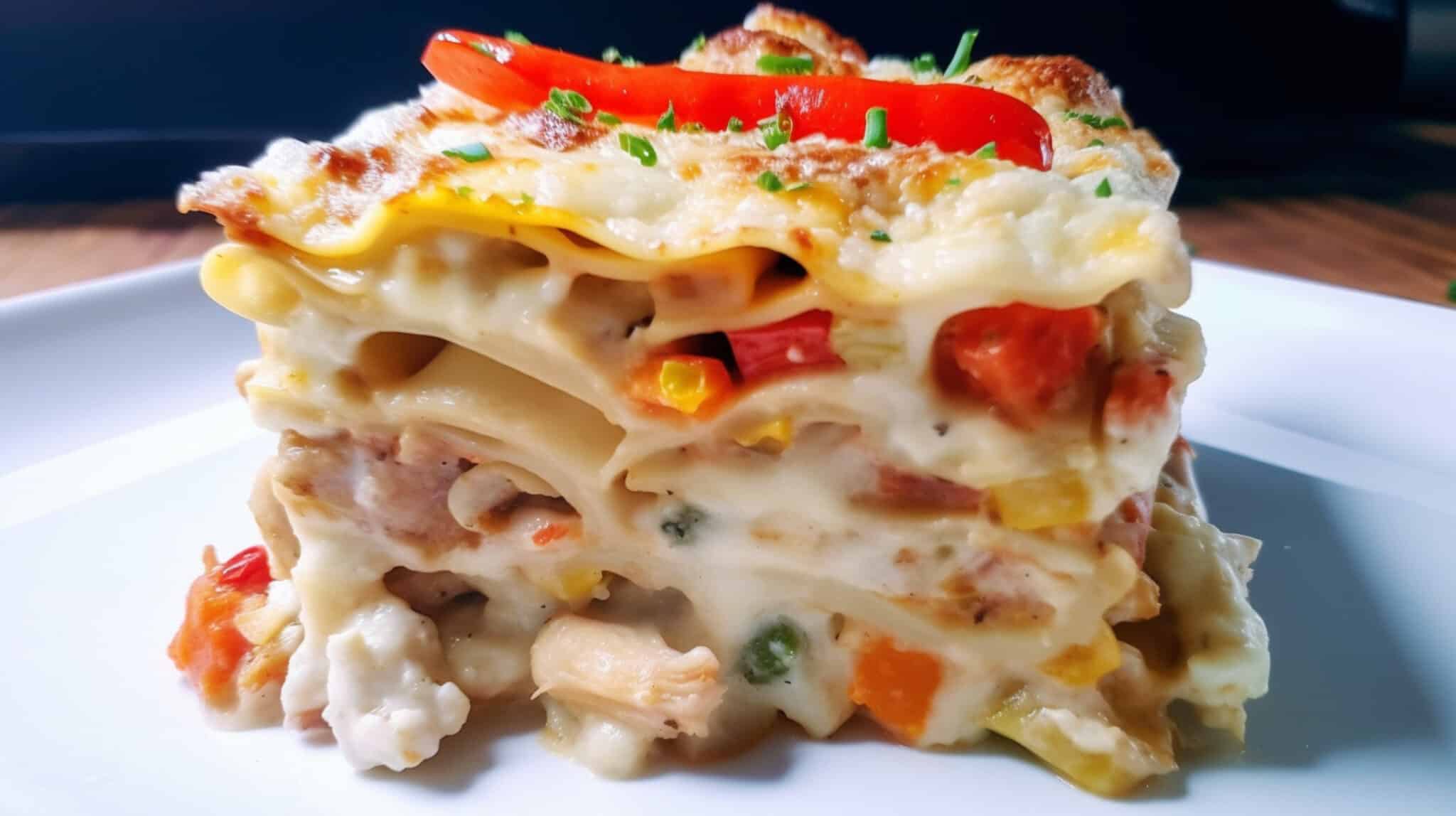 Storage & Reheating
Store leftovers in an airtight container in the refrigerator for up to 4 days.
Reheat individual portions in the microwave for 2-3 minutes or until heated through. For larger portions, reheat in a 350°F (175°C) oven, covered with foil, for 20-25 minutes.
Serving Suggestions
Pair your Cajun seafood lasagna with a crisp green salad and some crusty French bread to soak up all that saucy goodness.
Pour a glass of white wine, such as a Sauvignon Blanc or Chardonnay, to complement the flavors of the dish.
Variations for Common Dietary Restrictions
Gluten-Free: Use gluten-free lasagna noodles and replace all-purpose flour with gluten-free flour.
Dairy-Free: Substitute dairy-free cheese and use a dairy-free milk alternative (such as almond or coconut milk) in place of half-and-half.
Common Mistakes
Not draining the canned tomatoes properly, leading to a watery lasagna.
Overcooking the seafood, resulting in a rubbery texture.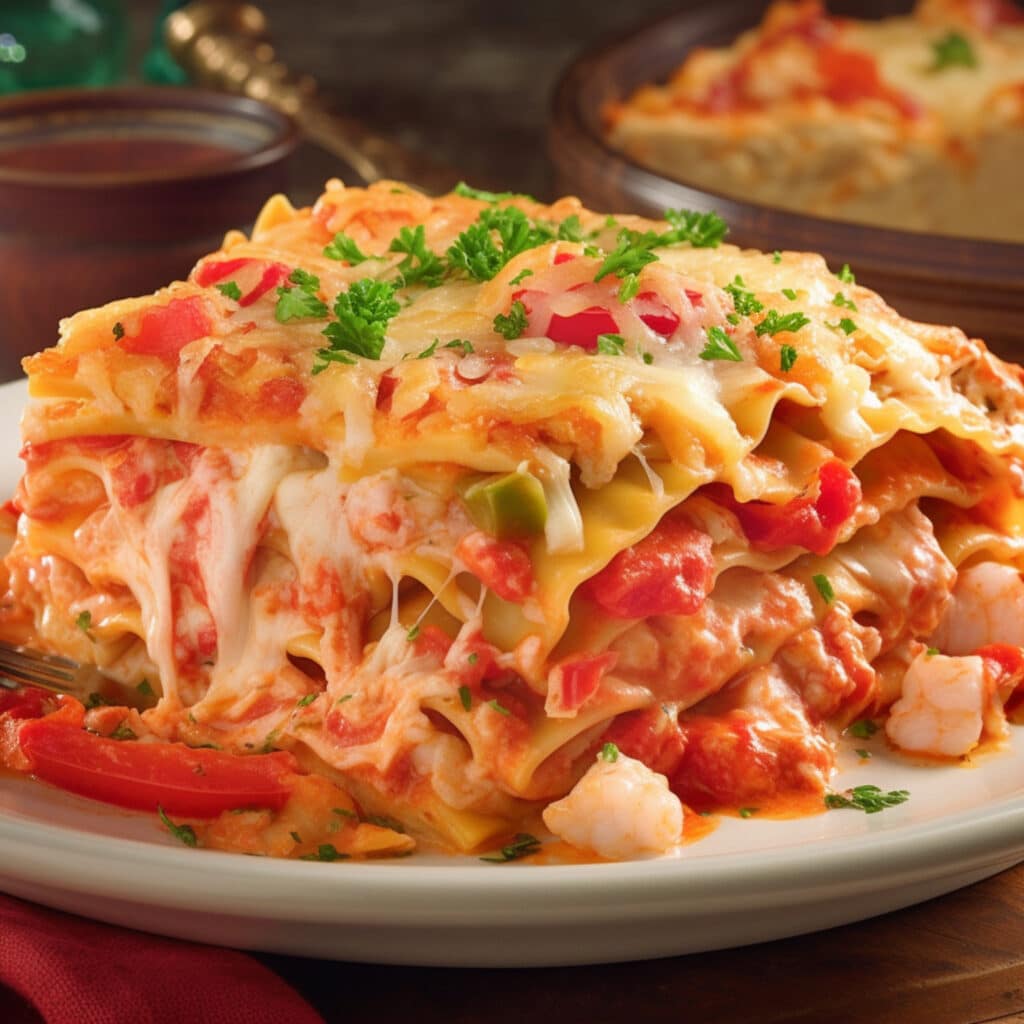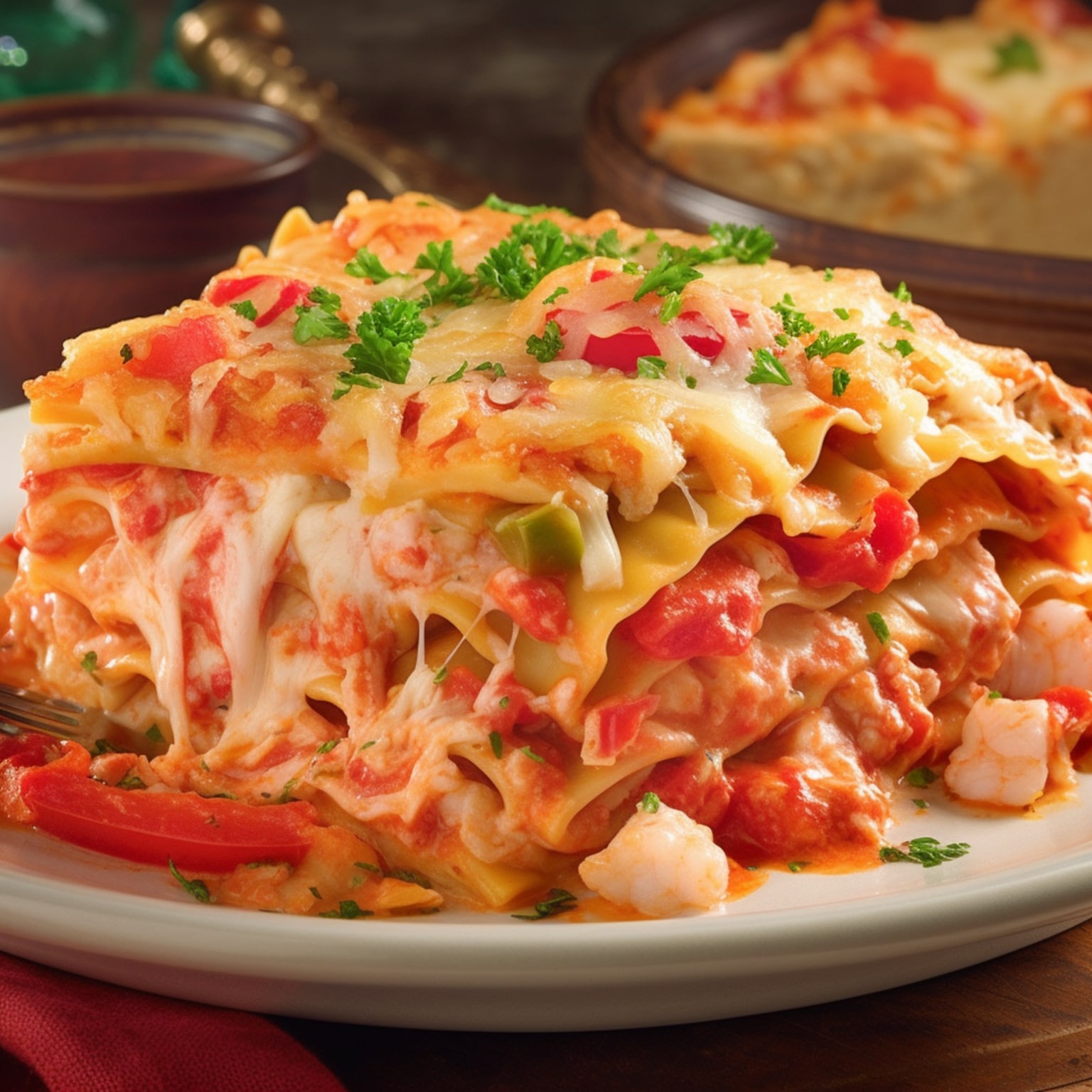 Health Risks & Benefits of This Recipe
Risks:
This dish is high in calories and fat, so it's not the best option for those watching their waistline.
Benefits:
Seafood is rich in omega-3 fatty acids, which have numerous health benefits, including heart health and brain function.
The colorful bell peppers in this dish provide a great source of vitamins and antioxidants.
Recipe Context
The Cajun seafood lasagna is a creative spin on the classic Italian dish, with a nod to the vibrant flavors of Louisiana's Cajun cuisine. This fusion of flavors brings a new, exciting twist to traditional lasagna, offering a decadent and memorable meal.
Common Questions
Can I use frozen seafood instead of fresh?
Yes! Just make sure to thaw and drain the seafood properly before using it in the recipe.
Can I make this dish ahead of time?
Absolutely! You can prepare the lasagna up to the point of baking, then cover and refrigerate for up to 24 hours. When you're ready to bake, just add an extra 10 minutes to the cook time.
How can I make this dish vegetarian?
For a vegetarian version, you can substitute the seafood with a mix of your favorite veggies, such as mushrooms, zucchini, and eggplant. Make sure to cook the vegetables before layering them into the lasagna.
---
Recent Recipes