Homemade Mediterranean Lasagna
Who doesn't love a homemade lasagna? A popular go-to item when it comes to feeding families and for gatherings, traditional lasagna is familiar and delicious. But why not try mixing it up a little bit?
Our recipe brings the taste of the Mediterranean by adding more vegetables olives, feta, and lemon to this classic dish. While we've used whole wheat lasagna noodles, feel free to use any kind you like, but we like the extra hit of fiber wheat noodles add.
Be sure to allow yourself enough time to cook the prep ingredients and assemble the lasagna in addition to the baking time. It will take about 2-3 hours to prepare and bake plus a little time to rest before serving.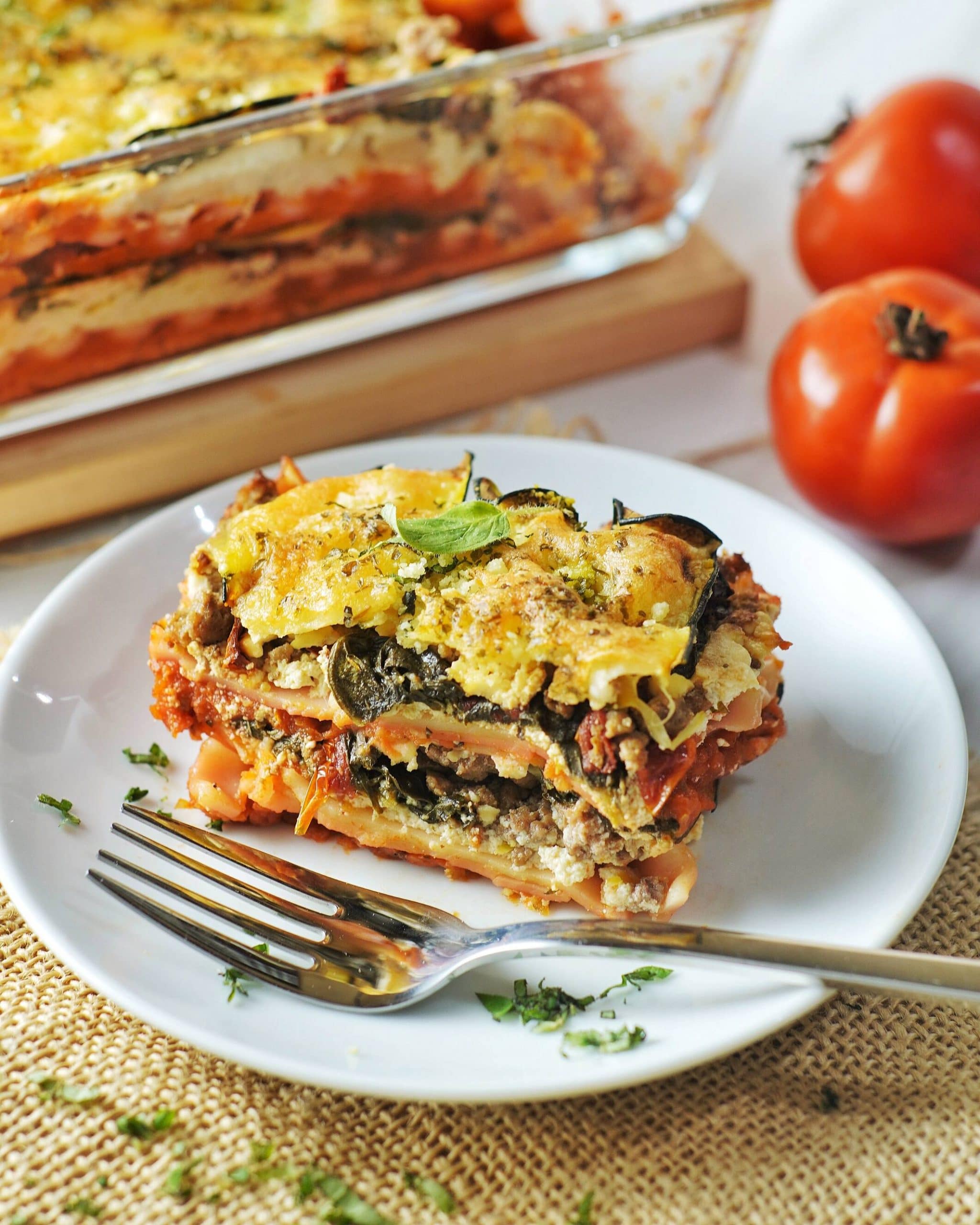 Ingredients
3

zucchinis

12

whole wheat lasagna noodles

2

teaspoons

kosher salt

2

tablespoons

extra-virgin olive oil

8

ounces

ground beef

1

teaspoon

salt

½

teaspoon

fresh black pepper

1

pound

fresh spinach

1

garlic clove

minced

½

cup

sun-dried tomatoes

sliced

16

ounces

whole milk ricotta cheese

1

teaspoon

dried oregano

1

tablespoon

fresh basic

chopped

1

tablespoon

fresh parsley

chopped

1

lemon

zest about 1 teaspoon and juice entire lemon

1

jar tomato sauce

24 ounces

1

cup

feta cheese

1/2

cup

parmesan cheese

grated

½

cup

mozzarella cheese

grated
Instructions
Get your ingredients together and double-check you have it all.

Preheat the oven to 375F. Spray a 9×13 glass baking dish with non-stick spray and set aside.

Using a sharp knife or a mandolin, slice the zucchini lengthwise so that you have long strips that are fairly thin (they should resemble lasagna noodles). Lay the strips flat on a paper towel and place another paper towel on top. This will remove extra moisture from the zucchini.

While you wait for the zucchini, bring a large pot of water to a boil and add the salt.

Cook the whole wheat pasta noodles per the instructions on the box or until they are al dente.

Remove the noodles from the pot of water and strain out any excess liquid. Lay the noodles flat on a moist towel until you are ready to use them.

Heat a large skillet on medium-high heat and add the two tablespoons of extra-virgin olive oil. Add the ground beef and season with salt and pepper. Once the ground beef is cooked, remove from the pan, and set aside.

There should be some oil/natural fat left in the pan from the beef, if not, add more olive oil to the pan. Then, add the garlic and spinach and cook until the spinach is wilted.

Gently toss in the sun-dried tomatoes and the cooked ground beef.

Remove the mixture from the heat and set aside.

While the beef mixture cools, place the ricotta cheese in a medium bowl. Add the oregano, basil, parsley, lemon juice, and lemon zest. Stir all of the ingredients together.

Now it's time to assemble the lasagna. First, pour a layer (about ¾ cup) of tomato sauce on the bottom of the pan.

Lay four noodles over the sauce. Now, spread about 1 ¼ cup of the ricotta mixture over the noodles to cover them completely.

Sprinkle about 1/3 of the beef and spinach mixture on top of the ricotta. Then sprinkle about ⅓ of the feta cheese evenly.

Lay the zucchini strips on top to cover the entire layer.

Pour another ¾ cup of tomato sauce over the zucchini strips and repeat the layers until the lasagna is complete.

Finish the lasagna with a layer of tomato sauce and then sprinkle the parmesan and mozzarella cheese on top.

Bake for 45 minutes or until the cheese starts to bubble and the lasagna is cooked through.

Let the lasagna cool for 5-10 minutes before serving. Any leftovers should be refrigerated and eaten within 3-5 days.
Video
Nutrition
Calories:
511
kcal
|
Carbohydrates:
49
g
|
Protein:
29
g
|
Fat:
25
g
|
Saturated Fat:
12
g
|
Polyunsaturated Fat:
1
g
|
Monounsaturated Fat:
9
g
|
Trans Fat:
1
g
|
Cholesterol:
76
mg
|
Sodium:
1809
mg
|
Potassium:
1297
mg
|
Fiber:
5
g
|
Sugar:
10
g
|
Vitamin A:
6364
IU
|
Vitamin C:
46
mg
|
Calcium:
433
mg
|
Iron:
6
mg
Notes and Tips
If you're a vegetarian, just omit the ground beef or substitute the same amount of mushrooms.
You can also substitute some other ingredients to mix it up a little bit. For example, using ground lamb instead of ground beef or using fresh mint in addition to the fresh basil and parsley.
To make ahead, prepare everything but don't bake. Wrap tightly and keep in the refrigerator for a day or two. You can also freeze the dish before baking. No need to thaw, but add up to a half hour extra cooking time. Or, take out the day before to defrost in the fridge and follow normal baking times.
What special ingredients do you need to make Mediterranean Lasagna?
For this lasagna, you're going to need your staple lasagna ingredients like long noodles, tomato sauce, and ricotta. In addition to those ingredients, you'll be adding a few new ones. These ingredients include lemon zest, feta cheese, sun-dried tomatoes, fresh spinach, and zucchini.
It's best to think of these ingredients as a way to "brighten up" the lasagna. Traditionally, Mediterranean flavors are fresh and dynamic, and the ingredients are usually very healthy.
Can you freeze Mediterranean Lasagna?
Making a lasagna requires a lot of time and work in the kitchen. Sometimes, you may not have that extra time, so it's best to keep a few meals stowed away in the freezer for an easy dinner.
This Mediterranean Lasagna is a great freezer-friendly meal. You might be wondering if it's best to freeze the lasagna before or after it's been cooked. It's best to assemble the lasagna and then freeze. Do not cook the lasagna and then freeze it.
Be sure to wrap your lasagna very tightly with aluminum foil or plastic wrap before freezing. Always label and date your freezer food, too. It's best to eat a frozen lasagna within three months.
An easy way to save yourself the hassle of making a meal one night is to double this recipe and make two lasagnas at once. You can enjoy one right away and store the other one in the freezer for another night.
Be sure to remove the lasagna from the freezer the night before and place it in the refrigerator to thaw. Once it's thawed, follow the original instructions and bake for about 45 minutes.
Is Mediterranean Lasagna healthy?
If you follow health trends, you may have read that following a Mediterranean diet is a great way to stay healthy and provide your body with the nutrients it needs. While lasagna typically isn't the healthiest dinner, there are a few ways this recipe makes it a little better than others.
Pasta dishes are usually very high in carbohydrates from using traditional noodles. In this recipe, whole wheat noodles are used instead of the traditional lasagna noodles. Using whole wheat noodles will increase the amount of fiber and help you stay full longer. Whole wheat ingredients are also a great way to add vitamin B and iron to your diet.
In addition to the whole wheat noodles, the recipe calls for some other "filler" ingredients that will increase the nutritional value of the lasagna (and allow you to use less pasta). The recipe will use zucchini strips that will act as another layer to the lasagna while adding vegetables. Fresh sauteed spinach and sun-dried tomatoes are two other ingredients that will keep the lasagna healthy and flavorful.
---
Recent Recipes