Perfect Peri Peri Pulled Pork
Pulled pork is yummy and versatile. My favorite way to use pulled pork is in a pulled-pork sandwich, but it can be used several different ways. In the recipe below I tell you how to make pulled pork in a crock pot and a little further down I tell you how I like to use it in sandwiches and I also give a few other serving suggestions.
This pulled pork recipe is so easy to make! It uses only 4 ingredients, one of which is the pork itself and one of which is just water. Because it's made in a crock pot or slow cooker, this is the kind of thing you can put on in the morning and forget about until dinner time. Or you can prepare this the day before and leave it cooking overnight.
If you do choose to leave this to cook unsupervised, make sure there is no risk of it burning anything that could catch fire. Technically, you should never leave crock pots and similar devices unsupervised, but doesn't that kind of defeat the point of them? Just make sure there are no exposed wires, pets that could knock it over or burn themselves, or anything else that might constitute a risk, no matter how small.
With that disclaimer out of the way, I hope you use this recipe and enjoy your Peri Peri Pulled Pork!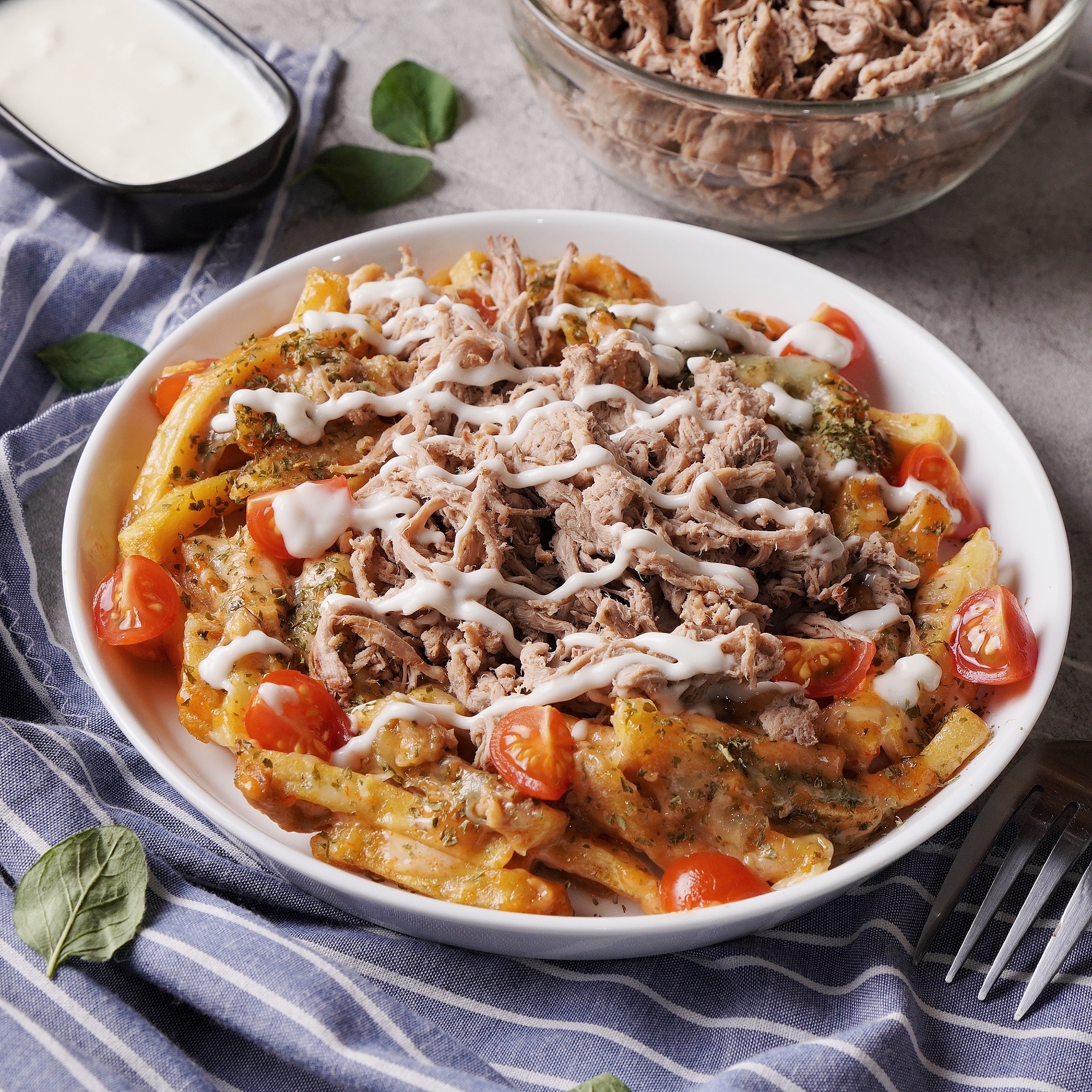 Ingredients
For Peri Peri Seasoning
2

tbsp

sugar

2

tbsp

sweet paprika

1

tbsp

smoked paprika

2

tbsp

onion powder

2

tbsp

garlic powder

2

tbsp

ground coriander

1

tbsp

salt

1

tbsp

ground oregano

1

tbsp

ground parsley

2

tsp

ground ginger

2

tsp

ground cardamon

1

tsp

cayenne pepper
For Pulled Pork
2

tbsp

peri peri seasoning

2

lbs

pork shoulder or butt

1

cup

water

2

tbsp

apple cider vinegar
Instructions
All ingredients ready? Let's begin!
To Make Peri Peri Seasoning:
Add all the spices to a bowl and whisk to combine. Use immediately if making this recipe, or store in an airtight container for several months.
To Make Pulled Pork:
Trim off any undesirable pieces from the pork. Thoroughly season the pork by rubbing peri peri all over it. Make sure to get all sides of the pork and really slather it on!

Pour the water and apple cider vinegar into the crock pot.

Place the seasoned pork in the crock pot and put the lid on.

You can cook in the crock pot for 4-6 hours using the highest setting or for 8-10 hours on the low setting.

A few minutes before you're ready to eat, use two forks to pull the pork apart into shreds.

Stir so the pieces get coated in any remaining liquid.

Let cook for another 10 minutes or so.

Serve and enjoy your peri peri pork and any extra seasoning stored for later!
Video
Nutrition
Calories:
155
kcal
|
Carbohydrates:
12
g
|
Protein:
15
g
|
Fat:
6
g
|
Saturated Fat:
2
g
|
Polyunsaturated Fat:
1
g
|
Monounsaturated Fat:
3
g
|
Cholesterol:
46
mg
|
Sodium:
934
mg
|
Potassium:
434
mg
|
Fiber:
4
g
|
Sugar:
4
g
|
Vitamin A:
1480
IU
|
Vitamin C:
2
mg
|
Calcium:
109
mg
|
Iron:
4
mg
Notes & Tips
This pork will last in an airtight container in the fridge for 5 days. When you're ready to eat it again, pop it in the microwave for a minute or two.
Serving Suggestions
As promised, here is how I like to use my peri peri pulled pork in a sandwich.
Depending on your tastes, you'll need:
Bread rolls
Coleslaw
Sweet pickles
Red onions
Mayonnaise
Horseradish sauce
BBQ sauce
Cut the bread rolls in half and lightly toast them. This isn't necessary, but it does help minimize juices from the meat making the bread soggy. You can caramelize the onions by sautéing them in a pan with a little bit of butter or you can have them raw for the crunch. Because this pork has been made with peri peri, you probably won't need either of the sauces. A yummy side dish to go with pulled pork sandwiches is fries, and it doesn't get much better than delicious Greek lemon fries.
Not feeling a sandwich? You can use this pulled pork in tacos too! Prepare all your favorite taco toppings and use the pulled pork as the meat portion. My favorite part of using this for tacos is the contrast between the peri peri and sour cream.
Maybe you have just a little bit of pork leftover and you don't want to go as full out. Try using it as a topping for loaded fries or nachos. It's easy and still delicious!
What is Peri Peri?
Peri peri is also spelled piri piri, but both refer to the same thing. The peri peri spelling is the popular English spelling, while piri-piri is more often the Portuguese spelling. Peri peri is a very spicy chili pepper. It comes from Portugal, but originated in a Portuguese territory in South Africa, so it is now popular in both regions.
Peri peri seasoning is a combination of the peri peri pepper and other spices mixed together. It can be a dry, ground rub (which is what should be used for the recipe above) or a sauce. Peri peri seasoning has become popular in the United Kingdom because it is used at the chain restaurant Nando's, which can be found all over the UK.
How to Make Your Own Peri Peri Seasoning
Peri peri can be difficult to find in the US, despite its popularity in Portugal, South Africa, and even the UK. Because of that, you might want to make your own peri peri seasoning. It is very easy to make and uses a lot of spices you probably already have.
Ideally you would use ground peri peri pepper for the seasoning, but that is still difficult to find on its own, so ground cayenne pepper is a good substitute. The amounts given here can be adjusted based on your own personal preferences. For example, if you enjoy a lot of spice, add more cayenne to kick up the heat.
There are two different kinds of paprika used in this mix because each type has a different flavor. It can be confusing, so if you want to know more about the kinds of paprikas, here is a great article to get you started.
---
Recent Recipes