Homemade Taiwanese Fried Pork Chops
If asked what my favorite kind of food is, I always say Taiwanese. These fried pork chops are part of the reason why, as well as the fact that boba/bubble tea originated in Taiwan (though it is now popular all over the world). My passion for Taiwanese food originated it Atlanta, Georgia when I was a kid. We were on a family road trip and my stopped at this huge Asian market center and my dad dragged us (unwillingly at the time) into a Taiwanese restaurant. We got amazing bubble tea, fried pork chops to share, and I had a pork belly bao bun which is similar to this Vietnamese pork belly banh mi.
I think about the food from that restaurant often, but where I live now does not have any Taiwanese food places nearby, so I have to figure out how to make it myself. That is what led to me making these fried pork chops. They are so tender, flavorful, and crunchy that my mouth is watering as I type. I am so hungry.
To achieve the best results with these Taiwanese fried pork chops, it is ideal if you can let them marinate overnight. The marinade is pretty easy to put together, so you can prepare it alongside a different dinner then just pop in the fridge until the next night.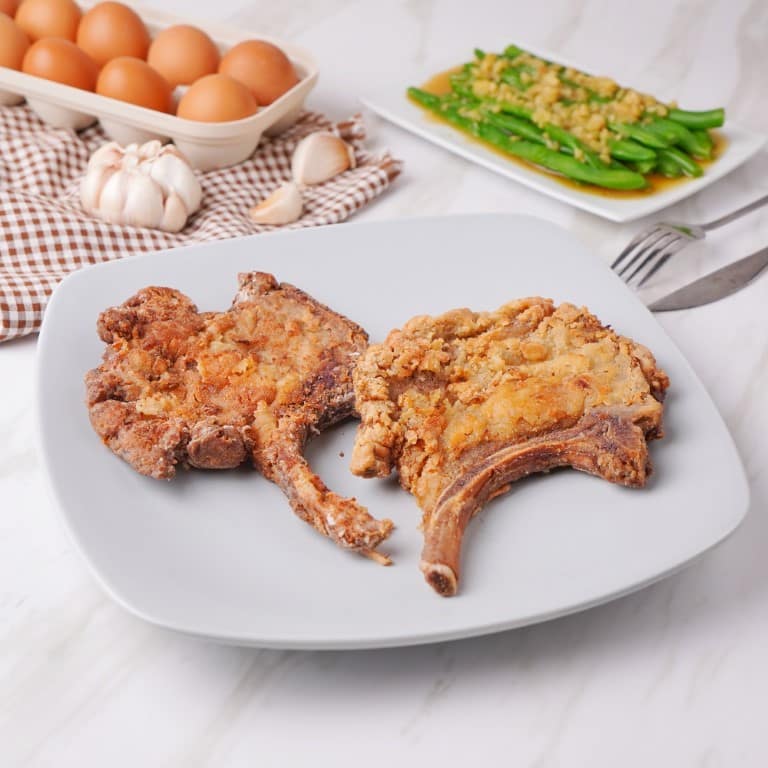 Ingredients
4

pork chops

1

tsp

powdered ginger

1

tsp

salt

1 ½

tbsp

honey

½

tsp

pepper

1

tsp

Chinese five spice

¼

tsp

cinnamon

4

tbsp

soy sauce

1 ½

tbsp

rice wine

1

egg

6

garlic cloves

1

cup

corn starch

2

tbsp

vegetable oil
Instructions
All ingredients ready? Let's begin!

The first thing you need to do is tenderize the meat. If you have a meat mallet, use that. If not, I use a heavy rolling pin. You need to savagely beat the pork for several minutes until it becomes soft and thinner.

Make a few small cuts around the edge of the pork chops so they retain their size after cooking.

In a large bowl, add all of the ingredients from the ginger to the egg.

Peel and finely chop the garlic before adding to the bowl.

Stir together with a whisk or fork.

Add the tenderized pork chops to the bowl and use your hands to massage the marinade into the meat.

Cover and put in the fridge for several hours or overnight.

After the pork has marinated, spread the corn starch on a large plate. Place a piece of pork on the plate before flipping it to the other side. You want all sides of the pork chop to be thoroughly coated. Repeat with all pieces. You may need to add more corn starch if you run out.

In a large, cast-iron skillet or frying pan, heat half an inch of oil over medium-high heat. Wait until the oil is hot before adding the pork chops. You can test this by flicking some starch or a drop of water into the oil. If it sizzles, its ready.

Place the pork chops into the pan without overlapping them. You may need to cook one or two at a time.

Cook on one side for 5 minutes then flip and cook for another 3 minutes. You want both sides to be golden brown and super crispy, so you may need to cook a little longer depending on your oven.

When cooked, remove the pork chops from the pan and place it on a wire cooling rack with paper towels beneath so excess oil can drain.

Repeat with the remaining pork chops, adding more oil if needed.

Serve hot and enjoy!
Nutrition
Calories:
368
kcal
|
Carbohydrates:
40
g
|
Protein:
28
g
|
Fat:
9
g
|
Saturated Fat:
3
g
|
Polyunsaturated Fat:
1
g
|
Monounsaturated Fat:
4
g
|
Trans Fat:
0.1
g
|
Cholesterol:
117
mg
|
Sodium:
1661
mg
|
Potassium:
526
mg
|
Fiber:
1
g
|
Sugar:
7
g
|
Vitamin A:
69
IU
|
Vitamin C:
2
mg
|
Calcium:
37
mg
|
Iron:
2
mg
Notes & Tips
If you have any leftovers, which is unlikely, you can store them in an airtight container for up to 5 days. To reheat, you can put them in the microwave, but they will lose crunch. The best way to reheat is by putting them back into a skillet until they crisp up again or in the oven for a similar result.
Serving Suggestions
While this pork can be eaten on its own, you probably want a full meal. I recommend serving with steamed jasmine rice and a side of din tai fung green beans. If you don't like green beans, you can steam a few veggies. Most rice cookers come with a little basket just so you can do that while making rice!
Substitutions
If you do not have any rice wine (also called mirin) you can substitute it with rice vinegar. If you don't have rice vinegar, apple cider vinegar will work in a pinch, but it will affect the taste a little.
Corn starch is used in this recipe as it is more common in the US and much easier to find. However, the traditional starch used in this recipe is sweet potato starch. If you want to go out of your way, you can probably find it at an Asian market or online. In lieu of sweet potato starch, you can also use regular potato starch or tapioca starch. I think it's worth it to go out of my way to get tapioca starch, it really does make a difference.
This recipe can also be made with chicken. I also like to make it by cutting the meat into slices so it looks more like chicken tenders.
Where To Find Ingredients?
Most of these ingredients can be found at your regular supermarket. The one thing you won't be able to find there though is tapioca or potato starch (unless you have a really well stocked shop nearby). To get those, you will need to find an Asian shop near you or order it online. If you often make recipes like this, I recommend buying a few bags of tapioca starch so you can have them on hand for the future without having to go out of your way every time.
---
Recent Recipes