Simple Sicilian Sausage Bread (Bignolati)
There was a very small pizza take-out place on the Upper East Side of Manhattan that had some of the best NY-style pizza I ever tasted. The crust was thin with a crispy charred edge. The sauce was a simple marinara and the cheese wasn't overpowering.
The owner had worked at the pizzeria for several years learning how to perfect the pie before he bought the place. He had spent a lot of time perfecting the dough and used that skill to make calzones and what he called pizza rolls. The rolls were basically bread that was stuffed with a variety of ingredients. The most popular was the sausage roll, also known as bignolati. This is a simple yeast-risen dough rolled around sausage and onions that originated in Sicily. It is also referred to as Sicilian sausage bread.
In Sicily, the stuffed and rolled-up dough is shaped into a ring. It is then baked at high heat for a few minutes and then baked at a lower heat until the crust is slightly crisp and the interior is hot and savory. My favorite pizza shop cooked these rolls in a super-hot pizza oven and the bread had a distinctive crunch when you bit into a slice. If you are fortunate enough to own an outdoor pizza oven, by all means, use that to cook this fantastic bread.
I would pick up some rolled bread for family gatherings. Some were meat-centric and some were filled with vegetables and cheese. They traveled well and once baked we could freeze them and reheat them for lunch during the weekend. Reheating in an air fryer is a cinch.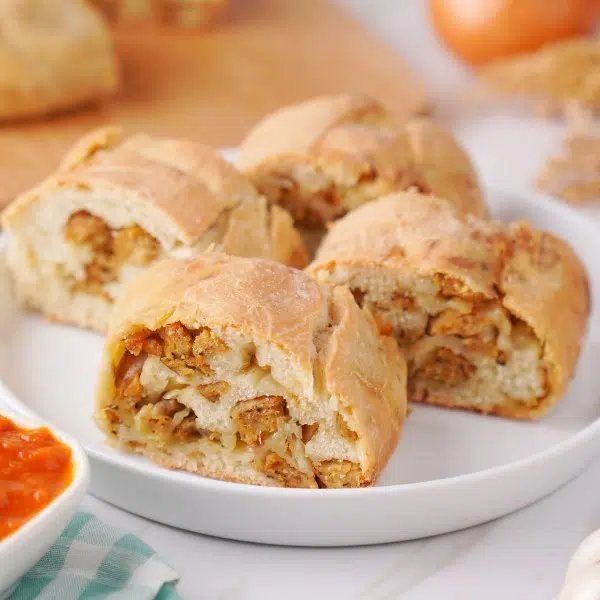 Ingredients
1 ⅓

cups

lukewarm water

1

packet baker's yeast

2-1/4 tsp

2

tsp

turbinado or raw sugar

1 ½

tsp

sea salt

4

Tbsp

extra virgin olive oil

divided

3 ½

cups

all-purpose flour + 1/4 cup for kneading

2

large onions

peeled and sliced thinly

2

cloves

garlic

peeled and chopped

2

tsp

Italian seasoning

optional

1 ½

pounds

of Italian sausage removed from the casing

Sea salt and freshly ground pepper to taste

Olive oil for brushing the roll
Instructions
All ingredients ready? Let's begin!

In a large mixing bowl, add the warm water, yeast, and sugar. Stir gently. Allow this to sit until the yeast starts to foam or bubble, approximately 7 minutes.

Gently stir in the salt and 2 tablespoons of the olive oil. Add the flour and stir with a wooden spoon until a sticky ball of dough forms.

Lightly flour a clean work surface. Turn the ball of dough onto the floured surface and knead with your hands for at least 5 minutes and up to 15 minutes. Here is a video that shows how to knead dough by hand.

Wipe out the mixing bowl. Coat it lightly with olive oil.

Place the ball of dough in the bowl and cover with a clean kitchen towel or plastic wrap. Place the bowl in a turned-off oven or microwave and allow it to sit for 1-1/2 to 2 hours until doubled in size.

While the dough is rising, prepare the filling: In a large skillet over medium-high heat, add the remaining 2 tablespoons of olive oil and the sliced onions. Sauté for 5 minutes until the onions become fragrant.

Add the garlic, Italian seasoning (if using), and the sausage. Break the sausage up with a wooden spoon. Cook until the sausage is browned and no longer pink, stirring occasionally. Remove the pan from the heat and season with salt and pepper to taste. Allow the filling to cool.

Line a sheet pan with parchment paper or grease it with olive oil.

Lightly flour a large work surface. Place the risen dough on the floured surface and flatten it out with your hands. Dust the top of the dough with flour and roll it out with a rolling pin into a rectangle that is about 16 x 24 inches.

Spoon the filling over the dough and spread it out evenly. Start rolling the 24-inch side of the dough over the filling until you have a long log shape. Form the roll into a donut shape with the two ends meeting. Pinch the ends to seal the roll.

Transfer the circle of dough to the sheet pan. Using a sharp paring knife, cut a few slits in the top of the roll to allow some steam to escape. Place a clean kitchen towel over the roll and allow it to rest for 45 to 60 minutes to rise again.

Preheat the oven to 400°F.

Brush the roll with olive oil. Place the pan in the oven and bake for 15 minutes. Reduce the heat to 350°F and continue to bake for another 20 to 25 minutes until the dough is golden brown. Remove the pan and allow the bignolati to cool for 10 minutes.

Using a serrated bread knife, slice the bignolati into 1-1/2-inch thick pieces and serve with napkins. Enjoy with your hands. You can serve this with a warm marinara dipping sauce.
Nutrition
Calories:
485
kcal
|
Carbohydrates:
41
g
|
Protein:
16
g
|
Fat:
28
g
|
Saturated Fat:
9
g
|
Polyunsaturated Fat:
4
g
|
Monounsaturated Fat:
14
g
|
Cholesterol:
52
mg
|
Sodium:
852
mg
|
Potassium:
300
mg
|
Fiber:
3
g
|
Sugar:
2
g
|
Vitamin A:
8
IU
|
Vitamin C:
4
mg
|
Calcium:
36
mg
|
Iron:
3
mg
Notes & Tips
The dough is probably the most important element of bignolati. You want it to be crisp on the outside like pizza crust and light with air pockets on the inside. It should also have a bit of chew to it. You will want to commit to the mixing, kneading, and resting stages of making it for optimal results.
The reason you want to place the bowl of dough in a cold oven or microwave is so that it won't be disturbed by air circulation or moisture. It will rise evenly in an enclosed space.
Substitutions, Additions & Shortcuts
This recipe is fairly basic, in a really good way. I love that it is pizza or bread dough that is filled with sausage and onions. But you can take bignolati up a notch by adding a few spoonsful of tomato sauce and a good handful or two of shredded mozzarella cheese. It is like a pizza that is easier to eat.
I also like to make a vegetarian version of bignolati. The pizza shop I frequented made a version with zucchini slices that had been breaded and lightly fried as the filling. Some parmesan cheese and basil leaves were added. It was beyond simple and crazy good
One of the things I like about this recipe is that you can make both the dough and the filling ahead of time. That makes it easy to assemble after a long day for a pretty quick meal.
---
Recent Recipes