Easy Sweet Apricot Khubani ka Meetha
Khubani ka Meetha is a traditional Hyderabadi sweet dish made with apricots. Khubani means apricots and Meetha means sweet, so Khubani ka Meetha literally translated to Apricot Sweet dish. Khubani ka Meetha is an Indian sweet made with dried apricots. Apricots are most famously exported from Turkey and it is the largest producer of apricots. It is believed that apricots were introduced into India from Central Asia.
Khubani ka Meetha is a quick and easy dessert that requires minimum ingredients and prep. The only prep is soaking the dried apricots. The entire process involves cooking the apricots along with water and sugar, if required, until the apricot changes consistency and becomes a luscious, compote like dish. It is essential to use good quality apricots. While we do use dried apricots, you have to ensure they are not stale or spoilt.
After the apricots are soaked you have to deseed them and also remove the kernels. This is a critical step; you can't cook or smush the apricots into the right consistency if the seeds and kernels are still intact.
I love making this come the cold weather, because there is nothing as wonderful and comforting as a bowl of hot Khubani ka Meetha on a cold evening. I like to top mine with some cold vanilla ice cream and a sprinkling of chopped pistachios. You can also have it cold. Refrigerate whatever Khubani ka Meetha you have leftover and dig into it whenever you fancy. I like to top cold Khubani ka Meetha with a dollop of cream.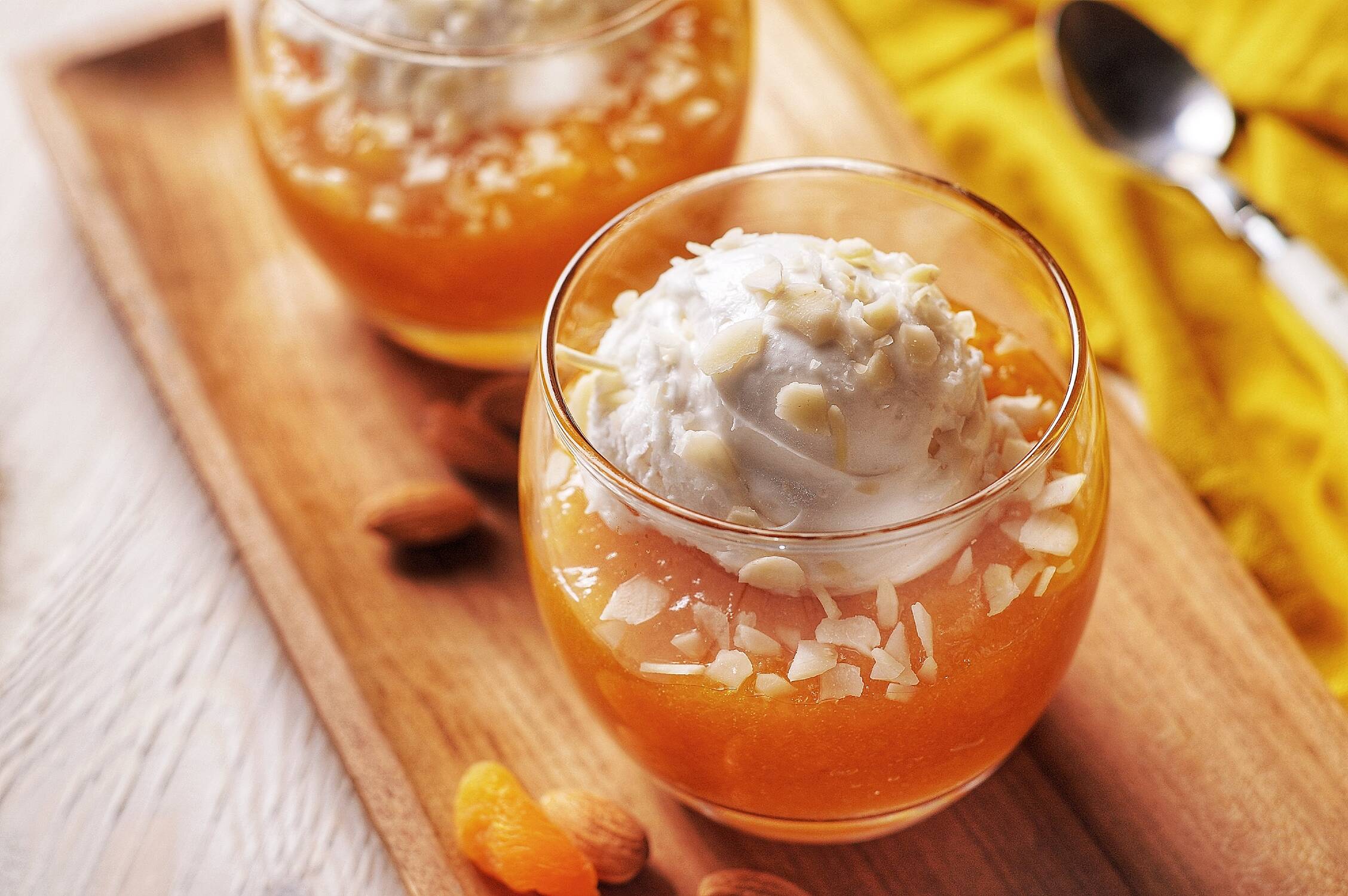 Ingredients
2

cups

dried apricots

soaked in water overnight

3

cups

of water

you can use the water you soak the apricots in

1

cup

sugar

Chopped almonds for garnish

Ice cream scoop for garnish
Instructions
Get your ingredients together!

Soak apricots overnight or in warm water for 4-5 hours

Take the apricots out and reserve the water. The apricots would have expanded in size.

Deseed the apricots and remove the kernel.

Chop or mash the apricots

In a saucepan, heat the water you had soaked the apricots in. You can also use fresh water.

Now add the chopped apricots and cook over a low flame for 20-25 minutes.

Mash the apricots as they cook. Stir occasionally.

If the pan starts drying out, add more water

Now add the sugar and stir till the sugar has completely dissolved. The apricot should have taken on a jam like consistency.

Take off heat.

Garnish with chopped almonds and serve hot or refrigerate and serve cold. Ice cream is also a highly recommended garnish.
Video
Nutrition
Calories:
350
kcal
|
Carbohydrates:
91
g
|
Protein:
2
g
|
Fat:
1
g
|
Saturated Fat:
1
g
|
Polyunsaturated Fat:
1
g
|
Monounsaturated Fat:
1
g
|
Sodium:
7
mg
|
Potassium:
756
mg
|
Fiber:
5
g
|
Sugar:
85
g
|
Vitamin A:
2343
IU
|
Vitamin C:
1
mg
|
Calcium:
36
mg
|
Iron:
2
mg
Tips and Tricks
Khubani ka Meetha should have a lumpy, jam-like consistency
Using the water the apricots are soaked in gives the dish more flavor
You can make this dish without sugar as dried apricots contain some sweetness and it makes this a sugar-free dessert. But if you like some more sweetness, add the sugar.
The apricots have a kernel inside and breaking it will reveal a small, almond-like nut, which you can chop and use instead of almonds.
You have to deseed the apricot and remove the kernel before starting the cooking process.
Storage
This delicious, rich Khubani ka Meetha can be stored in the fridge for up to a week. You don't even have to heat it to consume. It tastes amazing when it is cold.
Questions
Can I eliminate the chopped almonds or use something else?
Of course. Pistachios and cashew nuts go well with the Khubani ka Meetha. You can also completely eliminate it if nuts aren't your thing.
The Khubani ka Meetha has a syrupy texture, what can I do?
This is probably because you've added too much water. But don't worry this will not change the taste of your delicious treat. If your Khubani ka Meetha is watery, turn the heat on, till all the water reduces. If you have more soaked apricots, you can chop and add it. You can also add more nuts to give it some crunch and texture. You can also add some extra ice cream, whipped cream or yogurt to offset the syrupiness.
Substitutions
Apricots: dark brown apricots are best, but you can use whatever you have available. The tastes will differ slightly, but the dish remains delicious. Turkish apricots are juicy and dark and work well for this recipe.
Sugar: You can use any kind of sugar for this. Since sugar is not completely essential for this, depending on your taste preferences you can add jaggery or a spot of honey just for a bit of added sweetness.
Water: The apricot-soaked water is good to use because it has a rich golden color and some extra flavor but you can go with regular tap water.
Garnish: Sliced almonds are perfect to top this dish with. You can also use the nuts from the apricot itself. Pistachios and cashew nuts are other great options. You can also just add a few strands of saffron on top.
Accompaniments
This is a dessert. It is rich and heavy and delicious. Top this up with vanilla ice cream or custard. Cream is often drizzled on top and gives the Khubani ka Meetha an even richer flavor. This is an authentic Hyderabadi dish and is a satisfying finish to a Hyderabadi biryani. While this is essentially a dessert, I like to play around with it because it does have a jam or preserve like consistency. I like to dip toast in it. Or slather it on a piece of bread, garnish with almonds and enjoy a heavenly snack.
If you enjoyed this recipe, be sure to check out this easy Banana Porridge, or this Jamaican Cornmeal Pudding. For something a little bit more indulgent, try this Vegan Dark Chocolate Coconut Bites.
---
Recent Recipes