Easy One-Pot Rice & Beans (Moro de Habichuelas Negras Dominicana)
Rice and beans is an iconic Afro-Caribbean one-pot comfort food. It is more commonly known as Moro de Habichuelas Negras Dominicana in the Dominican Republic. This dish is a combination of white rice and black beans cooked in the same pot. The rice soaks up the bean broth and takes on the purplish color released by the beans. It is a pretty dish, in my opinion.
I like to make rice and beans from scratch using dried beans. The bean broth is what gives the rice its distinct flavor. If you only have canned beans, that is okay. You will need to add some broth to cook the rice. To keep this a vegetarian dish, I recommend vegetable broth or well-seasoned water.
You will need to soak your dried beans the night before you cook them. And, make sure the beans a fairly fresh. Stale dried beans don't cook well. The rice is as important as the beans. You want fresh long-grain rice that has been rinsed about 5 times to remove excess starch and dust. Short-grain rice is too starchy for this dish and can turn out pasty.
This recipe can be made a day ahead. You can do this in an instant pot or on the stovetop. My recipe is for the stovetop method. I think this is a perfect dish to start on a cool Saturday night by soaking the beans and then spending a couple of hours simmering the dish in 2 phases on the stove so it is ready for an early Sunday supper with plenty of garnishes and sides.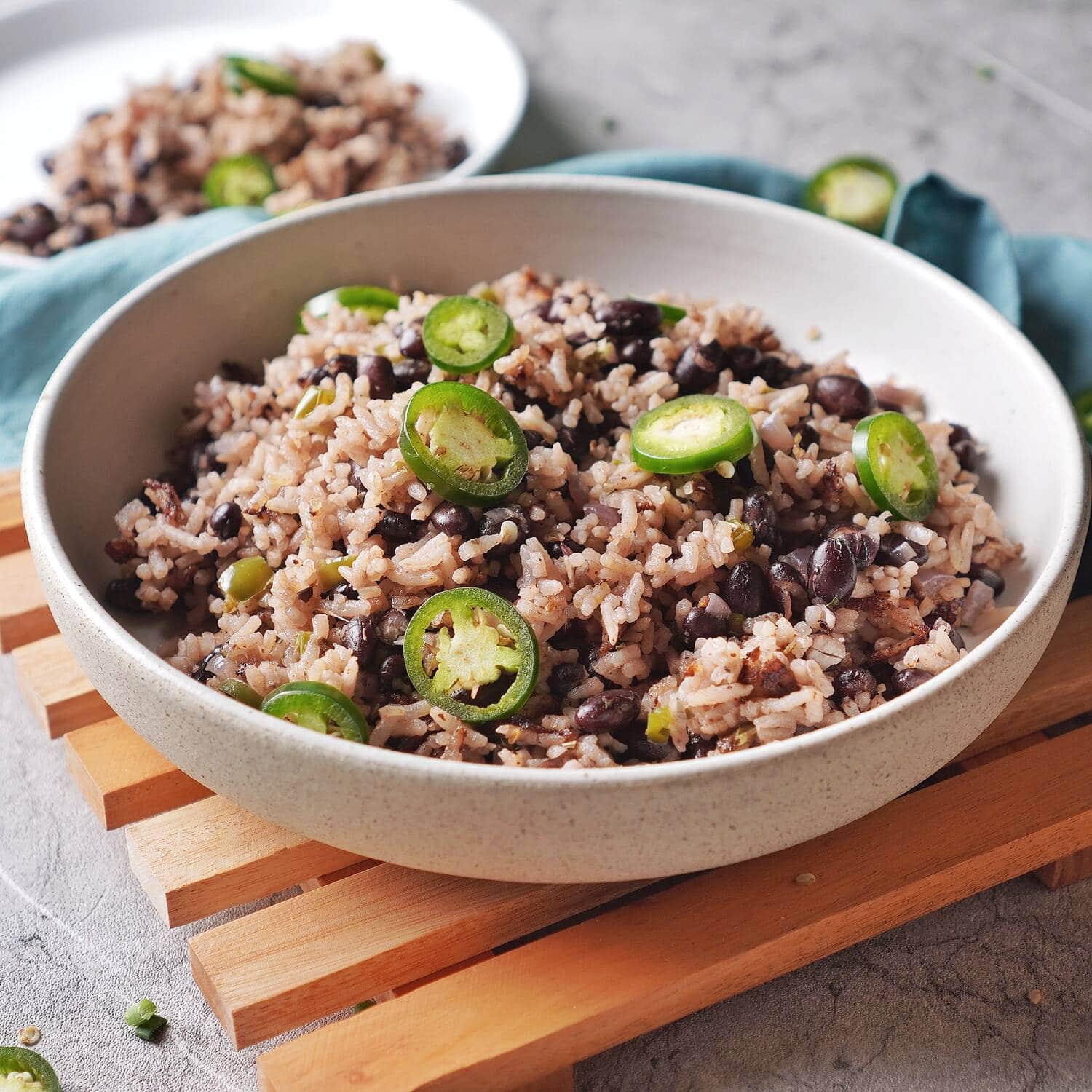 Ingredients
1

cup

dried black beans

8

cups

cold water + 6 cups for cooking

2

tsp

kosher salt divided

Pinch

of baking soda

2

cups

long-grain white rice

2

Tbsp

extra-virgin olive oil

1

medium red onion

finely diced

1

large green bell pepper

seeded and finely chopped

4

cloves

garlic

peeled and minced

2

tsp

ground cumin

1

tsp

dried oregano

1

bay leaf

3

tsp

sea salt

1-1/2

tsp

freshly ground black pepper

More water if needed

1

Tbsp

unfiltered apple cider vinegar

2

Tbsp

fresh cilantro leaves

finely chopped
Instructions
Get all your ingredients together.

Pick through the beans to remove any stones. Rinse the beans well in a colander under cold water. Place the beans in a large bowl with 1 teaspoon of kosher salt. Cover the beans with 8 cups of water. Allow the beans to soak at room temperature for at least 8 hours.

Drain the beans. Place them in a large heavy-bottomed pot or Dutch oven over high heat. Pour in 6 cups of filtered water and add 1 teaspoon of salt and a pinch of baking soda. Bring to a boil, then reduce the heat so the beans are at a simmer. Cook uncovered for 1 to 1-1/2 hours until the beans are tender.

Drain the beans over the bowl you soaked them in to catch the cooking liquid or bean broth. You want 4 cups of broth.

Place the rice in a fine sieve and rinse it under cold water until the water runs clear.

Using the pot that you cooked the beans in over medium-high heat, add the olive oil. Once it is warmed through, stir in the onion, bell pepper, and garlic. Cook the aromatics and pepper until the onions are translucent and soft, approximately 5 minutes.

Add the cumin, oregano, bay leaf, rice, 2 teaspoons of salt, and freshly ground pepper. Stir for approximately 1 minute until all the rice is coated in oil and everything is well combined.

Add the cooked beans along with 4 cups of their broth to the pot. Add water if needed to make sure you have 4 cups of liquid. Stir in the vinegar, cilantro, and 1 more teaspoon of salt. Bring to a boil. Then, turn down the heat to a slow rolling simmer. Cook uncovered until most of the liquid is absorbed, approximately 15 minutes.

Using a fork, give the rice a light stir. Reduce the heat to the lowest setting. Cover the pot with a well-fitting lid and continue to cook for 20 minutes.

Uncover the pot and allow the rice and beans to sit off of the heat for about 5 minutes. Then, fluff with a fork and serve with garnishes and sides.
Video
Nutrition
Calories:
390
kcal
|
Carbohydrates:
72
g
|
Protein:
12
g
|
Fat:
6
g
|
Saturated Fat:
1
g
|
Polyunsaturated Fat:
1
g
|
Monounsaturated Fat:
4
g
|
Sodium:
1170
mg
|
Potassium:
600
mg
|
Fiber:
6
g
|
Sugar:
2
g
|
Vitamin A:
25
IU
|
Vitamin C:
2
mg
|
Calcium:
72
mg
|
Iron:
3
mg
Notes and Tips
It is very important to prep your ingredients by washing and soaking the beans and rinsing the rice well. Both are a little dusty and very starchy. If you skip the washing step, the dish could end up being pasty and thick.
Baking soda is an optional ingredient. I like it because it helps dried beans to cook more quickly.
Make sure you are using a heavy pot or Dutch oven that has a tightly fitting lid. The idea is to keep much of the broth in the pot to cook the rice thoroughly and to have it heat evenly throughout.
Substitutions and Shortcuts
Every Latin culture seems to have a version of rice and beans. In the Dominican Republic, black beans are preferable. Other regions might use different beans, such as pinto, cranberry, or kidney. The color of the rice will vary, depending on the bean used.
As I mentioned, you can make this one-pot meal with canned beans to save a step. However, do not use the bean liquid in the can for your broth. It is too thick for the rice to absorb properly. Rinse and drain the beans. Then, use a low-sodium vegetable broth or 1/2 broth and 1/2 water as your liquid base.
Garnishes and Sides
Rice and beans are a terrific base for a variety of garnishes and toppings. Some of my favorites are cilantro leaves, diced avocado, sliced green olives, salsa, sour cream, sliced jalapeno peppers, and fruity hot sauce.
Moro de Habichuelas Negras is commonly served alongside roasted meats, such as whole roasted chicken or braised ham hocks. I actually like this as a vegan entrée served with tostones (twice-fried plantains) and braised greens. If feeling festive, make a batch of vegan Caribbean Kremas – a creamy and sweet cocktail with rum.
---
Recent Recipes