Easy Al Kabsa Traditional Saudi Rice
Saudi Arabia's famous Kabsa is a world-class traditional rice and chicken dish with a deliciously authentic middle-eastern flavor. The perfect dish for a large family gathering or for a special occasion. It is a must-try for world cuisine enthusiasts.
Al Kabsa is the national dish of the Arabian peninsula. The main ingredients are chicken and rice simmered with tomatoes, spices, and raisins. The word Kabsa is from the Arabic kabasa, which means squeezing, proclaiming that all the ingredients are packed tightly into one pot.
This dish is sometimes considered the Arabian version of the Indian Chicken Biryani. In Saudi Arabia, every family will have their own treasured recipe with differences in the choice of spices and vegetables that are added. Here is one traditional way of cooking Al Kabsa, with some serving suggestions.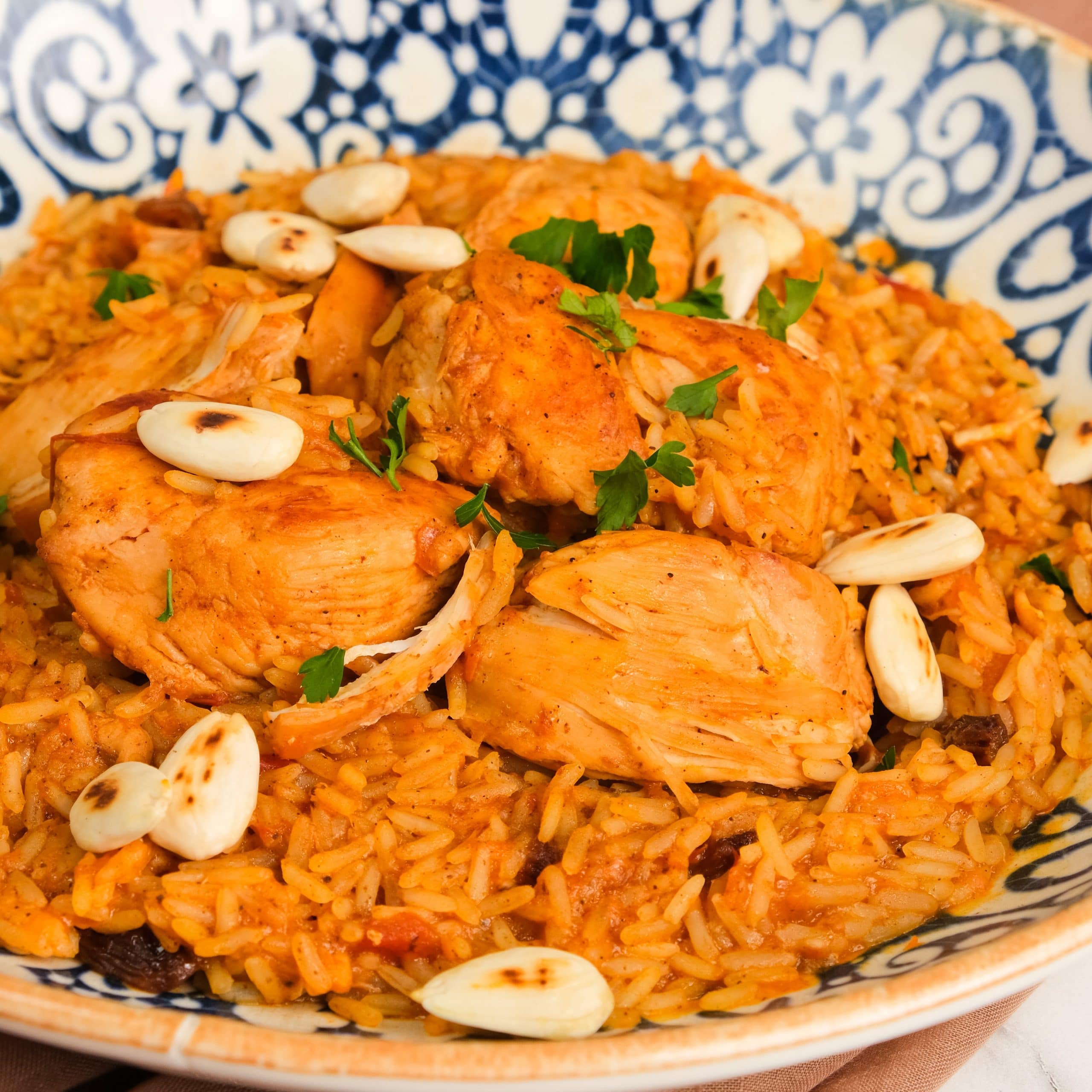 Ingredients
3

lbs

chicken

cut into 8 big chunks

4

Tbsp

butter or olive oil

3

lbs

chicken

cut into big chunks

6

garlic cloves

minced or chopped

1

large onion

chopped finely

3

carrots

peeled and grated

¼

cup

tomato puree

14

ounces

fresh chopped tomatoes

or 1 can diced tomatoes with liquid

½

tsp

coriander ground

½

tsp

cumin ground

¼

tsp

nutmeg grated

1

cinnamon stick whole

3

cloves

whole

2

bay leaves

Salt and black pepper

freshly ground

1

cube chicken stock

3½

cups

hot water

2

cups

basmati rice

no pre-soaking or rinsing

¼

cup

raisins

¼

cup

almonds

slivered and toasted
Al Kabsa Spices
½

tsp

green cardamom pods ground

1

tsp

cinnamon ground

½

tsp

allspice ground

½

tsp

saffron threads

½

tsp

dried whole limes ground

see notes & tips
Instructions
Combine the Al Kabsa spice mix in a bowl and set aside.

Use a Dutch oven (iron pot) or large stockpot to melt the butter in.

Sauté the onion in the butter till slightly soft, then add the garlic and chicken pieces.

Stir until the chicken browns.

Turn the heat down a bit, then add the tomato puree, cinnamon stick, and bay leaves. Simmer for a few minutes.

Add the canned or fresh tomatoes and carrots.

Add the cloves, the ground limes, and the Al Kabsa spice mix.

Add the salt and pepper to taste.

Cook for 5 – 10 minutes.

Dissolve the stock cube in the heated water and add to the pot.

Stir the pot now and again until it boils. Turn the heat down, cover, and simmer for 30 minutes.

Now add the rice slowly and stir with care.

With the lid back on, simmer for another 20 minutes or until most of the liquid has been absorbed.

Add the raisins and another spot of hot water. Cover again and cook a few more minutes on low heat. When the rice grains are tender but still separate, your dish is done.

Put the rice on a large serving dish with the chicken pieces on top. Garnish with the toasted almonds and some fresh coriander leaves.
Video
Nutrition
Calories:
656
kcal
|
Carbohydrates:
49
g
|
Protein:
36
g
|
Fat:
35
g
|
Saturated Fat:
8
g
|
Polyunsaturated Fat:
7
g
|
Monounsaturated Fat:
17
g
|
Trans Fat:
1
g
|
Cholesterol:
124
mg
|
Sodium:
268
mg
|
Potassium:
676
mg
|
Fiber:
4
g
|
Sugar:
4
g
|
Vitamin A:
4158
IU
|
Vitamin C:
12
mg
|
Calcium:
91
mg
|
Iron:
3
mg
Notes & Tips
The whole dried limes used in this recipe can be bought at Persian or Middle Eastern grocery stores or ordered online. The limes are ground in any spice grinder or a standard blender.
Long-grained rice is the traditional choice, but any basmati rice will work well. When using brown basmati, add a bit of extra cooking time.
In this specific recipe, the rice is not pre-soaked, as this could lead to the end result being too mushy.
Consider grinding your own spices in a mortar and pestle as the flavors will be more aromatic. The easy option is to look for pre-mixed spice blends, like 'Baharat' at Middle-eastern specialty stores.
Any vegetables such as potatoes, sweet potatoes, or sweet corn can be added. Adjust the amount of cooking water as necessary.
You could use chicken pieces that have been roasted previously. Only add this after you have cooked the vegetables and spices in the tomato sauce for at least 20 minutes.
The chicken pieces can be marinated in lemon juice, garlic, and olive oil mix, the night before or a few hours ahead of cooking. Replace the lemon juice with orange juice for a sweeter alternative.
Substitutions & Alternatives
Al Kabsa Saudi Rice is a very traditional recipe. Still, there are substantial regional differences in the ingredients and cooking methods of this dish.
Replace the ground limes with shredded lemon peel. The flavor will be different but will add a fresh zing to the dish.
Replace the ground limes with salted lemon or lime pickle.
Turmeric can be added instead of saffron. This will add both color and anti-oxidant health benefits to the dish.
The chicken can be replaced with cubes of lamb. Cook the meat for 15 – 30 minutes longer before adding the rest of the ingredients.
To make this dish vegetarian, use 1 potato or 1 sweet potato cubed. Also, add in a can of lentils or chickpeas ten minutes before the end of the cooking time. Replace the chicken stock with a vegetarian option.
Leave out the tomato paste and add a bit of lemon or lime juice for a less strong tomato flavor to the dish. In Saudi Arabia, this dish is called red Kabsa, when tomatoes are added, and white Kabsa, without tomatoes.
To bulk out this recipe, add a can of red kidney beans, as well as a tablespoon of garam masala.
Consider adjusting the recipe by adding some of the following optional extras. Add more whole cloves, 1 Tablespoon paprika, or 1 tablespoon garam masala.
Use pine nuts or pistachio nuts instead of almonds.
What Do You Serve With A Main Meal Of Al Kabsa?
Al Kabsa is traditionally served with Shattah, a hot and spicy sauce made with garlic, chilies, herbs, spices, and tomato paste.
Any tomato chutney will work well as an accompaniment to this dish. My personal favorite is the Indian Kasundi, a tomato chutney with added flavors of ginger and mustard. Simple Homemade Bulgarian Lutenitsa Spread containing tomatoes and red pepper will also be delicious served as a condiment with the Al Kabsa recipe.
A good side dish with Kabsa is a simple, fresh garden salad. Combine fresh tomato, cucumber, lettuce, and celery. Serve this with a salad dressing that has a lemon or lime base.
Middle Eastern flatbreads like 'lavash,' 'mana'eesh,' or 'khubuz' will work well as a side to the flavourful Kabsa. Pita bread is also a good alternative for the home cook.
What Dessert Will Go Well With Al Kabsa?
Saudi Arabian cuisine is full of delectable sweet treats. If you cannot get hold of Hanini, Arika, Kunafa, or some Mamoul cookies, then try these easy but delicious dessert ideas:
Before brewing, put some ground cardamom seeds or cinnamon bark with your ground coffee, and serve with honey.
Serve Succulent dates on a beautiful plate, just as they are.
Slice citrus fruit such as orange or clementine thinly. Heat some honey in a pan with a cinnamon stick and a squeeze of lemon, cool, then drizzle over the fruit. Sprinkle with chopped pistachio nuts.
Easy Sweet Apricot Khubani ka Meetha combines sour and sweet in the perfect balance to complement the main meal of Al Kabsa traditional chicken and rice.
---
Recent Recipes