Simple Salmon Peperonata Recipe
Peperonata is one of the most satisfying forms of popular Italian comfort food. Finish it off with quick-seared salmon fillets stewed until soft and flaky in the rich sweet pepper sauce, and you've got an elevated everyday meal that no one will be able to say no to. It's spicy, not hot, with aromatics that will have the whole household waiting on lunch or supper from before you even get your fish cooked through. Our salmon peperonata recipe is unforgettable but straightforward enough for anyone to perfect.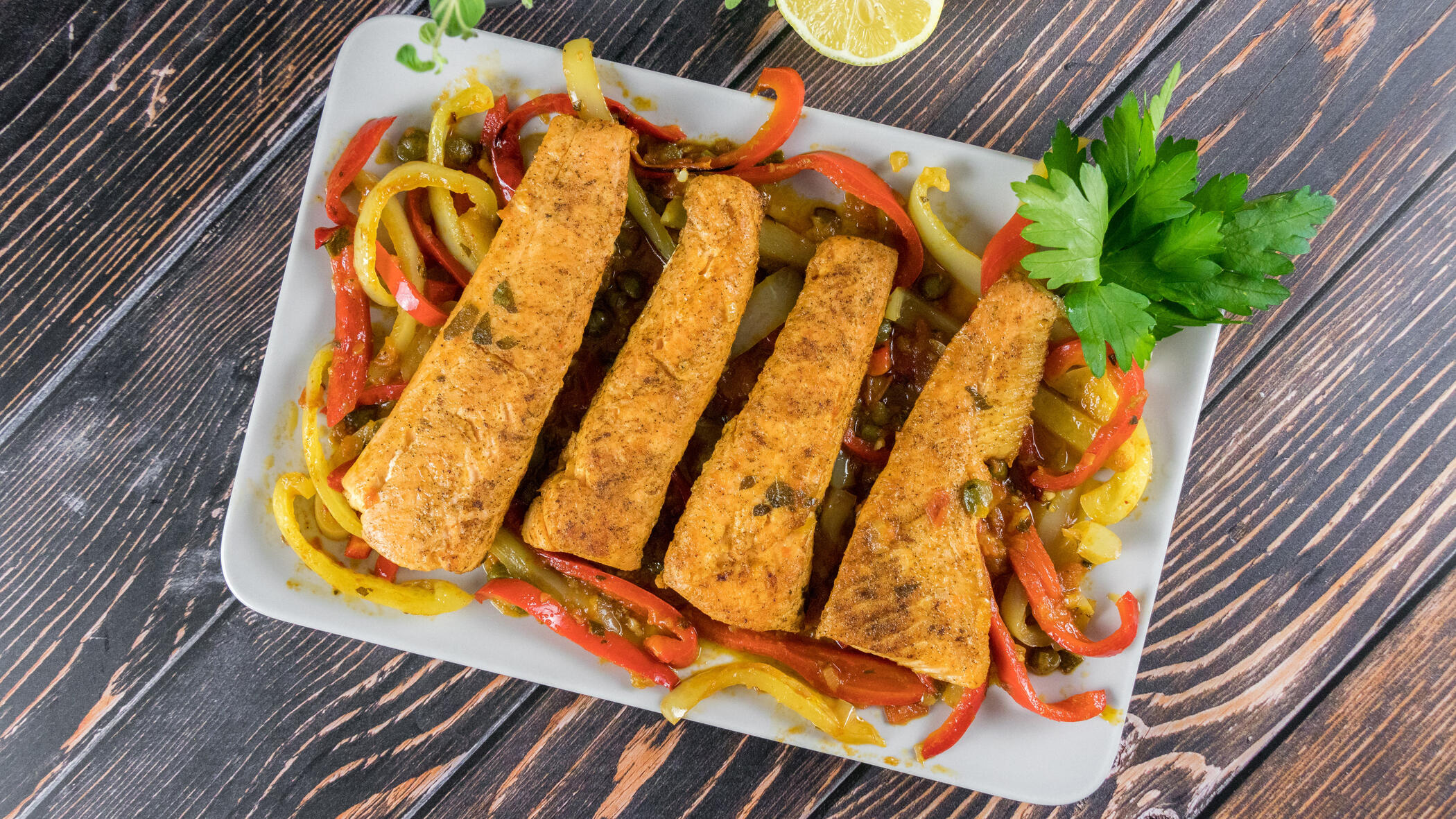 Ingredients
2-4

Salmon Fillets

1

Tablespoon

Paprika

½

Cup

Olive Oil

6-8

Cloves

Of Garlic

Pressed & Chopped

2

Shallots

Thinly Sliced

4-6

Tomatoes

Stemmed, Skinned & Chopped

1

Tablespoon

Red Pepper Flakes

3

Cubanelle Or Bell Peppers

Stemmed, Ribbed, Seeded & Sliced Into Strips

3

Tablespoons

Capers

Halved

2

Tablespoons

Red Wine Vinegar

2

Tablespoons

Tomato Paste

2

Tablespoons

Lemon Juice

1

Teaspoon

Sugar

1

Teaspoon

Salt

1

Tablespoon

Fresh Oregano

Finely Chopped

2

Teaspoons

Fresh Parsley

Finely Chopped

1

Teaspoon

Fresh Dill

Finely Chopped

1

Teaspoon

White Sugar

6-8

Fresh Basil Leaves
Instructions
Season the salmon fillets with salt, black pepper, and paprika.

Sear the salmon quickly, turning after one minute a side in a skillet preheated over high heat so that the skin crisps and browns. Transfer to a plate lined with paper towels and set aside.

Heat half a cup of olive oil in a large pot over medium heat.

Once the oil is hot, add the garlic and fry until it begins to emit a pungent aroma.

Add the shallots and fry until they start showing signs of translucency.

Mix in the crushed chili flakes and stir well.

Add the slices of cubanelle or bell peppers and saute for five minutes while stirring infrequently.

Stir in the capers followed by the red wine vinegar, lemon juice, and a teaspoon of sugar.

Once well mixed, add a teaspoon of salt and the tomatoes. Saute while constantly stirring for ten minutes or until the peppers start to brown lightly but are still firm.

Mix the oregano, parsley, and dill into the peperonata.

Place the salmon fillets skin side down into the skillet, depressing them between the peperonata.

Scatter the fresh basil leaves over the top and coat the fish with a drizzle of olive oil.

Reduce the heat to low and cook covered for 15 minutes.

Serve immediately.
Video
Nutrition
Calories:
453
kcal
|
Carbohydrates:
20
g
|
Protein:
20
g
|
Fat:
33
g
|
Saturated Fat:
5
g
|
Polyunsaturated Fat:
5
g
|
Monounsaturated Fat:
22
g
|
Cholesterol:
47
mg
|
Sodium:
895
mg
|
Potassium:
1113
mg
|
Fiber:
6
g
|
Sugar:
11
g
|
Vitamin A:
4709
IU
|
Vitamin C:
141
mg
|
Calcium:
76
mg
|
Iron:
3
mg
What Is Salmon Peperonata?
Salmon peperonata is a fusion of seared seasoned salmon cooked in a traditional Southern Italian sweet pepper stew. With just a hint of heat and an infusion of flavor thanks to the steaming of the fish, it's a rich peperonata that combines the perfect herbs to bring out and blend the flavor of the salmon.
What To Serve Salmon Peperonata With
The bold, piquant flavor is ideally suited to serving next to a fresh salad. One can't go wrong with a classic green salad. To make it truly Italian, include olives and ricotta. Peperonata goes great with couscous, polenta, or even a freshly baked loaf of garlic bread. Herb-crusted asparagus takes a bit of time to prepare but it's a fool-proof recipe that goes great with fish.
Salmon Peperonata Tips
Before transferring the salmon to your skillet, taste the peperonata and adjust with salt, pepper, and lemon juice as is necessary. Don't be tempted to add too much extra salt, as the fish will balance out the seasoning. For a gourmet twist, mix in half a tablespoon of gremolata once the peperonata has cooked through right before adding the fish. The zesty Italian condiment made from parsley, garlic, and lemon will boost the flavor of the sweet pepper stew and your salmon.
Roasting peppers brings out distinct sweetness and makes the meal easier to digest. For an even intenser flavor, oil the skin of your peppers and roast them either in the oven or over an open flame. Oiling the skin makes it easier to peel off once the peppers cool down. When using skinned peppers, your peperonata will need a few fewer minutes on the stove.
Salmon Peperonata Substitutions
Although one will look long and hard to find a fillet of fish as decadent, salmon can be substituted for other varieties of fish. Boneless fillets are best. Halibut, hake, and cod all arise as good choices and can be cooked in an identical manner to salmon. Regardless of which variety you use, be sure to sear the outside of your fish before steaming in the skillet with your peperonata. Instead of fresh tomatoes, many chefs prefer canned tomatoes due to the superior quality of certain brands. Simply switch canned for fresh and cut the cooking time by a minute or two as well. No red vine vinegar? Use any vinegar you have may on hand.
Feel free to substitute dried herbs for any of the fresh ingredients listed. Capers can be swapped for pitted, chopped green olives if you so prefer. Cubanelle peppers, also known as Italian frying peppers, are recommended because they carry the ideal balance of heat and sweetness. As advised, sweet bell peppers are a suitable alternative, but you can actually use any variety available. From anaheim peppers to poblanos and even serranos for something slightly hotter, the basic peperonata recipe comes out great with any pepper with prominent sweetness.
Which Are The Best Tomatoes For Peperonata?
San Marzano, Campari, Roma, grape, plum, and most heirloom tomatoes work well in peperonata. Canned tomatoes are sometimes the best option, especially if you can't find any good quality smaller-sized fresh ones. If your tomatoes are watery and lacking flavor, consider adding a few tablespoons of tomato paste or tomato puree to thicken up the peperonata and boost its flavor.
Can You Freeze Peperonata?
While peperonata technically can be frozen, we don't advise it. Freezing peppers ruins their texture while increasing the moisture content of the meal. No one is going to find soggy peperonata appetizing. The only good application for frozen peperonata is to use it as a flavor enhancer in other sauces, soups, curries, and stews.
Peperonata Sauce
Those who've fallen in love with the flavor of a good peperonata can always whip up a batch to use as peperonata sauce. Simply cook it finished without the fish. Peperonata takes roughly 20 to 25 minutes of cooking to get the peppers perfect. Once done, allow the mixture to cool down and process using a blender until smooth. Store in the refrigerator, and you've got a great condiment to use as a relish, pasta sauce, or flavor enhancer for your other recipes. Many love it as a spread on toast.
Ratatouille Vs. Peperonata
While there are initial similarities between the two dishes, ratatouille and peperonata are two very different meals. The French stewed vegetable dish called ratatouille includes zucchini, eggplant, and pungent herbs with unmistakable flavor like fennel, savory, bay leaf, rosemary, and thyme. Italian peperonata is a stew made from sweet peppers, onions, and garlic with herbs chosen to subtly accentuate the taste of the peppers, not ingredients that fuse into new strong flavors like ratatouille.
---
Recent Recipes