Shakshuka is a Middle Eastern recipe which is popular served for breakfast or brunch. Although tomatoes and eggs are typically the main ingredients, in the following recipe you will see the eggs have been swapped for salmon. This makes for a heartier meal.
By cooking the dish and then adding the fish last, the salmon will not only poach to perfection but also pick up all the flavors in the sauce. Salmon shakshuka might be elegant but it's also an elevated comfort food.
History of Shakshuka Recipes
Shakshuka dates back to the 1500s, shortly after the time tomatoes made their first appearance in the Middle East. The original recipe was a combination of spiced tomatoes and eggs.
The dish was also known as 'eggs in purgatory' since the eggs represented 'souls' and the tomato sauce represented 'purgatory' (somewhere between heaven and hell) according to the Catholic faith, which is an interesting fact to know!
The following recipe is very similar but with salmon in place of the eggs. If you like, you could halve the amount of salmon and crack a couple of eggs in the sauce to poach.
How To Serve Salmon Shakshuka
This recipe is best served hot as soon as it's cooked. Crusty bread is a popular addition, since it can be used to mop up every last bit of the delicious juices. If you're making something this satisfying for breakfast you won't want more than a light lunch later!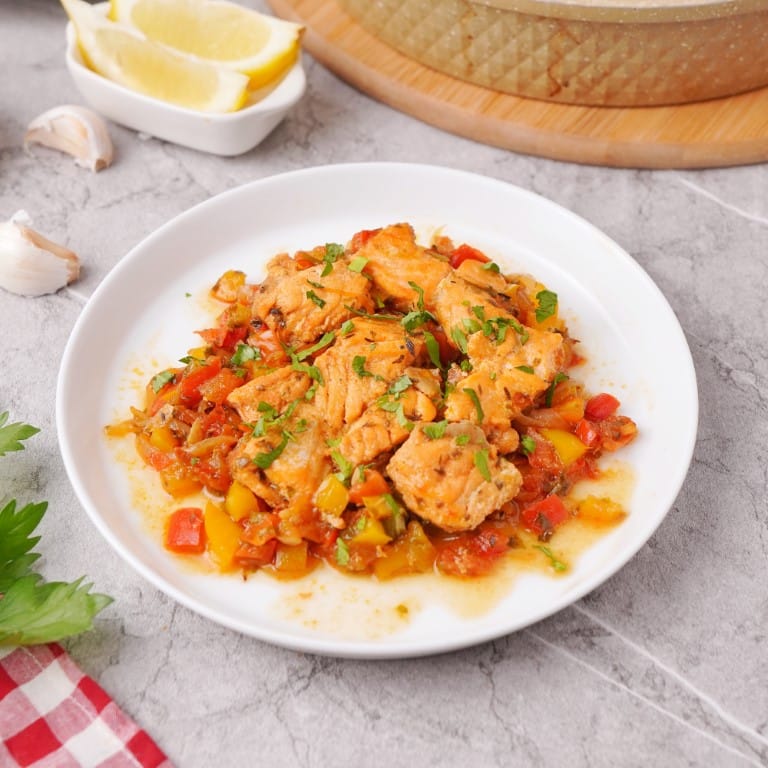 Ingredients
2

tablespoons

olive oil

1

sliced onion

1

teaspoon

crushed cumin seeds

1

bay leaf

1

chopped yellow bell pepper

1

chopped red bell pepper

2

chopped garlic cloves

10

ounces

chopped salmon filet

3

teaspoons

brown sugar

8

ounces

chopped fresh tomatoes

½

teaspoon

saffron

2

tablespoons

chopped fresh parsley

⅛

teaspoon

cayenne pepper

Water

as needed

½

bunch chopped cilantro

½

teaspoon

dried thyme

Salt and black pepper

to taste
Instructions
All ingredients ready? Let's begin!

Heat a skillet on the stove then toast the cumin for 30 seconds.

Add the oil and onions.

Add the peppers, garlic, sugar and bay leaf.

Cook, stirring often, until the vegetables are golden.

Add the tomatoes, parsley, cayenne, thyme and saffron, and 2/3 of the cilantro.

Turn the heat down a bit and simmer for 15 minutes, adding water when needed so it is sauce-like.

When the sauce is thick and bubbly, add salt and black pepper to taste.

Now add a little more water then add the salmon on top and press it down.

Cover and cook for 10 minutes or until the salmon is done.

Serve garnished with the remaining cilantro.
Nutrition
Calories:
415
kcal
|
Carbohydrates:
21
g
|
Protein:
31
g
|
Fat:
24
g
|
Saturated Fat:
3
g
|
Polyunsaturated Fat:
5
g
|
Monounsaturated Fat:
13
g
|
Cholesterol:
78
mg
|
Sodium:
80
mg
|
Potassium:
1303
mg
|
Fiber:
4
g
|
Sugar:
12
g
|
Vitamin A:
3561
IU
|
Vitamin C:
209
mg
|
Calcium:
77
mg
|
Iron:
4
mg
Handy Notes
A few fresh thyme leaves can be used in place of the dried thyme.
Serve the finished salmon shakshuka with lemon slices or wedges and perhaps some plain Greek yogurt too.
Leftovers will keep for up to 3 days in the refrigerator and can be warmed back up in a pan on the stove. You can also eat the leftovers cold.
Salmon shakshuka offers a change of pace from classic shakshuka recipes, swapping the eggs for juicy salmon.
---
Recent Recipes