Easy Salmon Flatbread Sandwich
I love bread, all kinds of bread and I can and will eat a sandwich all day, every day and if ever there is a slice of bread and a perfectly ripe avocado in my house, you can bet your bottom dollar I am going to make some form of avocado sandwich. My latest obsession is this mind-blowing salmon avocado sandwich with mayo and arugula and all the good stuff. I can have it for every meal, it is that good.
I season and bake the salmon till it is soft and flaky and incredibly delicious. I lather on some mayo, maybe some spicy pesto, tons of arugula and of course the pièce de résistance, thin slices of ripe, luscious, buttery avocados. This works perfectly with ciabatta bread, a baguette, regular white bread or even tortillas or flat breads.
You cannot go wrong with this sandwich, everything is so simple, it is a matter of baking the salmon to perfection and then assembling this work of art on a plate. If you're craving a really good sandwich, make this baked salmon avocado sandwich your next one.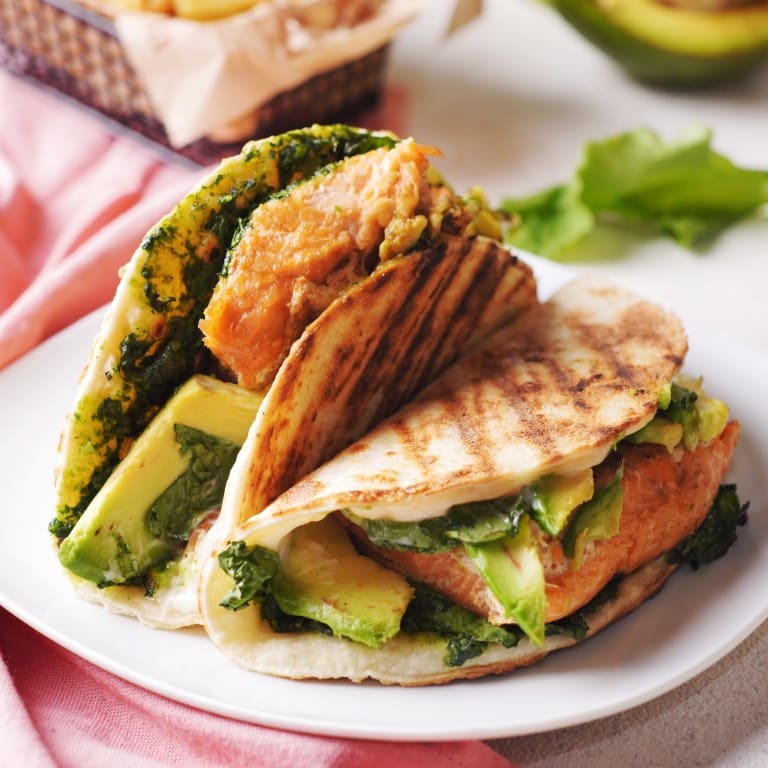 Equipment
Panini press or cast-iron skillet
Ingredients
4

filets of salmon

1

teaspoon

of paprika

1

teaspoon

of garlic powder

Salt

Pepper

Olive oil

4

flatbreads

2

cups

of arugula

2

ripe avocadoes

peeled, cored and thinly sliced

4

tablespoons

of pesto

4

tablespoons

of mayonnaise
Instructions
All ingredients ready? Let's begin!

Preheat the oven to 400 degrees F.

Wash the salmon and pat dry.

Drizzle some olive oil on the salmon and then season each filet with a mixture of paprika, garlic powder, salt and pepper.

Place the seasoned salmon in aluminum foil and seal it by pinching the edges together.

Place it in the oven and bake for 20 minutes.

Once the salmon is cooked, take it out of the foil, the baked salmon will be very delicate and soft.
Assembling the sandwich:
Take one flatbread and open it out. On one half of the flatbread spread a tablespoon of pesto and on the other half of it, slather it with a tablespoon of mayonnaise. Put a generous helping of arugula.

Place a filet of salmon on top.

Top with the thinly, sliced avocadoes.

Fold the flatbread and grill it in a panini press.

Repeat with all the flatbreads.

You can enjoy this sandwich warm or at room temperature.
Nutrition
Calories:
681
kcal
|
Carbohydrates:
33
g
|
Protein:
41
g
|
Fat:
43
g
|
Saturated Fat:
7
g
|
Polyunsaturated Fat:
13
g
|
Monounsaturated Fat:
17
g
|
Trans Fat:
0.03
g
|
Cholesterol:
101
mg
|
Sodium:
529
mg
|
Potassium:
1428
mg
|
Fiber:
8
g
|
Sugar:
1
g
|
Vitamin A:
1010
IU
|
Vitamin C:
12
mg
|
Calcium:
110
mg
|
Iron:
3
mg
Tips & Tricks
You might think that a tablespoon of mayo and one tablespoon of pesto for each sandwich is a lot but remember this is a flatbread and it is much bigger than your regular slice. But also keep in mind we are not making a delicate sandwich that is shy with the flavors, this is a big, bold sandwich that is packed with flavor. Do, do not skimp on the seasonings, sauce and spreads.
If you don't have a panini press just pop the flatbread in the cast-iron skillet or pan to grill the flatbread and then load the filling.
Some bacon and tomatoes are also great additions to this sandwich
You can also mash the avocados instead of slicing them
Baking the salmon makes it really soft and tender and I like the way it practically melts in your mouth. But you can also cook it over a skillet
Storage
You can store the sandwich in the fridge for about 2 days. Wrap it in foil or place in an airtight container. To heat it just pop it in the microwave at 30 second intervals till it gets warm.
I do not recommend freezing these salmon sandwiches as both fish and the bread won't hold up well after the thawing.
While this is a simple sandwich to make and doesn't take too much time, you can prep ahead. Slice, wash, season whatever is required and store in the fridge. You can season the salmon and keep it in the fridge overnight before cooking it, but I would not recommend keeping fish out longer than that.
FAQs
What are some other ways to cook the salmon?
One way to make this sandwich quicker is to cook the salmon on a pan or skillet. Season it and place it on a hot pan, flip it after about 2 or 3 minutes. This way gives the salmon a slight char. You can alternatively grill the fish, which also cooks it well and works perfectly in this sandwich. It all depends on what kind of texture you're craving, any way you cook the salmon, it pairs well with avocados.
Substitutions
There is so much you can do with this sandwich in way of substitutions:
Baked fish: You can grill, bake, sear or pan-fry this salmon
Seasoning: You can use cayenne instead of paprika
Arugula: Lettuce or any spring mix is a good substitute
Avocados: You can make guacamole and spread it on the flatbread or add a dollop on top of the salmon
Flatbread: I love using tortillas and making this into a wrap. But any kind of bread works for this. Since the salmon is so flaky after baking it makes sense to wrap it or roll it in a flatbread so that your sandwich is not falling apart after every bite.
Pesto: Store bought or homemade, both work fine
Mayo: You can go with some kind of flavored mayo like garlic or chipotle flavored
Onion, tomatoes and bacon are other great additions to this salmon sandwich.
A squeeze of lemon juice on top of the salmon and avocado adds some zest to the sandwich. You can also slide in some chopped jalapenos for some heat.
And of course, cheese. I like it with some salty, crumbly feta, but you can go with your cheese of choice.
Accompaniments
This salmon avocado sandwich is a perfectly filling meal all on its own. It is a perfect dish for a light lunch, but you can totally have it for breakfast, dinner or even as a snack. You can pair with fries, pickles or sliced cucumbers for a hint of freshness.
If you want to find more interesting ways to use avocadoes try the Easy Grilled Avocado with Egg or this Buttery Grilled Avocado Salad.
---
Recent Recipes