Simple Fried Salmon Sandwich
If you are looking for a simple and delicious meal, then look no further than this delicious fried salmon sandwich. I love experimenting with sandwiches, be it the bun, cheese or filling and this salmon sandwich was a result of one of those experiments.
There is no way to go wrong with this sandwich, and there are so many ways to make it just the way you want it. What I love about this is that if I'm making this for lunch everyone in the family gets their own version. You can make it spicy, deep fried, pan fried or seared. With extra fillers, with nothing but the filet. You can also have it with sourdough bread or brioche buns or good old-fashioned white sandwich bread.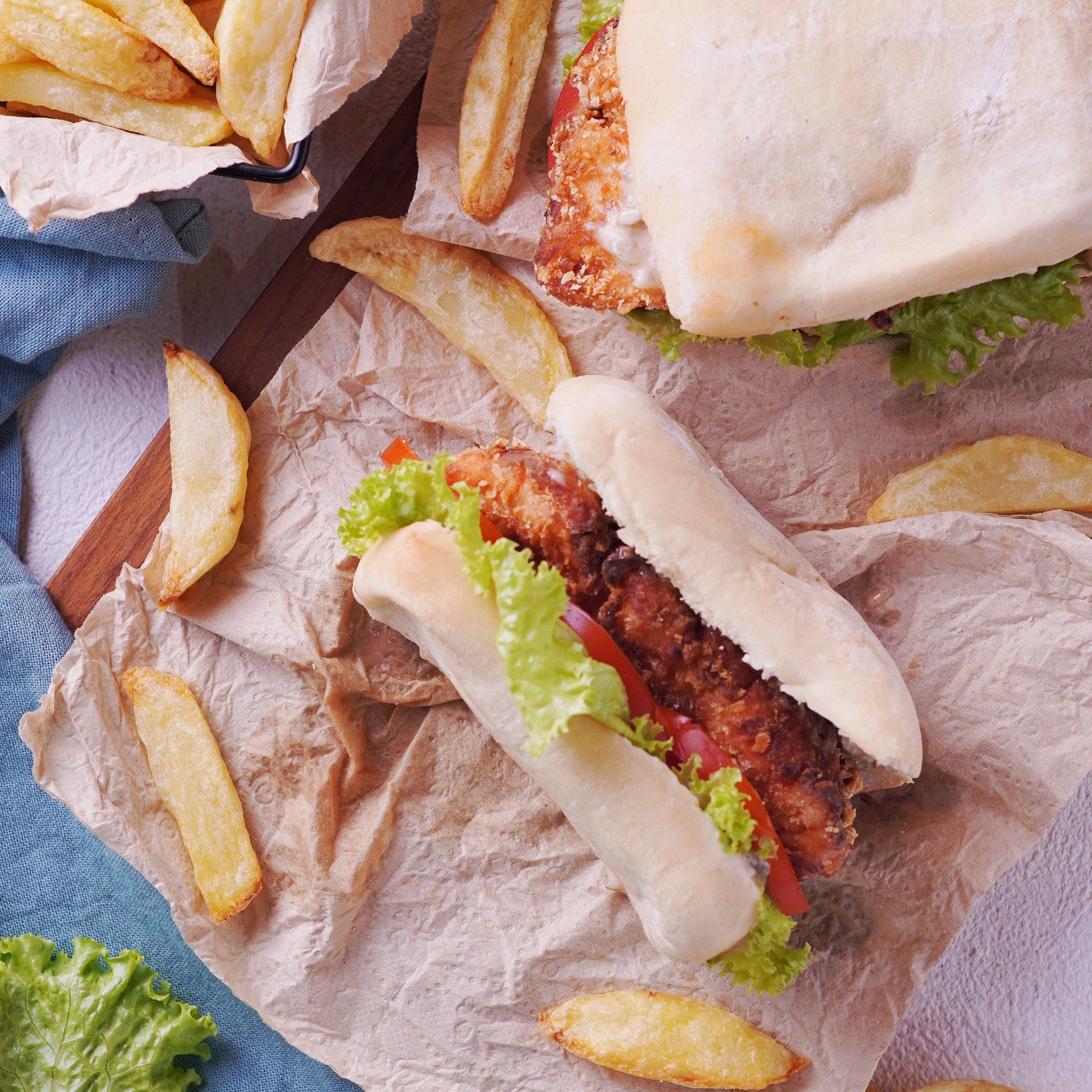 Ingredients
4

skinless salmon filets

4

ciabatta rolls

2

cups

butter milk

1

cup

flour

1

cup

panko bread crumbs

1

tomato

thinly sliced into circles

2

teaspoon

hot sauce

Lettuce leaves

Oil to cook the salmon

Salt and pepper
Tartar Sauce
1

cup

mayonnaise

1

cup

dill pickle

finely chopped

1

tablespoon

lemon juice

1

tablespoon

parsley

finely chopped

1

tablespoon

scallions

finely chopped

2

teaspoon

hot sauce

Salt and pepper
Instructions
All ingredients ready? Let's begin!
For the buttermilk brine
Add butter milk and hot sauce into a mixing bowl. Hot sauce will be about 2 teaspoons here if you are measuring. Whisk together. Set aside as this will be used for the salmon.
For the fish
Cut your salmon into an even piece so it will fit your bread selection.

Wash and pat dry the salmon filets. Sprinkle some salt or any all purpose seasoning on the salmon.

Let the salmon sit in the buttermilk brine for 10 to 15 minutes in the fridge.

Mix together the panko bread crumbs, flour, salt and pepper in a mixing bowl and whisk together.

Dip the brined salmon fillets and cover them generously. Shake off any excessive flour afterwards. Place on a plate for about 5 minutes to rest.

Heat oil in a cast iron skillet over medium heat. Place the salmon filet on the oil.

Let it cook for 3-4 minutes depending on thickness of the salmon. The skin should become crispy brown but not black. But ensure that it doesn't stick to the bottom of the pan.

Flip it and then cook the other side.

Set it on paper towels to absorb the excess oil.
For the sauce
In a bowl mix the mayonnaise, chopped dill pickle, chopped scallions and the parsley.

Add salt, pepper and 2 teaspoons hot sauce then give it a good stir.

Finely add a dash of lemon juice and mix it well.
Assembling the sandwich
Cut each ciabatta roll in half.

Spread a generous dollop of tartar sauce on each slice of the ciabatta.

Layer with lettuce, tomato and the salmon.

Add some salt and pepper on top.

Enjoy your Simple Fried Salmon Sandwich!
Video
Nutrition
Calories:
505
kcal
|
Carbohydrates:
35
g
|
Protein:
24
g
|
Fat:
29
g
|
Saturated Fat:
5
g
|
Polyunsaturated Fat:
15
g
|
Monounsaturated Fat:
7
g
|
Trans Fat:
1
g
|
Cholesterol:
65
mg
|
Sodium:
681
mg
|
Potassium:
597
mg
|
Fiber:
1
g
|
Sugar:
5
g
|
Vitamin A:
365
IU
|
Vitamin C:
5
mg
|
Calcium:
108
mg
|
Iron:
2
mg
Tips & Tricks
To maximize flavor, pan fry the rolls in butter until they get crispy brown on both sides.
Make sure you clean and dry the salmon first.
You need to season it with salt so that it is flavorsome when cooked
The salmon should get slightly browned, make sure it doesn't burn
Cooking it in the cast iron skillet you will have to use a lot of oil, ensure that it is well heated
You can use any kind of hot sauce like Worcestershire or Tabasco
If you don't want the tartar sauce on your bread, you can put it on the side
For the tartar sauce, you can use dill pickle relish instead of chopped pickle
Looking for more crunch? Slap on fried or baked bacon as the bottom layer of this sandwich, it goes great with it. Then you can call it a BLT or BLST perhaps.
The panko/flour mixture for the salmon may be a bit simple for you, adjust with your own spices and taste as you go along to make sure it is to your liking. Adding cayenne pepper or even cheese like Parmesan would work great.
Storage
This fried salmon sandwich can be refrigerated for about 2 days. Wrap it in foil and keep it in an airtight container. I would not recommend freezing the sandwich, both the ciabatta and the salmon would dry up.
You can make the salmon and the tartar sauce ahead. Salmon is obviously best made and had the day of. But you can make it the previous night or morning of. Wrap it up in foil tightly and keep it in the coldest part of the fridge.
The tartar sauce will keep in the fridge for about 5 days.
FAQs
What kind of salmon can I use for this sandwich?
You can use farmed salmon or wild-caught salmon. But wild salmon is said to be best and more popular to make sandwiches, specifically Pacific salmon.
Substitutions
Ciabatta roll: You can use any type of bread. Brioche bun, white bread, whole wheat, rye and sourdough are just some of the breads you can use. You can even use flatbread or tortillas to make it into a wrap. You can toast the bread lightly if you like.
Lettuce and tomatoes: They are both optional, some people prefer a salmon sandwich with none of the trimmings, while some need it with everything. Choose whatever works for you.
Oil: I used vegetable oil for this, you can even use avocado oil or olive oil
Dill pickle for the tartar sauce: You can use dill pickled relish instead
Parsley: You can use dill or tarragon instead
Scallions: Shallots and finely chopped onions give you the same flavor and some extra crunch
You can add capers to the tartar sauce if you like the taste. Olives are another delicious and interesting option to add to your tartar sauce.
Tartar Sauce: If you don't like tartar sauce, you can use any dipping sauce that you like.
Some other options for your salmon sandwich: you can have sliced red onions, pickles, jalapenos if you like it spicy and of course cheese. For many people it is not a sandwich if there is no cheese, a nice American, Colby jack or pepper jack will be great with this sandwich.
Accompaniments
French fries are a classic accompaniment. Sweet potato fries and truffle fries also pair well with a pan-fried salmon sandwich. A green salad is another great option as is coleslaw. This sandwich is perfect for a light lunch, if you want to make it more filling have a side of soup or grilled vegetables or pickled vegetables.
If you like sandwiches as much as I do, here are some really fun ones to try out, like the delicious plantain sandwich and the Diablo sandwich.
---
Recent Recipes