Best Chicken & Shrimp Tacos
Tacos make a delicious dinner and can usually please everyone. These chicken and shrimp tacos are no exception! They have a long list of ingredients, but they really aren't difficult to make. Most of the preparation involves chopping things and mixing them together. A good idea is to prepare a few things the day before because everything can be easily stored in the fridge. Everything except the chicken and shrimp should be served cold anyway.
This recipe includes delicious shrimp and chicken as the main component, but also includes a simple cabbage coleslaw, an easy pico de gallo, and silky yogurt sauce. A lot of spices are used to perfectly season every aspect of the taco and you can adjust them to your personal tastes. The main flavors are lime, paprika, and garlic, but if that's not your style you should try Filipino inspired adobo chicken tacos.
This is one recipe you'll want to save and keep coming back to.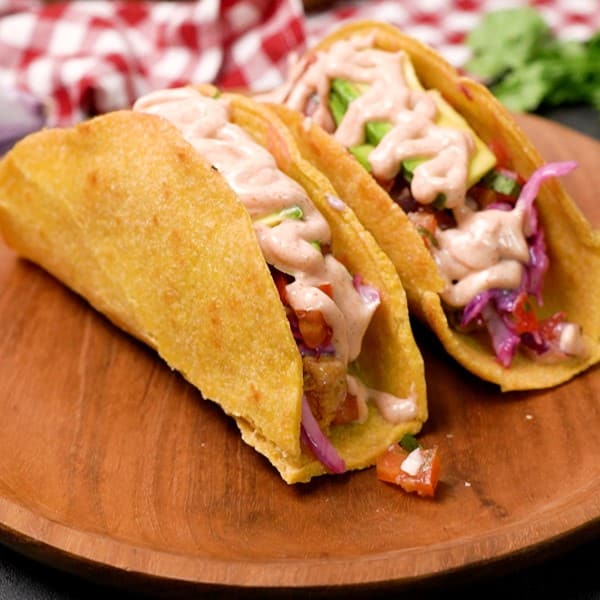 Ingredients
For the shrimp & chicken:
2

cups

shrimp

2

chicken breasts

2

tbsp

olive oil

2

tsp

chili paste

1 ½

tsp

cumin

2

tsp

paprika

1

tsp

salt

½

tsp

pepper

1

lime

4

garlic cloves

1

tbsp

oregano
For the coleslaw:
1

cup

mayonnaise

2

tsp

sugar

1

lime

¼

tsp

salt

¼

tsp

pepper

1

head purple cabbage

1

red onion

¼

cup

cilantro
For the pico de gallo:
4

tomatoes

½

red onion

½

jalapeno pepper

3

cloves

garlic

4

tbsp

coriander

1

lime
For the yogurt sauce:
1

cup

plain yogurt

½

lime

1 ½

tsp

paprika

½

tsp

cumin

Avocado

12

hard shell tacos
Instructions
All ingredients ready? Let's begin!
For the chicken and shrimp:
If your shrimp didn't come peeled and deveined, go ahead and do that now. Place all the shrimp in a bowl.

Chop the chicken breast into bite sized pieces, about an inch in size. Place all the chicken in a bowl.

Juice the lime into a bowl and finely chop the garlic before adding it and all the other ingredients (besides shrimp and chicken) under the shrimp and chicken section.

Pour half the sauce in with the shrimp and the other half with the chicken. Coat the shrimp thoroughly with the sauce and set aside. Coat the chicken thoroughly with the sauce and set aside.

Leave both shrimp and chicken to marinate for at least 30 minutes. You can use this time to prepare the coleslaw, etc.

When you are ready to cook the chicken and shrimp, heat a large pan over medium-high heat with 1 tbsp of olive oil.

When the oil is hot, put the chicken into the pan. Cook for roughly 10 minutes, flipping to make sure that all sides of the chicken are cooked through. Remove from the pan and set aside.

Return the pan to the stovetop and put the shrimp in. Cook for about 5 minutes or until all sides are pink.

Remove from heat and mix with the chicken.
To make the coleslaw:
Add the mayo, juice of 1 lime, sugar, salt, and pepper to a bowl. Mix well.

Finely shred the cabbage. Peel and finely slice or dice the red onion. Finely chop the cilantro.

Add cabbage, onion, and cilantro to a large bowl. Pour the dressing on top and toss with salad tongs until everything is fully coated. Cover and set aside.
To make the pico de gallo:
Roughly chop the tomatoes and add them to a bowl. Finely chop the red onion and add to the bowl. Remove the seeds from the jalapeno and finely chop half before adding to the bowl. Crush and finely chop the garlic before adding to the bowl. Roughly chop the coriander and add to the bowl.

Lastly, juice the lime into the bowl. Mix everything together and set aside.
To make the yogurt sauce:
Juice the lime half and add it and everything else into a bowl. Mix thoroughly and set aside.
To assemble:
Slice the avocado.

Build the taco by doing a layer of chicken and shrimp, then coleslaw, then pico de gallo. Add a couple slices of avocado and drizzle some yogurt sauce on top.

Serve and enjoy!
Nutrition
Calories:
373
kcal
|
Carbohydrates:
23
g
|
Protein:
20
g
|
Fat:
24
g
|
Saturated Fat:
4
g
|
Polyunsaturated Fat:
10
g
|
Monounsaturated Fat:
8
g
|
Trans Fat:
0.1
g
|
Cholesterol:
98
mg
|
Sodium:
526
mg
|
Potassium:
726
mg
|
Fiber:
5
g
|
Sugar:
7
g
|
Vitamin A:
1299
IU
|
Vitamin C:
58
mg
|
Calcium:
128
mg
|
Iron:
2
mg
Notes & Tips
If you have any leftovers, store each component separately in an air-tight container in the fridge for about 5 days.
You can marinate the shrimp and chicken overnight if you want. You can also prepare the pico de gallo, coleslaw, and yogurt sauce the day before and store overnight in the fridge. That way making dinner will be super easy later, just cook the shrimp and chicken and assemble.
Substitutions
If you want, you can use soft tortillas to make this instead of hard shell tacos. Heat them up in a pan or in the microwave before building the taco. If you want, you could also put everything on a bed of lettuce and eat it with tortilla chips.
Red cabbage can be substituted for white or green cabbage.
Olive oil can be exchanged for another oil like vegetable or avocado oil.
If you prefer a hotter or milder level of heat, adjust the spices and add more or less jalapeno pepper.
Serving Suggestions
If you are the kind of person who likes to amp up the heat of your food, try adding this fermented peach jalapeno hot sauce to your taco. The peach adds a delicate touch and the jalapeno packs a punch. The best thing about it is that you can inject your dinner with spice without overwhelming anyone else at the dinner table.
Another great thing to serve alongside any taco is a nice, cold beer. Pale ale pairs particularly well with shrimp. Pale ale has a lighter flavor, which helps the shrimp and spices remain the star of the show and prevents all the flavors from muddling too much.
If you want to add fun garnish to your tacos, you can chop up some cilantro or jalapeno and sprinkle it on top. It can be nice to cut up some lime slices and serve alongside the tacos as a visual accessory and extra tang.
---
Get Foodie Deals
We collect great foodie-focused deals from across the web daily. Get yourself or your favorite foodie a great deal at big name stores.
Recent Recipes