Simple & Satisfying Stuffed Hungarian Wax Peppers
Peppers are one of the most versatile ingredients out there. They can be sweet, they can be spicy, they can be miniature or big, they can be fried, baked, cooked and even eaten raw. I use them in salads, in stir fries, pizzas, tacos and so many other dishes, across cuisines. So, when I came across a stuffed peppers recipe, I had to make my own Simple and Satisfying Stuffed Hungarian Wax Peppers.
Let me tell you it is as delicious as it is simple. And you get to try Farmer's Cheese, which is so fun and interesting, and you don't come across that very often. Ricotta or cream cheese are both fantastic alternatives. It is essentially, Hungarian wax peppers, slit and cored and stuffed with a delightful and delicious cheese-egg mixture. Then you bake it, and you have a plateful of amazing stuffed peppers that are so satisfying. The Simple and Satisfying Stuffed Hungarian Wax Peppers have a bit of crunch and crispness, and every bite is bursting with flavor and cheese. It really is a dish worthy of a chef's kiss.
Keep in mind that you can amp up the heat of the peppers to your personal preference. Also, while you're removing the seeds and inner membranes of the peppers, the seeds contain all the heat, so remove them completely if you don't want it to be spicy. Many people, wash the inside of the peppers after removing the seeds, I don't find that necessary, but you can do that but remember to wipe it dry after.
This is a great appetizer and a very filling snack, so for your next party, go with these Simple and Satisfying Stuffed Hungarian Wax Peppers.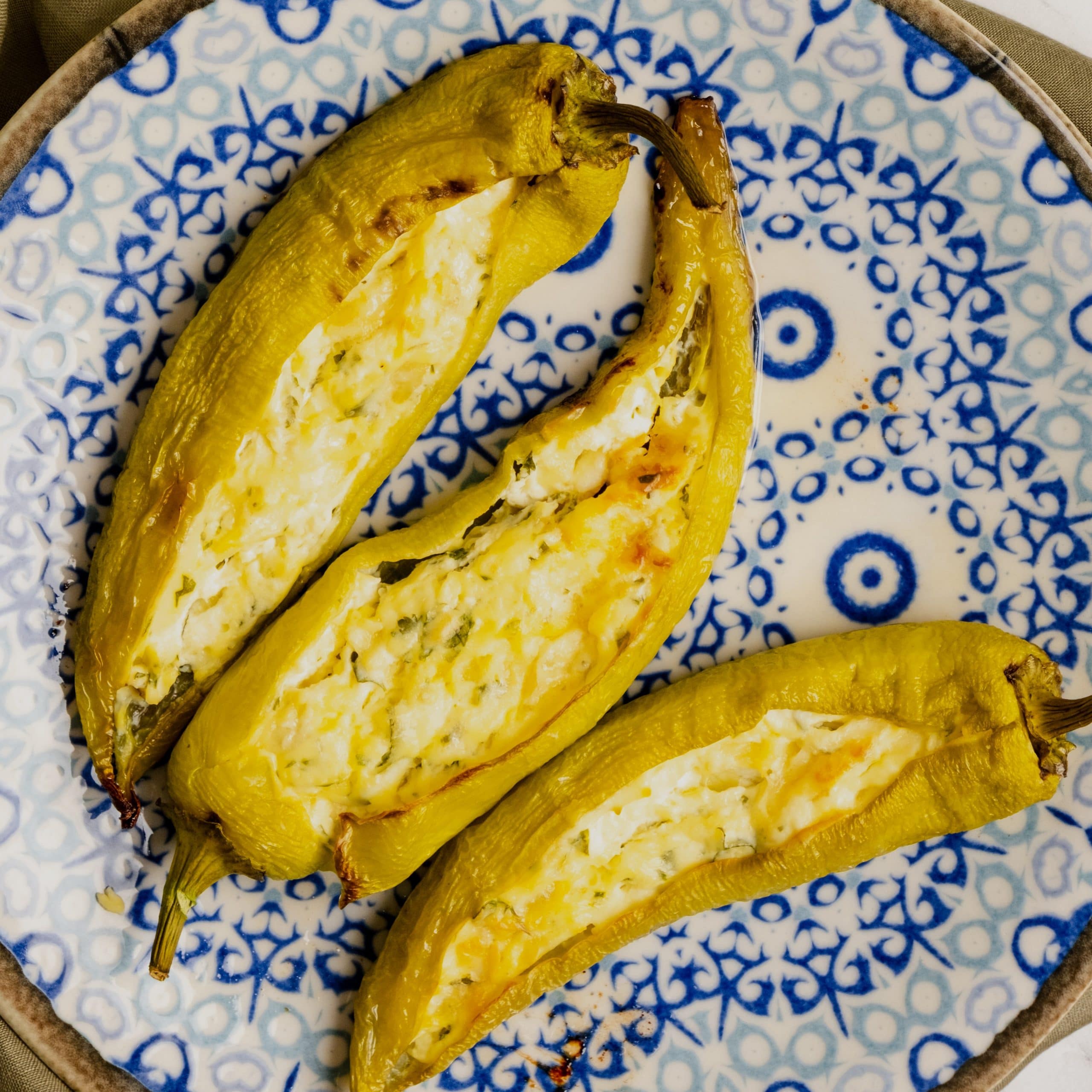 Ingredients
10

Hungarian Wax Peppers

1

cup

Farmer's Cheese or Ricotta Cheese

½

cup

Parmesan Cheese or Pecorino Romano

2

Eggs

beaten

2

cloves

of garlic

minced

1

tablespoon

of finely chopped parsley

Olive oil

Oil spray

Salt
Instructions
Preheat oven to 350 degrees F.

Line a baking tray, spray it with oil and set aside.

Wash and dry the peppers. Make a slit along one side of the peppers.

Run a spoon through and remove the seeds and all the flesh inside and discard.

In a bowl mix together the farmer's cheese, parmesan cheese, eggs, garlic, parsley and salt. Combine well.

With a spoon, carefully stuff each pepper with the cheese filling.

Place on the baking tray. Drizzle olive oil over the stuffed peppers.

Place in the oven and bake for 30-35 minutes. The peppers should have browned, and the cheese should be melted and gooey.
Video
Nutrition
Calories:
76
kcal
|
Carbohydrates:
1
g
|
Protein:
6
g
|
Fat:
5
g
|
Saturated Fat:
3
g
|
Polyunsaturated Fat:
1
g
|
Monounsaturated Fat:
2
g
|
Trans Fat:
1
g
|
Cholesterol:
49
mg
|
Sodium:
124
mg
|
Potassium:
47
mg
|
Fiber:
1
g
|
Sugar:
1
g
|
Vitamin A:
230
IU
|
Vitamin C:
1
mg
|
Calcium:
117
mg
|
Iron:
1
mg
Tips & Tricks
I don't cut off the heads of the peppers because it makes it easy to hold on to while eating and it prevents the stuffing from oozing out of the top.
I use mild peppers for the Simple and Satisfying Stuffed Hungarian Wax Peppers, but you can use one with more heat if you like more spice
Remember to remove all the seeds before stuffing the peppers, as that is where the heat lies
Storage
You can store the Simple and Satisfying Stuffed Hungarian Wax Peppers in the fridge for 4-5 days. You can also freeze them. Keep them in an airtight container and freeze them for up to 2 months.
Let them sit out for at least an hour before heating them up. Preheat the oven the 350 degrees F and heat the peppers for around 7- 10 minutes.
If you have leftover stuffing, refrigerate in an airtight container for about a day. It has raw eggs so it will spoil soon.
FAQs
Is there another way to make them without baking?
Baking is the best way, because everything cooks fully and evenly and the mess in contained. Having said that you can roast the wax peppers. Follow the recipe from steps 3 through 6. Heat oil in a wide pan, add the peppers and space them apart so they are not brushing against one another. Reduce to low heat. Let the peppers cook for about 2-3 minutes, then turn the peppers over gently and continue cooking. Remember, not only do the peppers need to cook and brown, but the eggs need to cook through, we don't want raw, stuffed peppers that are eggy.
What is Farmer's Cheese?
Farmer's Cheese or Farmer Cheese is basically pressed cottage cheese. It is a soft, fresh cheese that is not aged. Because it is an easy cheese to make, it is often homemade, and requires minimal ingredients and processing. It is often interchangeable with ricotta cheese because of its consistency.
Substitutions
Hungarian Wax Peppers: They have a specific taste and texture but for a similar dish, you can use mini peppers of any color
Farmer's Cheese: Ricotta is a good substitute. You can also replace it with cream cheese.
Parmesan: Pecorino Romano is the best substitute
Eggs: We need a binding agent to keep the stuffing intact and egg works best. You can try vegan alternatives, there are a few egg substitutes in the market, but I cannot vouch for them as a binding agent.
Parsley & Garlic: This is a matter of personal taste. But these two go very well with the cheese combination, it is a classic. You can add chili flakes, ground black peppers, cilantro, basil or oregano as few of the alternatives. But the possibilities are endless.
Ground beef makes a great stuffing for this Simple and Satisfying Stuffed Hungarian Wax Peppers. Just cook the ground beef on a pan with some oil. Mix it along with the cheese and egg mixture and then spoon it in to stuff the peppers.
Accompaniments
This is an easy appetizer or a quick snack. As an appetizer it works great with a sandwich, soup or side salad. It is also great snack for chilly afternoons and cozy evenings. Pair with a nice warm bread and stew.
If you want to try out more innovative dishes with peppers and chilis you have to check out this delicious Bulgarian Stuffed Peppers and this spicy Green Chili Fritters.
---
Recent Recipes