Homemade Rigatoni Martino
Rigatoni Martino is a dish that is on the Carrabba's Italian Grill menu. This fairly basic pasta dish is about $16.00 at the restaurant (2022). I am pretty sure you can make this delicious dish at home for about just under $5.00 per serving, depending on the quality and brand of ingredients you purchase. That is a win/win, especially when feeding a family.
Rigatoni Martino is rigatoni pasta that is cooked to al dente and then finished in a creamy tomato, mushroom, and cheese sauce. What makes the sauce so delicious is that it includes the concentrated flavors found in sun-dried tomatoes. The dish is topped with ricotta salata cheese right before serving.
Ricotta salata is ricotta cheese that has been salted, aged, and pressed. The result is a semi-firm textured cheese that can be sliced, grated, or crumbled. Ricotta salata is milky, mild, and salty similar to the tubbed ricotta. Yet it is drier in texture, making it perfect for adding to pasta dishes as a finishing cheese.
Rigatoni pasta is tube-shaped with vertical ridges that help the sauce cling to it. It is a little wider than penne and is cut square rather than on the bias.
This Rigatoni Martino recipe is pretty close to Carrabba's with a bit of tweaking to update it with more complexity and freshness. This pasta dish is not very complicated and you can have it on the table in about 25 minutes. It is a filling and tasty meal for a busy weeknight. I like to pair this with a salad and garlic bread. For a more substantial entrée, you can top the pasta with either grilled chicken or sausage meatballs.
This pasta dish is tomato forward, earthy with mushrooms, creamy and rich, cheesy, and freshened up with herbs and spring onions.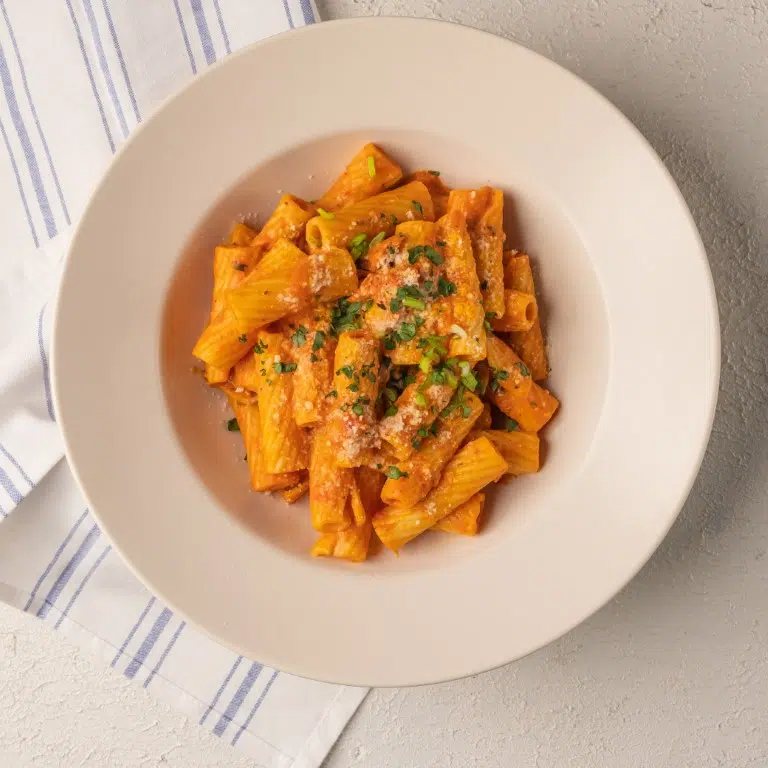 Ingredients
⅓

cup

sundried tomatoes

dry, not in oil

Lukewarm water

1

box rigatoni pasta

16 ounces

1

Tbsp

sea salt

2

Tbsp

extra virgin olive oil

1

cup

sliced cremini or button mushrooms

1

garlic clove

chopped

1

tsp

dried oregano

2 ¾

cups

plain tomato sauce

1

cup

heavy cream

⅓

cup

grated parmesan cheese

⅓

cup

grated pecorino Romano cheese

Salt and freshly ground pepper to taste

½

cup

grated ricotta salata cheese

2

Tbsp

scallions

thinly sliced

2

Tbsp

fresh basil or flat-leaf parsley leaves

chopped
Instructions
Place the sundried tomatoes in a bowl and pour lukewarm water over them to soften. Set this aside for about 5 minutes before you start the recipe. As soon as they are soft, slice them into thin strips.

In a large pasta pot over high heat, bring a generous amount of water with salt to a boil. Add the rigatoni and cook according to the box directions minus 1 minute. Meanwhile, make the sauce.

In a large skillet or sauté pan over medium-high heat, add the olive oil and mushrooms. Sauté for 2-1/2 minutes until the mushrooms start to brown.

Add the garlic and oregano and cook for an additional 1 minute until the garlic and oregano are aromatic.

Add the sun-dried tomatoes to the pan and stir until just warmed through, approximately 30 seconds.

Pour in the tomato sauce and cream and bring just to a boil. Turn the heat down and simmer for 4 to 5 minutes. Keep an eye on your pasta, You want it just al dente.

Stir the parmesan and pecorino cheeses into the tomato cream sauce. Season with salt and pepper to your liking, keeping in mind the ricotta salata is plenty salty.

Using a spider or slotted pasta spoon, remove the rigatoni from the pot of water and add it to the sauce. It is perfectly fine for some of the pasta water to get into the sauce to help add starch. Stir gently to coat all the pasta with sauce.

Place the pasta and sauce in a large serving bowl, or serve right from the pan. Top with the ricotta salata, scallions, and fresh herbs just before serving.
Nutrition
Calories:
580
kcal
|
Carbohydrates:
67
g
|
Protein:
19
g
|
Fat:
27
g
|
Saturated Fat:
14
g
|
Polyunsaturated Fat:
2
g
|
Monounsaturated Fat:
9
g
|
Cholesterol:
66
mg
|
Sodium:
1909
mg
|
Potassium:
739
mg
|
Fiber:
5
g
|
Sugar:
8
g
|
Vitamin A:
1372
IU
|
Vitamin C:
15
mg
|
Calcium:
223
mg
|
Iron:
3
mg
Notes & Tips
Rigatoni Martino is fairly easy to make, despite my twist on the recipe. Don't stress if you don't have all the ingredients my recipe calls for. This can be as basic as rigatoni with mushrooms, tomato cream sauce, and parmesan cheese for a satisfying weeknight meal. Just make sure you cook the pasta a little al dente so it can finish cooking in the sauce for a minute or two before serving.
Substitutions & Shortcuts
Rigatoni is really perfect for this dish because the ridges collect the sauce and the mushrooms can sneak inside the hollow centers. Rigatoni is easy to find. If you are just getting home from work and want to make Rigatoni Martino with whatever is in your pantry, you could use penne if that is what you have. I am actually really okay making this with rotini or fusilli, both of which I seem to always have in my cupboard. Both are spiral shapes that attract and hold any sauce.
I have a friend who loves to skip making any pasta sauce because he thinks jarred sauce is simply perfect, and he is an impatient cook. I like making tomato sauce with high-quality canned products or fresh garden tomatoes and fresh herbs, garlic, etc. But I will bow to my friend when it comes to exceptional jarred tomato sauce from upscale Italian restaurants and markets that you can find in most well-stocked grocery stores. They do save time and are very good. If you can find a jarred marinara sauce with mushrooms, garlic, and herbs that you like, use that and save a step. These sauces often have a very concentrated tomato flavor that is pretty close to what you will get from the addition of sun-dried tomatoes in this recipe.
Ricotta salata isn't the easiest cheese to find in your neighborhood grocery store. You can take regular, whole milk ricotta and place it in a very fine mesh sieve or cheesecloth-lined colander overnight to drain most of the liquid out. Place the sieve of cheese over a bowl to collect the water. Cover with plastic wrap and place in the fridge for about 8 hours. The liquid from the ricotta will drain into the bowl. Then, simply mix the ricotta into the pasta sauce right before adding the rigatoni. This results in a really creamy sauce that some (mostly kids and skeptical adults) prefer to the dish with grated salata over the top.
---
Recent Recipes