Homemade Mochiko Bibingka
Bibingka cake is very unique in that it is both savory and sweet and savory. The ingredients include rice flour, eggs, coconut milk, sugar, butter, salted eggs, and cheese. It is generally served as a side dish during a holiday dinner. That would be Christmas in the Philippines and may include Thanksgiving in the US.
Traditionally, this cake is baked in a banana leaf lined skillet. It is also topped with salted duck eggs, which you may only be able to find online or in specialty Asian markets. Or, you can make your own at home. This ingredient is optional in our bibingka recipe.
This tasty Filipino cake confuses me, but in a good way. I am one who prefers savory to sweet baked goods most days. I love that bibingka crosses the barrier. This cake is excellent with a festive savory dinner, adding a touch of sweetness to the meal. It is also wonderful for breakfast or afternoon tea. It doesn't need anything extra to accompany it. It has sugar, butter, and cheese that are sure to excite all taste buds when enjoyed all by itself.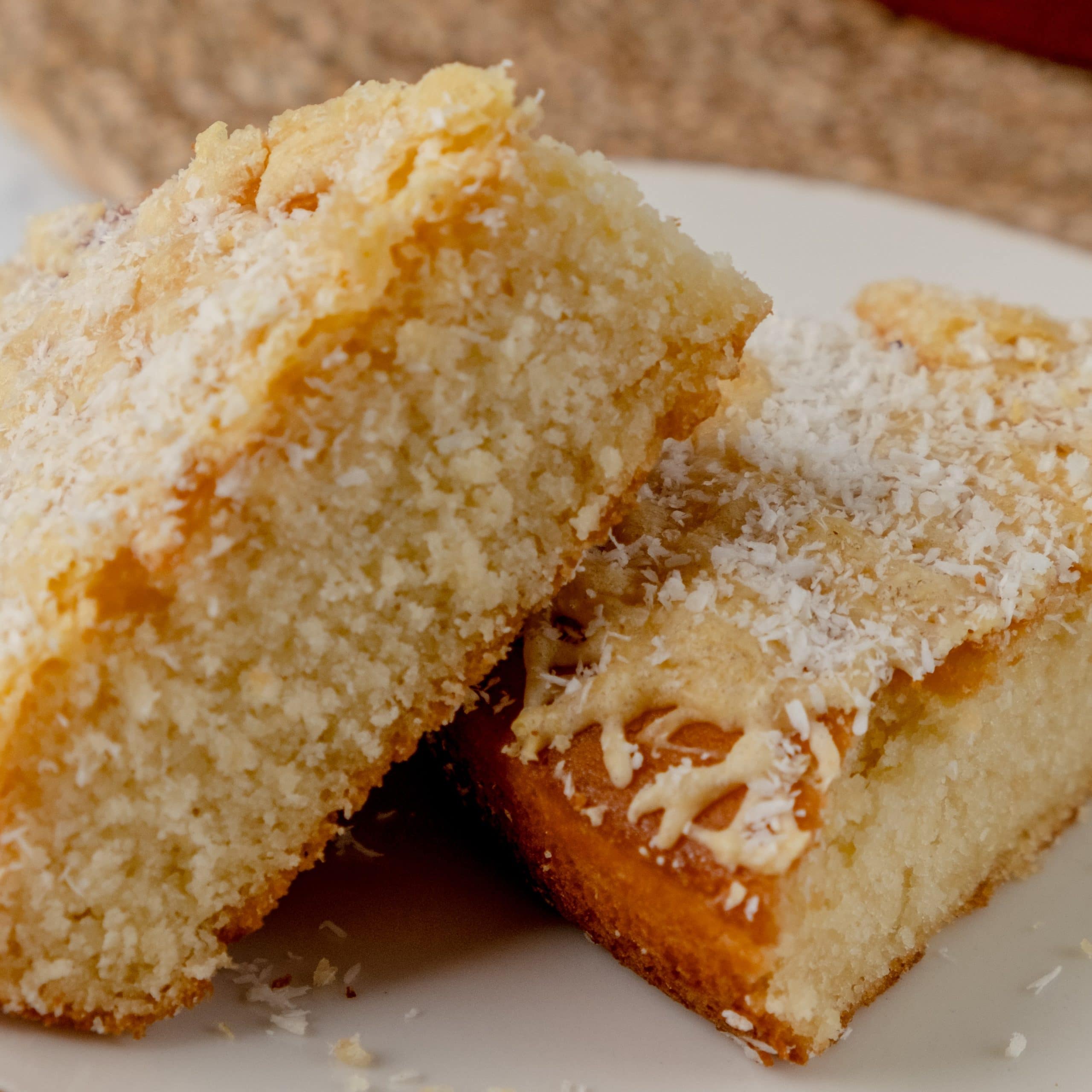 Ingredients
2 ½

cups

sweet rice flour

¾

cup

granulated sugar

1

Tbsp

baking powder

1

tsp

sea salt

1 ½

cups

coconut milk

⅓

cup

5 ½ tsp unsalted butter melted, plus more for greasing pan

3

whole eggs

lightly beaten

1

salted duck egg

sliced (optional)

1

cup

grated queso de bola

Edam cheese

2

additional Tbsp melted butter

½

cup

unsweetened coconut flakes

dried or toasted
Instructions
Preheat your oven to 350°F.

In a large mixing bowl, whisk together the flour, sugar, baking powder, and salt. Make a well in the center of the dry ingredients and pour in the coconut milk, melted butter, and eggs. Whisk everything together until you have a smooth and creamy batter.

Generously grease a 9-inch cast-iron skillet with butter, lard, or vegetable shortening.

Pour the batter into the skillet. Place the pan in the oven and bake for 15 minutes.

Remove the cake from the oven and top it with slices of salted duck egg if using. Add the grated cheese to the top of the cake. Return the skillet to the oven and continue to bake until the bibingka is golden brown and a toothpick inserted into the center comes out clean, approximately 20 to 25 minutes.

Remove the baked cake from the oven and brush it with 2 tablespoons of melted butter.

Sprinkle the top with coconut flakes. Set aside to cool for about 15 minutes or longer.

Slice the cake into 6 wedges and serve with your holiday meal or with a nice cup of tea.
Video
Nutrition
Calories:
786
kcal
|
Carbohydrates:
83
g
|
Protein:
20
g
|
Fat:
43
g
|
Saturated Fat:
30
g
|
Polyunsaturated Fat:
2
g
|
Monounsaturated Fat:
8
g
|
Trans Fat:
1
g
|
Cholesterol:
248
mg
|
Sodium:
1042
mg
|
Potassium:
348
mg
|
Fiber:
3
g
|
Sugar:
26
g
|
Vitamin A:
846
IU
|
Vitamin C:
1
mg
|
Calcium:
448
mg
|
Iron:
4
mg
Notes & Tips
There are many varieties of rice flour. There are rice flours labeled as white rice flour, brown rice flour, glutinous rice flour, and sweet rice flour. These all have different textures and flavor profiles but are similar. To make life easy, you might consider using Mochiko sweet rice flour. It isn't really sweet at all. So, use whatever rice flour you have or can source.
A banana leaf will only be found in Asian or Caribbean specialty markets in the states. Unfortunately, they are sometimes not very fresh by the time they make it to the grocery shelf. I am fine with generously greasing the skillet and foregoing the leaf. If you want to make sure the cake comes out of the skillet cleanly, line the pan with parchment paper on top of the grease. My proper mother would scold me, but I think it is fine to place the skillet on a trivet directly on the table with a heat-proof handle cover and serve the wedges right from there. The presentation is rustic/chic which I don't mind at all for a family meal.
Substitutions & Omissions
The classic bibingka cake recipe calls for cheese. Queso de bola is cheese in a ball. It is basically Edam cheese — that nutty cheese dipped in a ball of red wax. You can find it everywhere. If you can't find it or want to try something different, gouda is a close cousin. Cheddar will also do and will add a really nice sharpness to the dish. I think cheddar cheese is definitely worth a try. You can completely omit the cheese if you choose. This will result in a desirably crispy cake surface.
The salted duck egg offers an interesting layer of complexity to the cake. If you can't find them or don't have the patience to make them yourself (they do take weeks), you can completely omit the sliced duck egg. The yolks of duck eggs are rich in color and fatty flavor. I love them. They are becoming more readily available in most markets. While I haven't actually tried this, but I am thinking you could use hard boil organic, free-range chicken eggs (rich yolks). Slice them and season with tamari or coconut aminos as the salt component. I believe this could work in a pinch if you want that extra layer of salty protein goodness. As a side note, this is a gluten-free cake. If making your own quick salted eggs, don't use a wheat-based soy sauce.
Coconut Milk is an important ingredient in this cake. It offers sweetness and a creamy texture. There are times when I do not have coconut milk on hand. I think you could substitute condensed/evaporated milk or even cream.
---
Recent Recipes