Swordfish is a delicious and versatile seafood that can be used in place of beef for some delicious variety. You can pan-sear, grill, or roast it, but in this recipe, we will be searing it. This swordfish salad is sure to be a stunner for your next meal. It's so easy to make for when you're craving the taste of the Mediterranean. You probably have some of the ingredients for the vinaigrette already in your kitchen.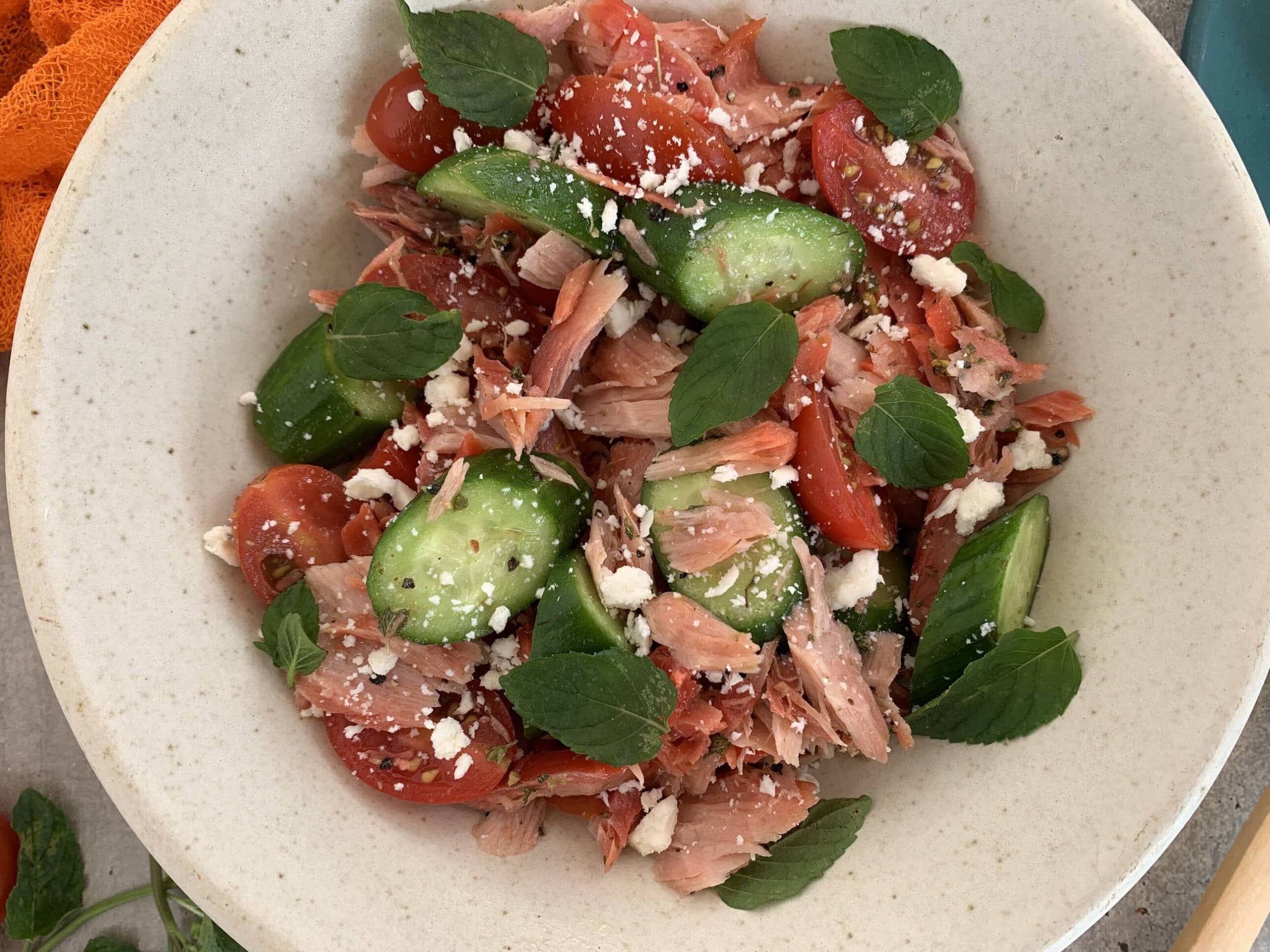 Ingredients
3

tbsp.

Olive oil

or a generous "glug"

1

swordfish steak

1/4

tsp.

black pepper

3/4

tsp.

salt

2

tbsp.

fresh lemon juice

1 1/2

tsp.

fresh oregano

1/2

tsp.

dried oregano

1

seedless cucumber

1

pt.

cherry or grape tomatoes

1

c.

feta cheese
Instructions
Add 1 tablespoon olive oil to a 10-inch skillet, tilting the skillet to ensure the oil distributes evenly. Heat until very hot over medium-high heat. While the skillet is heating up, pat the swordfish dry using paper towels. Add the swordfish to the skillet and season with salt and pepper.

Cook the fish for five minutes on each side until the swordfish is browned on both sides and opaque throughout.

To make the dressing: in a large bowl, combine the lemon juice, oregano, remaining 2 tablespoons oil, and 1/4 tsp. salt.

Cut the cucumber into large chunks and cut each tomato in half.

Once the swordfish has finished cooking, transfer to a cutting board and trim and discard the outer skin.

Cut the swordfish into cubes or shred if you prefer. Add the swordfish, tomatoes, and cucumber to the dressing bowl. Toss to coat.

Sprinkle with feta and serve.
Video
Nutrition
Calories:
697
kcal
|
Carbohydrates:
20
g
|
Protein:
37
g
|
Fat:
54
g
|
Saturated Fat:
22
g
|
Polyunsaturated Fat:
4
g
|
Monounsaturated Fat:
24
g
|
Trans Fat:
1
g
|
Cholesterol:
161
mg
|
Sodium:
2121
mg
|
Potassium:
1218
mg
|
Fiber:
4
g
|
Sugar:
14
g
|
Vitamin A:
2733
IU
|
Vitamin C:
37
mg
|
Calcium:
638
mg
|
Iron:
2
mg
This is an easy and delicious recipe that comes together in just minutes. Preparing the vinaigrette is pretty much the only complicated part. Below we've included some important recipe notes to keep in mind for a successful outcome. Happy cooking!
How to Shop for Swordfish
Swordfish is classified as an oily fish, a list that includes small fish like sardines and anchovies as well as other larger fish like tuna, salmon, and mackerel.
The FDA cautions that young children, women of child-bearing age, and pregnant women should not consume swordfish in large quantities due to the high levels of mercury found in this seafood.
Swordfish is sold exclusively in steak form and sometimes sold frozen. Any reddish areas on the steak will have a slightly stronger flavor and can be cut off if you're not interested in that.
Look for swordfish steaks that are bright white or pink. These colors indicate freshness. Grey meat with brown bloodlines can indicate lower quality fish.
Frozen swordfish are available year-round, but peak fresh swordfish can be found during the August-October landing season. Prices tend to be lower during this period, too.
Swordfish can be purchased at any quality seafood store.
Substitutes
Substitute a cheese alternative, like cashew cheese or even pesto, for the feta to make this recipe dairy-free
Optional sides or compliments
Serve over lettuce and tomato, or as part of a sandwich, just like you would with a tuna salad
Serve fresh fruit for a light and airy side
Cottage cheese is a great pairing with fish. Cottage cheese will provide additional fiber and carbohydrates for a balanced meal. This pairing is especially great if you're looking to quickly refuel after an intense workout.
Serve swordfish salad with kalamata or black olives for more of that
Mediterranean flair
Serve onion rings or chips on the side for a little crunch
What does it taste like?
Swordfish is very mild and a great introduction to eating fish. It's also a good alternative for anyone who might not enjoy the "fishy" taste of seafood, which can sometimes happen with other oily fish like tuna or mackerel. Swordfish is slightly sweet with a very rich taste. Its texture is similar to beef steak. It is very firm.
Benefits
Swordfish are rich in selenium (great for the heart, thyroid, and bones) and vitamin D (important for maintaining strong bones). Swordfish is also very fatty, rich in omega-3 fatty acids that have been shown to improve brain and heart health.
There are two kinds of omega-3 fatty acids found in swordfish and other oily fish: EPA and DHA. One serving of swordfish provides about 1.3 grams of these vital nutrients.
Storage
Prepared swordfish salad, stored in an airtight container, will last in the refrigerator for about three days. You can also freeze it and save it for later. To freeze your swordfish properly, freeze it in an airtight container, heavy-duty freezer bags, or wrapped tightly in aluminum foil or plastic wrap. Properly stored, swordfish will last in the freezer for about two to three months.
History
Swordfish was once on the list of overfished species but is now caught using sustainable practices. You can shop and prepare this fish with confidence.
At the seafood counter, especially look for US-harvested swordfish, which supports the maintenance of the North Atlantic swordfish stock.
Swordfish in the US are caught using sustainable practices like minimum size and retention limits. Some buyers say that swordfish caught by California gillnet boats tend to be higher-quality fish.
About 20 years ago, the swordfish population was at just 65 percent of its target level, which means the population wasn't able to sustain itself to meet worldwide demand.
By 2009, the North Atlantic swordfish stock was fully rebuilt. The United States leads international sustainability efforts for this tasty fish, which also reduces bluefin tuna bycatch. Tuna has a much more fragile worldwide presence.
---
Recent Recipes