Easy Carrabba's Creamy Parmesan House Salad
I don't think there is anything better than a fresh green salad with an exceptional dressing. I will often have a substantial lunch and then eat a salad for dinner during the week so I am not going to bed with too much food in my belly. Fridays and Saturdays I switch that routine up because I can sleep in a bit.
I like the greens in my salad to be super crisp. Romaine lettuce lives up to that requirement. What I also like about romaine lettuce is that it has wrinkles and valleys that help any dressing to cling to it, especially a creamy dressing.
Carrabba's Italian Grill has a deliciously fairly simple house salad made with romaine lettuce and crunchy purple ca. The signature in-house prepared creamy parmesan dressing is served on the side. This salad is so good and not at all difficult to prepare at home. The dressing is just slightly more complicated than the salad base. And I really mean that it isn't complicated at all. I recommend making a big jarful to have for several days. It will keep in the fridge for several days.
This recipe is as close as I can come to the real thing served at Carrabba's. I have divided it into 2 parts. The first is the dressing, which you can make ahead of time because it really does get better if it sits for a bit to allow the ingredients to come together and the flavors to develop. The second part of the recipe is the actual salad base.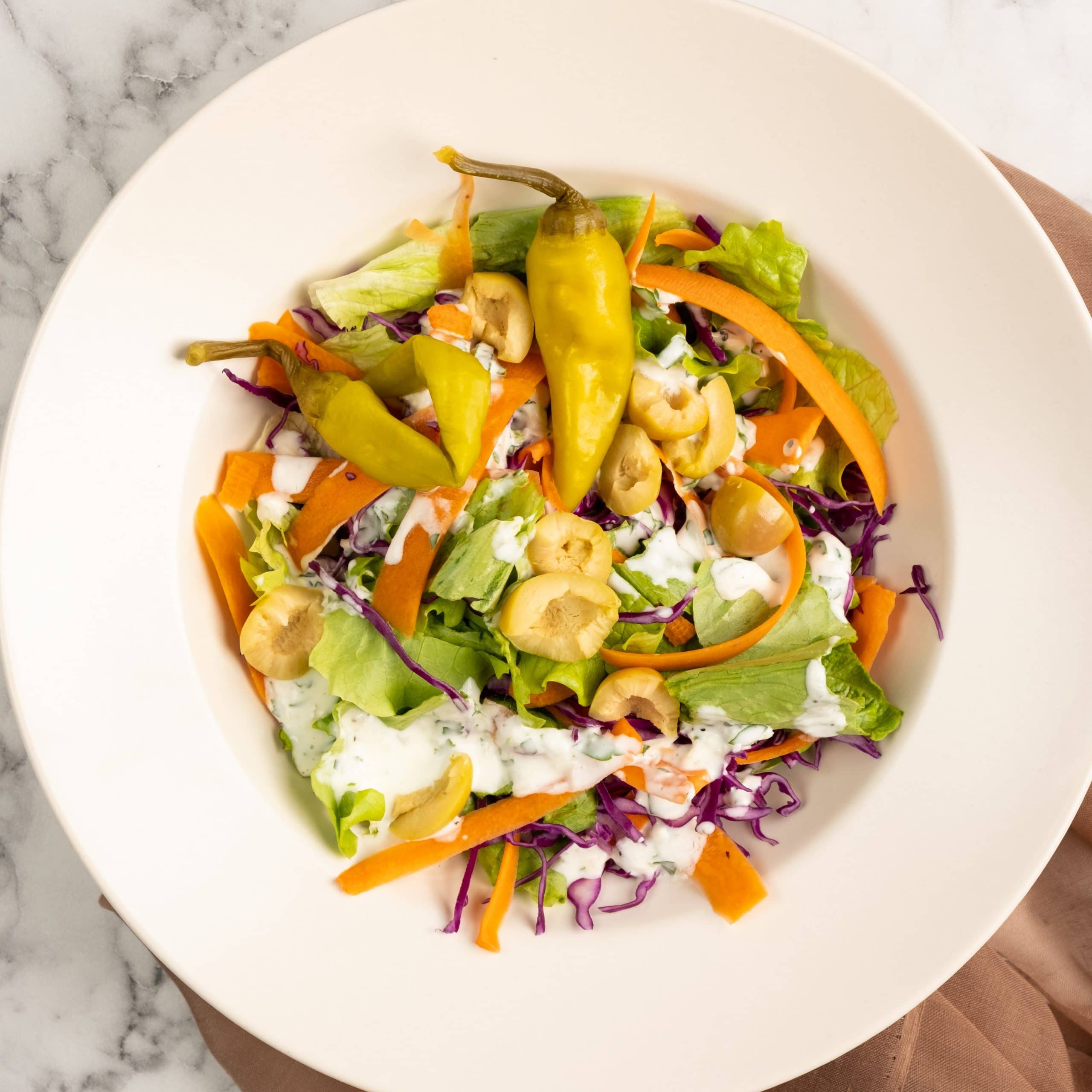 Ingredients
Dressing
¾

cup

good quality mayonnaise

⅓

cup

buttermilk

⅓

cup

parmesan cheese

finely grated

1 ½

tsp

freshly squeezed lemon juice

2

small garlic cloves

finely minced

2

tsp

flat-leaf parsley

finely minced

½

tsp

sea salt

½

tsp

freshly ground black pepper
Salad
4

large romaine lettuce outer leaves

washed and dried

1 ½

cups

shredded purple cabbage

4

medium carrots

peeled and trimmed

16

pitted kalamata olives

8

whole pickled pepperoncini
Instructions
Dressing
In a mixing bowl, whisk all ingredients together until well combined. Store in a glass jar with a well-fitting lid. Refrigerate until ready to use on the salad.
Salad
Chop the lettuce into 1-inch pieces and add to a mixing bowl. Add the shredded cabbage to the lettuce.

Cut the carrots into thin slices and add them to the bowl. Toss everything together.

Place the salad into individual serving bowls. Shake the jar of dressing to mix it up. Spoon some of the dressing over each salad.

Top with the olives and pepperoncini and serve either as a starter salad for 4 or an entrée salad for 2.
Video
Nutrition
Calories:
403
kcal
|
Carbohydrates:
13
g
|
Protein:
6
g
|
Fat:
37
g
|
Saturated Fat:
7
g
|
Polyunsaturated Fat:
19
g
|
Monounsaturated Fat:
10
g
|
Trans Fat:
1
g
|
Cholesterol:
26
mg
|
Sodium:
1018
mg
|
Potassium:
458
mg
|
Fiber:
4
g
|
Sugar:
6
g
|
Vitamin A:
13264
IU
|
Vitamin C:
42
mg
|
Calcium:
185
mg
|
Iron:
1
mg
Notes & Tips
For this particular salad and dressing, it is a good idea to make the dressing an hour or even a full day ahead of time. It mellows in the fridge while the flavors of all the ingredients come together and intensify.
The salad ingredients are best when fresh and crisp. I don't really recommend using a pre-packaged, pre-cut romaine salad mix for this salad.
Substitutions & Additions
The dressing and salad are both fairly basic, which is what I like. You can switch things up if you want. For instance, I like to get as many probiotics into my diet as I can so I swap out plain milk kefir for the buttermilk.
The herbs are up for grabs. Fresh is best, but if you only have dried parsley use half as much as the recipe calls for in the dressing. You could also forgo the parsley and use either, tarragon, chives, or cilantro.
The salad can become a substantial meal all by itself by adding sliced celery, chickpeas, cubed salami, and croutons.
Rounding Out the Meal
If you are serving this salad as a starter course to a more filling and well-rounded Italian-themed meal, you can prepare and serve either seafood, pizza, or pasta as a second course and pastry for dessert. Try these suggestions.
Carrabba's Copycat Spiedino di Mare
Spiedino di mare is skewered seafood that is grilled. This spiedino di mare recipe is based on another Carrabba's dish that is prepared with scallops and shrimp. The cooked seafood is served with a lemony butter sauce.
Easy 'Nduja Sausage Pizza
'Nduja is a spicy salami made into the consistency of butter so that it is spreadable. It originates from the Calabria region of Italy and is often used to top bread or crackers or to add flavor to soups and sauces. 'Nduja also makes an excellent pizza topping ingredient. Our 'Nduja pizza has tomato sauce, cheese, and sausage.
Lasagna
Lasagna is a traditional layered pasta dish. It is generally made with cheese and tomato sauce. There are plenty of variations to the traditional version. Our lasagna primer should give you lots to work with.
Sicilian Chocolate & Ricotta Cassatelle
Cassatelle are small crescent-shaped dough pockets filled with sweetened ricotta cream. Think of them as a dessert ravioli. While they are traditionally fried, they can be baked for a lighter version. This cassatelle recipe adds a little dark chocolate to the cream filling for extra sweetness and texture.
---
Recent Recipes