Simple Japanese Fruit Sandwich
I can't believe I'd never tried this magical Japanese Fruit Sandwich called Fruit Sando before! This dessert is what I imagine a cloud in heaven would taste like. It's perfectly light, fluffy, sweet, refreshing, and creamy all at the same time. The most popular Fruit Sando is Strawberry Sando; fresh strawberries covered in chilled whipped cream between two slices of fluffy Japanese milk bread. But often oranges, kiwis, mangoes, peaches, and blueberries are added as well to make this sandwich extra colorful.
At first, you may think a fruit sandwich sounds pretty weird. But once you try it, you'll understand why this treat is so popular in Japan. In this simple Japanese Fruit Sandwich recipe, I'll teach you how to make Strawberry Sando in two ways: with traditional whipped cream, and with coconut whipped cream for a delicious low-dairy alternative. I can't decide which one I like better, so I recommend trying both! Check the How To Make It Vegan section for the coconut cream version.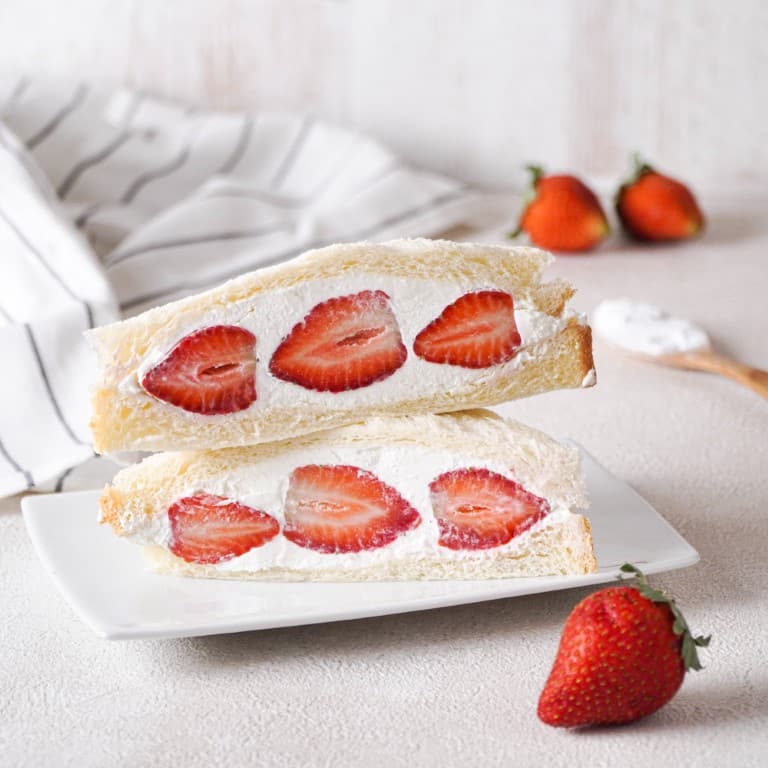 Ingredients
2

slices

fluffy milk bread or Japanese shokupan

5

large strawberries

or smaller ones

½

cup

heavy whipping cream

3

tsp.

icing sugar
Instructions
All ingredients ready? Let's begin!

Wash the strawberries, remove stems, and pat them dry with paper towels to remove any excess moisture.

Prepare a large bowl with some ice water and a medium bowl that fits on top of the larger bowl. Place cream in medium bowl and start whisking on low speed.

Once bubbly, gradually add sugar and whisk at medium-high speed. Stop when the cream has formed into stiff peaks. It should stick to the whisk when you lift it.

Now, remove the bowl from the ice water, take a hand whisk and finish whisking by hand until you achieve the desired consistency. It should be spreadable, but not runny. Don't over-whisk, you'll end up with butter.

Prepare plastic wrap, enough to be able to wrap the sandwich tightly. Place slices of bread on the plastic wrap.

Spread whipped cream on both slices. About 3 tablespoons per side.

Carefully arrange the strawberries diagonally on one side of the bread. Think about how it will look when you cut the sandwich diagonally. If you have large strawberries, place 3 of them diagonally down the center of the slice, then place one strawberry on each corner.

Cover up the spaces in between the strawberries with more whipped cream. Place the other slice of bread on top and tightly wrap the sandwich. Draw a diagonal line on the plastic wrap with a permanent marker to remember where you placed the strawberries.

Place it in between two plates in the fridge for at least 1 hour or overnight.

To cut the sandwich, put it on a cutting board and run a clean knife under hot water. Remove the plastic wrap and cut the sandwich diagonally where the marked line is. Don't open the sandwich to show the cross-section yet.

Clean the knife with hot water, gently press down the sandwich and cut the edges. Now you can expose the beautiful cross-section.

Eat immediately after cutting. Store in the fridge overnight before cutting if you want to prepare this Strawberry Sando ahead of time.
Nutrition
Calories:
659
kcal
|
Carbohydrates:
55
g
|
Protein:
10
g
|
Fat:
46
g
|
Saturated Fat:
28
g
|
Polyunsaturated Fat:
3
g
|
Monounsaturated Fat:
11
g
|
Trans Fat:
0.02
g
|
Cholesterol:
134
mg
|
Sodium:
299
mg
|
Potassium:
399
mg
|
Fiber:
5
g
|
Sugar:
28
g
|
Vitamin A:
1767
IU
|
Vitamin C:
80
mg
|
Calcium:
170
mg
|
Iron:
3
mg
Notes & Tips
Dry your strawberries before use. Any excess liquid can ruin the cream filling. And, please, remember to remove the stems.
Remember how you placed the fruit by drawing a diagonal line on the plastic wrap with a permanent marker. This way you'll ensure you have a wonderfully symmetrical cross-section.
If you're using coconut cream, use only the full-fat cream at the top of the refrigerated can of coconut milk. Don't let any liquid get in. Unless you want a sad soggy Sando.
Also, if you want the sandwich to be vegan, make sure you use vegan milk bread. The typical recipe usually has milk or cream, butter, and even honey sometimes. But it's not so hard to veganize.
Make your life easier by assembling your sandwich on plastic wrap first. Then you can quickly wrap it up without wasting time. Wrap it tight and place the sandwich in between two flat plates to help condense it in the fridge. You can even place a weight on top of the plate to press it down more.
I prefer to leave the crust on before adding the filling and then cut it off right before serving. This way there's less room for miss-haps and having the filling spill out of the edges. I want you to be proud of your beautiful creation. So, make sure to follow the cutting instructions carefully.
Where is Shokupan Bread From?
The first shokupan is thought to have been made by a British baker in a bakery in Yokohama back in the 1880s. It was intended to be sold to ex-pats and naval guards. But, during the Meiji era (1868-1912) all things Western started to grow in popularity. With the rising scarcity of rice in the post-war era, American aid came in the form of wheat, which meant bread.
Nowadays, bread is as big of a staple as rice is in Japan. It may even be more common to see Japanese people ordering pizza toast for breakfast than a bowl of rice. Shokupan or milk bread is the most popular kind of bread in Japan. You can find it at any grocery store, bakery, or market. The Japanese are just as proud of the particular qualities of their milk bread loaves, as they are about the quality of their rice.
Which Bread Can I Use to Make Fruit Sando?
For this recipe, I strongly recommend using Japanese milk bread, also called shokupan or Hokkaido milk bread. It has a golden crust exterior and a white crumb interior that is as light as a cloud and as fluffy as cotton candy. It's sweeter and milkier than most Western bread loaves, and the slices are usually a bit thicker. You could use any fluffy white square loaf, but it simply won't be the same.
During my brainstorming for alternative types of bread, I was wondering whether milk bread is the same as brioche. But no, it's not quite the same. Both are fluffy and creamy on the inside, but brioche is typically much sweeter than milk bread. So, if you decide to use it for this recipe, reduce the sugar in the whipped cream.
---
Recent Recipes