What Does Swordfish Taste Like?
I have never been fond of fish dishes and preferred to eat something meatier like a juicy grilled barbeque steak. However, when I first tasted swordfish, I could not deny that it was absolutely delicious, and since then, I have been hooked. People who have not tasted swordfish yet want to know what to expect before they take a bite, so what does swordfish taste like?
Swordfish tastes somewhat sweet and has a meaty and dense texture. It is ideal for those who find fish distasteful. The meat, sold as steaks, is very tender and stays moist even after grilling or broiling it, and it is surprisingly not as expensive as one may think.
If you enjoy a cut out of a nice, meaty steak, then you will love the taste of swordfish steaks; read on to know more about the swordfish's taste, which seasoning complements their taste best, and how their taste differs from other kinds of fish.
What Does Swordfish Taste Like?
Swordfish is the best type of fish for those who are not too fond of fish. Its mildly sweet flavor and moist, meaty texture will surely tickle your tastebuds. Complement it with a refreshing side dish to create an elegant dinner for you and your family.
Swordfish steaks are not as expensive and can be bought in stores for $14 to $40. Prices are likely to increase during the summer because fish are fresher when caught during the summer season.
These fish steaks contain many minerals and vitamins beneficial to your health, and preparing them is pretty simple.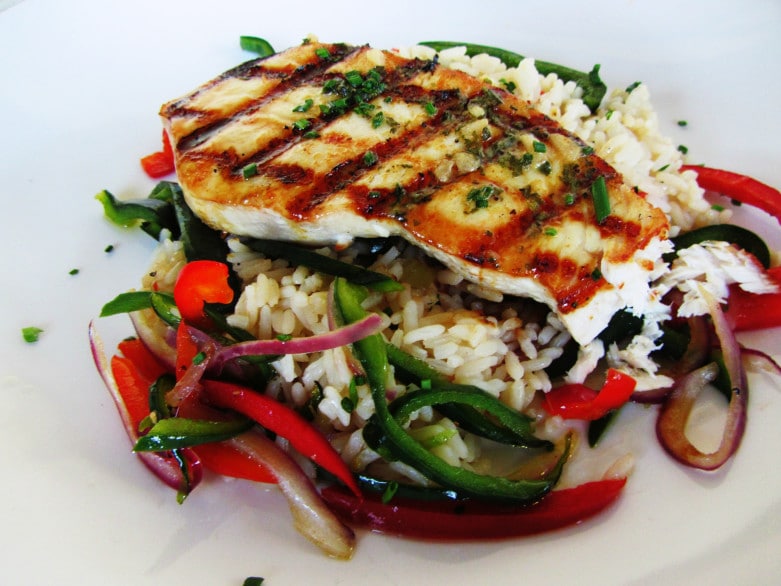 Does Swordfish Have a Fishy Taste?
Swordfish do not have a fishlike taste or smell, making it an excellent dish for those who do not favor fish.
Although many reviewers compared the taste of swordfish to tuna, it depends on how you cook it, but it tastes more like a meat steak than any other type of fish. Its dense, meaty, and moist texture is similar to beef steak.
Swordfish: Taste Comparisons
Let us take a look at what swordfish tastes like compared to other kinds of seafood. It has many characteristics like meaty and firm flesh that are similar to other predatory fish, such as the bluefin tuna and the king mackerel. Swordfish is almost exclusively sold as steak.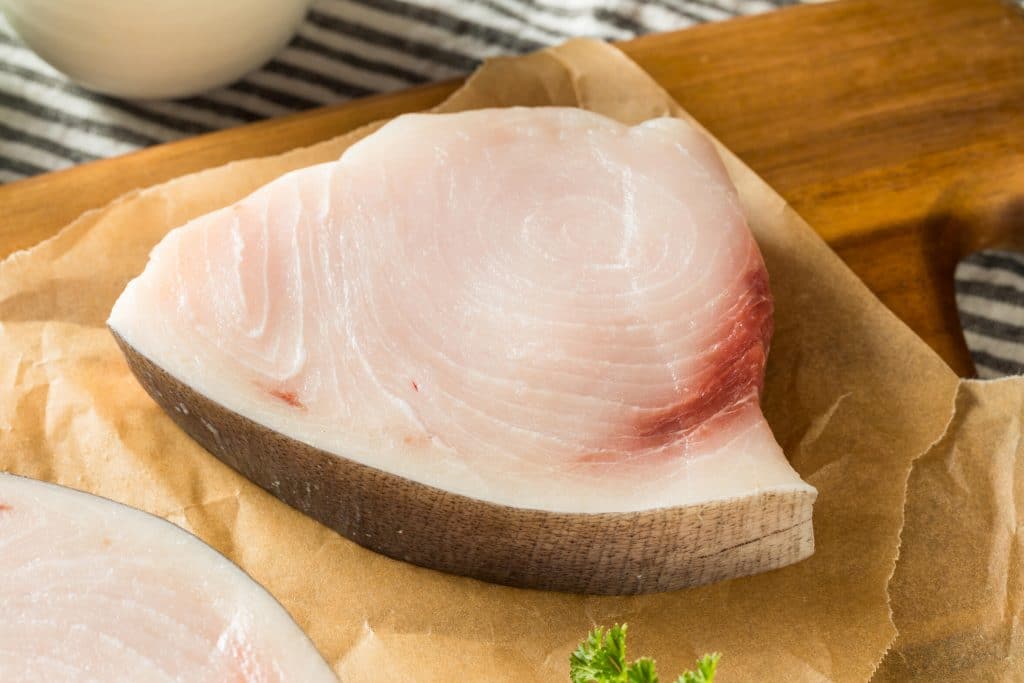 It is also oilier than most fish that we consume. I compared the difference in the taste of swordfish and three other well-known fish:
| | | | |
| --- | --- | --- | --- |
| Swordfish | Tuna | King Mackerel | Rockfish |
| Dense and moist texture | Tender and moist texture | Firm and Chewy Texture | Flaky and light texture |
| Moderate fishlike taste | Very fishlike taste | Stronger fishlike taste | Mild fishlike taste |
| No fishy smell | Strong fishy smell | Salty, ocean smell | No fishy smell |
| Oilier flesh | Oily flesh | Oily flesh | Low oil content |
| Sweet flavor | Sharp fishy flavor | Sweet flavor, and it tastes similar to salmon | Nutty and sweet flavor |
Swordfish, tuna, king mackerel, and rockfish. These are four of hundreds of predatory fish that we consume, and although each looks similar when you buy it, their taste, flavor, smell, and texture differ significantly.
As someone who cannot stomach the smell or taste of fish, swordfish is perfect, and I can still gain all the minerals and fatty acids found in other fish.
While I do enjoy a big cut out of swordfish, it is high in methylmercury (toxic organometallic cation) and must be eaten in moderation.
Like the other three I mentioned above, predatory fish are known for their mercury content that can be harmful and toxic to humans if consumed more times than recommended in a certain period.
What Makes Swordfish Taste Good?
Now that you have decided to give swordfish a try, you have to make sure that you make it taste good so you can have the best experience. You can grill or broil swordfish, but eating it raw is not recommended.
Whether you decide to grill or broil your swordfish steak, keep in mind that the steak must be cooked right through and will continue to sizzle in its own heat after you remove it.
The first step to a delicious swordfish is an equally delightful marinade. Here are some recommendations for a good and tasty swordfish steak:
Mix olive oil, soy sauce, honey, lemon juice or zest, garlic, and the essential salt and pepper for the swordfish steak to marinade in. You can let it rest in the marinade for about 30 minutes (no longer than eight hours) before you grill it.
Use a blend of olive oil, lemon juice, garlic, mint, and basil to cover the swordfish steak. Season it with salt and pepper, and if you have leftover sauce, you can spoon it over the swordfish steak after cooking it.
I kept the best for last! How about making Jamaican jerk seasoning? This is a creative way of spicing up your swordfish steak. Jamaican jerk seasoning is a mix of sweet and spicy spices. You can look up recipes online and do it yourself. It is quick, and many of the ingredients are already on your spice rack!
Once you have your Jamaican jerk seasoning ready, blend it with fresh lemon juice, ground cumin, cinnamon and ginger, garlic, and chili powder. To put it all together, add a bit of plain yogurt to make the flavors pop.
---
After reading more about the tasty swordfish steaks, I hope you are on your way to the grocery store! For those not fond of fish, this is the perfect meal for you. You can cook swordfish steaks in different ways, and you can get creative with the seasoning and side dishes as well.
These steaks are high-quality and, depending on the methods you use to cook them, very moist and tender. Maybe you should consider changing up a family dinner with these meaty fish? Whenever you are ready, make sure that you will thoroughly enjoy this once in a while delicacy. It will definitely leave you feeling more than satisfied!
---
Recent Recipes