Quick & Easy Tomato Pepperoni Galette
A perfectly crisp Galette arrives as the perfect midway point of pastry falling between a tart and a pie. Infused with a tomato filling, few pastries are as rewardingly juicy yet flaky and crisp at the same time. Add to this the slight smokiness and hints of heat of pepperoni, and you've got something truly irresistible. At 95% water, tomatoes are tricky to bake with. Fortunately, we've got fail-proof instructions coming up. Read on to learn how to make a tasty tomato pepperoni Galette that'll keep you coming back for more.
What Is A Galette?
A Galette is a savory or fruit-filled pie using either puff pastry or a brioche-like dough as a base that's folded at the edges to partially cover the filling. The term 'Galette' refers to the French puff-pastry or leaven base in which all sorts of sweet and savory toppings are added. Our tomato pepperoni Galette recipe uses homemade puff pastry and salted tomato slices to strike a delicate balance between sauciness and flakiness. Pepperoni and oregano add a synergistic twist to the classic recipe, bringing out all-new dimensions of flavor.
What Is A French Gallete?
The French traditionally serve a sweet puff pastry cake called 'Galette des rois' each year in celebration of Epiphany on the 6th of January. The dessert, roughly translating to 'king cake,' is conventionally filled with frangipane, an almond cream, and sold during the month of January throughout bakeries in France. Within the decadent yet simple French dessert, a charm or trinket like a miniature figurine is hidden, and there's a whole tradition to the way that French Galette should be eaten. Our Galette with a crispy, flaky puff pastry base is, however, rich and savory, delivering tomatoey goodness offset by the perfect balance of cheese and herbs.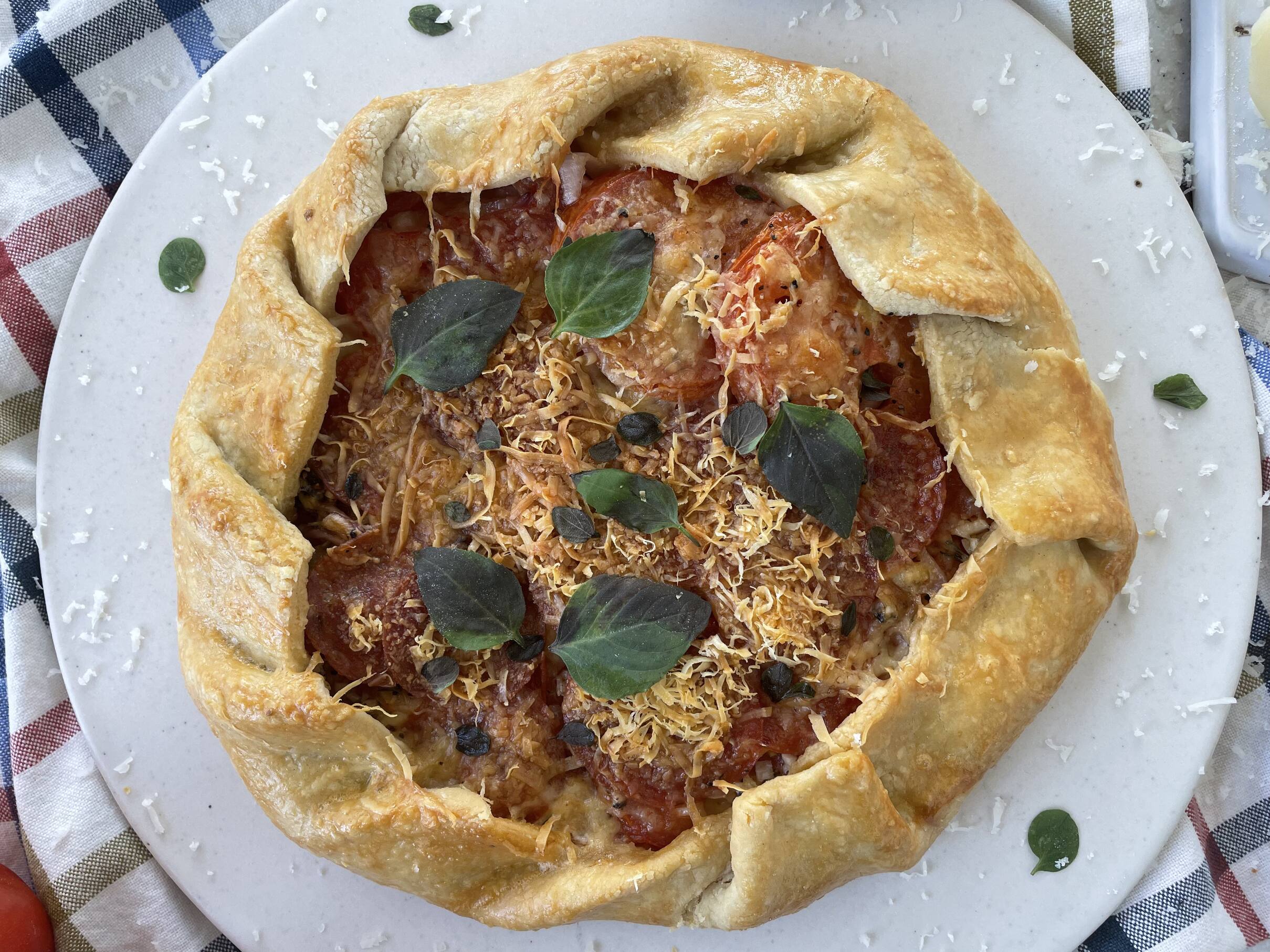 Ingredients
1 1/2

Cups

All-Purpose Flour

10

Tablespoons

Unsalted Butter

Cubed

6

Tablespoons

Ice Water

5-7

Large Tomatoes

Sliced

6

Ounces

Pepperoni

Thinly Sliced

1

Shallot

Thinly Sliced

Extra-Virgin Olive Oil

1

Teaspoon

Fresh Thyme

Minced

1

Teaspoon

Fresh Oregano

Chopped

1

Tablespoon

Fresh Basil

Chopped

2

Cloves

Garlic

Minced

1/2

Teaspoon

Pepper

2

Teaspoons

Dijon Mustard

3/4

Cup

Gruyère Cheese

Grated (Alternatively Emmental, Swiss or Cheddar)

2

Tablespoons

Parmesan Cheese

Grated

1

Large Egg

Semolina For Dusting
Instructions
Assemble all the ingredients and check that you have everything.

Before you begin preparing your dough, cut your tomatoes into 1/4 inch slices.

Place the tomato slices into a suspended colander and salt them lightly before allowing them to stand.

Combine your flour and half a teaspoon of salt in a large bowl or food processor.

Disperse the cubed butter (1/2-inch chilled cubes) into your flour.

If using a food processor, pulse eight to ten times, otherwise, mix by hand until a crumbly texture is reached.

Dispense your flour mixture into a large bowl and sprinkle the ice water over.

Use either a rubber spatula or your hands (lightly oiled) to press the dough into a sticky consistency. Add more water spoon by spoon as needed.

Once your dough is sticky but pliable, transfer to a floured surface.

Roll the dough into a disk that's roughly 4-inches in diameter

Enclose the Galette dough in plastic wrap and let it cool in the fridge for an hour.

Preheat your oven to 375°F and align the middle rack while preparing a lined baking tray with parchment paper.

Transfer the chilled dough to a clean, floured surface and allow it to stand for 10 minutes.

Roll the dough into a disk with a diameter of roughly 12-inches or a little bigger than the average dinner plate, and then place it on your prepared baking tray.

Begin preparing your tomato topping by shaking off all excess juices in the colander.

Mix the tomatoes, garlic, thyme, thinly sliced shallot, pepper, and half a teaspoon of salt together with just enough oil to coat them.

Coat the Galette dough with a light layer of dijon mustard while leaving a 1 1/2 inch thick border around the edges.

Dust the Galette base with semolina to ensure moisture doesn't seep through.

Sprinkle your choice of cheese over the mustard-coated base generously.

Cover the coated interior with your tomato mixture.

Place either a single or double-layer of overlapping pepperoni slices, leaving the border unfilled.

Sprinkle Parmesan everywhere except the border as the next layer.

Fold the edges of the dough to roughly 1 inch over the filling. At every 2 inch measure, overlap the dough and pinch it to secure the folded border.

Brush the entire Galette with a beaten egg or milk, making sure to cover the folded edges well.

Transfer to your oven and bake for 45 to 50 minutes or until the crust turns golden and the tomato begins to bubble.

Remove the Galette and allow it to cool on a wire rack for 10 minutes.

Scatter roughly chopped basil over the top and slice into segments and serve
Video
Nutrition
Calories:
417
kcal
|
Carbohydrates:
29
g
|
Protein:
14
g
|
Fat:
28
g
|
Saturated Fat:
15
g
|
Polyunsaturated Fat:
2
g
|
Monounsaturated Fat:
9
g
|
Trans Fat:
1
g
|
Cholesterol:
93
mg
|
Sodium:
502
mg
|
Potassium:
506
mg
|
Fiber:
3
g
|
Sugar:
8
g
|
Vitamin A:
1778
IU
|
Vitamin C:
44
mg
|
Calcium:
143
mg
|
Iron:
3
mg
What To Serve With A Tomato Pepperoni Galette?
While this dish is versatile enough to be served alone or aside a variety of meals, the ideal pairing for a tomato pepperoni Galette is a fresh salad. We suggest you try a fusion of cultural cuisine by trying it with a Bulgarian Shopska salad featuring Sirene or feta, tomatoes, and a range of peppers. The sweet, light piquant flavor pairs perfectly with a rich, savory Galette. Otherwise, go for a green salad incorporating your favorite choice of leafy veg and a few herbs, and you can't go wrong.
Can Galette Be Made In Advance?
Unbaked galette is typically prepared up to three days in advance, and then safely stored in the refrigerator. Deep freezing is, however, possible. A tomato pepperoni galette or any other unbaked variety can be made up to three months in advance if properly stored. Galette is a pastry that comes out great even when baked from frozen.
How Do You Store A Galette?
Assemble your tomato pepperoni Gallete and put it between two layers of parchment or wax paper. Place the wrapped Galette in an airtight container. Either refrigerate or freeze solid. If your Galette was frozen, allow it to thaw slightly in the fridge on baking day.
Can You Freeze Galette Dough?
Galette dough can be frozen but it is far more efficient and effective to shape and assemble the entire pastry before freezing. High-fat dough like is used in this recipe is ideal for freezing and baking fully shaped. If freezing dough alone, double-wrap it in plastic wrap before freezing and defrost on the night before use.
---
Recent Recipes