Simple Lobster Ravioli With The Best Lobster Sauce
Lobster is seafood that I grew up eating in the northeast, especially in late summer. Yet, every time we had lobster it was still special. Most times it was a whole lobster with a cup of hot butter to dunk the meat in. Sometimes it was a lobster roll – chunks of cooked lobster in a toasted hot dog bun with a side of coleslaw. We also had clam bakes (still do) where lobster is steamed in a giant pit or lobster pot with potatoes, corn, and clams. Then, my father introduced me to pasta with lobster and cream sauce. That was so good.
One of the more popular dishes today is ravioli filled with lobster and served with a buttery white wine sauce. It is divine and much easier on the wallet than a whole lobster. Upscale restaurants have made an art out of this pillowy and rich dish.
You can now find frozen lobster ravioli in many supermarkets. You just drop them in a pot of boiling water and they are done in minutes. But they aren't as good as I had hoped. I prefer to use fresh lobster meat to make lobster ravioli. However, I don't always make the ravioli from scratch.
I have owned an electric pasta machine and an Italian hand pasta roller. Both have served me well for many years. But, making pasta from scratch isn't always what I feel like doing. I am a little spoiled by a local pasta shop that always has fresh lasagna sheets that are great for making ravioli. And, I am not shy about using wonton wrappers to make ravioli.
For this lobster ravioli recipe, I use wonton wrappers for convenience and put a little more effort into the finishing sauce. It is more about the lobster and the sauce than it is about the pasta. If you want to make your own ravioli from scratch, then I encourage you to do that.
Lobster ravioli is a perfect starter dish. It can also be an entrée. But I prefer to serve just one or two ravioli to tease the palate with a little richness and familiar comfort. The dishes that follow can escalate in boldness with more spice and acid. I lean toward vegetable-centric dishes after having pasta. But you could certainly make this a surf and turf meal. You might try baked zucchini boats stuffed with ground meat, herbs, and cheese alongside butter beans and broccoli dressed with garlicky pesto. If serving meat, beef tenerloin or filet mignon is a classic pairing with lobster. You can finish the meal with a refreshing cold fruit dessert and a fresh pot of espresso.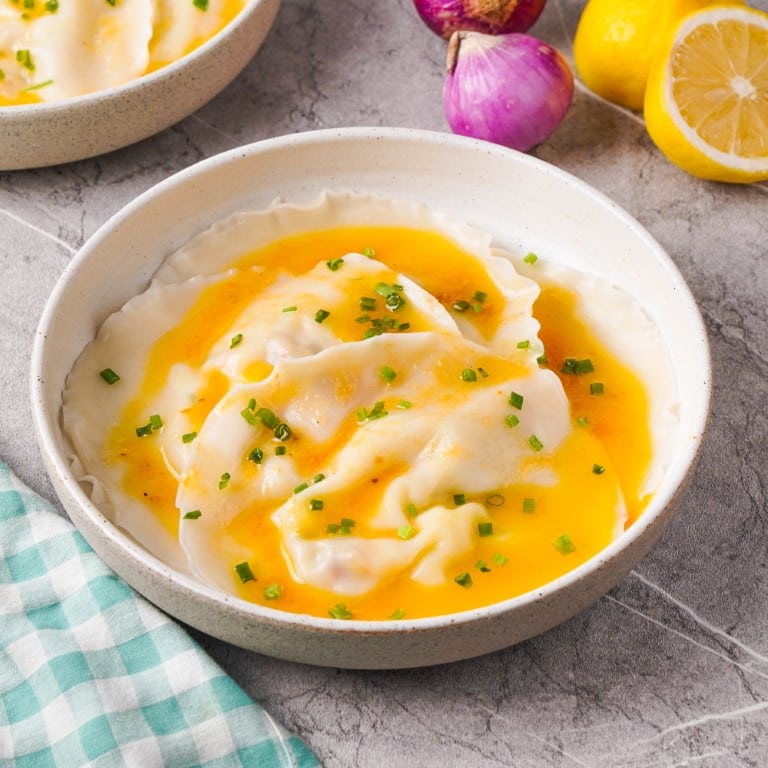 Ingredients
1

cup

cooked lobster meat

diced

½

cup

mascarpone or full-fat cream cheese

½

tsp

fresh lemon zest

½

tsp

minced chives

Sea salt and freshly ground pepper to taste

32

wonton wrappers

Water

2

shallots

peeled and thinly sliced

2

cups

cracked lobster shell pieces

1

Tbsp

tomato paste

1

cup

dry white wine

Pinch

of saffron threads

12

Tbsp

butter

1 ½ sticks, diced

Sea salt and freshly ground pepper to taste

Fresh chives for garnish

optional
Instructions
All ingredients ready? Let's begin!

In a mixing bowl, gently combine the lobster meat with the cheese, lemon zest, and chives. Season with salt and pepper to taste. Set this aside.

On a clean, flat work surface, lay out 16 wonton wrappers. Place a tablespoonful of the lobster filling in the center of each wonton. Using your finger or a pastry brush, dampen the edges of each wonton with water. Place the remaining wonton skins on top of the filled ones and press down to release any air. Seal the edges firmly.

Using your finger or a pastry brush, dampen the edges of each wonton with water. Place the remaining wonton skins on top of the filled ones and press down to release any air. Seal the edges firmly.

Place the ravioli on a parchment-lined baking sheet. Cover with plastic wrap and refrigerate while you prepare the sauce.

In a large saucepan over medium-high heat, melt 2 tablespoons of the butter. Add the shallots, lobster shells, and tomato paste. Stir and sauté until very fragrant, approximately 5 minutes.

Add the wine and saffron to the pan. Allow the wine to come to a boil. Stir to deglaze the pan. Remove the pan from the heat and allow the sauce to steep for 5 minutes. After 5 minutes, strain the liquid into a glass measuring cup or bowl. Discard the shallots and shells.

Bring a large pot of generously salted water to a boil. Add the ravioli to the boiling water and cook for about 5 minutes while you finish the sauce.

Wipe out the saucepan and pour the reserved liquid back into the pan. Turn the heat to medium-high and bring the liquid to a boil. Allow it to reduce down to about 1/4 to 1/3 cup. Turn the heat to low and gradually whisk the remaining butter into the liquid. If it is too thick, add a little of the pasta water to the sauce. Season with salt and pepper to taste.

Drain the pasta and divide it among 4 serving bowls. Spoon the sauce over the ravioli and garnish with some chives, if using. Serve immediately.
Nutrition
Calories:
983
kcal
|
Carbohydrates:
156
g
|
Protein:
39
g
|
Fat:
16
g
|
Saturated Fat:
7
g
|
Polyunsaturated Fat:
2
g
|
Monounsaturated Fat:
4
g
|
Trans Fat:
0.01
g
|
Cholesterol:
137
mg
|
Sodium:
1906
mg
|
Potassium:
562
mg
|
Fiber:
5
g
|
Sugar:
5
g
|
Vitamin A:
561
IU
|
Vitamin C:
2
mg
|
Calcium:
265
mg
|
Iron:
9
mg
Notes & Tips
You can purchase a cooked whole lobster from your fishmonger. Or, pick up a small lobster and simply boil or steam it yourself. It will take about 15 to 20 minutes, as shown in this helpful video.
It is very important that the ravioli be sealed completely, otherwise they will burst open while cooking and the filling will leak out.
When making any finishing sauce with wine, you definitely want to use a wine that you would drink, not a supermarket cooking wine. The sauce is one of the stars of the dish and needs to taste as good as the ravioli filling.
Substitutions
I realize that lobster meat is expensive and a luxury for most of us. This dish doesn't call for a lot of lobster meat, but it still might be more than you want to spend. If that is the case, you could use fresh shell-on shrimp. The shells of the shrimp can be used to make the sauce in place of the lobster shells.
Not everyone loves mascarpone cheese. It has a high-fat content that makes it very creamy and a little sweet. Full-fat cream cheese is a good alternative. Or, try full-fat and drained ricotta. Though, ricotta has more moisture and a grainier texture. A very mild and soft Brie cheese (rind removed) could also work.
When it comes to the pasta, you can make your own. You can also purchase premade lasagna sheets and cut them. Wonton skins are simply a convenience for this recipe. They can be a little slippery, so that is why you serve this appetizer in bowls.
---
Recent Recipes