Welcome to my recipe for easy Turkish liver, a traditional dish that has been enjoyed for generations in Turkey. This flavorful and succulent dish is made with fresh liver, onions, and a blend of aromatic spices that come together to create a truly mouthwatering meal.
But don't just take my word for it – try it yourself and taste the rich, savory flavors that have made Turkish liver a beloved classic. Whether you're a seasoned pro in the kitchen or just starting out, this recipe is easy to follow and sure to impress.
So if you're ready to add a touch of Turkish tradition to your dinner table, give this recipe a try – you won't be disappointed!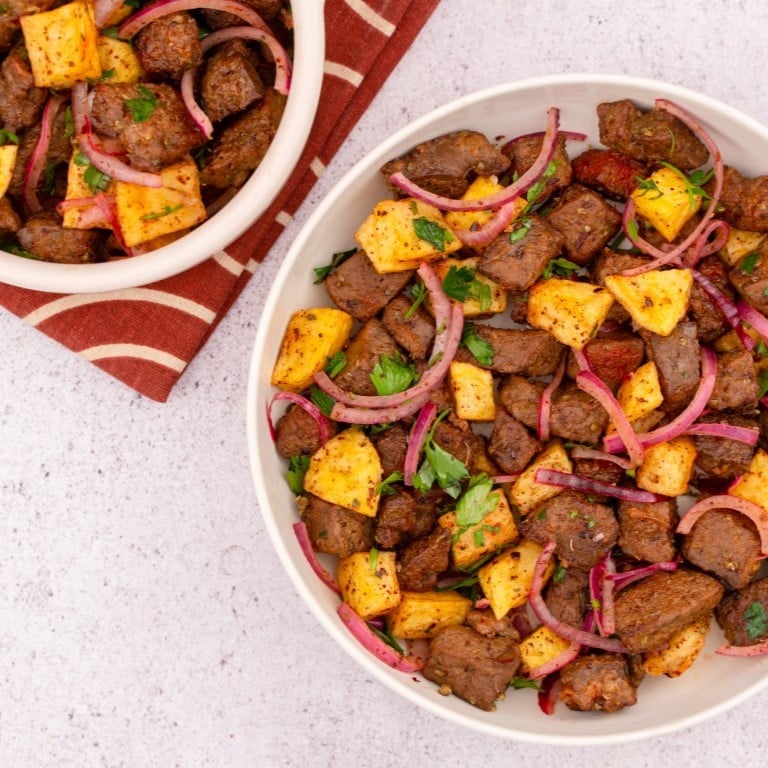 Ingredients
1

large potato

medium diced

1

lb

beef liver

medium diced

¾

cup

flour

½

tsp

salt

1

medium red onion

thinly sliced

2

tbsp

parsley

chopped

1

tsp

sumac

¼

tsp

paprika

¼

tsp

red pepper flakes

½

tsp

oregano

Vegetable oil for frying
Instructions
All ingredients ready? Let's begin!

Heat the olive oil in a large pan over medium-high heat. Deep fry the potatoes until the edges are golden brown. Transfer it to a large container.

Mix the flour and salt in a large bowl.

Dip the diced liver in the flour mixture and ensure they are covered with flour.

Deep fry the flour-coated livers in 3-4 batches for about 3-4 minutes each. Transfer the fried livers into a potato container.

Mix parsley, onion, and sumac spice by massaging them.

Assemble the potato and liver with a spiced onion mixture. Sprinkle the remaining spices and mix them gently.

Bon appetit!
Nutrition
Calories:
331
kcal
|
Carbohydrates:
41
g
|
Protein:
28
g
|
Fat:
5
g
|
Saturated Fat:
2
g
|
Polyunsaturated Fat:
1
g
|
Monounsaturated Fat:
1
g
|
Trans Fat:
0.2
g
|
Cholesterol:
312
mg
|
Sodium:
379
mg
|
Potassium:
826
mg
|
Fiber:
3
g
|
Sugar:
2
g
|
Vitamin A:
19384
IU
|
Vitamin C:
25
mg
|
Calcium:
34
mg
|
Iron:
8
mg
Tips, Notes & Substitutes:
The liver is a common ingredient in Turkish cuisine, and this recipe for Turkish Liver is a delicious way to enjoy it.
You can make this dish with either fresh or frozen liver. If using fresh liver, it is essential to cook it immediately after purchasing. Frozen liver should be thawed in the refrigerator for 24 hours before cooking.
When cooking liver, it is essential not to overcook it as it can harden.
Remember that the liver cooks very quickly; frying more will cause them to dry out.
If you can't find beef liver, you can instead use lamb or chicken liver for this recipe.
You can adjust the spices in this recipe to taste. Add more red pepper flakes if you like your food on the spicier side.
If you want your liver to be soft, you should not wash it. You should take a strainer and wait for the strain.
The frying oil should be hot. Otherwise, the livers will absorb too much oil.
---
Recent Recipes