Homemade Turkish Cig Kofte (Vegan Bulgur Balls)
Welcome to my recipe for homemade Turkish Cig Kofte, a vegan delight that will transport your taste buds straight to the streets of Istanbul. This dish has a rich history dating back centuries, with its origins traced back to the Ottoman Empire.
Made with a mixture of fine bulgur wheat, fresh herbs, and spices, Cig Kofte has a unique, tangy flavor that is sure to satisfy your cravings. And the best part? It's completely vegan, making it a healthy and ethical choice for any meal.
So if you're ready to explore the delicious world of Turkish cuisine, give this recipe a try. Trust me, you won't be disappointed!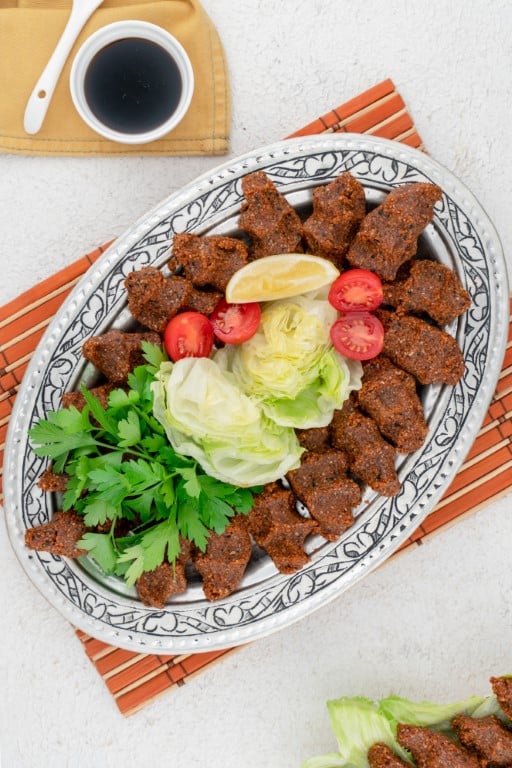 Ingredients
2

cups

dark fine bulgur

¾

cup

olive oil

¼

cup

pomegranate molasses

¼

cup

isot pepper flakes

2

garlic cloves

minced

3

tbsp

tomato paste

2

tbsp

lemon juice

freshly squeezed

1

medium tomato

finely grated

½

medium onion

finely grated

½

tsp

cumin

¼

tsp

black pepper

1

tbsp

red pepper flakes

½

tbsp

cayenne

1

tsp

salt

6

ice cubes

Lettuce leaves

for serving

Lemon wedges

for serving
Instructions
All ingredients ready? Let's begin!

Put all the ingredients except ice cubes and lemon juice in a stand mixer bowl. Start mixing them with the paddle attachments. Mix them for about 20 minutes to combine thoroughly.

At this stage, the bulgur will have absorbed enough liquid. Before continuing to knead, add half of the ice cubes so the bulgur stays dry.

Continue to knead for about another 20 minutes.

The ice cubes you added earlier are now melted and absorbed by the bulgur. Add the remaining ice cubes to the bulgur. Add the lemon juice to the mixture and continue kneading for about another 20 minutes.

Take a walnut-sized piece of the mixture and shape it by squeezing it with your hands. Make fists with your hands until you have the characteristic shape of Cig kofte.

Cig kofte is traditionally served on a leaf of lettuce with a squeeze of lemon and then eaten after being wrapped in a piece of lettuce leaf.
Nutrition
Calories:
564
kcal
|
Carbohydrates:
60
g
|
Protein:
10
g
|
Fat:
35
g
|
Saturated Fat:
5
g
|
Polyunsaturated Fat:
5
g
|
Monounsaturated Fat:
24
g
|
Sodium:
776
mg
|
Potassium:
704
mg
|
Fiber:
16
g
|
Sugar:
8
g
|
Vitamin A:
4906
IU
|
Vitamin C:
12
mg
|
Calcium:
82
mg
|
Iron:
5
mg
Tips, Notes & Substitutes:
Turkish cig kofte is known as a recipe that is kneaded for a long time, requires dexterity, and cannot be made easily by everyone. One of the most popular dishes from the South East of Turkey, it's historically made with meat. However, its more contemporary vegan version, made with bulgur, has gained immense popularity in the last decade and is more delicious than ever.
We've made it easy for you; here's the easiest and most delicious: Turkish Cig kofte recipe!
The key is to use only a small amount of water in the kneading process. The bulgur will swell too much with excessive liquid, and neither the consistency nor the taste of the cig kofte will be satisfactory.
When choosing your bulgur, make sure that it is brown bulgur, which is used for making cig kofte.
It's important to use a stand mixer in this recipe. Need a stand mixer and still want to make this recipe? You are going to need to be patient! You must knead the cig kofte for at least an hour without a break. Some people even claim it is more delicious this way!
You don't have a stand mixer, and you don't have the patience? Then add boiling water until it reaches the top of your bulgur, cover it and let it swell for 15 minutes. This will make your kneading easier. This will change the cig koftes texture, but it will still be delicious.
The ice cubes will help your stand mixer cool down and allow your bulgur to get wet gradually. This is a better method than adding water directly.
To get that traditional cig kofte flavor, be sure to use a good quality tomato paste.
If you're not a fan of spicy food, you can omit the chili flakes from the recipe.
If the mixture is too dry for you, add a little water or olive oil to help bind it together.
After kneading, you can let it rest for half an hour and then shape it. When it comes to shaping, you can easily learn how to shape by watching the recipe video. Enjoy your meal!
---
Recent Recipes